10 Suburbs Near Dallas You Should Absolutely Visit
Discover the star attractions, incredible global eats, and gorgeous natural draws that make these out-of-town destinations well worth the drive.
Distance from Downtown Dallas: 20 miles
Downtown Carrollton has it all—good beer (3 Nations), great pizza (Cane Rosso), and quaint shops. But Carrollton, home to the largest Korean community in the Southern U.S., also has New Koreatown. (Fun fact: DFW has not one, but two Koreatowns. The original is in the Asian Trade District around Royal Lane and Harry Hines.) Stroll through the massive shopping centers to find dozens of great restaurants serving grilled meats, spicy noodles, soft tofu stew, and Juk, a traditional Korean rice porridge. All trips here should start with a quality meal. After you get your fill, pop into H Mart to take a few speciality items home with you.
Distance from Downtown Dallas: 32 miles
This once-sleepy suburb lined with cookie-cutter houses has upped its game in recent years, as its nearly 200,000 residents demand more places to eat and things to do—a notion that bodes well for you, too. McKinney's downtown commercial district hosts more than 120 small businesses, two dozen local restaurants, and two beloved breweries, Franconia and Tupps. If you want to stretch your legs, McKinney also boasts plenty of parks, disc golf courses, and regular golf courses, including TPC Craig Ranch, which recently took over as host of the esteemed Byron Nelson Tournament.
Distance from Downtown Dallas: 25 miles
Allen might be best known for its powerhouse football team, but this northern suburb has plenty to do once the Friday night lights go out. It's home to multiple recreation venues, including Top Golf, Pinstack, Giant Party Sports paintball and airsoft complex, and Hydrous Wake Park, a cable-pulled wakeboard facility. If you don't want to work that hard, Allen is also a shopper's paradise, teeming with outlet malls, antique stores, a mercantile packed with artisan vendors, and Watters Creek, a 52-acre resort-style destination with shops and restaurants set amidst verdant landscaping and, yes, an eponymous creek. If you've got your pup in tow, check out Mutts Canine Cantina, which merges a dog park with a beer garden and features a "yappy hour" with discounted drinks on the daily.
Distance from Downtown Dallas: 21 miles
Nicknamed the Entertainment Capital of North Texas—and for good reason—Arlington offers visitors practically limitless options for excitement. Six Flags Over Texas and across-the-freeway neighbor Hurricane Harbor provide the thrills, while Globe Life Field and AT&T Stadium showcase the hometown Texas Rangers and Dallas Cowboys. You can tour both complexes for a close-up experience of the field and facilities. Arlington is also the home of the Dallas Jackals—the new Major League Rugby team plays its games at Choctaw Stadium. Regardless of whether or not there's a game in town, you can always hang out at Texas Live!, the massive dining, drinking, and performance complex stocked with more than a dozen restaurants and bars on site.
Distance from Downtown Dallas: 40 miles
Though it proudly holds on to its college town vibes, Denton has grown up to become a legit destination for the North Texas faithful and out-of-towners alike thanks in big part to its incredible live music scene. With one of the top music schools in the nation at the University of North Texas, there's a constant influx of new talent to add to the iconic acts that have been storming the stage for decades. One of the best spots to see a show is Dan's Silverleaf, which puts you right next to other fan-favorites like Andy's Bar and LSA Burger with their menu of burgers named after local greats like Waylon Jennings and Stevie Ray Vaughn. While you're there, don't miss cocktails at speakeasy-style Paschall Bar.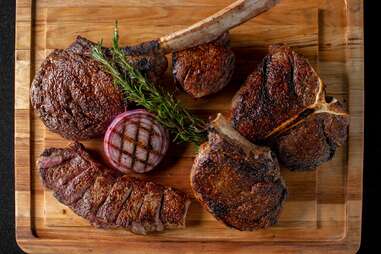 Distance from Downtown Dallas: 27 miles
Sports enthusiasts can get their fix of everything from football and basketball to hockey and the "other football" all within Frisco's borders. Officially branded as Sports City USA, the city plays host to practice facilities for both the Dallas Cowboys (NFL) and Dallas Stars (NHL), as well as the home fields and courts of FC Dallas (MLS), the Frisco Roughriders (MiLB), and the Texas Legends (NBA G League). Frisco is even home to the new PGA of America Headquarters, set to include a couple of world-class golf courses under its purview. With so many athletic teams and organizations congregating in Frisco, businesses have built up around them. The Star District is where you can catch America's team practicing, but it also has 20-plus dining options, including Frisco-only spots Dee Lincoln Prime, Sushi Marquee, and Cowboys Club. Of course, there's always IKEA, too, if you feel like putting together a cabinet this weekend.
Distance from Downtown Dallas: 27 miles
Grapevine's claim to fame is… you guessed it, wine. Texas ranks fifth nationally in wine production, and while much of that is centered in the Hill Country, Grapevine lays claim to several wineries and tasting rooms along its own Urban Wine Trail. If you're more into beer, there are a few craft breweries in town, too, including Hop & Sting, which also hosts the excellent Vaqueros BBQ truck. And should you want an activity that's not just eating and drinking, get a change of scenery at picturesque Lake Grapevine. Head to the water for boating or windsurfing, or take a stroll along the nine miles of wilderness trails.
Distance from Downtown Dallas: 13 miles
Irving is one of the most culturally diverse cities in the country, and that diversity is on display all throughout its incredible restaurant scene. When a craving for Indian food strikes, you'll discover dozens of options from all-vegan or vegetarian options to meaty bounties representing different regions of the broad South Asian country. Irving is also home to several Chinese, Japanese, and Mediterranean restaurants, plus Peak, a fun Nepalese sports bar with great food. Once you're sated, how about a boat ride? Gondola Adventures will take you out on the Los Colinas canals for quick tours, sunset dinner cruises, or early morning breakfast and brunch outings, providing one of the more unique experiences you can have this side of Venice.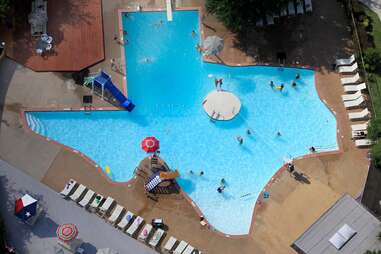 Distance from Downtown Dallas: 19 miles
Plano is chock full of excellent restaurants, shops, and public parks. But when summer rolls around and you need to cool off, take a dip in the Texas Pool, a 168,000-gallon oasis shaped like the Lone Star State and listed on the National Register of Historic Places. You can buy a season membership or just opt for the $10 day pass. Either way, you'll be able to brag (and cause a bit of confusion) on social media when you post that you just swam across Texas. Elsewhere, squeeze in a visit to Oak Point Park, where you can kayak, hike, or head high into the tree line for adventure courses and zip lining.
Distance from Downtown Dallas: 13.5 miles
Richardson has a little something for everyone—assuming everyone likes whiskey, movies, and unbeatable Asian fare. Lockwood Distilling Co. is Richardson's only distillery, and it serves a full food menu alongside its bourbon, rye, vodka, and gin creations. Alamo Drafthouse sits just across the street, and still provides one of the best movie-going experiences in town (the copious amounts of pizza and beer don't hurt). Pop over to the other side of I-75, and you'll hit DFW China Town, a collection of restaurants that's putting out some of the area's best food. Popular spots include Jeng Chi (Taiwanese, Chinese), Maru Ramen (Japanese), Pho Que Huong (Vietnamese), and Royal Sichuan (Chinese Sichuan). You'll also find a variety of culinary treasures at Good Fortune Supermarket, which might be smaller than some of the Asian grocery megastores in North Texas, but benefits from an easier-to-navigate experience, while popular dim sum spot Kirin Court awaits just up the road.
Steven Lindsey is a Thrillist Contributor.
Kevin Gray
is a freelance writer and editor covering all things food, drinks, and travel. He's written for
The Dallas Morning News
,
Forbes
,
Liquor.com
,
Men's Health
, and
Wine Enthusiast
, and his extensive home bar is turning into a real
Hoarders
situation.