Texas Institutions You Must Visit To Call Yourself a Texan
Paid Content For
Miller Lite Texas
Nick Simonite
Nick Simonite
If you measure distance in hours not miles, you are definitely from Texas. This state spans 660 miles wide -- a full 40% of the lower 48 -- and in that space there's plenty of room for variety. Here are the key sites, sights, and zeitgeists that make for the true Texas experience -- and all the ways that people from here love to enjoy their native soil: taking in history, savoring local cuisine, raising a glass, buying things that only Texas does so well, and letting nature's glory wash over us. So forget the Alamo (*gasp*), these are the locations that every real Texan knows must be paid pilgrimage.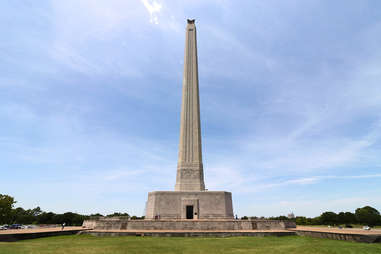 Let those other saps wait in the long line at the Alamo; you're where the Texas Revolution actually ended. The world's tallest war memorial -- 15 feet taller than the Washington monument -- commemorates where Santa Anna surrendered and Texas won its independence from Mexico. The San Jacinto Monument was constructed between April 21, 1936 and April 21, 1939 to pay tribute to all those who fought in the battle. (Consider that your brief Texas history lesson for the day.)
The Marfa lights
What are the Marfa lights? Science may never know, but the answer is surely alien visitors… okay, that's a lie. It's car headlights, probably distorted by steep temperature differentials. But skip the explanation and just marvel at the lightshow while telling yourself you're surrounded by ghosts. The official Marfa Lights Viewing Area is located 9 miles east of town on Highway 90, towards Alpine. There are even roadside tables to have a picnic or take in the mysterious lights. Nearby, real Texans are also well aware of El Cosmico, a 21-acre trailer, tent and teepee hotel and campground. Yes, only in Texas is a campground one of the most coveted lodging destinations around.
The universe isn't anything new, but it's getting super trendy for some reason, which makes NASA worth a stop on your Texas Bucket List. The out-of-this-world venue hosts more than 1 million visitors each year. (Presumably some of whom are aliens captured near the Marfa lights.) Its new Independence Plaza is an 8-story commemoration of the space shuttle program. The Mission Mars exhibit, which opened around the same time this year, lays out all the challenges in front of humanity as we cast our eyes to the red planet. But for real fun? Reserve a lunch with an astronaut. Seventy bucks gets you a chance to ask our spacefaring heroes what life is like in zero gravity, and where the aliens live -- plus lunch, museum admission, and a signed lithograph are included. At that deal, it's like they're throwing in the astronaut free!
You can't talk about Texas without mentioning football and you can't about Texas football without mentioning Kyle Field. The new field holds 102,000 fans! Newly redesigned but same ole crazy Aggies! This is the real home of the 12th man. Don't be alarmed if the stadium starts shaking and moving, it's all part of the show. This field has evolved with the game, from a field meant for agricultural studies in 1904 to an actual stadium in the '20s, to the 4th largest stadium in the US, thanks to numerous improvements that upped the capacity by a few thousand each round. It now stands at 102,733 seats, but 110,631 people squeezed into standing room to watch a big game a couple years ago. It's a living structure, the story of Texas football told in concrete and steel and turf.
College football and pro ball are completely different religions in Texas, and both must be venerated in different temples. The Dallas Cowboys are America's Team whether you like it or not, so pay your respects at AT&T Stadium. The $1.3 billion stadium, also known as Jerry's World, is a football lover's dream. Yes, even if you root for another NFC East team. The domed roof is 660,800 square feet, which some architect surely had to gulp at designing even before s/he learned it was to be retractable. Oh, and the walls behind the end zone retract, too. Try your best to watch the game on the field and not the massive hi-def screen (72ft x 160ft, the largest in the world when it was built) in front of your face a mere 90ft above the ground. Purportedly the stadium uses more electricity than the entire nation of Liberia, and you have to figure that TV uses a full cup of that juice.
After all that stadium shaking, you need a little introspective quiet. Rent a teepee at Round Top's Rancho Pillow for a night alone with the big and bright stars in the heart of Texas. Come dawn, you can marvel at the Latin American folk art collection curated by the ranch's owner, who also hosts an artist's retreat here. Maybe you'll discover you belong among the creative types and never come home? Or maybe you'll just hang out until football season starts again.
The bats at Congress Avenue Bridge
Who doesn't love bats? Sure, all those people who are terrified of our bug-eating friends. To them we say: cure your phobia with immersion therapy. A bat (singular) may not be so bad, but how about 1.5 million bats emerging from under one of Austin's most iconic bridges? It's not for the faint of heart, but it is for anyone from Texas, where we're proud of the largest urban bat colony in all of North America. Under this Austin bridge live all that stands between us and Texas-sized skeeters. So make note of "bat season," which starts in March and extends to November, and give thanks to our friend the bat.
Texas State Cemetery
While Texans love football and love to party, we also love the heroes of our modern mythos. What might sound gruesome to others (a cemetery) is Texas's immense pride shining in homage to all the states heroes. The Cemetery is the final resting place of the many legends who have made the state what it is today, including politicians, judges, generals, Rangers, and more. Notables include first resident Gen. Edward Burleson, "Father of Texas" Stephen F. Austin, Alamo commander William B. Travis, first female governor Miriam Amanda Wallace Ferguson, and even a couple of Revolutionary War veterans. Make a list of your own favorite Texans and go say hi (or a final goodbye) to them.
Round Top Market
If you want a taste of Texas, follow the food trucks to Round Rock, where small businesses, vendors, artists, locals and tourists come together for Market Days on the first Saturday of every month (but check before you go, in case it moves). Stock up on real Texan gear like unique bedazzled boots, or glittery shirts if you feel like peacocking. If you don't feel quite so flashy, you can still buy some locally made jewelry, art, or artisan work while you nosh on that good home cooking.
The aquatic bodies of Austin
The famous 50ft waterfall off of Hamilton Park Pool is gorgeous, but you can't get in till May, and the lines are overlong. Fortunately, Mother Nature has blessed Texas with alternatives. Barton Springs Pool is a true crown jewel of not just the city of Austin, but the great state of Texas as well. With average temperatures around 68-70 degrees, this underground-fed aquatic retreat is three acres in size and a popular hangout spot for Austinites and visitors alike, year-round. Worst case scenario: you have a wonder of nature all to yourself. Best-case scenario, you're making new friends and yay, you're still in a hot spring!
If you want to get away from crowds entirely -- and indulge a dangerous streak -- visit nearby Jacob's Well, a popular central Texas spot that draws daredevils who jump directly into the well. Some consider this ecological resource one of the most dangerous diving spots in the world; so use caution when you check this one off your list.
Everything's bigger in Texas -- including the amount of fun you have as you party with all your family and friends. The next time you celebrate with them, raise a bottle of Miller Lite, and toast Texas forever.
State Fair of Texas
It's a rite of passage to take a picture with (or next to) Big Tex, the official greeter and icon of the State Fair of Texas. Big Tex is known around the globe as the world's tallest cowboy, and has welcomed millions of guests to the annual exposition. Not even being lit on fire when an electrical panel in his boot malfunctioned in 2012 could stop the 65ft-tall hero of Dallas from celebrating this great state. Big Tex arose once again to welcome visitors to the best little* fairground in Texas.
*biggest
Austin's actual best street for bars
Everyone knows 6th Street is fun: an entire road devoted to live music, good beer, and hanging out with interesting people. But only locals know the difference between Dirty 6th (known as the diamonds in the rough, where drinks are cheap and cups are plastic) to the west and the newly updated 6th street to the east, where debauchery is now giving way to fancier modern bars. And only real Texans know to sidestep that experience when they want to get hip with cocktail row on Rainey Street -- it's even more relaxed and indigenous to Austin than any part of 6th Street. Just be sure to head back to 6th when you feel the call of the food truck.
Hill Country Lavender
Who knew lavender farms even existed? The folks behind this gorgeous adventure awaiting you in Blanco, TX, that's who. It works because Hill Country's soil chemically resembles the earth in the south of France. This is Texas's first lavender farm, but it's become a must-do experience: picking your own lavender while sipping a lavender lemonade is one way to welcome spring that will coax a contented sigh from even the most jaded native. It now hosts an annual festival that shows new traditions can be just as integral to a community's identity as old ones.
Located on the rooftop of Houston's brand new Marriott Marquis, this heated, Texas-shaped lazy river is a must for anyone who loves water and Texas and maybe even a cold beer in hand while floating in circles. Everything's bigger (and cooler) in Texas, and this is just proof. Though a brand-new build, it's already iconic in a state that loves its shape enough that this isn't even its first Texas-shaped pool. That honor belongs to Plano.
ACL Festival
Perhaps one of the most iconic festivals in Texas, this end of summer blowout is now two weekends long to accommodate all the acts and concertgoers. There is a reason, and a damn good one, that Austin is called the Live Music Capital of the World. The diverse lineup features more than 110 bands and tickets always sell out.
Visitors to San Antonio learn to cool their heels by the Riverwalk, but real Texans know how to heat them up first. The 36th annual festival kicks off in May at the Guadalupe Theater and Rosedale Park and draws in between 5,000 and 10,000 people each year. Local musicians set the sound for dancing exhibitions and open-floor invitations to show off your moves.
There aren't a lot of must-sees in Amarillo, but this is one. This landmark is a row of ten half-buried Cadillacs in an artful display off Route 66. The single-file lineup of Cadillac models ranges from 1948 to 1963. It's the brainchild of the members of 1970s avant garde art/architectural collective Ant Farm, and every one of the Cadillacs worked at the time they went in the ground. This is actually the second location of the piece. And all that graffiti you see? That's not vandalism; that's a welcome addition from visitors, so go ahead and make your mark.
Jayme is a sports + travel + fitness writer based in Houston and writes the award-winning sports column The Blonde Side. Her work has appeared in ESPN, CBS, Women's Health Magazine, Elite Daily and a number of other publications. She dreams of the days she lived in Hawaii and is anxiously awaiting meeting with publishers to get her memoir on bookshelves and toilet seats any day.