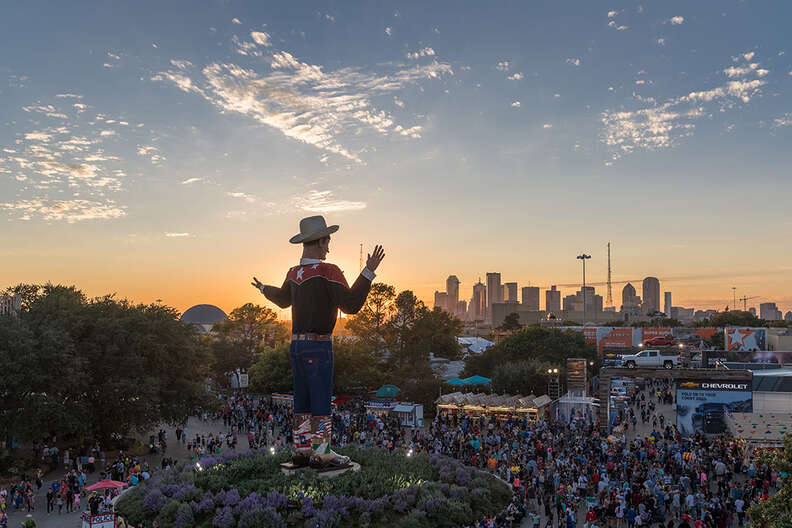 Kevin Brown/State Fair of Texas
Forget what calendar says -- fall doesn't begin in Dallas until Big Tex issues his first "Howdy Folks" at the State Fair of Texas. His booming voice signals cooler weather is finally (hopefully) on the way; it also means that a world of fried goodness, midway games, rides, and everything else you might expect from the largest state fair in the country is waiting just beyond his size 96 cowboy boots.
The State Fair is a full-hearted celebration of all things Texas, as diverse and sprawling as the state itself. From live music and pig races to truck shows and chainsaw carving, there really is something for everyone -- but if we're being totally honest, it's the food that keeps most of us coming back year after year. If you can eat it, they've probably got a fried version of it here.
Dating back to 1886, the State Fair's an annual rite of passage for DFW locals (as well as anyone in Texas with a car, which is everyone). Over two million people attended the event during its four-week run last year; in fact, most school districts in the area give students a day off and a free ticket to attend.

Whether this is your first year to attend the State Fair or yet another annual pilgrimage to the kingdom of Big Tex, you'll want a plan of attack to make the most of your time here. Our 2019 Guide to the State Fair is here to answer all your burning questions, and make sure don't miss out.
When is the State Fair?
The State Fair of Texas starts its 24-day run on Friday, September 27 and continues through Sunday, October 20. Gates open at 10am every day of the week, but if you're really determined to eat the very first corny dog of the day, the parking lots and ticket booths open at 7am.
The concessions and exhibits close at 9am Sundays through Thursdays, but on Friday and Saturday, we're treated to an extra hour of fair fun with most everything staying open until 10pm. Be sure to check the Visitor's Guide for exact times of any exhibits you're interested in, as the times can vary by day.
Where is the State Fair?
The fair is held at Fair Park, its home for the past 100+ years. Located just a few miles east of downtown Dallas and south of Interstate 30, the usually quiet collection of Art Deco buildings is consumed by the State Fair each year. While you're there, it's worth taking a moment to look past the Midway lights and appreciate the historic buildings like the majestic Hall of State.
Where can I buy tickets?
You'll encounter plenty of lines while you're at the fair, but at least one of them is avoidable. Yes, you can purchase tickets at any of the fair's 12 entrance gates, but the better move is to buy them online beforehand. You can opt for individual GA tickets, bundled combo packs that include food & ride coupons, or season passes that'll give you 24-day access to the fair -- figure out which option makes the most sense for you, and buy it before you even arrive at the fairground.

If you take the DART train to Fair Park, you can purchase a fair ticket through your DART GoPass app and save $2.00, avoid the lines, and avoid paying to park. There are lots of discounted ticket days to look out for as well. Make sure you check here before you go!
It's important to note, though, that if you opt for the "print-at-home" option you'll still need to pick up your food & ride coupons at one of the fair's Coupon Redemption Centers. Make sure you do that before making a bee-line to the concessions.
How can I experience the fair on a budget?
Your first chance to save a few dollars is at the entrance gate, where you can get half-price admission after 5pm by bringing an empty Dr. Pepper can after 5pm any day of the week. Even deeper admission discounts are offered on most weekdays.
On Tuesdays, that empty Dr. Pepper can is good for half-price entry all day; Tuesday also offers reduced prices on most midway rides, for those who need a midweek adrenaline rush. On Wednesdays, you can get in for only $4 when you bring four cans of food as a donation to the North Texas Food Bank -- it's the best admission discount at the fair, and helps support a great cause. On "Thrifty Thursdays," enjoy discounts on most classic food items (like corny dogs), and half-price admission by bringing an empty 20-ounce bottle of Coca-Cola.
Once you actually make it inside, you can easily fill your entire day at the fair with only free activities. All of the daily shows and live performances are free to enjoy every day, and there are also multiple free museum exhibits for a healthy dose of culture before you go haggle with the carnies. If you need a break from the madness of the Midway, take a quiet stroll through the indoor Texas Discovery Garden where you can interact with live butterflies, or go see this year's prize-winning livestock in the vast barns, showcasing everything from cattle and pigs to horses and llamas. In the Centennial and Automotive buildings, cruise through the Texas Auto Show where over 400 of the latest car models are on display; it's also where you'll find the best air-conditioning at the fair.
What fair food should I eat first?
With your tickets in-hand, head towards Big Tex for the quintessential State Fair food item: a Corny Dog from Fletchers. There are Fletcher's stands throughout the fairground, but this particular outpost stays busy and you're guaranteed to get a corny dog hot and fresh from the deep frier. Don't worry about the line you'll inevitably find there, as it moves quickly enough and gives you a chance to take your obligatory selfie in front of Big Tex.
Remember: This is a marathon, not a sprint, and there's always a new crop of delicious/outlandish foods to try at the State Fair. The Big Tex Choice Awards fields crazy new items each year and categorizes winners by savory, sweet and "most creative." This year's winners include a stuffed fried taco cone filled with barbacoa, a fried chicken wing served on a Big Red-glazed donut (because we know how much Texans love Big Red), and a fried mango with strawberry sorbet called the "Fla'mango Tango". Each of the 2019 winners and finalists are served at different locations throughout the fair.

All the classics are here, too, with funnel cakes, turkey legs, and corn-on-the-cob around practically every corner. Jack's French Frys is another institution at the State Fair, serving perfectly crispy french fries in a cone under the neon lights of the Cotton Bowl. The Hans Mueller tent pays homage to Central Texas's German roots with bratwurst, sauerkraut, and a great selection of imported beers. If none of that does it for you, there is also the indoor food court with more options like gyros, cajun and burgers. There are even vegetarian, vegan, and healthier foods available, if you're into that sort of thing.
Where can I get something to drink?
It'd be easier to say where you can't get a drink; beer and wine are sold at practically every food stall. If you want better selections, though, hit up the Magnolia Beer Garden for local craft beers, and the State Fair Wine Garden, which serves twelve award-winning Texas wines selected by a panel of sommeliers.
Who (or what) is Big Tex, anyways?
Before becoming the world's tallest cowboy (at 55ft), Big Tex was the world's tallest Santa Claus. Created by the small town of Kerens, Texas to attract holiday shoppers in 1949, his gig as St. Nick lasted just two years before he was sold to the State Fair of Texas for $750. After getting a makeover that included jeans made from 100 yards of denim, Big Tex began his tenure as the official greeter of the State Fair in 1952. Some "feedback" after his debut led fair officials to make him more friendly (aka less creepy) by reshaping his face and adding his now-iconic voice. More than 65 years later, Big Tex has been the State Fair's master of ceremonies that we've known and loved ever since.
Not every year has been a funnel cake walk for Big Tex, though. In 2012, an electrical fire consumed the patron saint of the State Fair amidst literal cries from those in attendance. In a matter of minutes, Big Tex was gone. But in true Texan fashion, Big Tex was rebuilt bigger and bolder than before at a whopping cost of $500,000. He made his triumphant return the very next year, a full 3 feet taller, 19,000 pounds heavier, and capable of withstanding hurricane force winds. Don't mess with Big Tex now.
The first man to voice Big Tex said he was told to talk slowly and sound like a cross between Gary Cooper and Santa Claus. Only six people have had the honor of being the voice of Big Tex and it's a secret who the voice is today. Whoever it is behind the curtain these days (actually, the performer is in a booth called "the doghouse" somewhere nearby Big Tex), he's at the fair every day for 12 hours to make the live announcements every half hour. Cheers to this unsung hero of the State Fair.
What are the best things to do at the fair?
Dozens of events happen daily throughout the fair, so you'll need to prioritize what to check out before that next deep-fried something. Music is a big draw with four stages and bands scheduled every day. This year's lineup includes Bob Schneider on October 11, Billy Ray Cyrus on October 13, and 98 Degrees on October 19 for the boy band lovers living amongst us.

Beyond the music, the World of Birds Show, All-Star Stunt Dog Show, and pig races are all long-time fair favorites that take place multiple times each day. Cap off the evening by watching the nightly parade from the steps of the Hall of State building. For the full lineup along with exact showtimes, refer to the official schedule.
What should I ride on the Midway?
The Midway is full of rides that spin you around and upside down until… yeah, remember all that food? Go with the sure thing and ride the 212-ft. Texas Star Ferris wheel. It's the most iconic aspect of the State Fair after Big Tex and offers an incredible view of the whole fairground with downtown Dallas as the backdrop. Remember that all midway rides require fair tickets as well. Pro tip: Fair tickets from previous years are still valid, so don't feel like you absolutely have to use every last ticket this go-around.
What's the weirdest thing to see at the State Fair?
If a 55-foot-tall cowboy isn't weird enough for you, check out The Woofus. This mythical creature blends a sheep's head, horns of a Texas longhorn, midsection of a pig, tail of a turkey, wings of a duck, and neck of a horse, and there's a statue of it located next to the Swine Building.

Need more weird? There's also a 1,000-pound themed butter sculpture located in the Creative Arts building. This year's theme is "Celebrating Texas Creativity," so it could really be anything.
Sign up here for our daily Dallas email and be the first to get all the food/drink/fun DFW has to offer.