Spring in Texas means many things, but most importantly it's the season of the wildflower. By late February many of us are finally starting to see the effects of cedar fever wear off, giving us much-appreciated reason to venture outside and bask in nature. That's the sweet spot in timing because between then and May our iconic Bluebonnets are blooming, with peak blue-y hues strutting their stuff all over roadsides in March and April. And there's more where that came from—more than 5,000 species in fact. We have soil here perfect for everything from the brightly tipped Indian Paintbrush, to the common sunflower, to the sombrero-looking Mexican Hat. Miley's not gonna need to buy herself flowers in Texas, and neither will you if you follow our handy guide to the best spots for blankets of them. Now don't forget to clear plenty of camera roll space before hitting the road.
201 NW Main, Ennis
When a Bluebonnet viewing spot has the word 'official' in it, you know it's gonna be legit. The city of Ennis was in fact named the 'official Bluebonnet City of Texas' by State Legislature, and these fields are their crown jewel. Visit between April 1-30 and you'll get to enjoy over 40 miles of mapped driving Bluebonnet trials, and between April 14-16, a festival takes place whereby food vendors, live music, and family activities are strewn alongside it. Who would have thought driving through fields of petals could be so entertaining?
100 Legacy Dr, Fredericksburg
Wildseed Farms is one of the best places to see native blooms in the Hill Country. This is the largest working wildflower farm in the whole of the US, 200 acres in size. And because this is the Hill Country, it naturally includes a vineyard. The colors are pop throughout spring, summer, and even fall, and you'll feast your eyes on Grey Poppys, Mexican Hats, and Gay Feathers. Its easily to make a day of a visit here—they also have an excellent gift shop, wine tasting room, 'Brewbonnet Biergarten,' and plant nursery.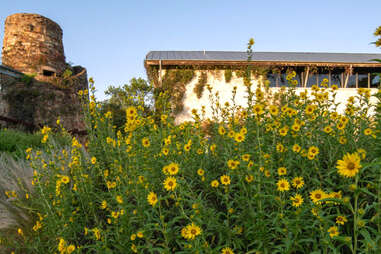 4801 La Crosse Ave, Austin
With miles and miles of natural landscape surrounding the downtown region, Austinites are in luck when it comes to wildflower viewing. But for a stacked selection, we recommend a day at Lady Bird Johnson Wildflower Center. Dedicated to over 650 native plants, this verdant garden is covered with blooms everywhere from its walking trails to the cafe. The center also has a research facility for UT, and offers an education in a variety of specials for all the family.
Big Bend National Park
As one of the lesser visited national parks in the US (mainly due to its remote location), Big Bend is a mighty under-the-radar gem. Least not because of the golden mountains, diverse desert wildlife, and outdoor activities, but because of its springtime blooms. This is where you'll see a huge variety of cacti in all their glory, as well as Ocotillo and a different species of Bluebonnet, called the Lupinus Havardii (or Big Bend Bluebonnet in simpler terms!)—a version that has adapted to the harsh dry conditions of the desert.
The Bluebonnet House
4554 N. US Highway 281, Marble Falls
There's good reason why this has been dubbed the most photographed house in Texas: in spring it's completely overtaken by fields of Bluebonnets. The empty mid-19th-century build was first only noticed by passers-by, but word got out fast and now folks travel far and wide to see the state's iconic flower turn the two-story limestone house into a storybook illustration. Drive on Highway 281 towards Burnet, and as you come over the last hill, straight ahead you'll see the unintentional masterpiece.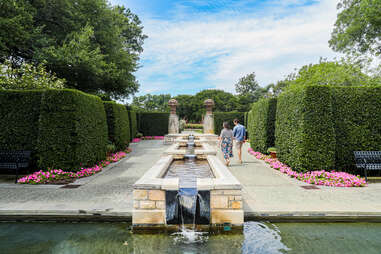 8525 Garland Rd, Dallas
When it comes to perfectly manicured gardens, things don't get much better than the Dallas Arboretum. Yes, fall's pumpkin spectacular and winter's festive lights take all the attention, but spring's just as special and a road trip-worthy occasion. That's when you'll find over half a million blossoms, not just Texan species but also international plant varieties including Japanese cherry trees which turn its promenades a mesmerizing pink. There are plenty of corners to keep all the family entertained here too, including a kid's adventure garden and afternoon tea experience.
199 Park Road 52, Stonewall
The Lyndon B. Johnson State Park and Historic Site is a must for any Texan, offering a glimpse into the life of the 36th POTUS beginning with his ancestors right through to his final resting place on his LBJ Ranch. Ranch means nature, and thus, here you'll find around 400 species of Texan wildflowers. Come with a list and check 'em off, including Scarlet Guara, Pink Evening Primrose, Indian Blanket, and our fave Hill Country nod, the Winecup.
1700 University Dr, Fort Worth
Two powerhouses combine to make up one of the country's largest centers for botanical exploration and discovery: the Botanical Research Institute of Texas (BRIT) and the Fort Worth Botanic Garden (FWBG). Start with the BRIT a lesson in Texan flora by way of specimens, books, and exhibits, as well as a campus full of wildflowers; and then let your knowledge flourish over at FWBG, where 111 acres and 22 garden displays await.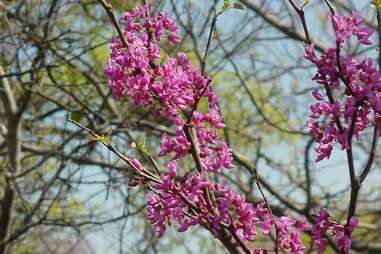 6701 W Parker Road, Plano
Drive to the western border of Plano and you'll come across a sanctuary of wildflowers. Arbor Hills Nature Preserve is a 200-acre park where locals come to get active, so why not join them and smell the Bluebonnets in the process? There are hiking trials covered with Indian Blankets, Winecups, Yellow Daisies and those famous blues, attracting butterflies and hummingbirds to their splendor.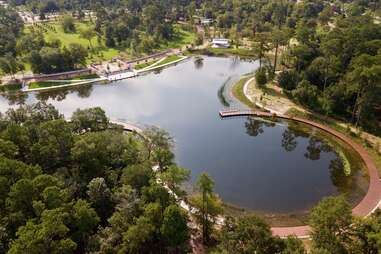 6501 Memorial Drive, Houston
All year around, Memorial Park serves as every Houstonian's favorite outdoor playground (there's everything from croquet to golf to volleyball), so its easy to overlook its flora with all those competitive juices flowing. But did you know that it's absolutely blooming with wildflowers through the warmer months? Here you'll find every color, texture and shape of wildflower there is, from Dogwood Blooms to Winecups. Best of all, much of the park is tree shaded, so you can enjoy the sights in shade.