West Texas Towns You Need to Know About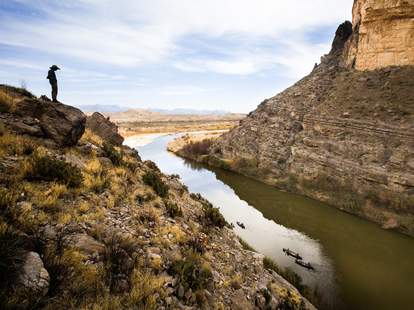 Everyone and their grandma knows about Marfa by now. Literally, your grandma probably knows about Marfa and even knew about it before you did. The setting for the classic 1956 film Giant, Marfa was once the sleepy and quaint embodiment of West Texas before it became the Instagram capital of the world. But there's much more to West Texas than just Marfa; the region boasts hot springs, ghost towns, whitewater rafting and... well, just scroll down.
Alpine is your gateway to the mountain folk
The city that serves as the gateway to West Texas and the
Big Bend National Park
, Alpine is equidistant from all the major attractions of West Texas. It also provides museums and a theatre to bridge the gap between civilization and a complete retreat into the arms of nature.
Dean Fikar/Shutterstock
Terlingua isn't for those with a weak tummy
You could go to Terlingua for the famous whitewater rafting. You could go to Terlingua for the camping under the stars in the canyons. But let's be real. You're going to go to Terlingua for the world-famous
Original Tolbert's International Championship Chili Cook-Off
. After all, it is here that the International Chili Champion is chosen each year.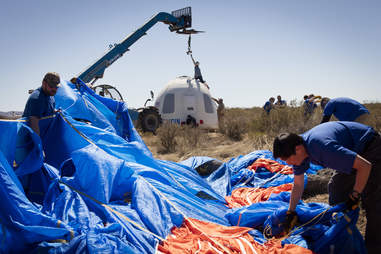 Courtesy of Blue Origin
Van Horn is out of this world
You may one day see a sci-fi movie in which a space tourist utters the line, "Van Horn, we have a problem." That's because Amazon founder Jeff Bezos has founded his super-secretive space tourism project
Blue Origin
out of Van Horn, Texas. Locals are so jazzed about future things that they are even building a 10,000 year clock in the town (also funded by Bezos, of course).
Bathe in the cool waters of Balmorhea
Technically located in the tiny town of Toyahvale, most refer to the this desert oasis by the name of the park and natural spring fed pool that draw visitors there:
Balmorhea
. The ice blue water of the world's largest spring-fed swimming pool offers welcomed relief from the often times relentless West Texas sun and also gives swimmers a breaktaking view of the mountains in the distance.
Search for the many ghosts of Salt Flat
This town is just outside a large and picturesque stretch of salt flats on a deserted leg of highway. But speaking of deserted, that's where you find the real story of Salt Flat. The town was built to accommodate the invention of coast-to-coast highway travellers and aviation crash investigators but as those visitors dwindled, so too did business and it is now a literal ghost town whose sole business, the
Salt Flat Cafe
opens only when the sole surviving proprietor is able to cook, clean, and run the cafe by himself.
Let the Boquillas Hot Springs wash your worries away
Located 30 miles inside the
Big Bend National Park
down a lowlands drive along the river embankment, Boquillas offers not only world famous geothermal hot springs with temperatures as toasty as your parents hot tub on a night when you were at a friend's house for a sleepover but it also offers hiking and even pictographs on the rocks for you to do little season one of True Detective re-enactments.
Sonora has caves of bacon sooooo...
What would otherwise just be another sleepy West Texas town along the stretch of flat two lane highways that run through the area,
Sonora
sets itself apart with one word: caverns. There's no need to go all the way to Carlsbad Caverns because Sonora has got your stalagmites and stalactites right here. Fun fact: did you know that horizontal running sheets of striated cavern rock is known as "cave bacon"?
OK, yes Marfa is pretty damn cool
All right, Marfa. Maybe we were just playing hard to get. Sure, we might get annoyed that every trendy hipster celebrity and even Beyoncé has to take their picture outside the art installation of the fake Prada Marfa boutique. And yeah, it feels like everyone is catching onto "our" special thing. But then
we check into our yurt at El Cosmico
and we remember just why we fell in love with you in the first place and we fall in love all over again. We can't quit you.
Sign up here for our daily Dallas email and be the first to get all the food/drink/fun DFW has to offer.
Amanda Cobra frankly just wishes she was communing with the coyotes at El Cosmico right now. Contribute to her KickFundMe to send her back to the desert on Twitter @amandacobra.