Recommended Video
Please Don't Hang Up: The Best Things to See, Eat, and Do in Seattle, WA
Folks are high on Denver for good reason (well, a few reasons actually), but the surrounding regions offer so much in terms of sunny, mountain-backed, outdoors-focused fun, you'd be silly not to take advantage.
If you have all the time in the world (so you're a resident, you lucky dog), the list of must-dos is seemingly endless: Raft down -- and then zip line across -- the Arkansas River through the Royal Gorge, marvel at the impossibly placed cliff dwellings of Mesa Verde National Park, camp out under the stars and fly-fish in the Black Canyon of the Gunnison, grab a used snowboard and cruise down the sandy slopes of the Great Sand Dunes, or say how-dee-do in your birthday suit at Steamboat Springs' nude-at-night Strawberry Park hot springs.
But if your schedule is tighter than the free shuttle at the 16th Street Mall at rush hour, these easy, quick day-trip adventures will give you a taste of this Western wonderland, and get you back in time for a round of cocktails on one of Denver's many views-packed rooftop bars… just in time to watch the sunset over the Rockies.
Red Rocks: Hike the world-famous amphitheatre
Drive time from downtown Denver: 30 minutes
Why it's worth the trip: It's Red Rocks, dude!
Anyone can see a show at the famous Red Rocks Amphitheatre, and there's no question that you absolutely should… but do it after you get up close and personal with this mountain park by exploring it on foot. There are two easy and well-marked trails (a little over a mile each) -- the Trading Post Trail and the Geologic Overlook Trail -- and the longer Red Rocks Trail that connects to more hiking and mountain biking outside of the park. (We've also got a guide to the best hikes within two hours of Denver.) The treks wind beneath the impressive 300-foot-high sandstone monoliths that form the natural and acoustically perfect backdrop for any musician worthy of the honor, and the fresh air at 6,450 will definitely be felt in your lungs. If that's not enough for you, follow the locals on a run (or crawl) up and down all 380 steps of the amphitheater.
Leave plenty of time to also explore the on-site Colorado Music Hall of Fame, which focuses on local acts as well as national ones from U2, The Beatles, and The Grateful Dead to Daft Punk, Brandi Carlile, and The National. Still feeling frisky? Connect to the Dakota Ridge Trail, with more dinosaur fossils and fantastic views of Denver in the sometimes-smoggy distance.
Keep in mind that you're at an even higher elevation than Denver, at about 6,400 feet, and keep your eyes peeled for critters (deer, rabbits, prairie dogs galore, and the occasional red fox). If there's a show (or in summer, a classic film like The Big Lebowski), the park usually closes around mid-afternoon, which gives you plenty of time to head to the nearby town of Morrison for a stroll along the short-but-sweet main drag and a char-grilled double-patty Holy Cow burger with a side of green chile-smothered tater tots on the patio at The Cow - An Eatery. Or, hitch your horse at The Fort, a replica of the trading post Bent's Old Fort in southeastern Colorado, for a gunpowder-whiskey cocktail and local game meats.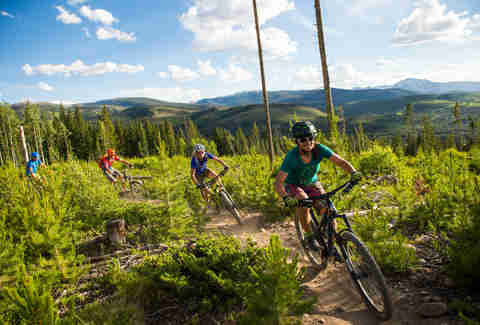 Winter Park: Bike trails and mind-blowing views
Drive time from downtown Denver: 1 hour, 30 minutes
Why it's worth the trip: Any place that's gotten a trademark for the words "Mountain Bike Capital USA" isn't kidding around
You can hardly go 5 feet without tripping over a mountain in Colorado, but many locals prefer to hop, whip, and hip jump around the ones that push your bike mettle to the pedal (thank you, thank you). There are few places better suited to surrendering to sweet singletrack than Winter Park, which not only serves up more than 600 miles of trails, but also two wicked-fun downhill parks.
Rent a bike at one of the many spots around town, or check out Christy Sports, which will outfit you from head to toe and hand over a helpful trail map. Beginners should make a beeline for the Givelo / Northwest Trail for 5 miles of forgiving flats and gentle upslopes winding through lodgepole pine. Intermediate and advanced bikers will find all the chunder and lightning-fast downhill action they could ever dream of in rides like the 8.7-mile Idlewild from the South Fork Loop -- with its moderate rocks and roots -- and the more epic Jones Pass to Herman Gulch, a 10-mile journey above tree line with mind-blowing views. For practice, or to play even more, hit the Trestle Bike Park to try your skills or watch as the more experienced show off their flow.
Want more you adrenaline junkie you? Hit the alpine slide for a thrill. Need some sustenance? Deno's Mountain Bistro sends out sizzling steaks and pan-seared salmon, while the more casual Pizza Pedal'r feels your pain and soothes it into submission with Wild Pigs, a thick-crust pie topped with its sweet sauce and Canadian bacon, regular bacon, sausage, and pepperoni.
Colorado Springs: Explore Garden of the Gods Park and hit happy hour
Drive time from downtown Denver: 1 hour, 30 minutes
Why it's worth the trip: Easygoing hiking among towering red-rock cliffs, complete with views of iconic Pikes Peak
Imposing Pikes Peak, named for the badass explorer Zebulon Pike, looms over Colorado Springs like a third eye, reminding everyone to get out there. One of the best ways to do that: wander through the magical, mystical Garden of the Gods. There are many methods of exploring the 1,364-acre park: hiking it, biking it, horseback-riding it, or hopping on a Segway (please make this a last resort). Rock climbers can also find plenty of places to play. If you still have some energy left, the cliff dwellings of Manitou offer a peek into what life was like when buildings were made from corn cobs and language was painted on rocks. There's also the slog into a box canyon and up 224 steps to view Seven Falls which will remind your lungs that, hey, you are even more than a mile high here. The town of Manitou Springs has retained much of its hippie-dippy vibe, and don't miss filling up a water bottle from one of the eight naturally carbonated mineral springs fountains that are sprinkled around town for all to enjoy.
The laid-back Good Karma Café for breakfast or a well-crafted cappuccino captures the area's spirit perfectly, but for a bigger meal, Adam's Mountain Café can't be beat for its locally sourced slow food, with a mostly vegetarian and vegan menu, although they do offer organic chicken and salmon and roast a turkey on the daily. The cocktail happy hour is worth timing your visit for 5-6:30pm, Tuesday-Saturday.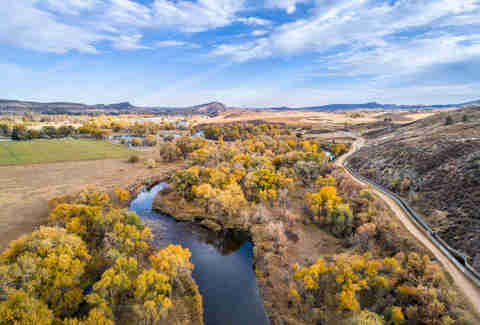 Fort Collins: Tube the Cache la Poudre
Drive time from downtown Denver: 1 hour, 20 minutes
Why it's worth the trip: Best way to beat the city's blistering summer heat
Mountains mean snowmelt, and Colorado usually has plenty of it in the form of rivers that vary from relaxed to raging. North of Denver, the City of Fort Collins features the state's only nationally designated "Wild & Scenic" river in its Cache la Poudre, named by the early 1800s French-Canadian trappers who would stash their furs and gunpowder along its banks. To hop in a tube and float its lazy sections is to immerse yourself in, well, snow -- a welcome plunge with mountain views peeking through between long, dense stands of pine and aspen.
This place is a madhouse on the weekends, but during the week, parking is aplenty and you'll usually see but a few hardcore kayakers and paddle-boarders along the way. First, swing by one of the many places in town that sells real tubes (no pool toys, please) for less than $20, and blow them up at nearby Jax Ranch & Home for free. You can also buy or rent a life jacket, and remember, this river is made of snow, so pack warm post-tubing attire. Head up Poudre Canyon Highway (Colorado 14) to Filter Plant, or leave from Old Town at Legacy Park on the north end, hopping onto the trail off Shields Street. Know before you go when to get out (about 2.4 miles to Picnic Rocks after you get in, making for about four hours of heaven) and what the river might throw at you -- nothing ruins a great vacation faster than an unintended tumble through Class IV rapids or a branch to the Adam's apple. Also, this requires a two-car shuttle or the making of new friends at the takeout... or a long, hot 2.4-mile hike back.
Fortunately, Fort Collins is craft brewery central (a tour of New Belgium is always a good idea), and so thirsts can be slaked at places such as Equinox in Old Town, which offers a zippy BetelJuice IPA, a shady beer garden, two stages for live music, and food trucks on weekends. Beforehand, fortify by stopping by Mountain Cafe for a big, gooey cinnamon roll or just-baked biscuits with spicy sausage gravy.
Rocky Mountain National Park: Photography tours capture the beauty of nature
Drive time from downtown Denver: 1 hour, 35 minutes
Why it's worth the trip: Get a guided tour to avoid traffic and you'll have a once in a lifetime experience in nature
After hours of bumper-to-bumper traffic, you can hardly blame the poor fumes-befuddled visitors to Rocky Mountain National Park for losing their minds when a mule deer saunters past. But that's just one of the 67 mammals -- including several on the endangered list, like the Canada lynx, the Mexican spotted owl, and the North American wolverine -- that call this loved-to-death park home, and there are hundreds more species of birds, reptiles, fish, butterflies, and creepy-crawling critters, as well.
Enter guided photography tours. Several top-notch outfitters offer this service -- try Yellow Wood Guiding or Thomas Mangan -- and they all promise the same thing: They'll get you as close as is ethically responsible to capture that wall-hanging-worthy image, and they even have all the gear you need so there's no lugging a tripod on the plane. You show up in something approximating hiking attire, and they do the rest, from scouting locales to seeking out the right light to setting up your camera and serving lunch. Because they're locals, they can point you to the peaceful places and share park history and secrets, along with more than you ever wanted to know about pika poop.
Once you've captured that bighorn traipsing across the alluvial fan, head to Nepal's Café for a fill-up from their expansive buffet of Nepalese and Indian favorites, or grab a buttermilk cake donut from the beloved Donut Haus, which has been filling just-baked long johns with fresh whipped cream out of an old Phillips 66 gas station for more than 30 years.
Glenwood Springs: Relaxing mineral springs to soothe and relax
Drive time from downtown Denver: 2 hours, 45 minutes
Why it's worth the trip: In a state full of hot springs options, this is the most sought-after soak around
Glenwood Springs definitely pushes the limits of "day trip," but so what? When the reward is a few hours of soothing sore muscles and stressed-out minds in what Native Americans call "yampah," or "big medicine," we'll gladly spend the time to access this mix of 15 detoxing minerals that give it those healing properties (and that eggy sulfur scent). The on-site spa -- as in, mere feet away from the main pool -- is just another excuse to be coddled, with the usual massages and facials and what-not, but you'll probably be content to just shuffle back and forth between 90 degrees and 104 degrees (bring quarters for the little private bubble-blowers along the hot pools' edge).
Come back from all this chill just a few minutes' drive away by taking a leap of faith on a giant swing that shoots out so far over the canyon that you'll think you're a goner. This is just one of the many thrill-seeking-yet-safe attractions at Glenwood Caverns Adventure Park, which also boasts an alpine coaster, a roller coaster, a zip ride, and a "mine drop" that lets you plunge 110 feet super fast.
Palms sweating just by reading that line? Keep the pampering going by heading to The Pullman just across the bridge from the pools for small plates of smoked brisket poutine and truffled potato pierogies. For something faster, the counter-service Slope & Hatch tucked away beneath Main Street serves killer tacos piled high with slow-cooked meats and fresh salsas, and Daily Bread is the place to head for a house-roasted turkey Reuben thickly layered on house-baked rye for the ride back to Denver.
Lake Dillon: A day of boating and fishing on the lake
Drive time from downtown Denver: 1 hour, 20 minutes
Why it's worth the trip: Landlocked Colorado offers some nice ways to get on the water, but this one comes with Summit County views
Surrounded by the towns of Frisco, Silverthorne, and Dillon, and also within biking distance of Breckenridge, Keystone, and Copper Mountain -- all connected to some degree by more than 20 miles of paved bike paths -- the reservoir known as Lake Dillon sits smack in the center of the outdoor playground that is Summit County. Load up a cooler and rent a watercraft of some sort at Dillon Marina (a 25-foot pontoon with a party awning, mayhaps?) and boat away the day, watching for moose along the 25 miles of shoreline of lodgepole pine and aspen, dodging little islands, and finding secret coves to tuck back into. Rent fishing gear, as well, to try for brown and rainbow trout, kokanee salmon, and arctic char.
If you don't catch anything you can eat, swing through Frisco Prime, which pan-sears salmon and smothers it in a balsamic butter sauce, or on the way back down the hill, check out the Cottonmouth Killer IPA and the green chile bacon-loaded mac & cheese at Silverthorne's The Bakers' Brewery, the absolute best thing to happen to a former Village Inn.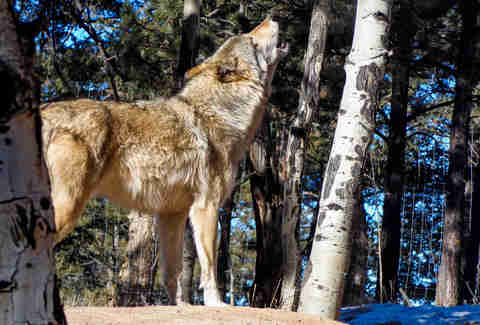 Divide: Moonlit hikes and howling with the pack at a wolf sanctuary
Drive time from downtown Denver: 1 hour, 45 minutes
Why it's worth the trip: If you love dogs, this haven for rescued wolves and wolf-dog hybrids will make your knees weak
Whether dogs really are wolves' direct descendants or another branch entirely, the connection is obvious when you see the pack doing their wolfish things, and there are few better ways to do that than to take one of the monthly moonlight hikes at the nonprofit Colorado Wolf and Wildlife Center, which sits about 25 miles west of Colorado Springs just outside the tiny (population: 142) town of Divide, atop Ute Pass at 9,165 feet.
This isn't some dolphin-exploiting faux experience. The responsible approach here is to treat these somewhat socialized animals like the wild creatures they are, and although visitors get to interact, the animals living on the property -- which also includes rescued foxes and coyotes -- are closely monitored for signs of stress or discomfort. The moonlight hikes delve a little farther into the picturesque Pikes Peak Range in dark silhouette at night, and several times a month they include the fun of feeding time, too. Don't be afraid to get in on the group howl: The wolves always howl back.
For more hiking, Florissant Fossil Beds National Monument is nearby and filled with freakishly large hunks of petrified redwood stumps, some as big as a camper van, or check out Cripple Creek, the gold mining and gambling town that time forgot -- as evidenced by the fact that you can still stop into the cash-only Home Café for a 49-cent breakfast of pancakes, an omelet, and hash browns that's pretty damn tasty, as well as a good burger and homemade cherry cobbler.