Perfect Fall Road Trips for When You Need to Escape Denver
The mountains never looked so good.
'Tis the season for cool temps, cozy flannels, and brisk hikes through the yellow Aspens. That's right—fall has arrived in Colorado and so has the rush from the city to the mountains to catch the fleeting but breathtaking changing of the leaves. The best part? Leaf-peeping in Colorado is very much a choose-your-own-adventure, where you can drive 20 minutes or two hours and stumble upon some incredible views either way. There's also usually an abundance of activities available wherever you explore, with the nearby mountain and mining towns each offering totally unique fall experiences.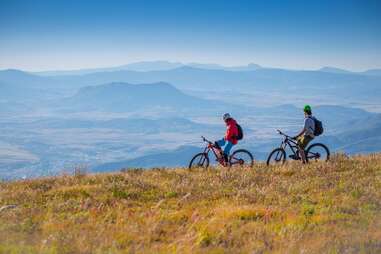 Drive time from downtown Denver: 2 hours, 45 minutes
Steamboat Springs is yet another destination worth the extra bit of trek. Not only do you get incredible fall foliage via roads like the scenic, 15-mile Buffalo Pass (keep weather conditions and the bit of bumps along the dirt road at the top in mind), but you can also enjoy all the fun that downtown Steamboat Springs and surrounding areas has to offer. Strawberry Park is one of Colorado's favorite hot springs destinations and Fish Creek Falls combines the beauty of the changing leaves with the beauty of natural waterfalls, and you get your exercise for the day.
Find an amazing Airbnb near Steamboat Springs
Drive time from downtown Denver: 2 hours, 30 minutes
Nestled between Twin Peaks and Aspen and right in the heart of the Rocky Mountains is Independence Pass. The scenic drive is seasonal, typically closing in early November with the anticipation of snow and due to the narrow and winding nature of the roads, certain vehicle restrictions are in place (so check out all the information before you plan your trip). Whether you're heading east or west through the pass, there are definitely more things to do in the surrounding towns of Twin Lakes and Aspen. Visit the Independence Ghost Town or hike the epic and awe-inspiring Maroon Bells, then stop in the bustling (and simply beautiful) Aspen for a bite to eat or a comfortable place to rest your head.
Find an amazing Airbnb near Twin Lakes
Drive time from downtown Denver: 30 minutes
Quiet, closeby, and full of yellowing Aspens and tons of hiking opportunities is the town of Conifer, easily reachable via US-285. Though there are a few restaurants and shops to check out downtown, it's the expansive natural area surrounding Conifer that make it a draw for outdoor adventurers and especially those looking to catch the changing leaves. Meyer Ranch Park offers just over four miles of hiking trails that boast aspen droves for acres, making for the perfect fall walkthrough or photo-op.
Find an amazing Airbnb near Conifer

Drive time from downtown Denver: 30 minutes
One of the world's best music venues is in Denver's backyard, and though many of our favorite musicians finally returned to the stage this year, this natural red rock amphitheatre is worth a visit for the views alone. Entry is free and the park is open one hour before sunrise, closing one hour after sunset. Head to the top of the amphitheater itself for sweeping views of the Mile High City in the distance, or trek down one of the trails that leads you near many of the giant sandstone formations (just don't climb on them—that's a big Red Rocks no no). There are 868 acres of breathtaking beauty to take in across the whole area, with the Trading Post Trail and Red Rocks Trail being the two main paths to get the best views while hiking.
Find an amazing Airbnb near Red Rocks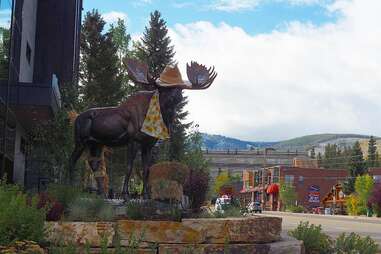 Drive time from downtown Denver: 1 hour, 30 minutes
Once ski season hits, this small town will be bustling with skiers and snowboarders hitting the slopes at the resort, but it's got a lot to offer even if you're not heading to the mountain. Check out the tubing hill in nearby Fraser, or soak away your worries at Hot Sulphur Springs. And if you are into that ski resort life, you're in luck—Winter Park's slopes will be open this season, in addition to other fun snow activities like snowshoeing, ski biking, and snowcat tours.
Find an amazing Airbnb near Winter Park.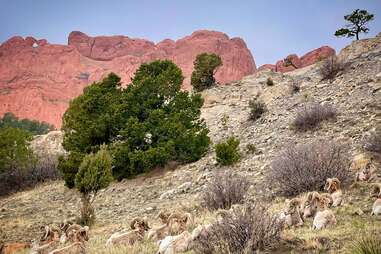 Drive time from downtown Denver: 1 hour, 30 minutes
Colorado Springs to the south of Denver is packed with activities, but one of the best is this 1,364-acre park where you can hike, bike, or horseback ride your way around the massive sandstone formations. Plus, entry is free. If you're feeling extra adventurous, you can even check out the views from the top of the rocks with a guided climbing experience. The park sits at the foot of Pikes Peak, one of Colorado's "14ers" (a mountain that rises to an elevation over 14,000 feet) and the literal "purple mountain" that inspired Katharine Lee Bates to write "America the Beautiful."
Find an amazing Airbnb near Garden of the Gods
Drive time from downtown Denver: 1 hour, 20 minutes
There's a reason locals call this college town north of Denver "Fort Fun"—and it's not just the bar and brewery scene (although those are definitely part of the reason… ). One of Fort Collins' biggest draws is all things outdoors. Horsetooth Reservoir, just to the west of Fort Collins, is 6.5 miles long and yes, swimming is not a great idea in the colder months, but the area does have some easy hikes that you can tackle no matter the weather. Then you should totally go out for a local beer after.
Find an amazing Airbnb near Fort Collins
Drive time from downtown Denver: 1 hour, 35 minutes
For iconic, postcard-perfect Rocky Mountain scenery, it doesn't get any better than this national park. Keep in mind that certain areas are currently closed due to wildfires and that you'll also need a reservation to visit, so it'll take some planning in advance. But the 415 square miles of pure alpine beauty is more than worth it. While it's most well known for Trail Ridge Road, this high alpine drive does close in the colder months. But that just means you can explore the park in a whole new way like snowshoeing, cross-country skiing, and sledding in Hidden Valley.
Find an amazing Airbnb near Rocky Mountain National Park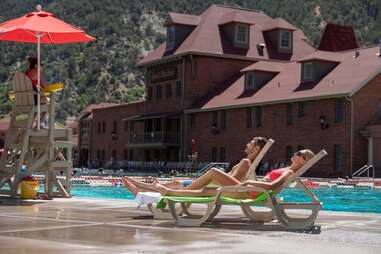 Drive time from downtown Denver: 2 hours, 45 minutes
It's a bit of a drive for a "day trip" but you won't mind setting out early for this destination because when you reach it, you'll be rewarded with the ultimate in relaxation: hot springs soaking. The town is home to three hot springs attractions. Glenwood Hot Springs is the original—it's been welcoming visitors since 1888 and is home to the world's largest hot springs pool. In 2015, Iron Mountain Hot Springs opened with 16 pools of various temperatures for your soaking pleasure. Both are currently open, but reservations are required for Iron Mountain. At the Yampah Spa and Vapor Caves, you can experience the area's geothermal features in a different way, with a natural geothermal steam bath.
Find an amazing Airbnb near Glenwood Springs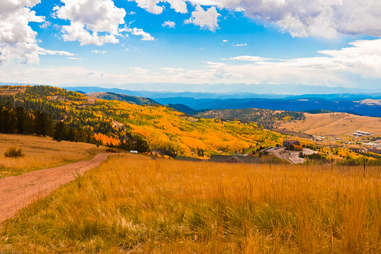 Drive time from downtown Denver: 2 hours
This kitschy gambling town southwest of Colorado Springs is filled with classic Old West vibes. Founded during the Gold Rush, it was originally a mining camp. There's even a free roaming herd of donkeys that include descendants of the donkeys that were used in the original gold mining operations. Along with nine casinos where you can try your luck at becoming a big winner, the town is also home to several historic attractions including the Mollie Kathleen Gold Mine and the Cripple Creek Jail Museum.
Find an amazing Airbnb near Cripple Creek
Drive time from downtown Denver: 2 hours
As a warning, this destination isn't for those with a fear of heights. The Royal Gorge Bridge, built in 1930, is the highest suspension bridge in the country, hovering 956 feet above the Arkansas River. And if traversing this feat of engineering isn't thrilling enough on its own, the park is also home to other attractions including the aerial gondola which you can take back after your trek across the bridge. The gondola spans 2,200 feet across the gorge, 1,200 feet in the air for a truly scenic ride. Or take that same trip, sans the safety of the gondola and opt for the zip line instead—an experience that's sure to get your heart racing. Most of the activities here are outdoors and open subject to weather.
Find an amazing Airbnb near Royal Gorge Bridge & Park
Molly Martin is a freelance writer in Denver, Colorado who is always on the lookout for fun things to do. Follow her Mile High adventures @mollydbu on Twitter and Instagram.
Erica Buehler is a Thrillist contributor.