The Best Escape Rooms in Denver
These are the most challenging, fun, and exciting escape rooms in Denver.
Mind-bending, team-building, problem-solving escape rooms; they're fun and spreading like wildfire across the country, globe, and Denver for good reason. Escape rooms challenge you, pump your adrenaline, and when you do figure out the solution, the serotonin boost and subsequent bragging rights are pretty wonderful. Plus, the beauty of the game is that no two are the same. Denver has a ton of escape room venues that each boast several unique concepts of their own, whether you're into fantasy, crime, post-apocalyptic, or back-in-time genres. From Uptown to Littleton, the metro is littered with escape room fun, some that even have full restaurants or murder mystery dinners to boot. Here are our 11 favorites.
Central Business District
In addition to going well into detail for each game theme, fully immersing you in the concept, EscapeWorks also categorizes each room based on the best audience for it. The Egyptian Tomb, for example, is ideal for families, first-timers, and teens, but Outbreak is recommended for experienced escape room players. EscapeWorks is also a perfect place for group and company team-building events and even wedding proposals, if you'd like to challenge The One before popping the question.
Cost: $$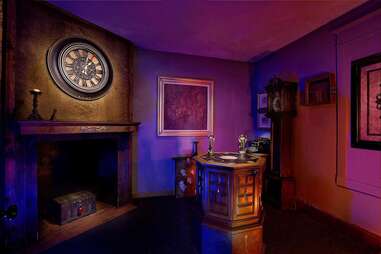 Littleton
Suspending belief is pretty much a requirement here, but solving complex problems within the time limit will be well worth checking out of reality. Some games are themed after media favorites, so you can dive into the world of Indiana Jones or the Pink Panther while you rush to escape a trap, help others, or alternatively, commit the greatest crime. And, Mystic is another venue where the rooms are always private, meaning you fail or succeed with friends and friends only.
Cost: $$
City Park West
Be fully immersed in the theme of your choosing at this escape room curator, who also has locations in Westminster and Greeley. The devil's in the details here, where the room designs will transport you to the place or era or universe in which you might be tasked with solving puzzles, saving innocent lives, or taking down villains. Worked up an appetite doing so? Head to the Mansion next to the Denver location for some truffle fries, mac and cheese, or pulled pork sliders.
Cost: $
Five Points
With all private rooms, you won't have to worry about any strangers spoiling the fun as you race against the clock at Escapology. The game concepts here are far-reaching, meaning there's a theme for everyone. Find a murderer on the Budapest Express, stop outlaws in an Arizona shootout, or take down the world's greatest hacker before a virtual heist is pinned on you. After you've stopped the bad guys, have a drink or bite to eat and relax at Escapology's bar and lounge.
Cost: $$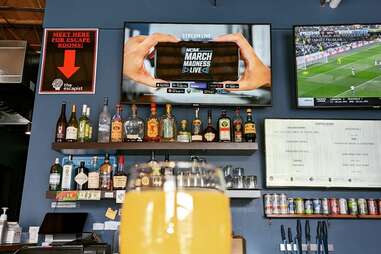 Lincoln Park
In addition to four rooms taking you from fantasy medieval times to island prisons to outer space, there's also a bar here where you and your group can sip and discuss that one mind-stumping clue. Beer, wine, seltzers, cider, and cocktails are available alongside board and console games. You can essentially spend a whole day with the crew here for hours of fun.
Cost: $$$
City Park West
You have 60 minutes to work your way through more than a dozen possible games at this Denver escape room. There's a wide range of difficulties, and you can choose from fantasy, sci-fi, and crime themes, among other unique concepts. If you're hungry for more puzzle-solving after your escape room hour, check out Epic's Murder Mystery dinner series, too.
Cost: $
Littleton
You can hop from a deep-sea adventure to saving the Jurassic Park world to laughing at the diabolical nature of Cartman's Escape Room here. Test your family's problem-solving skills, throw a birthday party, or just spend an hour having fun with your friends in thoroughly designed and totally immersive rooms.
Cost: $$
Goldsmith
Self-proclaimed as Colorado's largest escape room, Colorado Escape is also expecting a brand-new room to open in the near future. Fancy partaking in a classic Old West bank heist? How about putting your creative thinking muscles to the test in a Dungeons and Dragons realm gone wrong? If you're feeling extra confident in your abilities, give the Silence of the Lambs room your best effort; the success rate is a meager 10 percent.
Cost: $
Centennial
Upping the ante for escape rooms everywhere, there are three ways to enjoy The Clue Room: First, you and your group can show up to a traditional game venue to solve IRL puzzles, from being a top-notch spy to the hero of Wonderland. Or, you can have a Clue Room gamemaster show up to your place (or event location) with all the materials required for a party-perfect game. Even more of a choose-your-own-adventure is the option to play a digital game over the course of 24 hours, with in-person friends or digital ones who can be based anywhere. The gaming possibilities are endless.
Cost: $
Dayton Triangle
Hunt for treasure or work collectively to return light to outer space with Mission Escapes' puzzles, designed with a minimum player requirement in mind for puzzles that physically require more than one person's problem-solving abilities. The games at Mission are intended to get your blood pumping, so the pressure will be on to figure your way out before time is up.
Cost: $$$
Baker
The four concepts here are perhaps even more intriguing because of their ambiguity. What's the story with the Dark Room? What secrets lie in the strange apartment you inherited? Can you escape the terrifying Carnival in one piece? Only time—and the skills of your teammates—will tell. Only have a couple of folks? The minimum private session starts with four people, but you can always buddy up with another small group to maximize your chances of solving puzzles.
Cost: $$
Erica Buehler is a Denver-based freelance writer and editor. Follow her @e_buehler on Instagram and @e_buehler_ on Twitter for more updates on Denver food and other Mile High shenanigans.