The Most Beautiful Hikes Near Denver
These beautiful hikes around Denver are more than worth the trip.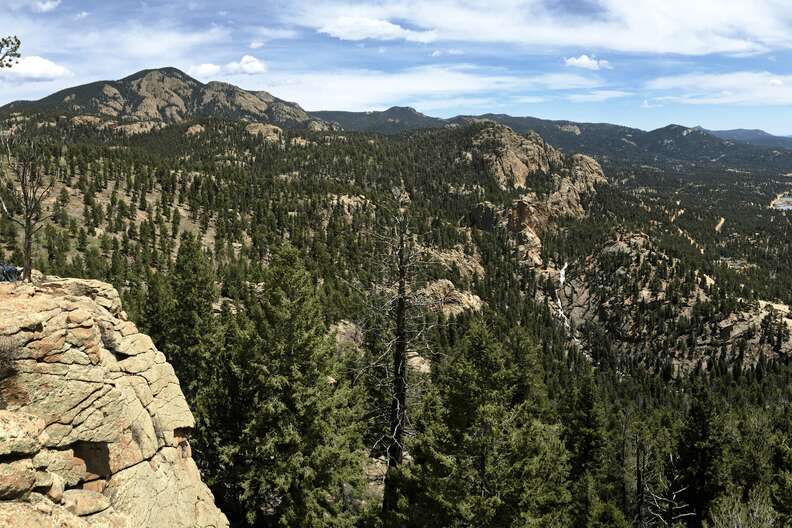 Elk Falls Overlook

| Flickr/Josh Montague
Elk Falls Overlook

| Flickr/Josh Montague
When the weather is warm (and sometimes even when it's not), you can catch a sizable chunk of Denverites fleeing the cranes and construction of the city for some nature bathing. It doesn't matter if you're a beginner hiker or on your seventh pair of Merrells, there are enough worthy—and exceptionally scenic—hikes to keep you satisfied year-round.
Some trails are widely known and well-traveled (heya, Maroon Bells), while others don't always top the standard lists, but should. But each has something unique to offer, whether it's an expansive valley vista, frozen waterfall, or a serious calf workout. Drive a few minutes or a few hours and have yourself a lovely day while getting those steps in; here are some seriously beautiful hikes to take near Denver.
Distance from Denver: 35 miles
Difficulty: 3
Length: 4.4 miles round-trip
Best for: Beginners, families with small kids, and dog owners on the… leisurely side of activity.
This relatively easy loop has all the natural beauty that Evergreen is known for as you meander well-trodden trails nestled deep among the pines, firs, and aspens, and is a quick day hike if you've got a small hiking window. Trudging through a few inches of snow and seeing the (several) falls frozen solid is just as impressive as working up a sweat in the Colorado summer, so really any time of year is a good time to go (but maybe pack the microspikes in the winter, just in case). There are two trailheads, the lower and upper, both on Evergreen's Black Mountain Road, and if you've got more time than you've expected, you could always detour off Cliff Loop Trail, which eventually meets back up with the Maxwell Falls trail above the falls themselves.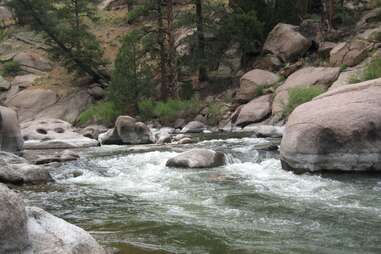 Distance from Denver: 60
Difficulty: 6
Length: 5.3 miles round-trip
Best for: Fishing enthusiasts and intermediate hikers
If the sound of rushing water or the possibility of stumbling upon wildlife excites you, this is the trail for you. Only 5.3 miles, this moderately challenging trail winds through Cheesman Canyon and around the base of Cheesman Mountain, following the South Platte River and dumping you at the trailhead leading to Cheesman Reservoir (yes, it's a bit further to the water itself). While it isn't the most difficult hike and doesn't require much bouldering, it does get pretty steep in some sections and is therefore not recommended for anyone whose calves are just starting their hiking journey. Other spots can get icy in the colder months, so pack microspikes or wait for the trails to thaw a bit before venturing out. When you finally do, you'll be rewarded with pure Colorado splendor in the form of (smaller) river rapids, tree lined paths, and vistas of Cheesman Reservoir. Just be sure to respect the abundant anglers you're sure to bump into.
Distance from Denver: 83 miles
Difficulty: 3
Length: 6 miles round-trip
Best for: Flatlanders looking for Colorado hiking cred… and families with older kids
Get a glimpse into Colorado's gold and silver mining history. The Mayflower Gulch trailhead sits just off Interstate 70 at the Copper Mountain Exit 91 South toward Leadville. After a short walk through a thick forest, fields of wildflowers and old mining cabins make for great photo opps, and the shortness of the journey means plenty of time to meander (be careful off-trail, though, because there are mine shafts all around). An extra (and super-steep) half-mile hike past the cabins nets views over the ridge—the initial stopping point—of a wide expanse of meadows backed by sawtooth peaks.
Copper Mountain is in Summit County, one of the most densely recreational sections of the state—Breckenridge, Keystone, Leadville, Frisco, Lake Dillon, and Silverthorne (famous for its outlets) are all within easy striking distance. Grab a pint—keeping in mind that the altitude can be one hell of a buzz accelerator—at the High Rockies Whiskey and Wine Bar, a convivial dive that barrel-ages on-site and lets you build your own flatbread.
Distance from Denver: 89 miles
Difficulty: 5
Length: 6.2 miles round-trip
Best for: A moderately difficult waterfall hike where the journey is just as pretty as the destination
Most hikers head toward the Seven Bridges hike that splits off from this 6.2-mile out-and-back near Colorado Springs' North Cheyenne Cañon Park, especially during the week, and that makes this a good choice for those who want to spend some time checking out the United States Air Force Academy or the Pro Rodeo Hall of Fame - Museum of the American Cowboy before (or after). This is one of those hikes that taxes beginners and makes the advanced feel accomplished because the uphill isn't the steepest, but will assuredly keep you on your toes. Brook trout can be seen in the creek along the way as you wind in and out of the woods, and keep in mind that the road to the trailhead can be gnarly, so very low-clearance vehicles will struggle. On your way back, stop in at TAPAteria for creative cocktails and Spanish snacks.
Distance from Denver: 93 miles
Difficulty: 6
Length: 4.2 miles round-trip
Best for: Visitors to the Vail Valley with limited time and the itch to see a waterfall
The reward for this straight-up trail is the 60-foot-high Booth Falls, made even more magnificent in fall by the surrounding endless expanse of shimmering gold aspens. Take your time here. There are views of the valley and the Gore Range en route—this hike changes to a 7 rating if you try to rush up—and the view of the drainage you just climbed is a nice sight on the way down. When you get to the falls, there are several options: Take one of the many social trails to get up close and personal with the falls, or take the overlook path to get a wider angle.
The parking lot is always full, but there's a bus stop right by the trailhead, and if you start early, you might have the falls to yourself for a hot minute. Post-hike, since you're already here, you might as well act like a local and hit up the rustic charmer Bart & Yeti's, where you can rest your weary limbs, people-watch, and check out live local music on the expansive outdoor deck while sampling a textbook version of Colorado's unique brand of chile verde.
Distance from Denver: 52 miles
Difficulty: 6
Length: 8 miles round-trip
Best for: Directionally challenged hikers looking for a more straightforward but still badass hike that avoids the Mount Evans mayhem
While the rest of the hordes head to the summit of popular Mount Evans in their cars just to brag that they've bagged a 14er, smarter summit-seekers know that the Hell's Hole hike is seriously misnamed. Weaving between aspen forests and grassy meadows, this pretty trek crosses West Chicago Creek several times and offers many opportunities to take photos of the mountain goats and bighorn sheep that call the Mount Evans Wilderness home. Flatlanders will appreciate that there are no switchbacks or confusing trail crossings—it's a simple, 8-mile out-and-back with a gradually increasing grade. You know you're done when you reach the obvious base of Gray Wolf Mountain. Meanwhile, that alleged hole from hell turns out to be a dried-up glacial cirque (in other words, a big, wide-open valley that's nonetheless jaw-droppingly gorgeous).
Pack a picnic lunch for the tree stump at the top, and if you're feeling brawny, keep in mind that Gray Wolf offers more intensity on its east wall. Either way, when you're back down, the return drive—famously the most hellacious part of this journey—takes you past Idaho Springs, where zip lining and river rafting offer more intense ways to test your mettle. Refuel at Westbound & Down Brewing Co., which sends out local buffalo in burger form from its partner restaurant, along with a deliciously fruity-hopped, house-brewed double IPA.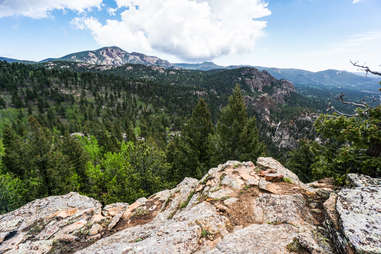 Distance from Denver: 43 miles
Difficulty: 6
Length: 12 miles round-trip
Best for: Tackling something close to Denver that still lets you feel like you really got out there, man
Staunton State Park is one of Colorado's best state parks, and Elk Falls is just one of its many hidden gems. Famous for being the highest waterfall closest to Denver, Elk Falls starts at 8,200 feet and gains another 900 as it passes through large stands of ponderosa pine and massive granite cliffs. The Foothills locale means the weather won't be as quick to turn mid-day, and because this is a state park, there's plenty of parking (although the line to get in after, say, 10 am on weekends can be daunting). Plan to spend some time at the park before or after, as well, but there are a lot of cool things to explore in its nearly 4,000 acres, including a well-varied natural rock-climbing area, streams to cool your feet off in, and fishing in the Elk Falls Pond.
Distance from Denver: 70 miles
Difficulty: 8
Length: 7.5 miles round-trip
Best for: Avoiding the national park pandemonium while still getting a 360-degree vista of the best stuff
An iconic sight at the eastern edge of an iconic destination, Estes Cone in Rocky Mountain National Park isn't a volcano, but a really big round mound formed by natural erosion. The trail starts at Lily Lake (which asks for a $20 donation collected on the honor system near the trailhead) and you'll get to check off all of those fabulous must-sees: the Estes Valley, the Mummy Range, the Continental Divide, Longs Peak, Mount Meeker, and Twin Sisters, as well as a satisfying look at where you came from when Lily Lake appears far below.
After starting off on the Storm Pass Trail, veer off onto the Estes Cone trail. You'll get to see Longs Peak for a long time at the beginning, and get ready for the last bit that requires big-time bouldering. Hang on to your snack when you stop at the top—the chipmunks up here are infamously savage.
A fantastic meal awaits at the original Smokin' Dave's BBQ & Brews in Estes Park, which cooks up a killer cornmeal-crusted catfish, as well as mac & cheese with chiles and bacon, and a Kentucky bourbon pecan pie that you most certainly have earned, all ready to be washed down with one of 15 beers on tap.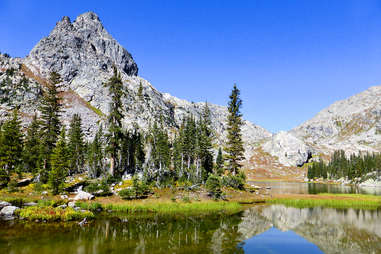 Distance from Denver: 96 miles
Difficulty: 8
Length: 12.3 miles round-trip
Best for: Hikers who would rather explore something hidden than go where everyone else goes—namely nearby Mirror, Gourd, and Crater lakes—as well as fly-fishing folk
For a classic hike to a high-alpine lake, it's hard to beat the Stone Lake trail, winding through dense forests of aspen and bristlecone pine via the Roaring Fork drainage leading up to Mount Irving Hale Pass. Leave from the east side of Granby Lake and be prepared for a tough start, followed by a mellow middle, and then a really tough final ascent, boosted by ridiculously photogenic views of the Indian Peaks. About halfway to the lake at the pass, the open area hosting the remains of an old cabin is popular with elk, and also offers wild raspberries for most of the year. Who knows why the people who name natural features are so obsessed with the word "hell," but Hell Canyon is a surprisingly heavenly place, although the steep descent can be loose and slippery, and signals that you're about to hit the final, brutal uphill to the lake.
Be aware that not only is it a tough trek, but it's also not well marked; a good topo is your friend here. If fishing and camping are your goals, in less than a half mile past Stone Lake, Upper Stone Lake offers an even more remote locale in an equally stunning setting, with its backdrop of the 12,000-plus Hiamovi Mountain and Cooper Peak.
Distance from Denver: 130 miles
Difficulty: 10
Length: 25 miles round-trip
Best for: In-shape hikers looking to check a solid 14er off their bucket lists
Barr Trail is a commitment. Pikes Peak is not the easiest 14er to climb (of Colorado's 53 peaks that summit out at more than 14,000 feet high), but it's one of the most beloved—and one of the most attempted. Leave before the crack of dawn and plan to camp overnight if you can. Plenty of people make the 25-mile up-and-down journey to 14,115 feet in one day, but the 7,800 feet in elevation gain and potential for the hike to take 10-14 hours has been known to do in even the most self-assured of trailblazers... so only attempt if you've acclimated.
Once you get there, order a hot donut from the shop at the top (which they have been serving for more than a hundred years) and take in the views across Colorado and into Arizona, New Mexico, Utah, and Kansas, along with the curvature of the planet. If you need to bail, you can always rough it overnight at Barr Camp and make your way down the next day, or bail entirely and hop on the Cog Railway to the top. Either way, treat yourself to one of Manitou Springs' best restaurants, either the stellar Slow Food at the cozy Adam's Mountain Café or if you're in more of a hurry, Manitou Brewing Company at the base of Pikes Peak for a pour of Red Rock Red Rye and pulled pork tacos.
Erica Buehler is a
Denver-based freelance writer and editor.
Follow her @e_buehler on Instagram and @e_buehler_ on Twitter for more updates on Denver food and other Mile High shenanigans.