The Coolest Pop-ups in Denver Right Now
Get to these pop-ups before they disappear.
There's no better marketing for an event than: "Be there or miss it forever!" Both luckily and unluckily (as there are only so many hours in a day), Denver has pop-ups virtually every single day, and what you can expect varies widely. Heading out on a whim could lead you to themed drink experiences, local makers markets, crafty workshops, permanent jewelry, and flash tattoos, the best thrifting in the city, or something totally unexpected altogether. The below list is just a sampling of the many pop-ups happening across Denver in the next few weeks, but we're looking forward to a whole year of exciting, one-time-only events. Grab your wallet and energy drink and get out there.
RiNo
May 13
Pick up fresh mother's day flowers—or seeds for planting later—put together by Rowdy Poppy from 2 - 5 pm and grab some sweet treats while you're at it, courtesy of women-owned businesses Big Raven Bread and Koelle Tiny Farms. Go crazy and grab a bottle from Infinite Monkey Theorem while you're at it, too. A portion of pop-up sales will be donated to the Colorado Doula Project.
Cost: Prices vary
Overland
March 31
Flash tattoos, hair tinsel, tooth gems, botox, piercings, oracle readings, and free beer—what could be better? It's a HORRID pop-up, no doubt; swing by the storefront from 1 - 6 pm for the coolest vendors, brews from Ratio Beerworks, and like-minded—albeit wonderfully eclectic—company.
Cost: Entry is free; vendor prices vary
RiNo
April 15
Celebrate spring with wares from Denver makers at The Source's monthly market pop-up. Snatch up goodies from Reunion Bread Co. and Temper Chocolates plus self-care CBD bath bombs, handmade crystal dreamcatchers, custom artwork, jewelry, and more.
Cost: Entry is free; vendor prices vary
Cap Hill
April 13 - 16
Love the spooky and haunted? Throw in a four-part cocktail experience at one of Denver's most popular nightclubs and you get this unique pop-up. Be guided by the tavern keeper and hear chilling tales of the haunting history of the building.
Cost: $55 per person
RiNo
April 30
This regular pop-up event at RiNo's Infinite Monkey Theorem winery has garnered lots of attention from thrifters and tattoo enthusiasts alike. It's also just a great way to spend a Sunday, browsing racks of vintage gold, listening to live DJs, and adding some ink to your sleeve (if you get on the waitlist early enough).
Cost: Free to enter; items and flash tattoo prices vary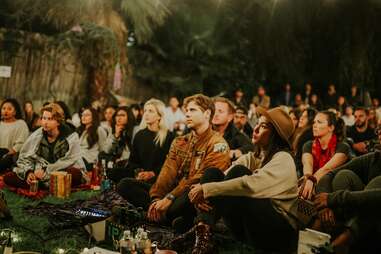 South Broadway
April 1
If you haven't heard of Sofar Sounds, envision a top-secret, intimate concert with rotating venues and performers. Some events are BYOB, some are pet-friendly, others are on rooftops throughout the city. You won't know the address until 36 hours prior, and won't know the performer until the show starts. While there are performances almost nightly, this South Broadway show will be held at a "hidden speakeasy," and is sure to be special.
Cost: $26
Erica Buehler
is a Denver-based freelance writer who dog-ears instead of bookmarks and is not sorry about it one bit. Follow her @e_buehler on Instagram and @e_buehler_ on Twitter for more updates on Denver food and other Mile High shenanigans.