Beyond the snow-capped peaks and apres ski culture that most associate with this mountainside town, Aspen is a food destination. Once a year, the nation's best chefs (and biggest food lovers) descend on the city for the Food & Wine Classic—the rest of the time, you'll find a lot of flavor packed within Aspen's few square miles, from century-old saloons and rowdy dive bars to swanky new outposts of East Coast-born eateries. So whether you're here to shred the world-class slopes or visit during the warmer months for hiking and shopping, these are the best places to eat and drink during your next trip to Aspen.
With a menu of sweet and savory bites, French Alpine Bistro has you covered no matter what craving hits. French Onion Soup, escargot, and cozy entrees like Beef Bourguignon are stars of the savory side, while several types of crepes will ensure you save room for dessert. An alpine meal wouldn't be complete without some melty cheese, so the bistro offers both fondue for a group with plenty of vessels for dipping and individual servings of raclette drizzled over boiled potatoes.
Top-notch cocktails, swanky chandeliers, and laid-back seating come together to create the ultimate speakeasy vibe at Hooch. Head underneath Meat & Cheese Restaurant and Farm Shop, and you'll be greeted with a cocktail list that stretches more than 20 libations long. Cocktail nerds and casual sippers alike will be pleased at Hooch, where classic cocktails are remixed in exciting new ways and glassware symbols next to each menu item help explain the options. For the real devotees out there, a Reserve List section of the menu contains cocktails with top-shelf spirits like a Vieux-Carre variation with Yamazaki 12-year and an ultra-fancy cocktail called It's a Celebration Bitches that runs for $1,200.
Located inside the luxurious Hotel Jerome, J-Bar has been an Aspen institution since 1889. The saloon-style establishment features a historic maple bar, tin ceilings, and rich leather seating where you can kick back with a cocktail and elevated bar food like the local favorite J-Bar Burger. Be sure to check out the historic register, where every bartender who's worked behind the stick in the last 100-plus years has etched their name.
Las Montanas had big shoes to fill when it took over the beloved Jimmy's space in 2022. But this cozy Tex-Mex spot has quickly become a staple in its own right. The menu consists of sizzling fajitas and cheesy enchiladas perfect for a chilly winter night after a long day on the mountain. That's not to say this spot is only a seasonal respite—those options sit alongside fresh ceviche and mariscos tostadas that become perfect pairings for a frothy margarita as the weather warms up.
Just as the restaurant's name suggests, a visit to MaWa's Kitchen will take you to the center of the action as award-winning chef Mawa McQueen prepares a slate of dishes that draw on Mediterranean, African, and French influences. Yucca Fries, Jerk Shrimp, and Hummus and other dips kick off the meal, while the entree options are just as worldly. The restaurant is open for breakfast, lunch, and dinner during peak season, but for a more casual way to taste McQueen's food, check out the chef's crepes at Snowmass Village.
How to book: Via website
For a dining experience that serves adventure as an amuse bouche, head to Pine Creek Cookhouse. Sure, you could roll up in a car like it's any ol' restaurant, but this off-the-beaten-path eatery also offers tours to take you up to your seat for dinner. Strap on some snowshoes or pile into a horse-drawn carriage in the winter, or choose between a hike or horseback ride up to the restaurant in the summer. Once you're there, the meals highlight seasonal produce and offer choices for each of the four courses.
How to book: Via website
Ponyboy, NYC's nightlife institution known for disco vibes and first-class cocktails, has taken residency at the W Hotel. Occupying a speakeasy-style space steps from the base of Aspen Mountain, Ponyboy's new outpost is the ideal apres-ski destination. Cocktails match the playful atmosphere, with options like Forgetmenot (mezcal, watermelon, ginger, lime jalapeño, matcha salt rim) and an oversized Demerara Dry Float that serves six to eight people. Whether you're just coming off the slopes or are skipping the snow entirely, the party runs until 2 am daily, where you can dance to DJs from near and far and take photos of the epic leg-shaped disco ball.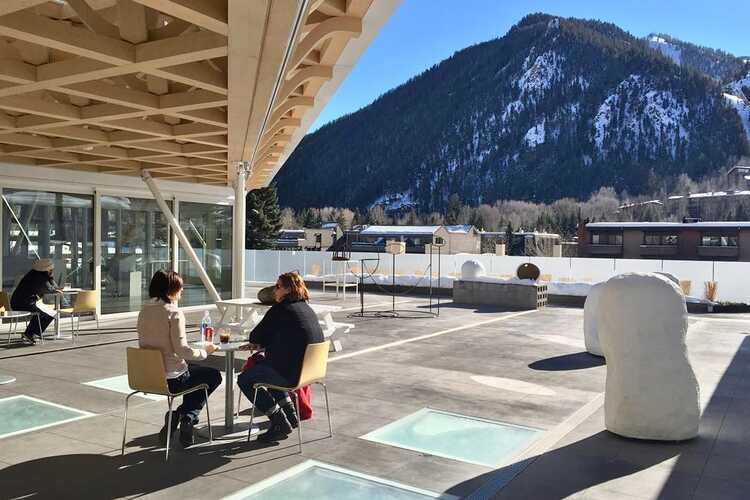 Rooftop Cafe at the Aspen Art Museum

| Photo courtesy of Aspen Art Museum
Museum cafes don't typically provide much to write home about, but the Aspen Art Museum's cafe space turns that notion on its head. For snowy apres-ski parties and soaking in the sun come summer, the daytime food destination is a worthy stop any time of year. The menu is fueled by local farm-to-table caterer, The Farmer & Chef, and features menu items like Salmon Toast with sturgeon caviar, chive cream cheese, and pickled onion and a sizable beverage list with wine and local brews. Every Saturday during ski season, head to the rooftop where you can order drinks from the cafe and take in stunning views of the city.
This organic juice bar and cafe launched 10 years ago and quickly became a favorite for curing slope- or shopping-induced appetites in the freshest way possible. Open each day for breakfast and lunch, the menu covers grab-and-go foods like juices and pastries to heartier options like omelets, avocado toast, and grain bowls.
Just a quick drive from the center of town, this old-school tavern's menu and decor may be baffling—but it works. The walls are adorned with polaroids and other vintage memorabilia, antlers, and multicolored string lights from floor to ceiling. Dishes churning out of the kitchen range from simple bar food to German-style Veal Schnitzel and Cazuela de Mariscos from Colombia. And we haven't even gotten to the drinks: Locals inside will be drinking everything from a crisp Coors Light to a three-figure bottle of wine. With all that under one roof, it's safe to say Woody Creek Tavern truly has something for everyone.