Tis the season for love—although, mingling in hopes of finding The One is a year-round activity here. Now, we're asking you to take the following list with a grain of salt. Not everyone's Whiskey Row hookup is going to be your cup of riding into the sunset, and that's okay. Denver is diverse in its on-the-prowl singles, and anyways, having questionable taste always builds a little character. The RiNo neighborhood is a heavy favorite here, which makes sense considering the throngs of people that wander its streets bar-hopping every night. The next time you're feeling cute and confident, opt for somewhere listed below to dance, drink, or do whatever it is you do for your mating call. From ice shots at Federales to last call at Honor Farm, these are the spots you'll want to test out those new pickup lines (we know you've been working really hard on them).
RiNo
The first search results for this bar call it a "hip, industrial hangout," so you already know the vibe includes charcuterie selections and cocktails in coupe glasses or made with egg whites or garnished with a full rosemary sprig. And while the drinks are excellent, the atmosphere remains effortlessly and authentically cool. People who prefer a chill place to hangout and chat with the next table over—but who also have really good taste in cocktail bars—flock here.
LoHi
Combine a sprawling (dog-friendly) patio, tons of rotating taps, tasty pub grub, and games and you get LoHi's favorite beer garden. Coincidentally, it's also a perfect place to meet other beer connoisseurs looking to spend a sunny Saturday or cozy Friday night at a picnic table or fire pit. There's also the added potential for your pup and theirs to hit it off, catapulting you into dog-parent love.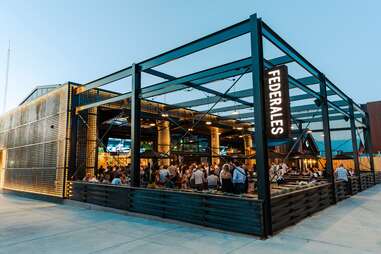 RiNo
Okay, okay, just hear us out for a second. The crowd may tend to skew younger and you may have to be careful where you step as you hand over your ID. But this place does draw many from far and away and stays busy from first ice shot to last call. Maybe it's just a single-night romance you're after, but don't discount the possibility of finding love; tequila always has the potential to make magic happen. Or disaster. But the thrill of finding out which is the best part.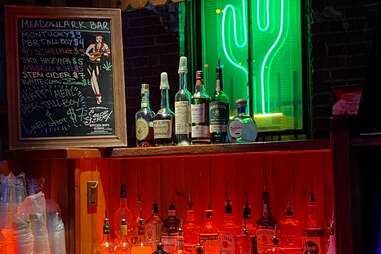 RiNo
It's familiar, it's comfortable (for lack of a better word), and it's where seasoned weekend warriors know to end a good night out. The vibe here makes conversation easy and organic, especially if you're commenting on the live music playing, and the bar setup means you're probably cozying up to your neighbor for that next round. Time moves differently down here, so don't be surprised if you get caught up in interesting conversation right until last call.
Union Station
Perhaps you hope to meet your match over a friendly game of pool, or maybe as you lock eyes over fizzy mimosas. You have the chance to do both at Wynkoop, whether during weekend brunch or nightly revelry. In addition to a fine list of brews, the food here is definitely worth trying, even featuring an entire section dedicated to sharing—as long as you've gotten to that level of trust in your situationship.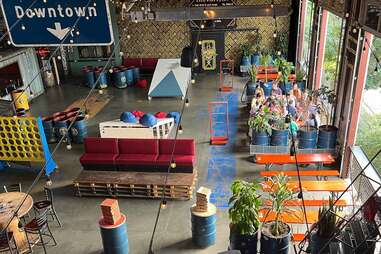 RiNo
Sometimes, a little assistance—by way of giant Jenga or giant "beer" pong—can go a long way. And friendly competition could be the gateway to the purest kind of love. Bierstadt has the ice-cold liquid courage you need to challenge the cutie across the room to a pinball duel and, if things end amicably, you could even split a soft pretzel.
LoDo
From the creators of The Electric Cure and Hell or High Water Tiki is another spot for those who are slightly out-there, haunting enthusiasts, sufficient weirdos, or just folks who know that the eclectic places are, obviously, the best hangs. Bond over your love of the paranormal or simply enjoy good cocktails and food that are coincidentally in the most haunted building in Downtown Denver.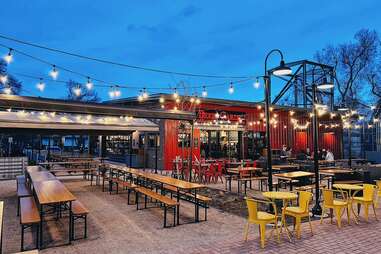 Edgewater
Long, communal tables, 18 beers on tap (plus wine), more than 4,500 square feet of adult playground space, and snacks for sharing are all found here. The atmosphere is that of a backyard cookout or your buddy's refurbished bar—laid-back, conversational, and always a good time. Whether you're chatting up someone refilling at the bar or inviting the next table over to partake in your merriment, this beer garden is a prime spot for meeting people.
North Broadway
Cozy up in a secluded booth, warm your toes by the patio's fire and heat lamps, or share laughs and cheers together at any of the live performances here. This sleek bar and lounge is LGBTQIA+ friendly and appears to be perfectly designed for intimate conversations and dance floor romance.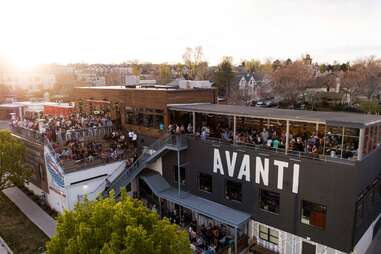 LoHi
Avanti is always buzzing and that's a fact. Not only is it an excellent spot for drinks and a variety of tasty bites from happy hour to the wee hours of Saturday nights, but it's also a singles' playground. Whether you start or end here, this multi-level bar and eatery has a communal feel that makes it pretty tough to not interact with anyone as you place orders or look for a seat with those unparalleled Avanti city views.
Five Points
Recently reopened, American Bonded is once again a dancing, drinking, and delighting staple in the Denver bar scene. With a revamped craft cocktail assortment and food by Soi Kowboi's Blake Blacksberg, there's a refreshed sense of excitement as you head into the bar, to the dance floor, or upstairs to the rooftop patio overlooking Larimer Street. Chatting about how much you missed spending Friday nights here will make a great conversation starter.
RiNo
Are you sensing a pattern in this list along the lines of "chill and unpretentious"? The extensive tap list here (which features way more than just beer, by the way) means moving about the crowd in order to try different things, whereas the huge outdoor patio, stage, and volleyball pit are all designed with mingling in mind. This is an ideal spot to roll up with the whole crew, fan out, and work your flirtatious magic (if you've got it).
Erica Buehler
is a Denver-based freelance writer and editor. Follow her @e_buehler on Instagram and @e_buehler_ on Twitter for more updates on Denver food and other Mile High shenanigans.