Colorado is known for its timeless beauty and plethora of incredible skiing and snowboarding opportunities. We've got some of the best mountains in the world and a heavy handful of locals' favorite spots are all within two hours of DIA, making a day or weekend trip easy as pie. With a new year underway, it's all about more chances for snow, fresh powder, and spending all your free time on the slopes (or warming up after a few runs with hot food and a cold beer). If you're planning out the rest of your winter weekends or making a special trip out here, use this list to get the best bang for your buck and most out of any time spent sitting bumper-to-bumper on I-70.
Location: Grand County, 20 miles north of Winter Park via US Highway 40
Distance from airport: 109 miles (2-hour, 12-minute drive)
Best for: Beginners, families, and avoiding the brunt of I-70 mountain traffic
A half-hour's drive north of Winter Park will have you at Granby Ranch, one of the slopes-less-traveled that's still close to the Denver metro area. While you won't necessarily get your adrenaline thrills via steep drops and terrain parks here, there's an array of easy, intermediate, and advanced trails across both the East and West Mountains, plus a member's warming yurt at the peak of East Mountain. The views of the Rockies and Fraser River make great backdrops for casual skiing or private or group lessons, and ticket purchases are very much à la carte, depending on if you want a single lift ticket or specialty two-day, three-day, or midweek pack. Granby Ranch is also one of the few mountains in the area that offers night-skiing for extra adventure.
Find Airbnb nearby: Search Grand County area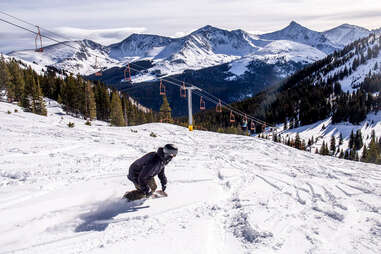 Location: Summit County, between Frisco and Vail on Interstate 70
Distance from airport: 102 miles (1-hour 45-minute drive)
Best for: Expansive terrain, casual resort feel, booming base area
Denver locals consistently name Copper as their favorite Colorado mountain, and it's easy to see why. With nearly 3,000 feet of vertical and nearly 150 runs—take your pick from steep, powder-filled chutes, bowls, fast cruisers, or flat groomers—you can't even come close to tackling all the terrain in two days. The slopes are conveniently divided by nature—the steeper terrain stemming out of East Village, intermediate slopes out of Center Village, and beginner slopes out of the West Village. There are also other options for reveling in gravity if you're looking to switch things up: tubing, an alpine coaster, and Woodward, the one-of-a-kind ramp, trampoline, and foam pit-equipped facility where pro skiers and snowboarders workshop their newest tricks.
Find Airbnb nearby: Search Summit County area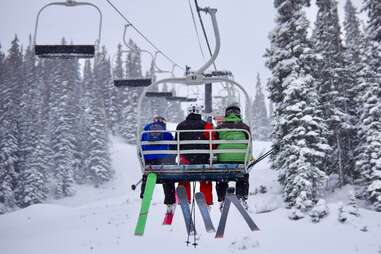 Location: Straddling Summit and Clear Creek counties on Interstate 70, east of the Eisenhower Tunnel.
Distance from airport: 83 miles (1-hour 15-minute drive)
Best for: High elevation skiing, steep runs, a separate beginner area
Loveland doesn't always get the love it deserves, despite being the biggest and best value ski area near Denver (and receiving more snowfall than swankier nearby resorts). Situated on the slopes of the Continental Divide, Loveland's terrain ranks among the highest anywhere—the base sits at 10,800 feet, with hiking access (and free snowcat rides) to the ridgeline above 13,000 feet. Of the area's 94 trails, most measure on the steep side, but beginners can rejoice in an entirely separate area (Loveland Valley) designed exclusively for learning. The ski school is currently offering private lessons for all skill levels, and gear rentals range from state-of-the-art demos to jackets, pants, goggles, and gloves.
Find Airbnb nearby: Search Clear Creek area
Location: Summit County off of US Highway 6, 5.5 miles beyond Keystone
Distance from airport: 88 miles (1-hour 30-minute drive)
Best for: Experts, extreme terrain, gnarly runs
Starting at nearly 11,000 feet, A-Basin, or The Basin, as locals call it, has a summit that reaches over 13,050-feet, making it one of the highest ski areas in the world. The majority of its runs rank on the gnarly side—most difficult to expert. The Basin also has a longer season than just about anybody, rivaled only by the world's glaciers. It opens mid-October and has been known to stay open until July 4. The place typically hosts numerous competitions for bionic mountain athletes (involving skinning up the top windy ridges then skiing down among the cliffs, hunting for beacons, etc). This season, they're offering several ticket options including a midweek pass that doesn't require reservations, but no matter which option you pick, tickets are required to be purchased in advance.
Find Airbnb nearby: Search Summit County area
Location: Summit County on US Highway 6
Distance from airport: 93 miles (1-hour 30-minute drive)
Best for: Families, awesome terrain parks
This sprawling trio of peaks offers both 3,000+ acres of terrain and vertical. Although Keystone is popular among families (for its tubing, ice skating, and kids-ski-free packages), people are often surprised by its bounty of expert trails. About 50 percent of the terrain is rated "most difficult" and even the pitch on the intermediate runs might get your knees knocking.
Find Airbnb nearby: Search Summit County area
Location: Boulder County, 21 miles west of Boulder
Distance from airport: 64 miles (1-hour 20-minute drive)
Best for: All skill levels, the community vibe, spotting onesies
Eldora is no bunny hill. It's home to a shiny new high-speed, six-person chairlift and around 50 ski trails ranging from steep, packed glades, bumpy blacks, and a separate, too-big-for-a-bunny-hill area called Little Hawk—fitted with shorter beginner and intermediate runs. Despite the modern rental shop and stocked boutiques, every day here feels like retro ski day—a handful of regulars sport zany one-pieces and rooster-emblem Rossignols from the '80s.
Find Airbnb nearby: Search Boulder County area
Location: Grand County, off of US Highway 40
Distance from airport: 89 miles (1-hour 45-minute drive)
Best for: All skill levels
Winter Park's 166 trails (and unchartered backcountry terrain) are divided into distinct areas. The namesake segment is evenly divided by skill level, and the others largely serve specific niches—Discovery Park for beginners, Parsenn Bowl for wide open cruisers and steep seekers, Mary Jane for mogul enthusiasts, and Eagle Wind for cliff jumpers and glade cravers. Though you may have to battle the infamous I-70 ski traffic to get there, once you arrive it's pretty well self-contained with a walkable village and free local shuttle. Everything, including tickets and rentals, needs to be booked at least 48 hours in advance so planning is essential.
Find Airbnb nearby: Search Grand County area
Location: Squaw Pass near Evergreen and Idaho Springs
Distance from airport: 60 miles (1-hour drive)
Best for: Casual skiers, quick day trips, affordability, night skiing
To be honest, Echo Mountain is not a fair representation of what Colorado has to offer. But for the first timer (there is no ski school, but on-mountain staffers provide free guidance) or the occasional skier whose token experiences have involved raking over East Coast ice in subzero temperatures, this could be the greatest ski day of your life. It's also the Centennial State's most affordable option and the one closest to Denver.
The road there, albeit short, is legit mountain driving. Don't speed around the 12 miles of hairpin turns—especially during a snowstorm—that take you to the base area above 10,000 feet. Originally opened in 1960 and sitting vacant for a number of years, the area served as a private race training venue and then a terrain park. Echo Mountain has had its current incarnation—one triple chairlift serving 600 vertical feet of blue and green runs, plus a section of black-rated glades—since 2016. There is no terrain park, but a flat learning area, a tubing hill, night skiing, and a friendly pub with decent burgers and a solid beer lineup.
Find Airbnb nearby: Search Evergreen area
Erica Buehler is a Denver-based freelance writer who likes sledding as much as hot chocolate by the fire. Follow her @e_buehler on Instagram and @e_buehler_ on Twitter for more updates on Denver food and other Mile High shenanigans.
Molly Martin is a freelance writer in Denver, Colorado who is always on the lookout for fun things to do. Follow her Mile High adventures @mollydbu on Twitter and Instagram.