Denver is a bustling town with a ton of new activities to try, foods to sample, and beers to drink. However, with summer's end quickly approaching, it could be your last chance to get out of the Mile High and hit up some adventures right outside our city limits. And the best part? They're all affordable and accessible. All you really need is a car and a good soundtrack.
Recommended Video
Please Don't Hang Up: The Best Things to See, Eat, and Do in Seattle, WA
Manitou Springs
Distance from Denver: 70 miles
Head to the foothills near Colorado Springs and you'll find this town, which is home to mineral springs that were considered sacred by Native American tribes. Today, there are eight springs around town where you can fill cups or jugs with the mineral-rich water. Guided tours are available free on Saturdays through September 3rd, or pick up a brochure and go on a self-guided "spring-about" while you explore the town's eclectic shops. Should you find yourself hungry, there are plenty of low-key eateries, like Savelli's, where a slice is only $3.75, or Creekside, where you can fill up on apps like fried pickles ($5.95) and poutine ($7.95). If you've still got energy, head just outside of town to the The Broadmoor, a place you probably can't afford to stay at, but which makes for a gorgeous backdrop for an evening stroll. Or put on your hiking shoes (you didn't forget those, did you?) and check out nearby -- and totally free -- Garden of the Gods or Red Rock Canyon Open Space. Then head home and get some rest. You will be exhausted.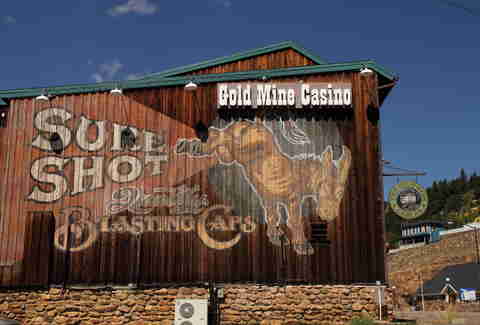 Black Hawk
Distance from Denver: 38 miles
Heading to the hills to gamble may not seem like the best plan when you're low on cash, but it's totally possible to have a packed day here without emptying your wallet as long as you have a little self-control. Throw $10 in the penny slots at any casino and play... slowly. Drinks are free while you're spending money (just remember to save a couple ones to tip). If you really want to experience town on the cheap, though, The Lodge is your best bet. The bars will pour you complimentary boozy beverages -- only one per hour, so pace yourself (though there are three bars...just saying). The casino's also home to a free photo booth where you can grab a quick souvenir, along with the best cheap meal in town, the double cheeseburger from Jake's Deli ($6.50). Need some fresh air? Head outside and take a stroll on the riverside path through town and peruse the historic buildings (there are historic markers all over) before going home -- either a little poorer, or possibly a little richer, if luck is on your side.
Estes Park
Distance from Denver: 64 miles
As the most popular entry point to Rocky Mountain National Park, this town is typically busy on weekends all summer long. But you don't need to follow the crowds into the park to have a great time in this scenic mountain town. There's plenty of hiking that lies outside the park's gates, including an easy but totally picture-perfect path around Lily Lake. After that, head back to town where you can do a little amateur ghost-hunting at the Stanley Hotel, aka the place that inspired Stephen King to write The Shining. An official tour will cost you some cash, but it's free to explore on your own. Take the time to chat with some staff members; many have their own stories of weird happenings that they're more than willing to share. If you're not too freaked out once you're done looking for spirits, you can grab some surprisingly diverse food on the cheap here. Try Oppa Asian Bistro for bulgogi sliders ($6.95) and kimchee Polish sausage and fries ($6.95), or skip straight to dessert and grab a slice of pie ($4.75) from the Estes Park Pie Shop.
Lyons
Distance from Denver: 43 miles
Three years ago, this small town was hit with devastating flooding, and while you can still see the aftereffects in some areas, Lyons has a lot to offer. It's the original home to Oskar Blues, a brewery that spearheaded the craft beer in a can movement in 2002 when it started canning Dale's Pale Ale. Stop by the original brewpub to try some before heading to Lyons Pinball. Yup, it's a whole building filled with over 35 vintage pinball machines for your playing pleasure. If you're a first-time customer, make sure to print the coupon on its website for four free games. For cheap, fresh food, you can't beat the Lyons Dairy Bar, where you can score some soft serve and a hot dog for well under $10.
Golden
Distance from Denver: 17 miles
So close that you can still see the Denver skyline, Golden still feels like a getaway thanks to scenic spots, none of which beat the view from the aptly named Lookout Mountain. A drive up will get you easy access to hiking trails and the chance to scope out the gravesite of the infamous Buffalo Bill. The on-site museum costs $5 per person, but you can skip that and see the gravesite itself (and try on faux animal pelt hats in the gift shop) for free. Craft beer might be having its moment, but Coors is still a Colorado original, and a free tour of its massive facility in town also comes with three free beers in the tasting room (and one bonus pour in the fresh beer room during the tour). If the weather's still hot, grab a cheap inflatable and hit Clear Creek in town to cool off, or stay dry and explore the path along the river. End the day at the Buffalo Rose, a no-frills biker bar and frequent host to live music that serves a solid buffalo burger that's regularly on special for less than $10.
Breckenridge
Distance from Denver: Approx 90 miles depending on the route
This trip is as much about the journey as it is the destination. You've got a couple of options on the way up. Take the less-crowded 285 out of town, then, if road conditions are still good, you can either catch Boreas Pass Rd (between Jefferson and Fairplay) or continue to Fairplay and take the Hoosier Pass to Breckenridge. Both head straight over the Continental Divide, and either way you'll avoid some highway traffic and score gorgeous Rocky Mountain views. Once you make it to town, Breckenridge offers all the quintessential Colorado outdoor activities. Bike, hike, fish, or even head to the kayak park to watch some of the action. If getting extreme isn't your thing, take a decidedly non-extreme stroll Downtown, but be sure to save your cash for a stop at Stella's Hungry Horse, a small but mighty food stand where almost everything on the menu is less than $10, including a Mile High reuben. When you're ready to head back, take Highway 9 north to I-70 for a quicker route back with all-new scenery to enjoy.
Sign up here for our daily Denver email and be the first to get all the food/drink/fun in town.