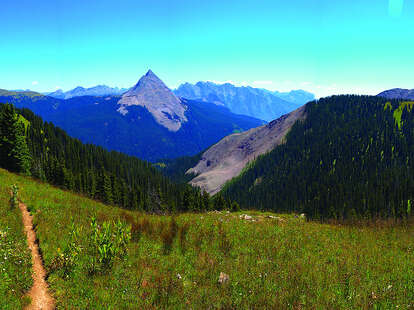 James Charnesky-flickr
James Charnesky-flickr
Hike Red Rocks? Check. Mountain bike Winter Park? Check. Tube down a river, photograph wildlife in a national park, and boat across Lake Dillon? Check, check, check.
If you've already been like a boss crossing off that to-do list of some of the best day trips from Denver, now it's time to take it up a notch and dig deeper into the adrenaline-fueled playground that is the Centennial State. Here, we have access to not only seemingly endless expanses of wilderness dotted with alpine lakes and stands of aspen and ponderosa pine -- with foamy whitewater rivers zigzagging through it all -- but also the raw, rugged beauty of the majestic Rocky Mountains. The key to experiencing this with fewer crowds is to seek out the adventures that are further off the radar and a little less hyped.
Here are seven singular and much-less-traveled ways to experience the best Colorado has to offer -- including hot springs, mountain hiking & biking, rafting, and fishing -- all within about a two-hour drive from the Mile High City.
Ride singletrack while mountain biking Buffalo Creek Recreation Area
Drive time from downtown Denver: 1 hour, 30 minutes
Even though it's only 90 minutes from the city, Buffalo Creek Recreation Area in Pike National Forest feels like another world. Across more than 50 miles of trails, the variable terrain -- including long sections of wavy-gravy through alpine roots and rocks, stretches of smooth slickrock, periodic creek crossings, and plenty of gravel and sand throughout -- has something for all skill levels from noob to gnarly. The loops, spurs, and out-and-back rides can be linked for short jaunts of a few miles and more epic distances up to 25 miles long. Your quads will cry on the steep uphills, but that means a screaming descent is likely just around the switchback.
The scenery takes on an eerily beautiful quality in the sections of recent and old wildfire burn, where new growth stands in stark contrast with the latticework of blackened and felled trees. Be sure to catch your breath along the flat sections at the top to look out at the mountains that go on for miles. Also, while the Pine Valley Ranch Park trailhead is the most luxurious, with restrooms and picnic areas (plus the thousand-foot climb up Buck Gulch trail is the bomb), it's also the most crowded (hikers and horses use this area, too). Instead, head up Forest Service Road 543 (aka Buffalo Creek Road) to the Shinglemill Trailhead and put together up to 24 miles' worth of super-fast doubletrack and long, rolling singletrack sections.

Once you've worked up an appetite, refuel at the iconic Bucksnort Saloon in nearby Pine, which serves some of the best burgers around (the most popular version comes topped with jalapeño cream cheese) alongside Colorado beers. The rustic locals' watering hole is decorated in (by the owners' estimate) close to $8,000 in one-dollar bills, the ideal setting in which to relive your mountain biking mastery.
Hike a scenic segment of the Colorado Trail
Drive time from downtown Denver: 1 hour to 1 hour, 30 minutes
The whole Colorado Trail enchilada spans 486 miles and takes most people a little more than a month to complete the entire journey from Denver to Durango in the southwestern part of the state. The good news, though, is that you can bite off smaller portions closer to Denver to get a taste of what it's like to through-hike -- without having to train for months with a 40-pound pack or schedule food drop-offs.
Instead, head to the start of the trail in Waterton Canyon, where beginners can take their time along the first 6.5 miles, which is an easygoing, mostly-level dirt road that's closed to motor vehicles and popular with bighorn sheep. This first segment, lined with cottonwoods, yucca, and juniper, goes for 15.4 miles and closes at sunset, so plan your out-and-back accordingly. Or, if you're not a mountain biker but still want to experience the Buffalo Creek area, the second segment -- a 10.8-mile stretch -- takes you through the haunting burn area and pink granite formations provide the perfect spot for a picnic with a view of Pikes Peak and Platte Canyon.
The first five sections are the most easily accessed from Denver, with all of the trailheads off US-285 (visit the Colorado Trail website for more details), and each has its own appeal. If you have time to camp overnight, head to the Long Gulch to Kenosha Pass portion, which offers panoramic views of infamous South Park.
Whichever one you pick, be sure to stop at Willow Creek Restaurant in Evergreen on your way back to the city. Despite the fancy fare (the wild mushroom and sweet corn risotto is comfort food at its finest), this pretty eatery is nonetheless used to scraggly hikers swinging through, and the spacious patio looks out onto Evergreen Lake.
Raft the Royal Gorge twice in one day
Drive time from downtown Denver: 2 hours, 15 minutes
Some river outfitters call running the 10.5-mile stretch of the Arkansas River through the Royal Gorge back-to-back in a day the Grand Slam, and some call it the Double Dip. Either way, the exhilaration of paddling into this whitewater funfest will be fully realized when you emerge dripping wet from your raft mid-day to a satisfying lunch spread -- stretching your legs and giving your boat butt a much-needed break -- only to hop on a bus to be shuttled back to the beginning and paddle that shiznit one more time. That means a second chance to grin and giggle as you get your photo taken digging in through Sunshine Falls, to squeal through Sledgehammer, to perch a raft atop the roiling suckholes (spots where the river drops and the water rushes backward against the current, creating a hole full of waves) to surf for a few minutes, and to marvel once more at the engineering wonder that is the iconic Royal Gorge Bridge, suspended between the thousand-foot-high cliff walls overhead.
This is a Class IV -- and, depending on water levels, sometimes Class V -- effort, which means booking with an outfitter to do the navigating (we recommend paddling to get the full experience, but you also can be rowed by a pro). Find a guide through the Colorado River Outfitters Association, and then before heading back, hang out with fellow paddlers and relive the memories at the Boathouse Cantina. The restaurant serves up casual Mexican fare, hefty margaritas, and live music on a deck that sits right on the Arkansas River in artsy Salida, just a half-hour's drive from the Parkdale launch site.
Super-soak yourself at Mount Princeton Hot Springs Resort
Drive time from downtown Denver: 2 hours, 30 minutes
There are so many hot springs in Colorado that a driving loop to check out 19 of them was created to make it easier to find them all (which is a worthy goal, for sure). While each has its own unique charms, Mount Princeton Hot Springs Resort near Buena Vista is nestled in the impressive Collegiate Range, a series of 14ers (Colorado's famous mountains that top out at 14,000-plus feet high) named for Ivy League universities. The snowmelt that descends from these peaks is normally near freezing, but the water in Chalk Creek cascading alongside the resort registers a toasty 140 degrees as it burbles up out of the ground, which cools when combined with the runoff. You can immerse yourself in the soaking, relaxation, or exercise pools at the Historic Bath House, which offers beach chairs on a deck for extra comfort, or head up the hill to the more family-friendly pool with its 400-foot water slide and surrounding hot tubs. However, it's hard to pass up the opportunity to create your own personal hot tub while sitting in the creek, adjusting the temperature to your liking by moving stones around to let hotter or cooler water in at will.
The resort offers a variety of cabins and lodge rooms right next to the springs, and the on-site Princeton Club serves breakfast, lunch, afternoon tapas, and fine dining in the evening. Or you can drop back into Buena Vista for a more casual meal at the restaurant of Eddyline Brewery, which sends out pizzas, burgers, crab cakes, and other tasty fare from its wood-fired oven and taps half a dozen of its local brews daily.
Reel in a big fish from the Big Thompson River
Drive time from downtown Denver: 1 hour, 30 minutes
Famous for its freestone stream fishing, the Big Thompson River that runs through Estes Park -- called "The Big T" by locals -- is a steep, fast river filled with fish that were born to be wild, can easily reach 12-15 inches (up to 25-inchers are not uncommon, either), and give the river its Gold Medal fishery status. In addition to rainbows, browns, and brookies, this is also where the greenback cutthroat, once thought to be extinct, returned to glory.
There are multiple places (all packed with stunning mountain views and the chance to see elk wandering around) for fishermen to access the Big T -- including at Moraine Park in Rocky Mountain National Park and the public access points below Erie Lake along US-34. But because much of it can only be reached by bushwhacking through dense forest and marshes, hiring an outfitter, such as Kirks Fly Shop or Rocky Mountain Anglers (trips run two to eight hours and include gear and lunch on longer excursions, plus the fee for a must-have Colorado fishing license) to guide you to the secret spots is your best bet. The river can be fished year-round, but it's worth aiming for the spring or the October caddis hatch.
Once you've caught and released your limit like the good wildlife steward you are, head over to Claire's on the Park in Estes Park, which cooks up a trout en papillote packed with shrimp and scallops in a spicy tomato broth that will knock your waders off. Dine on the deck, with its killer views of RMNP, and drink to the ones that got away.
Hike to Sky Pond and Lake of Glass in Rocky Mountain National Park
Drive time from downtown Denver: 2 hours, 15 minutes
The majority of people who visit a national park never even get out of their cars, and that holds true at Rocky Mountain National Park, where the picturesque Trail Ridge Road turns into a parking lot, particularly on warm-weather weekends. For those who do venture out into the fresh air, the rewards are many: abundant wildlife, sweeping vistas of iconic 14,259-foot Longs Peak and the rest of the Never Summer Range, waterfalls, and Bear Lake.
Take a day to hike from the Glacier Gorge Trailhead and you likely will encounter elk, mule deer, and bighorn sheep grazing in larger herds along the way, as well as beautiful Alberta Falls and Timberline Falls. This first portion of the trail is very popular, but most folks stop here and head back. The real payoff comes if you keep going toward the calm, emerald green (and aptly named) Lake of Glass at 4.15 miles in, and in another quarter of a mile, the even larger Sky Pond, surrounded by meadows and smaller ponds. En route, you'll get expansive views of the glacial valleys below and the chance to pop in and out of dense pine forest. Bring a lunch and watch your stress melt away in this calm, quiet setting, surrounded by craggy peaks that top out at over 12,000 feet. Note: At close to 9 miles round-trip, with a bit of a scramble past the falls and plenty of steep climbing, this is an intermediate-to-strenuous hike and not for the faint of lungs, starting at 9,210 feet and gaining 1,677 feet in elevation along the way.
On the drive back through Estes Park, swing through You Need Pie!, which turns out to be true: This cute little bakery not only serves up an ever-changing roster of fresh fruit and cream pies daily (fingers crossed that you're there when they have the blackberry peach or the chocolate peanut butter), but also offers a full diner menu, including breakfast all day.
Walk with animals at The Wild Animal Sanctuary
Drive time from downtown Denver: 50 minutes
More than 500 wild animals rescued from illegal and abusive situations -- including wolves, bears, African & mountain lions, tigers, hyenas, servals, bobcats, coyote, lynx, foxes, and coatimundi (a South American relative of the raccoon) -- live on the 789 acres of open habitat at The Wild Animal Sanctuary in Keenesburg.
As the largest sanctuary for carnivores in the world, this is not your grandma's zoo: The unique setup here allows visitors to see the animals while standing above them on an elevated walkway, which significantly cuts down on the animals' stress. Many of them wrestle and romp around in the pools and play areas in the multi-acre habitats, which makes for some riveting viewing and means it's not a bad idea to plan to spend the whole day.
Open from 9am to sunset daily, this nonprofit site is a bit off the beaten path, so your best bet for dining is to either bring a picnic lunch to eat at the provided tables, or dine at the Sanctuary's cute little Lion's Den Café, which offers a well-stocked salad bar, pizza, and a top-notch Reuben, among other sandwiches; they also make their own excellent ice creams using tapioca instead of high-fructose corn syrup. Bonus: All of the proceeds from food sales go to helping the existing animals and the purchase of the Sanctuary's new 9,684-acre refuge in southern Colorado.