Welcome to
We're Out Here
, your year-round hub for LGBTQ+ travel and experiences! Here, you'll find everything you need to plan your next great gaycation, including queer-centric travel stories, nightlife guides, profiles, pride event roundups, and ways to give back to local queer communities.
Pride Month 2023, baby! June is off to a hot start (despite the rain), and Denver is ready to celebrate all month long. PrideFest is back and bigger than ever and there are plenty of marches, drag shows, brunches, parties, live performances, and so much more happening this June that you best make sure you're hydrated, energized, and fully outfitted for every event. Mingle at an LGBTQ+ mixer, dance for days, enjoy a rainbow roller skate, or rejoice in gospel brunch—and don't forget to get the lowdown via the Pride Survival Guide—and celebrate Denver Pride in whatever way means the most to you.
June 24 - 25
Colorado's largest Pride celebration (probably the largest in the entire Mountain Time Zone) is not messing around this year, with an anticipated crowd of 535,000 people. The two-day festival kicks off with the Pride 5K on Saturday followed by the Fest itself spanning Civic Center Park and featuring over 250 exhibitors, 30 food and beverage vendors, and one live performance after another. Sunday is when you'll catch the annual Coors Light PrideFest Parade (9:30 am, so find a good spot early), with floats, marchers, more live music, and celebration, celebration, celebration.
June 9
As our beloved Rockies take on the San Diego Padres, you can rock a limited edition, Rockies-themed Coors Light Pride bucket hat and know a portion of your ticket will benefit The Center on Colfax and One Colorado. Enjoy pregame Pride celebrations at McGregor Square to fuel up and crush a couple of cold beverages before the 6:40 pm start.
June 23
Kick off the biggest Pride weekend with some pregaming at the always-fun McGregor Square. Enjoy live beats courtesy of DJ Markie, fun Pride swag and drinks from Vizzy and Coors Light—including a special Milepost Zero Pride cocktail—and a photo booth to capture all the memories forever. Ten percent of sales will be donated to The Center on Colfax.
June 28
Loud party not exactly your vibe? How about a chill mixer at your favorite food hall? Hosted by Denver's Cupid, you can take your pick of delicious bites, grab some cold and refreshing liquid courage from Roger's Liquid Oasis, then mingle through a few rounds of speed dating. Don't worry: You'll get a list of primary candidates beforehand, whom you'll chat with and mark down as potential for love, friendship, business, or… none of the above. The next day, you'll get a detailed report of your matches, and then the ball is in your court to make magic happen.
June 16 - June 25
Tracks is obviously one of the go-to spots for Pride fun in June, from its Rainbow Roll with karaoke, dancing, and of course, roller skating to its Juneteenth celebration to the entire weekend of June 23 - 25, also known as "Tracks' Really, Really, Really BIG Pride Party." Show up for drinks, dancing, and a whole lot of community to celebrate Denver Pride in the biggest way.
June 16
Returning for year three, Black Pride Colorado is back at the Gardens to celebrate the biggest fashion-meets-pop-culture event of the year: the Met Gala. If you're not dressing to impress, you're at the wrong event: Don your very best monochromatic, 2023 Met Gala-inspired look (please, someone dress up as a life-sized cat, at least for the photo op) and enjoy an evening of celebrating black pride.
June 16 -25
The party never ends at X Bar, but it's certainly beginning on June 16. If you're ready to shake your tail feather for 10 days straight, you're in luck. We're talking drag special performances, live music, themed celebrations, bumpin' DJ sets, karaoke, lip sync, and some stand-up, too. There's something new, fun, and Pride-tastic happening each night of this special festival. Don't miss out.
June 11
Born from a collaboration between The Denver Queer Art Club and The Wolf Den, this queer vendor market supports local makers and Denver's queer community in a happy blend of retail therapy and networking amongst creatives. The event is free, will feature more than 50 queer vendors, and plenty of food, music, flash tattoos and more will be available to make your experience that much more magical.
June 24
Proudly marching right into the epicenter of PrideFest is the 15th Annual Denver Dyke March and Rally. Starting at The Center on Colfax, marchers will head toward the Capitol building, hear from passionate community speakers until 3 pm, then head onward to all that's happening at PrideFest.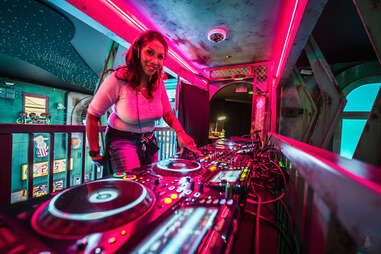 June 15
Think you're prepared to celebrate a month of Pride? You might want to think again. While you do that, get tickets to see this show, coming to you from The House of L'Whor. This is your full-coverage Pride survival guide, and there's no telling what's in store.
June 11
All-you-can-eat breakfast and mimosas? Yes, please. This drag brunch experience at Reynard Social will feature gospel hits and performances by some of Colorado's best local drag entertainers, no religious or spiritual experience or affinity necessary. Come with an empty stomach and some energy to dance, clap your hands, and celebrate Pride.
June 24
Volleyball, drag, live music, and drink taps as far as the eye can see; it must be Number Thirty Eight's third-annual Pride Party. You should probably buy your tickets in advance (otherwise, good luck getting in), but once you're there, it's all rainbow gravy, baby. Don't forget to treat yourself to that scrumptious Split Lip, an Eat Place fare.
June 17
Oh yes—if there's a celebration, there's a crawl for it. This year, Hamburger Mary's is the starting point for this epic Pride crawl, tickets for which get you into at least five venues, complimentary drinks or shots, free cover to a drag show, waived cover, and food and drink specials the whole evening. Our advice? Take the next day off of work to recover.
June 8 - June 23
This women-owned community event space has its own bar and oftentimes plays host to live music and performances of all kinds. To celebrate Pride, you can choose from a few different events, from the Pride Party for Older Adults to its Cuff'd in Cabaret Queer Light Party. (Bonus: You can also attend its Great Food Truck Race live showing and cheer on Denver's The Easy Vegan.)
Erica Buehler is a Denver-based freelance writer. Follow her @e_buehler on Instagram and @e_buehler_ on Twitter for more updates on Denver food and other Mile High shenanigans.