Denver's had a long and admittedly tumultuous history regarding LGBTQIA+ rights. From the opening of its first gay bar in 1939 to its first Pride parade in 1976 to electing the first openly gay man to serve as US governor, Denver (and Colorado in general) has witnessed all of the wins and losses dotting its LGBTQIA+ timeline.
Thankfully now—though the fight for many LGBTQIA+ rights is still very much underway—Denver has resources, outlets, and citywide celebrations for anyone in the community looking for support or simply a place to be their most authentic self. Definitely celebrate wherever your hometown is—like Boulder Pride, Aurora Pride, and Pueblo Pride, to name a few. And be sure to check out the Official Events of Denver Pride list for the full scope of everything you can do to celebrate Pride in Denver this year. But whether you're part of the LGBTQIA+ community or are demonstrating your allyship for friends, family, coworkers, and neighbors, here are some fantastic ways to kick off Pride Month in Denver.
Civic Center Park
June 25 - 26
Colorado's largest Pride celebration (probably the largest in the entire Mountain Time Zone) is back in all its in-person glory for 2022 after a Covid hiatus. The two-day festival starts off with a Pride 5K on Saturday followed by an all-out party featuring over 250 exhibitors, 30 food and beverage vendors, and one live performance after another. Catch Sunday's Coors Light PrideFest Parade bright and early and keep the celebrations going until it's time for work Monday morning.
Ballpark
June 3
As our beloved Rockies take on the Atlanta Braves, you can rock a limited edition, Rockies-themed Coors Light Pride T-shirt and know a portion of your ticket will benefit The Center on Colfax and One Colorado. Enjoy pregame Pride celebrations at McGregor Square, which will feature a DJ, photo booth, drink specials, a Rainbow Carpet, and the chance to hang out in the Coors Light igloo in order to win some Pride-tastic prizes.
Denver Botanic Gardens' Freyer-Newman Center
June 17
For the second year in a row, Black Pride Colorado is hosting its Strange Fruit of Black Excellence gala, this time in celebration of the Harlem Renaissance. Come donned in your best era-inspired outfit and prepare for a night of fun, fashion, and flair—and to honor the black excellence that helped pave the way for Pride.
Tracks Denver
June 19
Black Pride Colorado hosts a lot of events not only celebrating Pride Month but also for the LGBTQIA+ community to benefit from all year long. This cookout held at Tracks (Denver's best nightclub, if you ask us) is also a Juneteenth celebration complete with food and drink, games and prizes, live performances, and a little something for everyone.
East Colfax
June 25
Yet another two-year Covid hiatus has event hosts and attendees alike totally ecstatic to celebrate—and more accurately, march—live and in-person this year. Begin at The Center on Colfax and make your way to the Capitol, rally your heart out, then march onward towards all the PrideFest celebrations. This year's theme is Progression Over Oppression: Voices of Our Queer BIPOC and Youth.
Hamburger Mary's
June 2
The Center on Colfax, Hamburger Mary's, and a ton of other LGBTQIA+ community groups and resources are joining forces once again for this Community Resource Refresher. Entry is free and guests will have access to free HIV testing, Pride-based trivia, and Q&A panels with LGBTQIA+-focused nonprofits. Test yourself and your Pride knowledge, resupply on pertinent information and resources, and hey, maybe even win a $100 prize at trivia. PS: Hamburger Mary's is hosting a ton of other Pride events, too.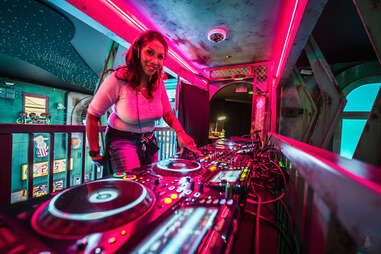 Meow Wolf
June 1
Your favorite immersive art installation is kicking off Pride Month with its "Serve It" Pride party, featuring music and other live performances from all LGBTQIA+ artists, like Destino, Wheelchair Sports Camp, and DJ Kori Hazel. Basically, it's going to be a music-driven par-tay so get your tickets, fast.
Fort Greene
June 10
Fort Greene is already one of the coolest bars in Denver you didn't know existed, but it'll now be a venue for queer folx to have the prom they've always dreamed of. Enter: MasQUEERade, the 21+ dance-til-you-drop gala with tarot readings, DIY corsages and boutonnieres, mask-making, and temporary tattoos. Get that gown or suit or whatever makes your heart sing with prom joy and dance like no one's watching or awkward two-step with your crush. The world is your oyster and this is your chance to do prom how you always wanted. The remaining proceeds from ticket sales will benefit Fortaleza Familiar and the first 50 people to buy tickets get a special gift at the door.
Number Thirty Eight
June 25
Stop by Denver's hottest new bar/restaurant/adult playground for its second annual Pride Party. The day will consist of live music, a sand volleyball tournament, special craft cocktails, and of course, the biggest and best selection of local brews around. Need to fuel your fire pre- or post-Pride? Get some of that good, good Split Lip, an Eat Place fare.
Marijuana Mansion Denver
June 23
Welcome to Pride Island, where the vibe is sexy yet extremely chill. Come for the risqué outfits and stay for the vendors, live DJ, drag performances, and complimentary cocktails and snacks. The dress code is "paradise-inspired," and the rest is left to your imagination. Expect gift bags upon arrival and edible bars waiting for you beyond the door.
Tracks Denver
June 22 - 25
Pack your toothbrush, sleeping bag, and best outfits and prepare for another huge Denver Pride celebration spanning four days. Wednesday's festivities include an LGBTQ burlesque troupe and an open mic night while Thursday really gets things moving with Tracks' 18+ Annual Pride Rainbow Roll. Kick it up a notch Friday with the Drag Nation: Talent Show featuring none other than RuPaul's Drag Race winner Willow Pill as well as Denver's largest women's pride party: Campy Girls (presented by Babes Around Denver) and go out with a bang on Saturday with The Rainbow Forest Pride Party. Hydrate, hydrate, hydrate.
Erica Buehler is a Denver-based freelance writer. Follow her @e_buehler on Instagram and @e_buehler_ on Twitter for more updates on Denver food and other Mile High shenanigans.