We can face facts: Denver is definitely known for its daytime activities: hiking, skiing, biking, going on day trips -- you know, all the things that make people wanna move here in the first place. But, as more and more young transplants and transients alike flow into the Mile High City, their thirst for late-night activities is increasingly being quenched.
Once the sun sets, there are a host of ways to fill your time, your mind, and your stomach. And it's not just bars -- although Denver does sport many fine establishments of that order.
Herein you will find a variety of options to keep busy late into the night -- or early into morning. Please use responsibly.
Cheesman Park
NYC. L.A. Chicago. They're all spoiled with late-night dining options. And while Denver has been ramping things up in that department lately, nothing beats the O.G. Sure, this used to be one of the only 24-hour options in town. But really, it's all we ever needed.
Glendale
So you may be morally opposed to entering a gentleman's club -- nothin' wrong with that. But are you morally opposed to drinking after 2am? Almost every bar in Denver must shutter its doors by that hour, but not the Gun. They've found a loophole and we're not even sure how they did it. Does it matter? Its T Bar slings drinks 'til 4am on Fridays and Saturdays.
Citywide
There are a lot of taverns in Denver. And, guess what? Most of them are open pretty damn late. So, where to go? Try this unique experience that many a Coloradan has attempted before: Pick a bunch of bars on Colfax Avenue, grab a few pals, and get a bar crawl going. True heroes can start at Sancho's Broken Arrow and work eastward to the PS Lounge, hitting the dozen-plus spots in between. Trust us, you'll enjoy it, even if you don't remember a lot of it.
Country Club
The Esquire recently reopened after a six-month renovation caused by water damage and there may be no better way to celebrate than attending one of its midnight movie screenings. Every Saturday, one of Denver's cinematic jewels screens cults and classics -- and yes Rocky Horror is in the rotation.
Highland
Hometown comedy icons Adam Cayton-Holland, Andrew Orvedahl, and Ben Roy have brought their show back to its rightful place at the Bug Theater. It begins at 10pm on the last Saturday of every month and there are always plenty of special guests.
Rip a scooter up Brighton Boulevard
Five Points, Elyria Swansea
As Denver extends its reach outward, public transportation and, uh, boring ass walking sometimes get the shaft. Close the Uber app and opt for a little e-scooter run down Brighton, checking out the new options at The Source Hotel, heady brews at Great Divide, eclectic food stalls at Zeppelin Station and craft wines at Bigsby's Folly. Cap it all off with a show at the gorgeous and new Mission Ballroom.
Five Points
Late night eats conjure images of 7-Eleven microwaved burritos and sad, over-cooked ramen noodles. Step your game up with a visit to Cart-Driver, which brings the ruckus with wood-fired pizzas, freshly shucked oysters, and delicious cocktails. The best part? The RiNo spot offers a happy hour from 10 until midnight.
Belly up to a classic bar and hang with the locals
Citywide
Just because they're old doesn't mean they go to bed early: My Brother's Bar stays open until 2am nightly (except for Sunday, when it's closed) and, better yet, slings its delicious burgers until 1am. Another Jack Kerouac haunt, Charlie Brown's, keeps the piano man playing into the wee hours and has a nightly two-for-one happy hour from 10pm until 12:30am. For a more glamorous option, pull up a stool at The Cruise Room in the Oxford Hotel and order a martini as you ponder how idiotic prohibition was.
Cheesman Park
Yes, there's a robust comedy scene -- for both pros and open mics -- in the Queen City of the Plains. But where to if it's, like, a Monday and you're a little light from your most recent rent payment? To the Lion's Lair! The Colfax dive hosts weekly stand-up that starts around 10pm and goes way too late for a Monday.
Glendale
So, here's the situation: You're headed home with a grip of Wendy's and you want, ya know, weed. For better or for worse, the City of Denver has mandated that dispensaries must shut down by 10pm. Well, thank god for Glendale, the city within a Mile High City that makes the Vatican look somewhat principled. Its dispensaries aren't subject to Denver laws and most keep late hours. Venture forth to Kind Love, which is open until 11:45pm, and is known for its buds with bona fides.
Baker
Most of the venues in Denver are run by corporations like AEG, but not this one. In true indie spirit, Hi-Dive has been keeping it small biz real for over 15 years. A lot of its surroundings on Broadway have changed, but it definitely hasn't. Even if you haven't heard of a night's particular act, there's a good chance it'll be solid. And if you get hungry, look no further than the joint next door: Sputnik serves food -- with many vegetarian and vegan options -- and drinks until 2am.
Cheesman Park
Each winter, the Botanic Gardens unveils its Blossoms of Light, which blasts much of its flora with excellent holiday lights. It's hard to think of a better (or more romantic) date idea. Start things off with dinner at nearby Potager. Thank us later. And, if it's summer, fear not: the Botanic Garden hosts a bevy of nighttime concerts all season long.
Find out how good our Mexican cuisine is here
Citywide
If there's a native cuisine to Denver, it's Mexican. And just because the sun has long set, it doesn't mean you can't get your fill of green chile and burritos. Los Carboncitos serves until well after midnight as do most Illegal Pete's locations. For some of the best late-night, though, seek out Tacos Rapidos, which is open around the clock.
Speer
If you can't beat 'em join 'em, we reckon. Planning on a late night that can go even later because of caffeine-fueled hysteria? Then, we've got the place for you: The Bardo pours intricate coffee drinks until midnight. If you play it right, you may not even be able to get to sleep until they reopen at six the next morning.
Citywide
The thing about golf is that when the sun sets, it gets even harder than it usually is. But, we've got a plan for that. From May through September, the City of Denver offers packages that include green fees and glow balls at Harvard Gulch, Overland Park, and Kennedy. And if doing sporting activities that are more sensibly reserved for the daytime is your thing year-round, night skiing is waiting for you at Keystone, Steamboat, and several other resorts.
Speer
Mutiny Information Cafe offers books, coffee, and quirky folks until way past your elementary school librarian's bedtime: 1am during the week and 3am (!) on weekends. It's the epicenter of the strange on Broadway and we wouldn't have it any other way.
Go play some games!
Citywide
Homegrown Punch Bowl may be tightening its grips on late-night game-playing in town (and across the country) but there are plenty of other spots with a bit more personality. Monaco Lanes ain't as dusty as it used to be but retains all the charm you could ask for in a bowling alley. Though if you want character that'll transport you to another era entirely, venture further afield to Wheat Ridge Lanes. Upstairs at Wynkoop Brewing you can celebrate the oldest brewery in Denver while knocking around some billiard balls until 2am on weekends. And if ping pong is your poison, Ace is the place -- it's open until 1am and serves its unique take on Asian cuisine 'til 11pm.
Five Points
Let's face it: LoDo, for the most part, is hell. You've seen enough videos of fights and sirens and people getting hit by runaway cars to know that a Friday or Saturday night out in Lower Downtown is a serious liability. There are plenty of oases but Pon Pon makes a good case for the best one. If you've got to go out Downtown, why not hit a place with great music, great drinks, and a great chance you won't get into a fight?
Highland
Sure, Little Man may have gone a little corporate and rapidly expanded to offering ice cream at like, every, place in Denver. But, nothing beats the original, giant can-housed scoop shop that stays open until 1am. You may be in its legendary line for a bit but you may meet a new friend. And that new friend may or may not be a waffle cone.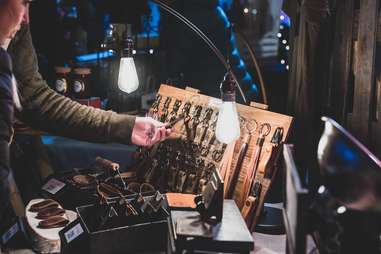 Citywide
Denver Bazaar has been showing up around town since 2015, bringing unique wares to unexpected locations. The org has taken to opening markets after dusk, too, so there's a pretty good chance that, in a given month, you'll have a chance to shop at one of the most fun -- think: food and booze -- itinerant malls in the country.
Union Station
B-Side Music Fridays pop off at the Museum of Contemporary Arts all summer long, bringing a wide-ranging stable of local and national acts to one of the coolest indoor/outdoor spaces in town. But the MCA doesn't stop there, lining up shows all year long. Check out art, drink, watch music, repeat.
Union Station
Whether or not we'd like to admit it, being a VIP can be fun. Just look at those Succession guys. And while the Cooper Lounge, an elevated -- in more ways than one -- cocktail lounge in Union Station is open to all, you'll need a reservation. Once there, you can order a carefully-crafted cocktail and look down at the masses that fill the station's great hall. And, then, probably think you're better than them.
North Washington
The Grizzly Rose has just about everything you'd need to feel like you're Sam Elliott in The Big Lebowski: live country music, line dancing lessons, a smoker's lounge, a pool hall and mechanical bull riding. Alright, so maybe we are still a cowtown after all.
Five Points
The place is called Nocturne, so that should give you a pretty good indication that the sax men are gonna be blowing late into the evening. The kitchen is open until midnight on the weekends, too, in case you're hungry for more than groovy tunes.
Hilltop
Armed with its storied sundial, there may be no better place in the metro area to watch the sun set over the Rocky Mountains than at this East Denver park. And, jeez, since the City of Denver is officially okay with drinking in the parks now, you might as well fill a cooler and stay until closing time: 11pm.
Sign up here for our daily Denver email and be the first to get all the food/drink/fun in town.
Colin St. John is a Denver-based writer, editor and joke maker. He's written for Rolling Stone, Deadspin, Esquire, and Pitchfork.