What to Do After Dark in Denver
See a different side of the city with these fun nighttime activities in Denver.
Rest assured, the days are indeed getting longer (though it may not feel like it yet). Even with the sun still setting pretty early, there's no shortage of opportunities for amusement. All your favorite activities—and even some that are best experienced after dark—are well within reach. Concerts, spooky pub crawls, stargazing, salsa dancing, and sipping at speakeasies are just a few of the ways you can spend your nights in Denver; don't let the sun setting fool you into being bored ever again.
Enjoy some live music
Multiple locations
It would be a cardinal sin to not include live music as a suggestion on things to do in Denver after dark. For one, because attending concerts here is a way of life for many, and two, because this city has so many venues to choose from. From sold-out, big name shows at Ball Arena to rap and metal shows at the Filmore to everything and anything at Mission Ballroom, there's a killer show happening every night.
Multiple locations
Like to occasionally be spooked? Sure, ghost tours may seem a bit touristy to some—but Denver has some genuinely haunted spots and histories yet to be discovered by many of its long-standing residents. Learn a thing or two, get that adrenaline pumping, and even enjoy a few beers along the way with a combined ghost tour and pub crawl.
Santa Fe Arts District
There are many uniquely Denver things, but none quite like the once-a-month First Fridays Art Walk. The main event happens on Santa Fe between Alameda and 13th Ave, where galleries open their doors late, food trucks and vendors line the streets, and crowds stroll along browsing art and wares. First Fridays aren't limited to the Santa Fe arts district either—RiNo, Tennyson Street, and plenty of other spots around the city do the same thing.
Central Park
If you can't get enough stand up at Comedy Works or want to expand your knowledge of local talent, be sure to check out some of the acts at Denver Improv. The calendar is already lined up with plenty of acts for 2023, and catching a show while grabbing dinner and a few drinks is a perfect date night or weekend hang.
University Park
Who said you have to head into the mountains for some good stargazing? You need only trek down to the DU campus to check out a fully functional observatory. From its groundbreaking in 1888 to today, the spot occupied by the Chamberlin Observatory has served as a place of curiosity, science, and exploration. Be dazzled during one of otis public nights, become a member for regular stargazing, or keep in touch for special astronomical events.
Sip craft cocktails at a speakeasy
Multiple locations
With a handful of speakeasies spread across the greater Denver area, it's easy enough to find a spot with an insanely cool vibe and drinks to match. Most are open late and often underground or tucked away—so it wouldn't matter if you showed up in daylight or not, anyway. But if you're out on the town or getting a late start to the evening, checking out Retrograde, Williams and Graham, or B&GC will be a worthwhile endeavor and likely result in a memorable night.
Multiple locations
Believe it or not, there are quite a few ice cream shops in the Mile High that stay open long after the sun sets. The Denver outpost of Van Leeuwen is perfect for some after-dinner treats, as is RiNo's Heaven Creamery, and Sweet Action's several locations make after-dark cravings also very convenient.
Multiple locations
Things Denver isn't short on? Nightlife. Maybe it's finally Saturday or maybe it's been a really tough Wednesday and you're looking to let off some steam. Either way, there are plenty of places to engage in revelry every night of the week, from RiNo's artsy Beacon to Broadway's signature Milk.
Grab a late-night slice
Multiple locations
Order a 26" pie for the whole crew or grab a single slice at one of Fat Sully's outposts (or better yet, its after-dark-exclusive Lights Out burger), or experience the quality pizza you've been hearing all about at either Cart-Driver location. Denver actually has plenty of pizza offerings, it's just a matter of deciding what feels right.
Get your caffeine fix
Multiple locations
Not every city has a coffee shop open past 4 pm but in Denver, you'll find several. Bardo Coffee House has multiple locations open well after dark for those nights you're really craving a cup of joe. Similarly, Stella's Coffee Haus boasts late-night hours, particularly catering to the local DU crowd (and has tons of seating and wifi for homework, remote work, or just hanging out with your latte).
Capitol Hill
The totally wonderful thing about this place is that even if you've never salsa danced in your life, you can take a lesson prior to the doors opening to the public and then show off your skills. Thursdays through Sundays are club nights, with cover varying whether you need the lesson or not (okay, flex). Just pay attention to the dress code so you're not left out in the cold.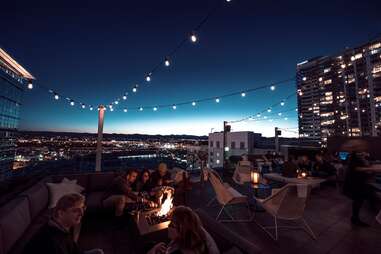 Central Business District
This is a great spot for mountain vistas and specialty cocktails any time of year, but braving the winter chill means being rewarded with soft, complimentary blankets and hot, boozy beverages like spiked hot chocolate or mulled cider as you watch the sunset fade behind the Rockies.
RiNo
If your competitive nature is begging for release but you'd rather avoid the crowds of kids and families, RiNo Country Club offers 21+ mini golf later than most. A self-proclaimed "putt putt dive bar," grab the gang and a few drinks and show off your skills on the green long after the sun has gone down.
Sign up here for our daily Denver email and be the first to get all the food/drink/fun in town.
Erica Buehler
is a Denver-based freelance writer and editor who thinks coffee after dark just tastes better. Follow her @e_buehler on Instagram and @e_buehler_ on Twitter for more updates on Denver food and other Mile High shenanigans.