What to Do After Dark in Denver
See a different side of the city with these fun nighttime activities in Denver.
A city thriving with life, culture, and entertainment, Denver isn't just a daytime adventurer's paradise. Even after the sun sets behind the Rockies, a world of fun remains, be it dancing after dark, satisfying late-night caffeine cravings, or getting your game on. Nighttime in Denver is full of good times waiting to be had, from the colorful streets of RiNo to the strung lights of Larimer Square. Here's a list of 11 activities to inspire your next night out.
Sip craft cocktails at a speakeasy
Multiple locations
With a handful of speakeasies spread across the greater Denver area, it's easy enough to find a spot with an insanely cool vibe and drinks to match. Most are open late and often underground or tucked away—so it wouldn't matter if you showed up in daylight or not, anyway. But if you're out on the town or getting a late start to the evening, checking out Retrograde, Green Russell, or Five Nines will be a worthwhile endeavor and likely result in a memorable night.
Larimer Square
Plenty of Denver ice cream shops stay open after dinner, but there's one in particular that offers a slightly different vibe. Larimer Square's Hidden Gems has a plethora of unique toppings (like Cheez-Its, for example) you can blend right into your frozen treat while trap music blares and the colorful, graffiti-art-style walls entrance you. Plus, it's open till midnight on Fridays and Saturdays.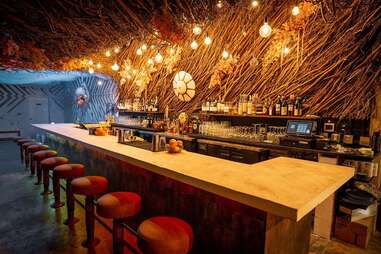 RiNo
One of the fresher additions to RiNo's hopping nightlife scene is Beacon, where art, human connection, and good times intersect. Revel in the curated space—with its woven bar wall, cloud ceiling over the dance floor, spacious outdoor patio, and special, tucked away nooks and crannies all showcasing different designs and atmospheres—or simply dance your heart out to rotating DJs. Or both. Balance and all that.
Multiple locations
While you've also got the option to order a 26" pie here until 2 am Thursday -Saturday, just grabbing a slice is fine, too. Walk up to any location's take-out window or head in for the addition of a cold beer. Feeling adventurous? Consider trying the night specialty Lights Out burger—you won't regret it.
Get your caffeine fix
Multiple locations
Not every city has a coffee shop open past 4 pm but in Denver, you'll find several. Bardo Coffee House has multiple locations open well after dark for those nights you're really craving a cup of joe. Similarly, Stella's Coffee Haus boasts late-night hours, particularly catering to the local DU crowd (and has tons of seating and wifi for homework, remote work, or just hanging out with your latte).
Glendale
We know it's not for everyone, but there's something to be said about a place where you can order drinks right up until the 2 am close. If this is your vibe, you're in luck because this is one of the best (if not the best) gentleman's clubs in Denver. Special perks include a full kitchen serving up wings, fries, burgers, and the like, and the fact that Willie's is woman-owned.
Capitol Hill
The totally wonderful thing about this place is that even if you've never salsa danced in your life, you can take a lesson prior to the doors opening to the public and then show off your skills. Thursdays through Sundays are club nights, with cover varying whether you need the lesson or not (okay, flex). Just pay attention to the dress code so you're not left out in the cold.
Central Business District
This is a great spot for mountain vistas and specialty cocktails any time of year, but as summer rolls into fall and further into winter, coming here for post-sunset drinks can get a tad chilly. Luckily, soft, complementary blankets are available to snuggle up under and ward off any skyscraper-height breeze no matter what time you end up heading home.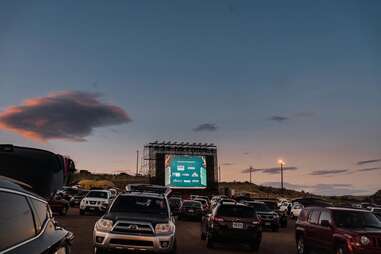 Catch an outdoor movie
Multiple locations
Sure, you can catch a regular ol' flick at an indoor theater anytime. But when the weather's right, watching a movie outdoors really elevates the experience—snacking and sipping while snuggling up on your blanket and waiting for the sun to set is all part of the fun. See if you can snag tickets to a Film on the Rocks, or check out Edgewater Public Marketplace's Monday Night Movies.
RiNo
If your competitive nature is begging for release but you'd rather avoid the crowds of kids and families, RiNo Country Club offers 21+ mini golf later than most. A self-proclaimed "putt putt dive bar," grab the gang and a few drinks and show off your skills on the green long after the sun has gone down.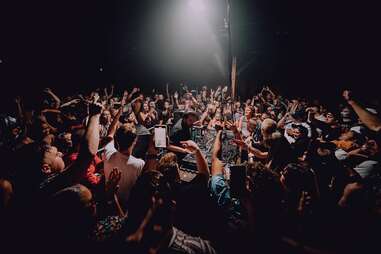 RiNo
There's really nothing better than spending a night singing along to your favorite artists and, if you've got the energy, hitting the RiNo bar scene afterward (though the drinks are pretty free flowing at the several inside). Mission has a killer calendar of events for the rest of this year and into next; plus, there's usually always a food truck close by for pre- or post-show bites.
Sign up here for our daily Denver email and be the first to get all the food/drink/fun in town.
Erica Buehler
is a Denver-based freelance writer and editor who thinks coffee after dark just tastes better. Follow her @e_buehler on Instagram and @e_buehler_ on Twitter for more updates on Denver food and other Mile High shenanigans.