Located on the western slopes of Colorado, some 40 miles from the Utah border, is Palisade -- a veritable oasis smack dab in the middle of the desert. Conveniently situated off I-70, Palisade's lush, fertile grounds are an anomaly in comparison to the arid, dusty terrain of surrounding Mesa County.
Thanks to a 182-day growing season, a temperate climate -- mild, by Colorado standards -- and a 78% average of sunshine throughout the year, Palisade is known as "The Peach Capital of Colorado." And while the peaches are worth the hype, the small town is also home to numerous wineries and trailheads, making it an ideal summer escape for Coloradans. To make the best of this area, consider our recommendations for food, drinks, and adventure.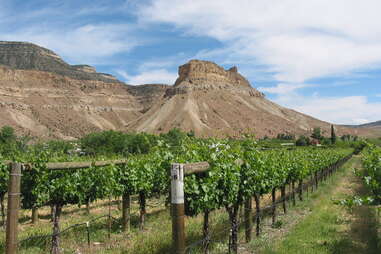 Go to a winery, brewery, or even a meadery
Let's cut to the chase: Palisade has wineries. A ton of them. Located in the Grand Valley American Viticultural Area, a federally recognized, designated wine grape-growing region, the area has more than 20 wineries dispersed across the town's 1.1-square-mile circumference -- many of which do not require a fee or reservation to taste.
You could spend days sipping local wines, but there are several can't-miss stops. For a French-inspired experience, visit Maison la Belle Vie and enjoy the patio and welcoming shade of the sprawling willow tree. You can't go wrong sampling any of the small-batch reserve series, included the barbera, and petit verdot. Grande River Vineyards, the largest winery in Colorado with the largest wine list, has been making Bordeaux-style wines for more than 20 years. The whites steal the show, as evidenced by their viognier and Meritage white.
For a unique experience, hit up Meadery of the Rockies, Colorado's original meadery. Swapping out grapes for honey in the fermentation process, the mead is an ancient spirit with a distinct flavor profile. For first-timers, Meadery of the Rockies offers traditional blends based on honey content, fruit blends, and dessert wines. Be sure to sample the Honey Sheré, a complex, barrel-aged honey wine that clocks in at 18.5% ABV.
Not partial to fermented grapes (or honey)? Palisade is also home to a brewery and distillery. For hop-heads, Palisade Brewing Company offers an extensive selection, including solid year-round brews such as Dirty Hippie Dark American Wheat and High Desert Red Ale. Those looking for a taste of the hard stuff will be pleasantly surprised with Peach Street Distillers. Purveyors of damn fine spirits, the distillery features a diverse profile, including amaro, apricot brandy, gin, Colorado bourbon, and grappa.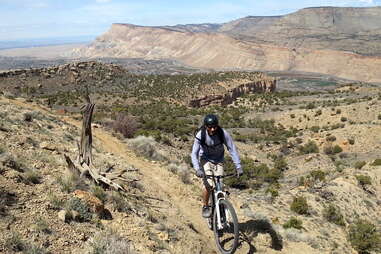 Swap out your car for a bike
In true Colorado tradition, the best way to see Palisade is by bicycle. Get up close and personal with the town's orchards and vineyards on the Palisade Fruit & Wine Byway, a fully mapped, self-guided trail that explores the local bounty. Divided into three different routes, the paved trails offer cyclists a variety of terrain. From bucolic country roads and rolling farmland on the outskirts of town in East Orchard Mesa Loop, to the views and breeze proffered by the Colorado River, there's no way you'll be upset with your choice. Whether you're riding a beach cruiser or a road bike, you'll be sure to pass grapevines, lavender fields, and peach, apple, and cherry orchards.
For mountain bikers looking for something more intense, there's plenty of single- and double-track to shred. Flanked by the Book Cliffs mountain range and western reaches of Grand Mesa, the town offers long and short routes with varying terrain -- from flat desert trails to steep ascents. For the best of the best, ride the 8.8-mile Palisade Rim. This experts-only route offers climbs, technical rock gardens, and plenty of white-knuckled descents. It's one hell of a ride with nail-biting exposure, but the challenge is rewarding. Don't have a bike of your own? Rent from Rapid Creek Cycles, which offers mountain bikes as well as wine country cruisers.
Eat some peaches... and a ton of other great food
Remember when we mentioned that Palisade was the peach capital of the state? Keep that in mind when you're staying in town. If you happen to visit between July and September, be sure to take full advantage of the peach bounty. Most roads you drive (or bike) down are bound to have plentiful produce stands for your choosing. And if you miss peach season, know that the Grand Valley also supports plums, tomatoes, cherries, apricots, apples, and much more.
Palisade is far more modest when it comes to dining (which is OK, considering how fine the wine is). For made-from-scratch pastries, hot breads, rolls, and more, visit Slice O Life Bakery. For lunch, we recommend either the Palisade Café or the aforementioned Palisade Brewing Company. While the former serves classic comfort food, the latter serves above-average bar food (aka perfect post-ride grub). If you're still hungry after biking and drinking (and more biking and drinking), be sure to hit up Inari's for dinner for a diverse menu that highlights international cuisine fused with Colorado flavor.
Stay in a luxury hotel... or camp it out
You're already in Palisade, so it only makes sense to stay in the heart of wine country. Wine Country Inn, a 78-room Victorian-style hotel located just steps from Downtown, offers the best lodging in the area. The real perks are the complimentary afternoon wine tastings, a breakfast buffet, and pool area. This inn may feel luxurious -- and trust us, it is -- but with rooms starting at $170/night, it's a fairly affordable escape for everyone, no matter the budget.
For those averse to paying for a room, look no further than neighboring North Fruita Desert, located some 30 miles from Palisade. The mountain-biking paradise, home to some of the gnarliest terrain this side of Moab, is BLM-owned, and offers paid sites ($10 per night) for dispersed camping. This dusty desert domain is a perfect temporary home for those looking to enjoy a weekend of wine, biking, and general revelry.
Sign up here for our daily Denver email and be the first to get all the food/drink/fun in town.