The Highest Restaurant in North America Is Worth the Trip
The highest restaurant in North America is once again open, and you should ski there ASAP.
Photo by Abby Maddigan for Thrillist
Photo by Abby Maddigan for Thrillist
While most people envision themselves sipping prosecco and grazing over a charcuterie board overlooking the Amalfi Coast, or even at a quaint happy hour spot in the West Village, in typical Colorado fashion, we're going to make you work for it. Strap on your boots and catch the Lenawee Express to Il Rifugio, the highest-elevated restaurant in North America, situated atop the Continental Divide. At 12,500 feet, you'll get 360-views of the surrounding mountain peaks that mirror those of the Swiss Alps and a European-style menu to complement them.
Il Rifugio at Snow Plume had a soft opening in winter 2020 but was forced to close its doors due to the pandemic. This ski season, the European-style bistro (formerly a small resting outpost serving sandwiches and lunchbox fare) is back and better than ever, ready to host the mountain's shredders for midday apres. Luckily, it was a bluebird day when we took the 90 minute drive West of Denver to Arapahoe Basin Ski Resort, home to Il Rifugio. A-Basin is known for having the longest ski season of the surrounding Summit County resorts, however their base village may not be as action-packed as places like Vail and Breckenridge. Now we know that's because they're hiding the real treasure at the top.
Tutto in discesa da qui, Italian for "It's all downhill from here," reads the sign as you enter, which is meant to be taken literally as you'll have to be skilled enough to ride Blue groomers to get back to your car. Something to keep in mind as you order your third Peroni. The wall of windows faces the resort's downhill trails so you can eye up your competition between bites of Tuscan-style salami and admire Loveland Pass' pristine snow-capped ridgeline. In a state that gets 300 days of sunshine, Il Rifugio's patio that jets out over Larkspur run is a warm welcome to those who'd prefer to enjoy their spirits basking in the crisp mountain air.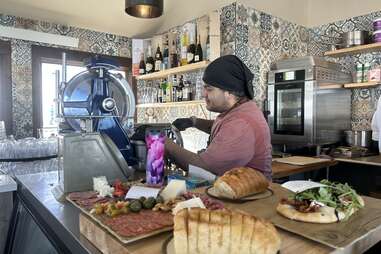 Being in such a remote location, the building has no running water and is 100% solar power operated, making it the highest solar project at a ski resort in the entire world. Aligned with A-Basin's mission to reduce waste, the restaurant's dishes are sent down the chairlift to be cleaned at Black Mountain Lodge, food and food waste is transported up and down the mountain daily via snow cats, and all food waste is composted by a local landfill program that is reused during the summer months for restoration of the resort's lifts and buildings, to plant trees and more.
That being said, simplicity was key when it came to food and beverage director Christopher Rybak's vision for the menu, making way for meat & cheese boards and Spritz over the typical chicken finger baskets and Bloody Marys you'll find at most mountaintop restaurants. However, Il Rifugio is by no means fancy, as you'll find yourself sitting amongst skiers and snowboarders taking breaks in between laps to enjoy espresso and flatbreads or soaking in the views on the deck with a hot chocolate stacked high with a mountain of whipped cream. Once Rybak saw how much these unmatched mountaintop views mirrored the Swiss Alps, he really leaned into the European ski experience.
Everything on the menu is imported from Italy and Spain, with some specialty local Coloradoan meats and cheeses sprinkled in. You can't go wrong with the charcuterie board featuring Spanish Quincebrio jam, Giardiniera, a spicy Spianata Calabrese, 16-month-aged crushed prosciutto, a 12-month-aged Manchego from Spain, green olives, Marcona almonds, roasted tomatoes, roasted artichokes, and sourdough bread. For something a little more filling you could go for the porchetta panini or a bowl of their fan-favorite crab and corn chowder, all to be properly washed down with Italian amaro.
It doesn't stop there, as skiers can choose from over a dozen runs to make their way back to the base of the mountain. Il Rifugio is open Wednesdays through Sundays from 10:30 am until 3 pm.
Abby Maddigan is the social media manager at Thrillist
,
who recently relocated to Denver and is accepting all local coffee shop recommendations. Follow her on
Instagram
.