The Pikes Peak Cog Train Is the Chillest Way to Scale a Mountain
It's much easier than hiking to the top.
2023 Cog Railway

| Photo courtesy of Pikes Peak Cog Railway
2023 Cog Railway

| Photo courtesy of Pikes Peak Cog Railway
Seated on the Pikes Peak Cog Train right next to our train driver, Bree, we could hear her corresponding with the crew at the top. "The snow's deep, I don't think we're going to be able to clear it all today," they reported from the 14,115-foot summit. Not exactly what you want to hear seconds before starting the nine-mile journey to the top, but on the bright side, our front-row seats meant we could chat with Bree the entire trip. "I mean, who doesn't want to drive a train?" she responded when I asked what got her behind the wheel. "Although these fancy trains nearly drive themselves," she added, referencing the railway's massive overhaul from 2017 to 2021. She made the call—our train wouldn't reach the top of Pikes Peak on this questionable May day.
Luckily, the Pikes Peak Cog Railway is the highest and longest cog train in the entire world, so even a modified version would take us six and a half miles and over 12,000 feet up. The child sitting behind me shouted "All aboard!" before the conductor could even do the honors and Bree honked the horn twice. We were off on our way up "America's Mountain," as Pikes Peak is referred to after a 1819 trip to the top inspired Katharine Lee Bates to write "America the Beautiful."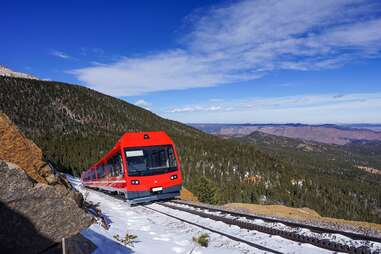 A 'cog train,' by the way, is a train with a central rail where the cog locks with teeth to carry the train up a steep descent and assist it in braking on the way down. Because of this unique manufacturing, the Pikes Peak Cog Train can climb a 25% grade, which means for every 100 feet it rides forward, it will ascend 25 feet. Typical trains can only climb 4 to 6% grades. That's to say, this isn't a train ride where passengers are up and out of their seats, as you'll be sure to feel the pressure from the steep incline.
Our conductor Quinn, dressed in the classic three-piece suit and hog head hat, was responsible for narrating the trip and promised he would keep us moderately entertained. He kept his promise, pointing out diamond-shaped granite and pink-hued rocks as we began our ascent. We even got to see Minnehaha Falls—"It's higher than Niagara Falls!" he joked, and those whose altitude sickness was starting to kick in groaned in response.
But the real entertainment, and what made this specific trip so unique, was how quickly the scenery transformed as we entered the Pike National Forest.
The rushing waterfalls and towering trees fell out of sight as we passed the deserted town of Ruxton Park, now only accessible by a 60 mile driveway. Before we knew it, snow was packed up to the train's windows, and we were chugging through the clouds. As we reached 12,000 feet, where you'd typically be able to look down and see Garden of the Gods sprawled out below, we saw nothing but mountaintops peeking out between gusts of snow. It was as if in one hour we had traveled three months back in time to the heart of winter.
While the train would normally stop at the newly renovated Summit Visitor Center, we safely braked at the Mountain Summit House, where the track cleaners used to live for a convenient commute to work. Although visibility was lacking to say the least, our train car came alive as my fellow passengers pulled down the windows to take selfies with snowflakes hitting them in the face and the children ran to get their picture taken with the conductor.
And with that, it was time to kick our feet up and descend, traveling backwards in motion but forward in time to a sunny Colorado day.
Planning your visit
On your own trip, you'll board the Pikes Peak Cog Railway in the funky yet charming mountain town of Manitou Springs, which is about 15 minutes shy of Colorado Springs and known for its natural mineral springs. Equal parts touristy and eclectic, this historic town is sprinkled with rock shops, dispensaries, local galleries, and Native American shops like Garden of the Gods Trading Post and The Eagle Dancer. There are plenty of solid dining options to choose from, like The Mate Factor, perfect for a caffeine boost and hearty sandwich before your trip up the mountain, and Manitou Brewing Co. for a cold one afterwards. There's also The Loop for mouth-watering Mexican in the heart of town or Mona Lisa Fondue Restaurant. One stop that is an absolute must is Manitou Springs' famous Penny Arcade, which will spark your childhood nostalgia and keep you entertained for an entire afternoon, especially after a few edibles.
The train runs throughout the entire year, so selecting your season and your seat are key to an enjoyable ride. Depending on what you'd like to see, wildflowers, sunset, foliage, or wildlife, you'll want to plan your trip's timing accordingly and reserve tickets in advance. Once that's settled we highly recommend reserving an upward facing seat for optimal relaxation so you don't have to put in the leg work of keeping yourself steady while the train ascends and descends. The pressure from the altitude means you might have to brace yourself a bit otherwise.
What to expect
Know that your ride is subject to weather conditions, so delays, cancellations, and shortened trips, as seen here, can be expected. Even on a hot day you'll want to pack layers, because when you step outside at 14,115 feet, the temperature drops and winds can be treacherous. And then there's the altitude. Be sure to pack lots of water, snacks, and some ibuprofen, especially if you're visiting and haven't acclimated. And of course, have your camera ready to snap photos of marmots, elk, and bighorn sheep on the way up, as well as sweeping 360-views from the peak where you can see five different states on a clear day.
Up the adventure
The train is the only vehicle that can access the summit of Pikes Peak, but if you're up for the challenge, you can put in half the work and use the cog as a carpool assist. Beginning at the Barr Trail you can hike 13 miles (one way) to the top of Pikes Peak and purchase a one-way ticket down, or train up and enjoy a 19.5-mile downhill guided-biking adventure to the base.
Abby Maddigan is the social media manager at Thrillist
,
who recently relocated to Denver and is accepting all local coffee shop recommendations. Follow her on
Instagram
.