Here's How Photographer Andy To Spent A Surprise Vacation In Denver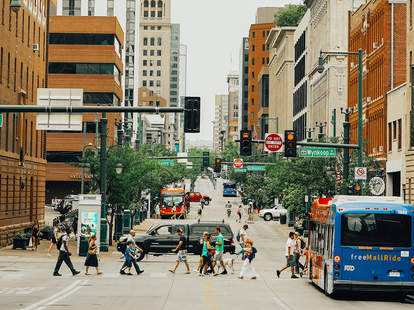 Most people would leap at the chance to take a vacation to somewhere new. But how many people would be so eager if they weren't allowed to know where they were going? To find out, we teamed up with Sapporo and Pack Up + Go to send photographer Andy To on a three-day mystery trip to Denver. He kept a diary of his travels here.
Andy To
DAY 1
I got this shot almost immediately after getting into Denver for my first-ever visit to the city. I got in around 2pm and hit the ground running. I knew Denver's one of those cities that has almost an equal mix of city and nature, so throughout this trip I hoped to show that off. As I was exiting Union station, I took some shots of the city from a parking garage (you'll see those later). Pro photography tip: Parking garages usually have the best views (and they're free if you don't park in them).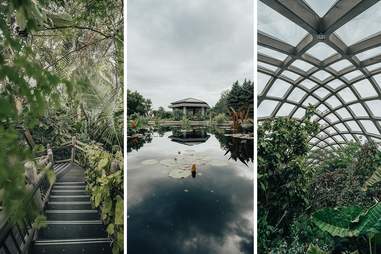 Andy To
I dropped off my bags at my hotel's reception desk and headed straight to the Botanical Garden. After the flight and taking a few photos, I was in the mood to find some quiet space. Shooting at the gardens was a great getaway, like its own little vacation in the middle of Denver. I found a reflection pool with families running alongside it, rabbits running through the bushes, the whole thing.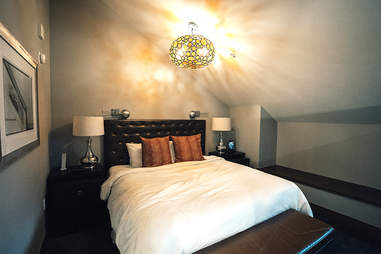 Andy To
After the chillout at the Botanical Gardens, I went to check in at The Crawford Hotel, which is actually attached to Union Station -- super convenient for anyone who likes easy access to transit. I was blown away by the accommodations. While most of my hotel time is spent editing photos at a desk and catching up on emails, I'll never turn down a huge bed after a long day.
Andy To
DAY 2
Got my day started early by grabbing some quick snaps at the train station. The station absolutely buzzes. You'll see travelers rushing around with suitcases and locals on laptops using the free internet (it was actually pretty fast; clocking that for next time). This is the perfect place to people watch, plus there's a ton of great local food and coffee.
Andy To
After the train station I swung by the Contemporary Art Museum and just got lost in this futuristic video installation by Derrick Adams called Future People. You can't see it here, but next to the installation was a 200-pound glass tank of honey, around which were looping videos of models submerged in the sticky stuff -- a pretty wild contrast to the rest of the museum, which was super zen. It was another moment where I found myself putting on headphones and zoning out for a little while I planned my next move.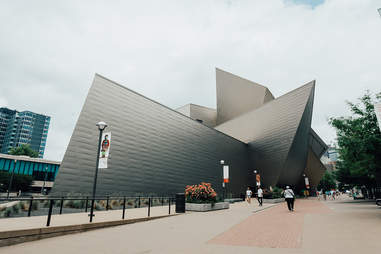 Andy To
The Denver Art Museum has been on my bucket list so I had to head over there. Whenever I travel to a new city I like to check out art from other creators. You can't see it here, but there was a huge pride parade going on. At the same time there was also an anime convention, which made for some really out-there moments. It was good vibes all around, full of energy.
Andy To
Made a quick pit stop to the 16th street mall for some things I forgot in New York. It's just a big outdoor ped mall, so I cruised around there as the clouds rolled in. The locals tell me that's to be expected: During the summer Denver gets random lightning storms. The people were really polite and nice whenever I asked questions. Someone told me to grab an ultra-light down jacket while I was in town, great advice (you'll see why).
Andy To
I met up with my friends HB and Adrian and ate brunch at Stowaway Kitchen, a cool, airy spot that had a real home kitchen vibe. HB and I have been following each other on Instagram since practically the beginning, but never had the chance to meet. They moved some plans around to hang out for the day. I ended up ordering this delicious Colorado Hash. HB brought his dog, Denali, and strangers kept stopping by to pat his head. He stole the show.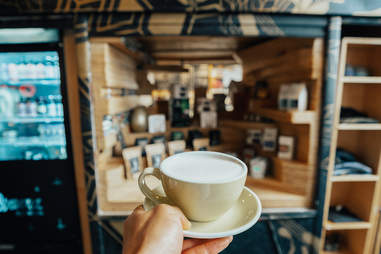 Andy To
Our energy levels dipped after that big brunch so we decided to grab some coffee nearby at Central Market, which is a cool old warehouse turned into an upscale food hall. I don't really drink coffee all the time so I grabbed this chai.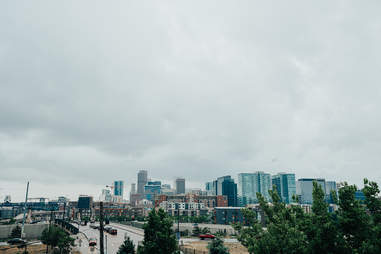 Andy To
Adrian hyped me up about this view of downtown Denver. Central Market has a great vantage point for photos. Wish we had better weather, but the clouds looked so cool in the mountains that it was worth it. One of those moments where you can take in skyline views with mountains as a backdrop.
Andy To
I wish I could've fit in more food on my trip, like this spaghetti from Avanti Food & Beverage. I could eat this stuff all day everyday. Biggest surprise: Denver had a really great mix of cuisines everywhere we went. It's diverse, and had food I didn't expect to find, like Peruvian tacos.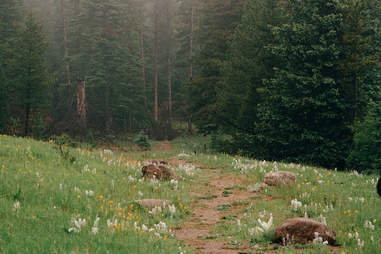 The sun never really came out, but that was kind of a blessing for this last-minute trip to Rocky Mountain National Park. We picked up another friend, Taylor, in Adrian's SUV. It was a 1.5-hour drive, but it flew by since I went with my friends. Before long I was breathing fresh air, surrounded by mountains. The weather was moody, which HB kept saying was rare. Most of the time you'll get clear skies and hot weather.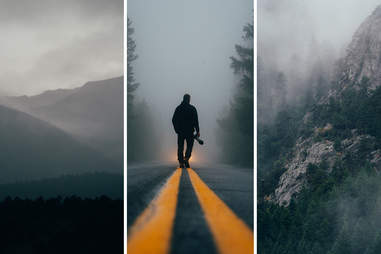 Andy To
I decided to take this photo of HB because the street lines led to the light breaking out of the fog. HB told me that he's been here over 10 times and he's never seen fog like this. It was cool to share this experience with the guys, especially since it was my first time meeting all of them.
Andy To
Day 3 - Departure
I took it easy today after a crazy two days in Denver. Ate breakfast at Scoops and chilled in the terminal to edit these photos for you guys to see. My favorite parts were definitely the food and the people. Venturing off into the unknown is my favorite type of traveling, where you get those unexpected moments that always end up becoming the ones you remember forever. Thank you Denver, hope you enjoyed these photos of my adventures!
Envious of what you've seen? You could win your own trip by entering at Sapporobeer.com/explorebeyond. To find out where you can enjoy a Sapporo in Denver, or anywhere in the US, visit sapporobeer.com/find-sapporo.
The views, opinions, and preferences expressed here are those of the Sapporo brand ambassadors and do not necessarily reflect those of Sapporo.