Ah, Denver, full of life and possibility—and a lot of screens. Don't get us wrong, we thoroughly enjoyed watching Barbenheimer at Alamo Drafthouse, love the plethora of cafes we can work at remotely, and frequent some of the more unique pastimes of the city, like gaming arcades and golf simulators. But now and then, it's good to take a break from the screen rotation, rest your eyeballs, and touch grass (or something like that). Bust out the picnic basket, dust off your library card, or pack up the car for a trip into the mountains—it's time to unplug near Denver, and here's how to do it. (Hint: This involves actually putting your phone away.)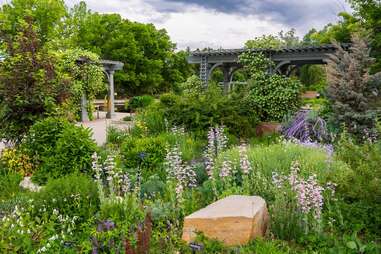 Places to Unplug around Denver
Cheesman Park
Truthfully, you could take a walk virtually anywhere in, around, or outside of Denver if you need some time away from technology. But why not take your stroll in one of the most beautiful and calming places in the city? The Botanic Gardens are not only gorgeous in any season, but also a really lovely place to spend a day when you need a reset. Breathe in the fresh air and scents of flowers, admire the vivid and not-screen-generated colors, and on a day when the Gardens are open 9 am - 8 pm, take as much time as you need. Complementary activities include: journaling, drawing, or casual/amateur photography.
Multiple locations
Denver has more than 250 urban parks, and that's not even counting the miles of bike paths, walking trails, and other green spaces. Pack yourself a book, snack, and blanket, and chill for a while. If you really want to stay a while, bring a hammock and post up under the shade for a few hours. The best part? It's totally free.
Remote Cabin Getaways
Multiple locations
Sort of self-explanatory, but if you're looking for middle-of-nowhere remoteness (as in, no cell signal for miles), this might be a good option for you. Unplugging in a beautiful yurt or even a treehouse is infinitely cooler than simply pulling the cord to your WiFi router out of the wall. Just be sure to remove internet access as an amenity when you're searching rental sites.
Things to Do to Unplug around Denver
Morrison
Some people see unplugging as being isolated, others see it as joining 100 yogis on the steps of Red Rocks for a sunrise workout. All you need for a session is water, a mat, and to wake up early enough to make it there for 7 am. Dropping into a single class is only $18, and you'll get a good burn (the muscle kind but also maybe the sun kind, so be careful) while effectively not looking at your phone for a whole hour.
Multiple locations
Denver's libraries rock hard. And if you have trouble committing to minimal distractions, go to a place with rules such as, "Be quiet so people can focus." Seriously, cozying up with a good book and just getting a change of scenery from your day-to-day can do wonders, whether on a weekend or during the work week. Give your brain a little space to quiet down and don't forget to put your phone on Do Not Disturb.
Multiple locations
You work hard, your eyeballs consume blue light like Cookie Monster does cookies—you've earned a day of relaxing. What better way to ensure a break from screen time than a massage or facial where closed eyes are basically required? Even hanging out in the Himalayan salt room should make you want to kick back and drift off, not scroll through Instagram. This two-for-one is a perfect way to treat yourself while also releasing tension and de-stressing.
RiNo
Think you know what it really means to unplug? How about depriving yourself of all five of your senses simultaneously? (No, this is not a Black Mirror episode.) At Samana Float Center in RiNo, you can discover the meditative experience of a float tank. Alleviate some of that stress, eliminate fatigue, and perhaps see a pep in your step after a session; there are a ton of benefits to floating, and there are no screens required.
Multiple locations
Picture a rainy afternoon on a fall day and taking your sweet time while checking out various art exhibits. This is a great option for art lovers, of course, but it's also a great way to stay stimulated sans-screen, appreciate the talents of our fellow humans, or learn a thing or two. And admission is anywhere from free to $15, generally.
Mindful activities that support local businesses
Multiple locations
Journaling, reading, doodling, and crafting are all really good for the soul and don't require screens, right? Well, making a stop at a place like Shop at MATTER, Petals & Pages, and Wordshop Paperie to pick up a new notepad, book, or some origami paper, then hauling your goods to a nearby park (or your front porch) is a good way to support local shops and nurture your creative side. These activities can be done pretty much anywhere—your favorite coffee shop, in your garden, or at your remote mountain campsite—and fulfill that need for serotonin without the doom scrolling.
Multiple locations
An excellent way to unplug? Leaving your phone at home and doing some good for your community. This may come as a surprise, but it's both difficult and frowned upon to clean up a local park or bottle-feed kittens while simultaneously looking at your phone (though we're sure some have tried). If you prefer to have something to keep your hands busy while taking a screen break, consider helping out in some way. Plus, cleaning a park or assisting at animal shelters can be solitary enough that day-to-day noise seems a lot less…noisy. Here's a list to get you started.
Central Business District
It would be rude to use your phone during high tea, don't you think? Whether you like tea or not, there's something really special about the care taken to craft tiny (delicious) finger sandwiches and perfectly set out beautiful, authentic silverware and porcelain teacups. Tea is often meant to be shared among friends and family and this offering at the Palace is great for connecting with the ones you love and leaving with full, happy bellies.
Denver Farm Dinners
Multiple locations
What's better than a delicious, chef-cooked meal? One without the noise and chaos of a popular restaurant, plus a bit of golden hour and a lot of fresh air. Colorado is lucky to have several restaurants, chefs, and event venues (like Lyons Farmette) that create incredible farm dinner experiences to showcase local talent, growers, and producers and bring people together over food. You can leave your phone in the car (you won't need it, anyway) and soak in the flavors and feelings of this unique experience while out in the open mountain air.
Erica Buehler is a Denver-based freelance writer. Follow her @e_buehler on Instagram and @e_buehler_on Twitter for more updates on Denver food and other Mile High shenanigans.