The Most Fun Neighborhoods For a Weekend Retreat in Denver
Denver is the gateway to the Rockies with mountain vistas to the west and easy access to skiing, hiking, and almost every other outdoor activity you can think of. But the Mile High itself is filled with plenty to explore, and each area's got its own personality. Whether you're coming to Denver from out of town for a visit or you're a local looking to get to know a new part of the city, you need the right home-away-from-home base -- those areas of town where you're steps from amazing dining, fun activities, and your new favorite bar that's just waiting for you to discover it. And that's exactly what you'll find in these neighborhoods. Get to know Denver in these five neighborhoods that show off the best of the Mile High, from its museums to its dive bars.
Five Points/River North Arts District (RiNo)
The epicenter of all things up and coming in Denver, this area has seen a ton of changes in recent years. Five Points -- once known as the "Harlem of the West" thanks to it's jazz-fueled past -- is the official neighborhood name, but RiNo, which technically occupies the northwest corner of the area is now a common moniker. No matter what you call it, it's undeniable that its food halls, restaurants, and vibrant street art scene make this area a must-visit destination.
Where to stay 
Two hotel options offer a home away from home that's only steps from the neighborhood fun. When The Source opened in 2013, RiNo was, to put it candidly, not exactly one of the city's hottest neighborhoods. The food hall and marketplace were the first of their kind in Denver -- kicking off a trend that's showing no signs of slowing down today. Now, you can not only eat at The Source (don't miss Acorn, Safta, and its nearby sister food hall Zeppelin Station), you can stay there too. The hotel has serious industrial vibes with plenty of concrete, a muted color palette, and minimalist decor. Hot Tip: if you can score one of the rooms with a garage door window, do it. Further south off Larimer, the 50-room boutique Ramble Hotel looks like it's been in the neighborhood forever even though it was newly built and opened in 2018. A stay here gives you easy access to Denver's outpost of the NYC-based cocktail bar Death & Co (it's literally in the lobby). 
Things to do
RiNo is an arts district, which means checking out said art should be high on your list. There are street art tours available, you can check out the gallery guide for a self-guided adventure, or you can just step outside and start walking. Thanks to the annual Crush Walls fest, art adorns almost every blank wall in the area. The EXDO Event Center hosts tons of events throughout the year, so check out their schedule which includes monthly roller skating parties. Coors Field is also nearby: Look for day-of-the-game Rockpile tickets (read: cheap) during baseball season. 
Restaurants & Bars to Hit
In this neighborhood, it would be difficult to find a bad meal or drink. The section of Larimer Street that runs through Five Points has the highest concentration of bars and restaurants (and breweries and wineries…) in town. On a single block (at 35th and Larimer) you can hit up Colorado Sake Company for sake flights, the Embassy Tavern for cheap, strong drinks and fried tacos, and two of Denver best restaurants: Hop Alley for a hip hop playlist and Chinese eats, as well as Fish 'n Beer for $1 happy hour oysters. 
A bit further down, you'll find one of the city's newer food halls at Denver Central Market, slow smoked BBQ at Owlbear, and a duo of must visit breweries -- Ratio and Our Mutual Friend. Then there Finn's Manor (for cocktails), Uchi (for sushi), Julep (for Southern), Il Posto (Italian)...you get the point. You'll be eating and drinking lavishly here. 
Baker/Golden Triangle
These two neighborhoods span from Civic Center Park right in the middle of Downtown to Mississippi Avenue in the south, but they are joined by one of Denver's busiest (and most fun) thoroughfares: Broadway. A stay here means you'll get to experience an eclectic slice of the city that's got both cultural destinations and a punk edge. 
 
Where to stay 
If you're looking for a more luxurious experience, check out ART, a Hotel. It's steps from -- you guessed it -- the Denver Art Museum, plus the hotel itself features original works throughout, including inside its restaurant, Fire, where you can post up with a cocktail on the terrace before venturing out for the evening. Further south, in Baker, hotels are pretty much nonexistent but the neighborhood's got some of the more unique houses in Denver so it's not too hard to find a Airbnb with a bit of personality or history; like this private carriage house that was designed by the architect that designed the Molly Brown House. 
Things to do
The Golden Triangle is a downtown hub for culture. Along with the Denver Art Museum and the Molly Brown House, you can go on a free tour of the gold leaf-covered Colorado State Capitol building, see how money is literally made at the Denver Mint, and learn more about the state at History Colorado. Start heading south on Broadway, though, and you'll find tons of unique shops. Stop into Hope Tank for unique gifts from a place whose mission is to give back, and Mutiny Information Cafe for used books, records, and comics. Need a break? Catch a movie at the historic art-deco Mayan Theatre. 
Restaurants & Bars to Hit
The move here is to splurge on a meal, because cheap drinks for your late night adventures are plentiful. For a taste of the islands, Cuba Cuba is a low-key classic where the rum flows freely and the lechon with mojo is a must have. If you want to go full tiki, head to Adrift and pair your Mai Tai with a pupu platter for two. At Dae Gee, you can feast Korean style with an array of meats for grilling, a table full of ban chan, and a bottle (or three) of soju. 
The late night scene is all about getting a little divey. At Barry's you'll find no-nonsense service, generous pours, and pinball. Around the corner at Dougherty's, take your chances at a game of  hammerschlagen (aka stump) in which you basically swing a hammer at a nail in, well, a stump. If that's not enough entertainment for you, head over to the Hi-Dive where you can grab more drinks and probably catch live music (which could be bluegrass, punk, or a full on dance party).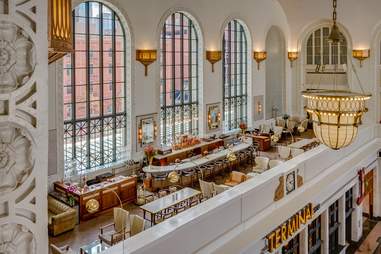 The Cooper Lounge

| The Crawford Hotel - Denver Union Station
Union Station/Highland
Union Station itself was once a mostly empty relic of old Denver that sat quietly in LoDo (the Lower Downtown Historic District). Then, in 2014, a total makeover and grand re-opening of the train station invigorated the area. The name Union Station includes not just the building itself, but also the neighborhood surrounding it -- an area that borders Highland just on the other side of the Platte River where some might argue Denver's restaurant revival began. With pedestrian-friendly paths connecting the two, it's easy to explore both during a single stay. 
Where to stay
Located inside Union Station is the Crawford Hotel. If you're ready to treat yourself, this is the move. You can't get more central than here, with the light rail just outside offering easy access all over the Metro area and a direct line to the airport -- not to mention all of the bars and restaurants just an elevator ride away (more on those below). For a more local feel, Highland Airbnbs are plentiful and will give a taste of the neighborhood's personality with options like this secret cottage or a more modern, industrial inspired flat.   
Things to do
Museums can sometimes seem like a (very culturally valuable) time suck when you're visiting a new area, but Denver's lucky to have one that's perfectly sized for easy consumption. The Museum of Contemporary has three floors of regularly rotating exhibits which show off the best of modern art -- plus there's a rooftop cafe and bar, and the museum excels at putting on some of the city's most unique events (example: a combo of hibachi grilling and live mariachi music). 
Once you finish your museum tour, head to Confluence Park where you can stroll along the Platte River before heading out for a ghost tour in the neighborhood. 
Restaurants & Bars to Hit
When Union Station got revamped, it wasn't just filled with cookie cutter chains. It became home to some seriously heavy-hitters in the food and drink arena, making it the ideal place to start. Two of Mile High's best chefs (both James Beard award winners for Best Chef: Southwest) have restaurants in the building. Alex Seidel's Mercantile is part market (get a haul of charcuterie, preserves, and bread for a picnic in the park) and part full service restaurant where you can get a delicious breakfast, lunch, and dinner. Just around the corner, Jennifer Jasinski's Ultreia will transport you to Spain with tapas and a whole menu of gin & tonics.  
Over in the Highlands (that's what you'll hear everyone calling it), even more culinary indulgences await. There's Avanti (another food hall, this one with rooftop views of Downtown), El Five (Medierranean-inspired eats with another epic rooftop view), Old Major (where they make charcuterie in house along with a mean fried chicken sandwich). And because you deserve a sweet treat, stop by Little Man for ice cream -- you'll know you're there when you spot the giant milk jug. 
When you're ready to go deeper into the drink side of the evening, you can settle into a blue velvet booth at local distillery, The Family Jones, and slip behind the bookcase at the speakeasy-style Williams & Graham. Or head back towards Union Station to sip the night away at Sunday Vinyl, a new wine bar from the team behind Tavernetta (great for pasta) with a collection of over 500 records and an incredible sound system. 
Stapleton
Northeast of Denver, this former home to the airport (before that moved east) is now a growing community that's got its own stash of newer Mile High gems. Yes, it is a suburb with a lot of cookie-cutter homes. But for a getaway near the city that feels nothing like a city, it can be a relaxing break. Stroll through its paths and open spaces, play in the water features that are really meant for all those suburban kids, and enjoy the low-key vibes and the chance to check out some great spots that are easy to miss if you're spending most of your time Downtown. 
Where to stay
There are a slew of chain hotels in the area, but you don't have to settle for those. Since this is a newer development, the Airbnb options are loaded with clean and comfy private options aplenty. Rent out an entire townhouse with your own gas fireplace for some cozy romantic vibes, or score a spot with access to an outdoor hot tub that you don't have to share with a bunch of hotel guests. 
Things to do
Since you're already outside of the city, why not get outside for real? Just a short drive from Stapleton is an area that even locals tend to overlook: the 17,000-acre Rocky Mountain Arsenal National Wildlife Refuge. It's free to visit and is open from sunrise to sunset daily. Explore it by car on an 11-mile wildlife drive or take a nature walk on the hiking trails and look for bison, bald eagles, deer, owls, and more along the way. If the weather's keeping you indoors, you can still get active. Stapleton is home to Übergrippen, an indoor rock climbing gym where you can get a day pass to scale their walls with options for everyone from first timers to experts. If you want to get a little competitive, head to Punch Bowl Social. Their Stapleton location is the old airport air control tower and they have tons of options for activities including private karaoke rooms, putt putt, bowling, a vintage arcade, giant jenga, and more. 
Restaurants & Bars to Hit
Though it's technically in Aurora, a stay in Stapleton gives you super easy access to the Stanley Marketplace. This former airplane factory is a community hub filled with shopping, dining, special events, and more. It's got food for anytime of the day, but the breakfast and brunch lineup is particularly impressive. Your options include NY-style bagels (and soon to be added, pizza and sandwiches) from Rosenberg's, towering biscuit sandwiches at Denver Biscuit Company, and everything (seriously) off the menu at Annette. 
The neighborhood isn't where you wanna go if late-night drinking is a priority. But if you're the "let's have an epic dinner then go back to the Airbnb to soak in the hot tub" kind of person, you're in the right spot. Two of the best options for dining happen to be next door to each other. After leading the kitchen at Downtown Italian staple, Panzano, Elise Wiggins moved to Stapleton and opened her own place, Cattivella, in 2017. There, she serves up wood fired dishes inspired by her own travels in Italy which include some regional specialities you can't find anywhere else in town (do not miss the focaccia di recco). Just steps away, Lon Symensma has brought a second location of his modern Asian spot, Cholon, to the neighborhood along with its deservedly famous French onion soup dumplings and his own take on dim sum for brunch.
City Park
You will never truly understand Denver until you've spent some time on Colfax, the main street in this neighborhood. It's often repeated that Playboy once called it "longest, wickedest street in America" -- a fitting quote, yet completely unverified! It did indeed make a cameo in Kerouac's On the Road. And it certainly does have a reputation in town: It's a little dirty. It's a little rough. And it's a whole lot of fun. Along with the storied dives, music venues, and new additions that Colfax itself has to offer, staying in this neighborhood means easy access to the city's largest municipal park for which the neighborhood is named, so you can chase your hangover with a stroll around a lake. It really doesn't get more Denver than this. 
Where to stay
Skip the hotels -- this part of town isn't quite that tourist friendly yet (and that's why we love it). Instead, focus on finding the ideal Airbnb location for your needs. You can't get much better than a park-side apartment -- plus this gives you easy access to any events happening at City Park (which hosts a free jazz concert every Sunday during the summer). A sleek carriage house with exposed brick will give you those Colfax-ready urban vibes, or opt for a colorful garden level getaway with an 8 person hot tub in nearby Park Hill. 
Things to Do
City Park is more than just a park, it's also home to the Denver Zoo. Take a quick stroll over and spend some time checking out the 3,000+ animals that call the zoo home. They also offer some close encounter experiences so you can get personal with rhinos, penguins, giraffes, and more. Just a short walk away is the Denver Museum of Nature & Science where you can see an IMAX movie, check out the Planetarium, and see exhibits that include real Egyptian mummies. There's also a gem and mineral display that features some pretty impressive artifacts, like a huge Brazilian topaz that was once owned by Salvador Dali. On the other side of Colfax, catch a movie at the SIE Film Center which is run by Denver Film and shows arthouse revivals and first-run exclusives year round, then scope out the record selections at Twist & Shout.
At night, it's all about live music. The centerpiece of this neighborhood is the Bluebird Theatre, which was originally built in 1913 and now plays host to a lineup of ecceltic musical artists almost nightly. Just a few blocks down the street from the Bluebird is Lost Lake, a former neighborhood dive that's become one of the most popular small venues in town for more intimate live music experiences. 
Bars/Restaurants
It's all about the high/low contrast on Colfax. The food options here include everything from 24 hour diners (Pete's Kitchen is a hard to beat classic for both early morning breakfast or a late night patty melt fix) to more elevated cuisine like To the Wind, a tiny spot serving up some of the best dinner dishes in town to a handful of tables and a small chef's counter (which is where you want to sit if it's available). Bastien's, famous for their sugar steak which is never served over medium rare, is a midcentury marvel that feel like it's been suspended in time, while next door is Steve's Snappin' Dogs where you can order everything from a classic Chicago dog to a "chimi dog" wrapped in a tortilla and deep fried.  
Colfax is probably best known for its old school dive bars. You could easily spend an evening hopping from one to the next, and you're pretty much guaranteed to meet at least a few memorable characters along the way. Some standouts include PS Lounge (it's cash only and if you're lucky, you might score a free shot or a free rose for the ladies), The Squire Lounge (which is conveniently under the same ownership as Pete's Kitchen and sits right next door), and the Lion's Lair (best for punk shows and super cheap beer). 
Want some more tips on what to eat, drink, and do in Denver? Checkour wildly comprehensive guide to the Mile High, right here.
Sign up here for our daily Denver email and be the first to get all the food/drink/fun in town.
Molly Martin is a freelance writer in Denver, Colorado who spends a lot of time restaurant hopping in RiNo. Follow her Mile High adventures @mollydbu on Twitter and Instagram.