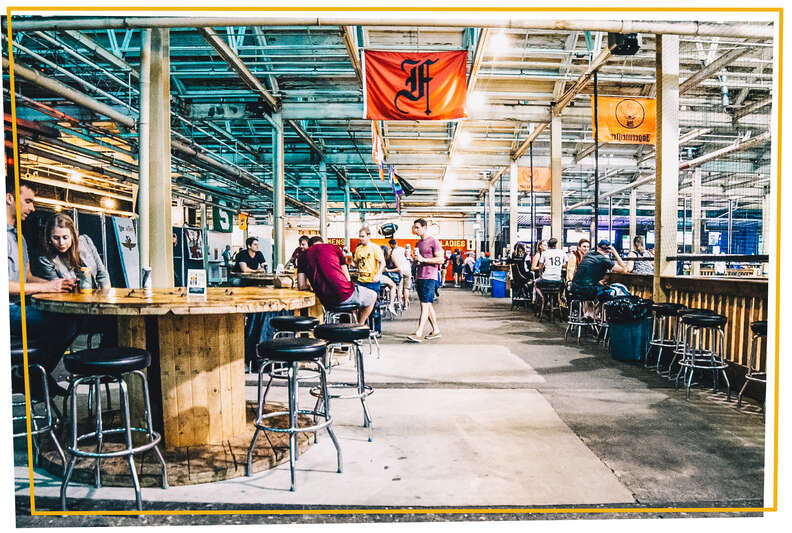 Fowling Warehouse (edited)
Paczki for breakfast, biryani for lunch, sushi for dinner, shots of Jezy at happy hour, and Yemeni snacks late-night: In Hamtramck, Michigan, you can eat and drink around the world in just two square miles. Where else can you experience Bosnia, Yemen, and Bangladesh as you hop between more dive bars than any human being should have access to? Hamtramck may be small, but its booze, food, and culture can contend with American cities twice its size.
This diverse city within a city (it's more or less surrounded by Detroit on all sides) is stuffed with bars, restaurants, bakeries, and sweet shops. Walking down Joseph Campau Avenue, you'll pass beneath rows of colorful flags from over a dozen countries, a reflection of the waves of immigration into Hamtramck over the years: the Polish in the early 20th century, South Asian and Middle Eastern immigrants in the latter half, and most recently, entrepreneurs and residents from all walks of life and all over the world. Census data indicates more than 40% of Hamtramck's population was born outside the US.
The fortunes of these residents have long been tied to the auto industry. When the Dodge brothers opened an auto factory in Hamtramck in 1914, immigrants from Poland flocked to the city, lured by the promise of a well-paying job. That history is still visible in Hamtramck's long-standing Polish businesses, festivals, and Catholic churches. Over the years, it's blended with Middle Eastern markets and mosques as immigrants from Bangladesh, Yemen, Iraq, Ukraine, and Albania (to name only a few) established their own communities here.
Over 40% of Hamtramck's population was born outside the US.
This mixture of cultures has led to some growing pains and conflict, especially in the last two decades as the shrinking Polish population has grappled with the neighborhood's shifting physical and political landscape. In 2004, for instance, plans to broadcast a call to prayer laid bare some residents' resentments. Still, Hamtramck distinguished itself in 2015 by becoming the first American city to elect a Muslim-majority city council.
This cultural richness makes Hamtramck a fascinating place to walk around on a visit to Detroit -- especially with an empty stomach. Relatively affordable real estate makes it an attractive place to do business, so while the Detroit-Hamtramck GM plant faces permanent idling in 2020, a diverse crop of new entrepreneurs -- from millennial upstarts opening bonbon shops to Bosnian immigrants creating cafe & gallery spaces -- is building a vibrant commercial community here. The long-established abundance of immigrant-owned restaurants and dives (legend has it that Hamtramck once had the most dive bars per capita than any city in the country) and the influx of modern restaurant concepts and craft cocktail bars mean there's no better time to visit Hamtramck -- one of the most exciting and interesting cities, not just in Michigan, but the country.
Here are our favorite places to have a drink or grab a bite in Hamtramck: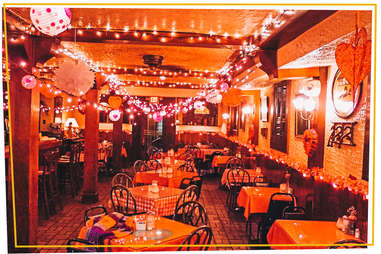 2990 Yemens Street
Beloved Polish restaurant serving traditional fare in a former rathskeller
The building that houses the venerable Polish Village Cafe was originally home to a gentleman's hotel and rathskeller (German for a bar or restaurant in the basement) in the early 20th century. By 1976 the hotel was transformed into the Yemens Bar and Hotel, and the vintage aesthetic can still be seen today with retro light fixtures, and dark wood beams and paneling (the restaurant is in the former rathskeller space downstairs). In the early '80s, a popular cook named Zosia helped build the PVC's rep as a legit place for traditional Polish food. The Polish plate, with stuffed cabbage, pierogi, kielbasa, and kraut, is always a safe bet for those who want it all and can't decide. Don't miss out on the czarnina (duck blood soup), a true Polish delicacy. Oh, and bring cash too.
11945 Conant Street
Homestyle Bangladeshi fare served in a casual space with an amazing patio
Bangladeshi residents make up more than half of the Asian population (nearly 25% of the total population) in Hamtramck, according to census data, and that's demonstrated by the restaurants and shops along Conant. Aladdin has been a staple of the Bangladeshi community since 1998; fans of the cuisine come here for the spicy chicken 65 (a fiery deep-fried chicken dish that's off-menu -- now you know), biryani, and other traditional delicacies. It's expanded with a bright spacious dining room, and the walls of the patio are adorned with the iconic Bon Bon Bon branding and a colorful mural by a local artist.
8740 Joseph Campau
Local favorite for late-night Yemeni food
Along with Bangladeshi immigrants, Yemenis have settled in droves in Hamtramck over the past few decades, bringing with them the tastes and flavors of their homeland. Yemen Cafe is an institution in the community, serving up hefty portions of fahsah (lamb stew), haneeth (a dish of spiced lamb with rice), agdah (spicy stew), and the popular ghallaba. It traded in its former no-frills digs for a more spacious and modern space in 2016. For late-night cravings that go beyond coneys, Yemen Cafe is open until 1am.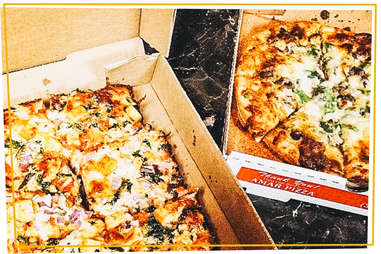 11608 Conant Street
Low-key pizza joint dishing up Bangladeshi fusion pies
Pizza is the perfect vehicle for just about any combination of ingredients, and Amar Pizza takes full advantage of that versatility. This popular low-key joint dishes up pies from the traditional deluxe (pepperoni, mushrooms, green peppers, and onions) to ingenious fusions like the tandoori pizza with tandoori chicken, cheese, and onions. Most people descend upon Amar to tackle the infamous ghost pepper pizza: with chicken, cilantro, onions, and the ominously named ghost sauce.
11411 Joseph Campau
J-pop and affordable sushi in the former Rock City Eatery space
Sushi was missing in Hamtramck's culinary landscape until this hot spot opened in early 2017 (in the former home of Rock City Eatery, the globally inspired American restaurant helmed by Nikita Sanches, who moved the operation to Midtown in 2016). With J-pop playing on the TV and affordable sushi prepared in the back, this fun eatery has become a go-to spot to get your fish fix. From fresh nigiri and sashimi to Americanized Philly and California rolls, to vegetarian options, Fat Salmon covers the sushi spectrum.
11360 Joseph Campau
Whimsical wonderland of chocolate confections
Founded by Alex Clark in 2014 in a tiny storefront in Hamtramck, Bon Bon Bon quickly became a hit with its creative confections and outgrew the space. The Babes Babes Babes continue to churn out tempting treats including Coffee and Donuts, Strawberry and Balsamic, and Detroit classic, Bumpy, to name just a few from the flagship manufactory on Joseph Campau. Shoppers picking out their favorite treats can peek from the counter area through large windows into the kitchen space.
10215 Joseph Campau
Half coffee shop, half art gallery, 100% comfortable hangout
Opened in 2016 by Bosnian native Zlatan Sadikovic, Oloman Cafe is a cozy home base for when you need to get some work done, have a meeting, or catch up with friends over a well-made espresso. The industrial decor with high ceilings and bright-red accent wall serves as the perfect backdrop for artist receptions and other events that cater to the creative crowd. Sadikovic, a photographer, was inspired to open this hybrid space by a cafe of the same name in Sarajevo where artists would gather, and his spot is certainly continuing that tradition in Hamtown.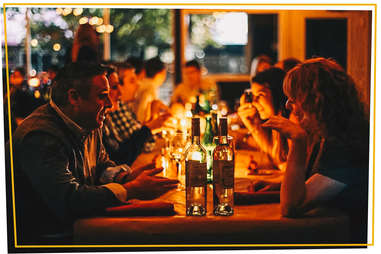 9737 Joseph Campau
Casual fine dining that changes every week, depending on the chef
This pop-up venue that hosts different chefs every week has spawned several similar concepts in the area since launching in 2014. Five years later, it's still in the same comfortable space set up like a dinner party and featuring an eclectic mix of cuisines every weekend. One night you might find seasonally inspired modernist cuisine, and the next weekend it could be barbecue. The constant is the communal, convivial experience -- as well as the option to BYOB, which only adds to the dinner party-like atmosphere. [Full disclosure: The author has done pop-ups here in the past.]
2741 Yemens Street
Dive bar for low-key vibes, cheap drinks, and potentially bad decisions
There are so many great dive bars in Hamtramck that it's impossible to include them all here. That said, Whiskey in the Jar is the quintessential Hamtramck dive: cheap drinks, cult movies playing on the TV, and a general lack of pretension. The whole place is pretty dark even when it's light out, save for the bar itself with its illuminated bottles of booze. It's the kind of spot where bad decisions are made every night, but nobody cares enough to judge you for it.
3001 Holbrook Street
New-school dive bar with fusion pop-ups and classy mixed drinks
The bright neon red sign that simply says "BAR" welcomes you to this friendly neighborhood corner spot. Libations like the Warsaw Mule are an upgrade from your standard shot and light beer combo, but without the hefty hipster price tag. Twice a week, Bumbo's holds Polish fusion "pop-ups" featuring globally inspired takes on classic dishes like a pierogi sandwich with gochujang kapusta or dill pickle congee. This is not your Polish grandmother's food, but it's also not your grandfather's dive bar.
3901 Christopher Street
Try your hand at a homegrown sport in this cavernous playground
If you and your friends are torn between what to do, Fowling Warehouse is the solution to your conflict. The brainchild of a Ferndale resident who created the game by accident, fowling entails throwing a football at your opponent's bowling pins that are set on raised platforms, kind of like horseshoes or cornhole. Housed in a former factory, the Hamtramck location is the original (with offshoots in Grand Rapids, Michigan and an upcoming spot in Cincinnati, Ohio), boasting three bars and a 175-seat beer garden with more than 120 different types of beer as well as liquor and wine.
Sign up here for our daily Detroit email and be the first to get all the food/drink/fun the Motor City has to offer.