There are so many cool things to do and see and eat and drink in Detroit. But variety is the spice of life, and our city happens to be near a bunch of other cool cities with their own unique things to do and see and eat and drink. For instance, the cities below. There will come a time when you just have to get out of town, and these weekend destinations should be at the top of your list when that day comes. All are within driving distance, and all are guaranteed to be a good time. Detroit will still be here when you get back.
Recommended Video
Please Don't Hang Up: The Best Things to See, Eat, and Do in Seattle, WA
Best Beer Getaway: Grand Rapids
If you need a beercation, to Grand Rapids you must go. The lifetime titleholder of Beer City USA has dozens of breweries big and small, so you can tailor whatever kind of beer experience that you want, but don't miss Brewery Vivant or Greyline.
Grand Rapids is also home to truly excellent restaurants. Start your morning with coffee and pastries from the comfy-chill Roots Brew Shop. Then visit Butcher's Union for serious meat and whiskey all day -- or something off the Sunday brunch menu like their BYO Bloody Mary bar, because mankind cannot survive on beer alone. The Green Well Gastro Pub is another excellent option for brunch, lunch, or dinner, conveniently located right across the street from Brewery Vivant.
After all that eating and drinking, you might want to get out on two wheels and do some exploring. Grand Rapids is an excellent city to bike in, with hundreds of miles of paved bike trails as well as trails for mountain biking. Download the app for trail maps and guides.  
By car: Under three hours
Best Food Getaway: Traverse City
Traverse City is a world-renowned tourist destination for damn good reason. It's one of the best small cities in America to spend a weekend. It's one of Michigan's best beach towns. And we've been singing its praises for food and drink for so long now that it seems passé.
Grab a coffee and a bite at Morsels Bakery, then a beer and another bite at 7 Monks. For dinner, hit Trattoria Stella, a farm-to-table Michigan-meets-Italian restaurant that has been written up everywhere for its James Beard-nominated chef and award-winning wine list (including plenty of excellent Michigan wines). Also spend some time wandering the ever-evolving grounds of the Village at Grand Traverse Commons, where Trattoria Stella is located. It's one of the largest historic preservation and adaptive reuse projects in the country, was used as an asylum in the 1800s, and is now full of cute shops and restaurants and wine bars. Speaking of, also swing by Left Foot Charley for some highly-awarded wines and ciders.
Take the time to drive down the two peninsulas that jut out from a shared base of Traverse City, Leelanau, and Old Mission. Leelanau is far bigger and gets tons of love from national media, but my personal love is for Old Mission. When you're driving down M-37 and the road curves over the rolling hills of vineyards and suddenly you have sweeping views of the bays on either side, there are few drives in America more spectacular. Stop for a wine tasting at 2 Lads Winery -- their outstanding Pinot is a worthy match for the tasting room's unparalleled views -- and have dinner or at least a beer on the patio shared by Mission Table and Jolly Pumpkin. 
By car: A little over four hours
Most Affordable Getaway: Toledo, Ohio
We've said it before and we'll say it again: Toledo is an underrated weekend destination. Look, you're not going to lose your mind over its overwhelming awesomeness, but it's a fun way to spend a weekend somewhere that's only an hour away. The Toledo Museum of Art is legitimately outstanding. It's totally free to the public and home to more than 30,000 works of art, ranking among the finest collections in the country. Yes, yes, the DIA has more, but there is more to life and art than the DIA, and how fortunate for you that you live in a place with so many truly incredible museums in such close proximity. 
The century-old Toledo Zoo & Aquarium is also incredible. It's home to more than 10,000 animals representing 702 different species and home to the only "Hippoquarium" exhibit in the world. If the whole concept of a zoo makes you cringe a little, then take heart in knowing that the Toledo Zoo also participates in over 80 species survival programs. 
For eats, check out Whiskey & the Wolf, a cocktail bar with elevated bar food, and the popular sandwich joint Grumpy's. To see how Toledo does fine dining (you'll be surprised!), head to Element 112.
By car: About an hour
Best All-Around Getaway: Pittsburgh, Pennsylvania
You like the outdoors? You don't have to travel too far from Downtown Pittsburgh for perfect for day and long-distance hiking with varied terrain, including old-growth forests, fields of wildflowers, waterfalls, and rugged trails with scenic sandstone outcrops. You can also kayak the rivers in summertime, with guided options that include fireworks and full-moon tours. You just like the views of the outdoors but not the actual activities associated with them? Drive to the appropriately named Grandview Overlook and explore the Mount Washington neighborhood. 
You like sports? The open-air Heinz Field, home of the Steelers, is located just on the other side of the Ohio River from the heart of Downtown. Just a few steps away from Heinz Field is PNC Park, home of the Pittsburgh Pirates. They might not be the best team in the league, but their riverfront stadium is one of the best ballparks in the MLB.
You like art? The Andy Warhol Museum is the largest museum in North America dedicated to a single artist, and tells the story of Warhol's life, work, and legacy, starting with the Pop Art icon's early days growing up in Pittsburgh. And while the Warhol Museum is indeed something to see, the Mattress Factory is unlike anything you've seen before. The contemporary art museum features multiple floors of large-scale site-specific installations created by artists from around the world, including permanent exhibits from Yayoi Kusama -- looooooooong before she became Insta-famous. Oh, and there's also a bunch of Carnegie Museums.
You like food? Pittsburgh is a woefully underrated food city chock full of talented chefs who could compete in New York or Chicago. Every so often one of these places earns some national buzz and it seems like Pittsburgh's time in the breathlessly Instagrammed spotlight is imminent, but then it dies down back to business as usual. Just be sure to loosen up your belt a notch because Pittsburgh portions are notoriously huge. 
By car: Four-and-a-half hours 
By train: About seven-and-a-half hours via Amtrak (with a connecting bus and transfer in Toledo)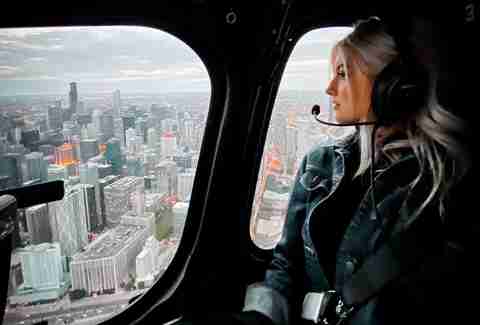 Best Luxurious Getaway: Chicago
Chicago is a world-class city, and while you can certainly do Chicago on the cheap, it's well worth a splurge. There are plenty of Michelin-starred restaurants and bars in the Windy City, but if you're a self-proclaimed foodie, Alinea is the restaurant that made molecular gastronomy a thing in America. If you want to go slightly less fussy, there's the theme-driven Next. You need tickets -- not reservations, but tickets -- in advance for both, so plan ahead. Also you have to get drinks at the Aviary ( again, you need to plan and pay in advance), and if you can, get a seat downstairs at the Office, the even more intimate and exclusive cocktail bar in the basement of the Aviary. Plus, outside of New York, there's no better city in America than Chicago for the opulent tasting menu treatment. 
If you're here for a splurge, do other splurgey things, like spending $500 for Hamilton tickets or some other fine Broadway show in Chicago's impressive theatre district. And while Chicago's architecture and city tours by boat are something every visitor needs to do at some point, a more luxurious way of seeing the city is from the sky in a private helicopter. 
By car: About four-and-a-half hours
Best Bike Getaway: Madison, Wisconsin
With an easy-to-access bike share program with 39 stations and 350 bikes across the city and more than 200 miles bike trails -- which includes a lot of paved, dedicated bike paths separated from street traffic that run along the lakes and through the heart of the city -- Madison is simply an excellent city to explore on two wheels, even if you're not a hardcore city cyclist. 
This is a seriously underrated city for a weekend getaway. Largely located on an isthmus between Lake Monona and Lake Mendota, Madison has beautiful lake views everywhere you look, and is also home to some equally beautiful architecture -- Monona Terrace, the convention center that looks out over Lake Monona and the Capitol Building, was designed by famed architect Frank Lloyd Wright. The Olbrich Botanical Gardens are worth a leisurely wander, especially for the sight of the glimmering golden Thai Pavilion that seems wholly out of place but is spectacular to see. 
If you're visiting Wisconsin, you're going to be doing some eating and drinking. Start with the Dane County Farmers' Market on Saturday morning, a producer-only farmers' market held on the square surrounding the stately Capitol Building, the focal point of downtown Mad-Town. Have brunch at the upscale gastropub Graze, and then sample from a list of dozens of Wisconsin beers at the Old Fashioned, where you also need to order a proper Wisconsin Old Fashioned, made with brandy instead of bourbon. 
By car: Just under seven hours
Best Family Getaway: Mackinac Island
Look, it's Mackinac. You love it, or you hate it, or you hate to love it, but it's necessary. No Michigan childhood is complete without trips to Mackinac Island where you bike around the island, ride on a horse-drawn carriage and watch the horses poop in front of you, watch fudge being made in the windows of half a dozen fudge shops, and stay in a funky old Victorian home or hotel where the rooms are small and dated and kind of smell but cost a fortune, and that's all part of the experience. This is Mackinac, and it is Pure Michigan. It is full of old-world/small-town/the Hamptons of Michigan charm, and also tourists, and it's annoying as hell, but also amazing. The Pink Pony is an iconic bar and restaurant, so spend some time there (and you will, because once you've biked the island and eaten the fudge and toured the fort, there's not much else to do), and knock back a few Michigan beers at Mary's Bistro Draught House, which has the best beer list on the island.  
By car: Just under four-and-a-half hours to Mackinac City, plus another 20-ish minutes (give or take) on a ferry to the island.
Sign up here for our daily Detroit email and be the first to get all the food/drink/fun the Motor City has to offer.