Everything You Need to Do in Minneapolis During Super Bowl Week
Super Bowl LII takes place in Minneapolis, the land of Vikings, great beer & food, and mandatory pre-K hockey classes. If you're showing up for the big game, you might have your visit planned solely around getting to and from US Bank Stadium. Don't do that -- you'll miss the chance to see the best of what the Twin Cities has to offer. Keep reading for everything you need to eat, drink, and do during Super Bowl week.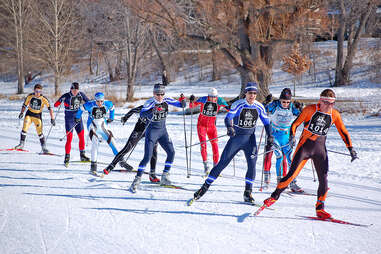 Go cross-country skiing at Theodore Wirth Park
Wirth Park is about 700 acres of forest in the middle of the city, and through those acres cuts a cross-country ski trail that feels like the wilderness, even though it's about 13 minutes from US Bank Stadium. The park also has snowshoe rentals, snowtubing, and the coolest possible thing you can do with your dog. It's called skijoring, and it's pretty much dogsledding, but on skis, and it's all we can think about now.
Visit the Ice Shanties, Minnesota's version of Black Rock City
The Ice Shanty Project on Lake Harriet feels like the only natural compromise between the artistic free-for-all of Burning Man (but without the dirty hipsters) and the humble, quiet solitude of ice fishing. Stop by Lake Harriet, where artists have constructed installations right on the frozen lake as a sort of Fargo-ian art gallery for anything from social-issue awareness to yoga in snowsuits, which is, obviously, called "snowga."
Party at Mystic Lake
Downtown Minneapolis isn't the only place where action lives during the Super Bowl. Head to Mystic Lake Casino Hotel, the Minnesota entertainment destination with everything you need to ramp up for the big game. This year, Mystic Lake is hosting a massive, 24/7 Super Bowl party with huge musical acts including The Chainsmokers, Kygo, Florida Georgia Line, and Gwen Stefani. The Chainsmokers start the party on February 1. Buy tickets today.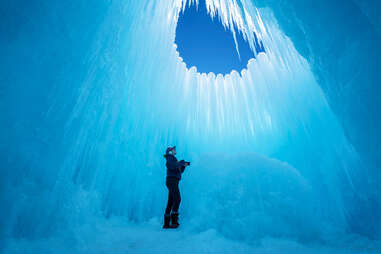 Visit the Ice Castles in Stillwater
Because your kids, siblings, or cousins won't be able to see Minnesota's snow drifts without looking around for the cast of Frozen, take them to the ice castles in Stillwater. We're talking about a village of 25-million-pound structures with 10-foot-thick solid ice walls. The castles have fire performers (which is a bold move but hasn't melted anything yet), ice slides and, yes, Frozen impersonators.
Walk the Minnesota Trail at the Minnesota Zoo
A zoo might seem like a weird choice for your visit, since you can see animals in most cities. But the Minnesota Trail is a different story. Full of animals native to Minnesota including the gray wolf, black bear, lynx, and wolverine, the trail feels like a walk through Minnesota's Boundary Waters, the expanse of mostly wilderness between Minnesota and Canada. If you aren't going to be in town long enough to make your way up north to cabin country, this is the next best thing.
Ride a Roller Coaster Inside a Shopping Mall
The Mall of America is one of the largest malls in the US, with an indoor amusement park at its center. Sure, going to a giant shopping mall when you're already attending one event of wall-to-wall people sounds like sensory overload. But let yourself play tourist, and embrace the fact that you can get a sugar rush from Orange Julius and ride a roller coaster, all while you wait for the rest of the crew to finish up at Lululemon.
See a Minneapolis Institution Inside a Minneapolis Institution
Listen: it doesn't get more Minneapolis than seeing Prince. But you can't see the Purple One live anymore (rest in peace). Fortunately, you can see the next best thing: The New Power Generation, Prince's backing band for 23 years, hitting your favorites from the artist formerly known as a symbol that drove his record label crazy. What's more, NPG is playing at the Dakota, the famous Minneapolis jazz club known for hosting many of the genre's greats, as well as Prince himself.
Speaking of Prince, Tour His Compound
Paisley Park, Prince's home and studio complex, lives in the quiet 'burb of Chanhassen, about a 25-minute drive from downtown Minneapolis. After the artist's passing, it became a museum open for visits and tours. Check out where Prince recorded and rehearsed, as well as what you might call the typical museum fare of an atypical guy: instruments, wardrobe pieces, and rare recordings. If you're a fan, you don't want to miss this.
Devour a Local Treasure
The battle for who originally created the Jucy Lucy is old and unrelenting, with both Matt's Bar and the 5-8 Club, two greasy spoons about three miles from one another, claiming its birth. If you've never heard of a Jucy Lucy, it's 600 calories of heaven: a slice of cheese between two beef patties, deep fried so the cheese is trapped melted inside, then thrown on a bun. Whether you go to Matt's or 5-8 Club, you need to try at least one. Fortunately, other restaurants around the metro area offer their own interpretations of the Minneapolis staple, just in case you can't make it to that side of town.
Find Out Why Minneapolis Is the Most Underrated Food City
For years, Minneapolis was known as a burger town (see above). But within the last few years, it's seen a shift. Now you can find upscale, Nordic-influenced organic fare at Bachelor Farmer, wood-fired pizza with Korean-inspired small plates from Young Joni, and French cuisine with a midwestern spin at Spoon and Stable -- and that's just downtown and the nearby Northeast (pronunced "Nordeast") neighborhood. If you want to get out of the stadium area, travel to the south side for Cuban breakfast at Victor's 1959 Cafe, or drive another few minutes to an area affectionately called Eat Street, where so many restaurants line the stretch of Nicollet Avenue that you'll absolutely find something you like.
Experience Minnesota's Greatest Export
Minneapolis has over 100 breweries, many of them with tiny tasting rooms nestled into residential blocks or quiet corners of warehouse complexes. You're never going to try them all on your stay (but if you're gonna try, call us; you sound amazing), so we highly recommend you swing by Surly Brewing Company. The brewery built an enormous beer hall a few minutes from U.S. Bank Stadium, and since they don't distribute outside Minnesota and a couple neighboring states, you probably won't find Surly at home. The beer hall has great barbecue, and over 20 of its own beers on tap at any time. Order a Furious or, if it's still around, a Darkness. Just be prepared for a wait: the beer hall has stayed a popular destination since it opened in 2014, and it doesn't take reservations.