Paid Content For

The Best Fall Trips in the U.S. for Every Kind of Friend Group
Grab your cowboy hats.
Paid Content For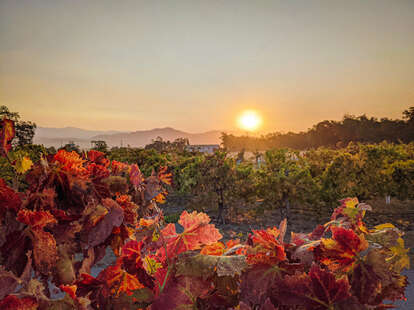 Stay Healdsburg
Stay Healdsburg
Ready to embrace the autumn spirit and create lasting memories with your closest buds? Whether you're a group of adventure seekers, food enthusiasts, or culture connoisseurs, the USA has a dizzying number of options to suit your fancy.
But here's the thing: You don't want an endless email chain debating where to go or to spend hours of research seeking out first-rate locales on your own. That's why we did the leg work for you. Peruse this list of seven curated fall trips — the only thing that will be dizzying is the array of stunning leaf colors when you arrive.
In the heart of the Sonoma wine region some 65 miles north of San Francisco, you'll find one of the most underrated wine destinations in the U.S.: Healdsburg. Given that the town sits at the epicenter of three different wine regions — Russian River Valley, Dry Creek Valley, and Alexander Valley — it's no surprise that oenophile dreams come true here. Built around a quaint plaza with hotels, restaurants, shops, and around 40 tasting rooms nearby, a trip during fall harvest season means the city will be aglow in a kaleidoscope of colors.
Make your stomping grounds The Lodge at Healdsburg, Montage Healdsburg, Hotel Healdsburg, or The Ruse Healdsburg, all ideal for groups. Spend your days visiting nearby wineries like Jordan Vineyard & Winery or Quivira Vineyards and scoping out downtown for tasting rooms and restaurants like the new Michelin-starred Cyrus and SingleThread, and Little Saint. Insider tip: Many of the wineries and hotels offer complimentary shuttle transportation services to and from the wineries. If not everyone in your group is carrying enough cash, have one person tip the driver and reimburse them easily through Zelle®. If you want to leaf peep while in town, reserve an afternoon for hiking at nearby Armstrong Redwoods State Natural Reserve, about a half-hour outside of Healdsburg.
Into all things Western? The revitalized entertainment district that is the Fort Worth Stockyards is calling, or shall we say, yee-haw-ing. At the Fort Worth Stockyards, there are twice-daily longhorn cattle drives, where cowboys lead a herd of Texas Longhorns down the main street for quite the spectacle seven days a week. Work up an appetite by shopping on the fun and swanky Mule Alley, a promenade with Western storefronts (its namesake is owed to the fact that it was transformed into its current iteration from restored 100-year-old horse and mule barns). When hunger strikes, venture to any of a roster of stellar eateries, including some from Western cuisine maestro Chef Tim Love. Hang your cowboy hats at Hotel Drover, an Autograph Collection hotel by Marriott that's all about channeling that pioneering spirit throughout its rustic-luxe environs. Did you spy the original Picasso line drawing?
There are also historic tours, horseback riding along the original Chisholm Trail, and live music and Billy Bob's, the infamous honky tonk. Be sure to swing by with your dancing shoes on Saturday, when the establishment offers a free line dancing class. Fun fact: The Stockyards has been the backdrop to a range of TV shows and movies including 1883, Walker Texas Ranger, and Prison Break. A few miles outside of the Fort Worth Stockyards district, add the National Cowgirl Museum, where you can learn all about these leading ladies of the West (Annie Oakley, Sandra Day O'Connor, and Georgia O'Keefe, to name a few).
Best for history buffs: Georgetown in Washington D.C.
Georgetown is the oldest neighborhood in D.C., founded by an Act of the Maryland Assembly in 1751. That means there's no shortage of grand historic homes (especially in Federal-style architecture), cobblestone streets, and fascinating politico tales at literally every corner. Indulge your inner erudite with D.C. by Foot's historic Georgetown walking tour or ghost tour, Fiat Luxe Tours' haunted and historic Georgetown walking tour, or Spyher's Georgetown Spy Tour. Grab a meal at Martin's Tavern (alleged to be the spot where JFK popped the question to Jackie O.) which is celebrating its 90th anniversary this fall and discuss all the fascinating intel you just learned.
Or, walk along the peaceful C&O Canal and think about all the commercial activity that transpired on this fabled waterway in the 19th and 20th centuries. From there, you can meander over a few blocks to Georgetown Waterfront Park, great for jogging or cycling, or hop into the Potomac River on a kayak. Keep the throwback theme going with dinner and a show at Blues Alley, a jazz supper club founded in 1965 that's meant to be a hat tip to its 1920s and 1930s jazz club predecessors. Retire to The Ritz-Carlton Georgetown, Washington, D.C., which has a delightful spa with saunas and steam rooms. Or, check into one of Rosewood Washington, D.C.'s historic townhouses or main hotel, which boasts a rooftop pool and lounge.
Best for zen-seekers: Aurora, NY
There's something about the Finger Lakes in the fall. The leaves are exploding into a panoply of gold, auburn, and orange, there's a crispness of the air, and a general sense of cozy renewal. And among the best places in these soul-restoring parts to soak up the serene energy? The postcard-worthy hamlet of Aurora on the lapping shores of Cayuga Lake. There, six handsomely (and fancifully in the case of the MacKenzie-Childs adorned Rowland House) restored historic homes comprise the Inns of Aurora Resort & Spa.
You can embrace the restorative energy with an essential oil blending class, animal spirit card readings, a sunset identification hike with S'mores, or apple picking at the nearby Beak & Skiff Apple Orchards. However you spend your hours with your yogis (speaking of which, yoga at the loft is a must), make time for seasonal Ayurveda-inspired treatments at the recently opened Spa at the Inns of Aurora, a 15,000-square-foot wellness center.
After you're done with a dreamy massage or facial, head to the indoor/outdoor hydrotherapy pools or breathe deeply in one of several meditation areas. Curling up with a good book on one of the patio's warming benches by a fire pit is an excellent idea, too. On any given day, you may bump into or take a class led by Laura Coburn, a Certified Ayurveda Health Counselor and the Inns of Aurora's Director of Serenity, who oversees the property's wellness programming. Ask her about an animal spirit card reading if you're looking into new personal insights or to break old habits.
Gearheads, speed demons, horsepower heathens: Whatever you want to call auto enthusiasts, Sin City is for you come November 16-18 when the Formula 1 Las Vegas Grand Prix takes over the Las Vegas Strip. The 3.8-mile track will make its way past the Strip's acclaimed casinos and landmarks with cars revving up to speeds of 212 MPH (yikes). Accompanying the neon lights and roaring engines will be a musical lineup including J Balvin, Mark Ronson, Kylie Minogue, and more. Blue Man Group and Cirque du Soleil will also be part of the festivities.
Post up at the Waldorf Astoria Las Vegas where you can watch the races from the 23rd floor hotel bar (either out the window or on TV) or treat yourself to a "tune up" at Waldorf Astoria Spa with race-themed specials. Between chancing lady luck and checking out the auto races, make a pit stop at Hollywood Cars Museum to glimpse cars from James Bond movies, Dukes of Hazard, Back to the Future movies, and other films and TV shows, as well as a smattering of unique rides.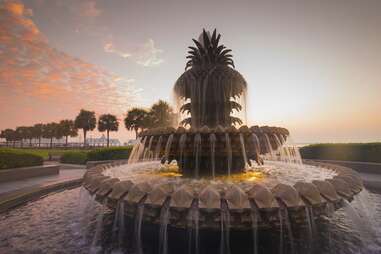 When you think of Charleston, buzzy restaurants and dimly lit bars may come to mind, but if you and yours are fans of arts and culture, consider a trip to the Holy City this fall. The new International African American Museum educates visitors about the city's role in the history of slavery and has a beautiful African Ancestors Memorial Garden. Additionally, explore the Gibbes Museum of Art for a few hours, which displays American art with a focus on Charleston's roots. Art galleries and historic home tours abound here, too. Another cool cultural institution to check out is Dock Street Theater, recognized as the nation's first public theater.
Located a stone's throw away from City Market in Charleston's Historic District, stay at the French Quarter Inn. Book the "Art in Charleston" package which allows guests to commission their own portrait while giving back to the city's arts community with a $500 donation to the Gibbes Museum of Art. Along with the donation made upon booking, the package includes a portrait session for two with a Principle Gallery artist, pre-portrait hair and makeup services for two with a local stylist, a shopping experience at Croghan's Jewel Box, where guests can purchase heirloom jewels to wear while being painted, and a private tour during pre-opening hours of the Gibbes Museum of Art.
Best for small-town fun: Amagansett, NY
The Hamptons may be best known as the summer escape for the rich and famous, but fall shines in the tiny village of Amagansett. The Roundtree, Amagansett is the place to stay. Depending on the size of your group, reserve a suite, one of the one-, two-, or three-bedroom cottages, or the standalone two-bedroom main house. Wherever you recline, the chic property spoils guests with a breakfast basket, verdant grounds with fire pits, cornhole, and Adirondack chairs for lazy days, and a prime Main Street location. We recommend looking up the lineup at Stephen Talkhouse before your trip. It's just down the street from The Roundtree and a great spot to grab a libation and catch a concert (or trivia night). For delightful fare, feast at Mediterranean-inspired Il Buco al Mare, Christian's by Wölffer Estate (go for brunch and order the Montauk lobster roll or autumn frittata), and Amber Waves Market and Kitchen, a farm market and café hybrid.
To round out your schedule, The Roundtree's resident experiences' director can create custom-tailored excursions for guests like private beach bonfires or a private tour of LongHouse Reserve gardens and sculpture site in East Hampton. Another top thing to do near The Roundtree is visit Parrish Art Museum in nearby Water Mill. Hank's Pumpkin Town is down the block, and a lovely (albeit crowded) spot to pick up a pumpkin and fresh donuts. The fall also witnesses the region's famed farm stands in full swing (pumpkins, roasted corn, greens, apples, and cider donuts abound) and emptier beaches for you and your gaggle to picnic upon in style. If your Water Mill museum excursion leaves you with some extra downtime before dinner, reserve a spa treatment at Shou Sugi Ban House, an upscale spa about a minute-walk away from the Parrish.
With
Zelle®
, money goes directly into your bank account. It's taken care of, so you can feel, enjoy, and savor every moment. It's delightfully seamless.