Paid Content For

7 Fun BFF Road Trips Within 3 Hours of Philly
Cool hotels and nature romps await.
Paid Content For

The Winterthur Museum, Garden, and Library in Winterthur, DE.

| Matthew Williams
The Winterthur Museum, Garden, and Library in Winterthur, DE.

| Matthew Williams
Yes, the City of Brotherly Love has a lot going for it, with streets as vibrant as its cheesesteaks are tasty. You can spend hours in this city getting lost in the exhibits at the Philadelphia Museum of Art, bopping to the indie music beats at Union Transfer concert hall, and trying a food-truck-and-hammock-lazing combo at Spruce Street Harbor Park. But whether you're a local craving a fun weekend getaway or looking to tack on a few days of adventure to your Philly vacation, the city's location leaves you with a lot of great road trip options. To get the wheels turning, keep reading for our top nearby Philly road trip itineraries.
Wilmington, DE
Only 30 miles or some 50 minutes from Philadelphia, this small city has all the greatest hits from breweries (Wilmington Brew Works; Iron Hill Brewery & Restaurant; Stitch House Brewery) to outdoor tranquility (see: the many trails in Brandywine Park). Tour the Delaware Art Museum and Winterthur Museum, Garden and Library in nearby Winterthur. Then, catch a concert at The Queen Theater before zonking out at the city's first luxury boutique hotel, The Quoin. If you and your clique still have energy after all the day's activities, head to the hotel's rooftop bar for a sundowner or the lower level cocktail bar, Simmer Down. The hotel also houses its namesake restaurant doling out Southern French and Northern Italian dishes, which particularly shine at its Sunday Supper — it gets your party a family-style feast with focaccia, Caesar salad, grilled prawns, burrata, branzino piccata, spaghetti and meatballs, chicken Parmesan, and broccoli rabe. Another nearby culinary gem is Bardea, a James Beard-nominated haunt with Italian- and Asian-inspired fare with a modern twist (think: burrata pop tarts with fennel sweet onion jam and lamb bao buns with strawberry, mint chimichurri, and yogurt). Wherever you book your reservation, use Zelle® to split the bill — because no one wants to pay for someone else's steak and three martinis when you had a Diet Coke and appetizer.
Milford, PA
If the tiny Poconos town of Milford isn't on your radar, it should be. About a two-and-a-half-hour drive from Philly, you'll find the Tom Quick Inn (which has its own speakeasy), La Posada, a small hotel on the Delaware River with the excellent Felix's Cantina, serving up grub with a Yucatecán flair, and Hotel Fauchère, a classy, handsomely-outfitted boutique property that has hosted John F. Kennedy, Theodore Roosevelt, and American writer and forester Bob Marshall. Once you're situated, enjoy live music, dinner, and cocktails at Hotel Fauchère's Bar Louis before tucking in early. Over the next few days, you've got a lot to cram in, from free admission at Forest Hall Studios, currently showcasing the "Wildlife" exhibit by Hunt Slonem (open on weekends only) to hiking the Milford Knob Trail in the scenic Delaware Water Gap National Recreation Area. Other must-dos while in town include ambling down historic main street, touring the grounds of Grey Towers — the family property donated to the U.S. Forest Service by Milford resident Gifford Pinchot, who served as the first Chief of the Forestry Service — and seeing a movie or performing arts show at Milford Theater, established in the 1920s. Fun fact: Milford was a popular resort town in the Gilded Age era, around the turn of the 20th century.
The Wharf in Washington, D.C.
Even if you've been to D.C. half a dozen times, you may have overlooked this happening new district. About 2 hours and 45 minutes (depending on however bad the traffic is along the 139-mile stretch between the cities) from Philly, the revitalized neighborhood overlooks the Potomac River and boasts green spaces aplenty, water taxis, and a seasonal ice skating rink. Seafood lovers at should also carve out time to visit The Municipal Fish Market at The Wharf, the country's oldest continuously-operating open-air fish market where the raw bar and hot steamed crabs are the stuff of pescatarian dreams. Post up at InterContinental D.C., strategically located near to bars and restaurants like Potomac Distilling Company (Thrasher's Rum) and the cherished Milk & Honey Café, where you can keep the fishy fantasies rolling with hits like Cajun seafood pasta, the blackened salmon BLT, and the chopped seafood Cobb salad. Looking for some pit stops to break up the drive to D.C.? If you're all about architecture, wander around Annapolis, or if nature is your calling, frolic around Ridley Creek State Park. For history enthusiasts, Fort McHenry National Monument is another great option.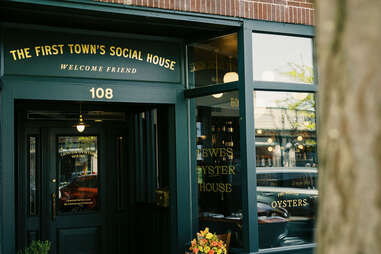 Lewes, DE
A little over two hours from The Quaker City, you'll happen upon Lewes, dubbed "the first town in the first state," as it was settled by the Dutch in 1631. On your drive down, eat at Helen's Famous Sausage House in Smyrna or Newark, Delaware, or your knowledge bank at The Air Mobility Command Museum in Dover. Once you're in Lewes, embrace your inner historian with a trip to the Lewes History Museum & Archives or a guided walking tour. Or, break a sweat exploring the sprawling Cape Henlopen State Park, with beaches on Delaware Bay and the Atlantic Ocean, heading out on cycling and hiking trails, and meandering around a World War II fort that has been reimagined as a museum and artillery park. Working up an appetite again? Dine at Lewes Oyster House, which pays homage to the "ubiquitous and democratic oyster consumption in 18th and 19th century Middle Atlantic taverns and oyster houses" and Harbour, with serene waterfront views at Canal Square. Or call it a night at the Inn at Canal Square and Hotel Blue, both a shell's throw away from the aforementioned eateries.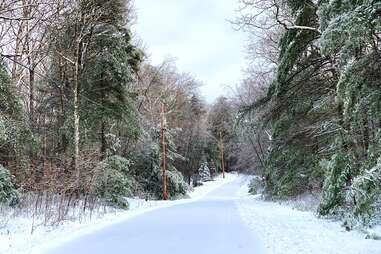 Narrowsburg, NY
The restorative Catskill mountain air can revive you and your besties whether you want a low-key getaway or something more action-packed. You can take a leisurely stroll down Main Street to do a little antiquing or paddle on the Delaware River with Kittatinny, a local tubing and kayaking outfitter and hike the Sullivan Catskills Dove Trail, which commemorates the 50th anniversary of the 1969 Woodstock festival. Roughly 168 miles or three hours away from Philly, make Narrowsburg your home base where pizza-heads will delight in the food and views at The Laundrette, a former car wash and laundromat turned pie haven overlooking the Delaware River. Conclude your Main Street perusing with a brunch at the buzzy Heron, if you can snag a table, that is. The Blue Fox Motel, a meticulously renovated 1950s boutique motel, has motel suites, cabins, and a five-bedroom guesthouse to fit a variety of groups' needs and price points. Plus, there's a great restaurant on-site, and in the summer, the pool here is the place to be — assuming you're not out admiring the two adorable goat mascots that reside on the four-acre grounds.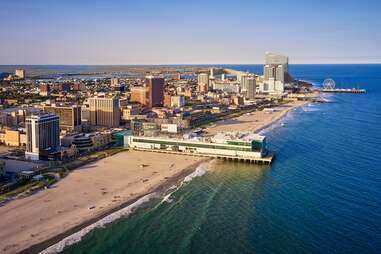 Atlantic City, NJ
Within about an hour and change from Philly sits the famed Atlantic City. Test lady luck at the Borgata Hotel Casino and Spa or the Hard Rock Hotel and Casino, both of which make for sweet digs and the latter of which is welcoming Stevie Nicks, comedians Steve Martin and Martin Short for a combined show, and Ludacris with Juvenile in 2024. Satisfy your hunger at Nobu Atlantic City, where you can chase dishes like tuna crispy rice and miso black cod with Atlantic Ocean views, or the recently unveiled Cardinal, whose menu is all about ingredients from the Garden State served up in an industrial interior space — or when weather permits, "the garden" or patio spaces. Continue with the self-indulgence theme at the newly opened Island Waterpark, a giant indoor water park at Showboat Atlantic City, another top-notch hotel. Another solid choice is booking tickets for your crew to see Spiegelworld's "The Hook," an acrobatic cabaret of sorts with a major hit of humor at Caesars Atlantic City. If there's a show on the calendar, carve time to see a theatrical performance at Eagle Theater in Hammonton, NJ, a one-time silent movie house that opened in 1914 that's halfway between Philly and AC.
Bethlehem, PA
Did somebody say spa day? Set your sights on Wind Creek Bethlehem Casino & Resort, about a 90-minute drive from Philadelphia. Yes, there's poker and slots to be played at the casino, but if you're looking to bliss out for the weekend, proceed directly to the Spa at Wind Creek, which has infrared saunas, aromatherapy steam rooms, a cryotherapy room, swinging chairs over a wading pool, along with an extensive menu of facials, massages, and body treatments. For dining, you hardly need to leave the property thanks to standout spots like Buddy Valastro's Carlo's Bakery and Chop House at Wind Creek. If you feel like exploring Christmas City beyond the property's compound, go to SteelStacks, a former industrial site that now hosts a Christmas market, ice skating rink, music venue, and more. Or, get lost in the stacks of the Moravian Book Shop, established in 1745, which bills itself as the oldest continuously operating bookstore in the world. On the drive up from Philly, visit Allentown, where you can scope out the Allentown Art Museum and grab a take-out bite and groceries at Aci Halal Meat & Turkish Restaurant.
With
Zelle®
, money goes directly into your bank account. It's taken care of, so you can feel, enjoy, and savor every moment. It's delightfully seamless.