Paid Content For

How to Spend the Perfect Long Weekend in Philadelphia With Your Crew
See you at Cherry Street Pier.
Paid Content For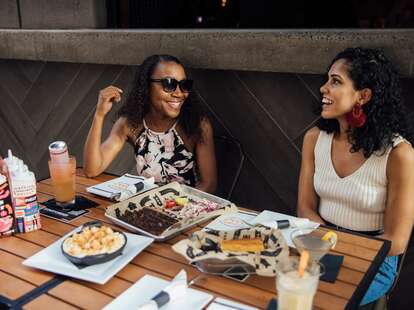 Stephanie Ramones, Contigo Photography
Stephanie Ramones, Contigo Photography
Grab your SEPTA pass: Philly is waiting for you. The City of Brotherly Love has the historic cobblestone streets in Old Town, a growing hipster hub in Fishtown, and trails and woodlands galore in Fairmount Park (it even has a zipline and obstacle's course). But when you're traveling with a group, it can be hard to whittle down the list to please everyone. That's why we did the grunt work for you. Behold: A curated list of Philly's greatest unexpected hits to check out on your next group weekend in Cheesesteak central.
Go on a mural tour
Okay, you're never going to be able to see all 4,400+ murals in Philly in one weekend (let alone, if you're a full-time resident), but you will get to see some pretty spectacular street art on a walking tour with Mural Arts Philadelphia. Check out the nonprofit's public trolley and walking tour options here. You can also arrange a private tour for your group tailored to your interests; be sure to ask your pals to repay you on Zelle® for fast and secure reimbursement if you picked up the bill for your party's reservation. Dubbed the "Mural Capital of the World," the city was even named the best in the country for street art by USA TODAY, so we're guessing even the most discerning of street art connoisseurs will be impressed.
Or, try a food tour
Or, you know, do both. You already know Philly is a food town. Now, get an insider's lay of the culinary wonderland with a food tour. Our vote is the "Beyond the Italian Market" tour by Tiny Table Tours, helmed by food writer Maddy Sweitzer-Lammé. Over the course of two-and-a-half hours you'll eat Mexican, Italian, Jewish, and bakery (it's a genre, right?) bites while learning plenty of interesting historical and cultural tidbits. City Food Tours is another good option. Billed as Philly's original food tour, they have jaunts to Reading Terminal Market, historic Old City, East Passyunk Ave, and more. Want to get even more hands-on with your inner epicure? Take a class at Old City Kitchen, La Cucina at the Market, and Hudson Table with lessons ranging from handmade pasta and vegetarian comfort food to soft pretzel making and Hanukkah dinner.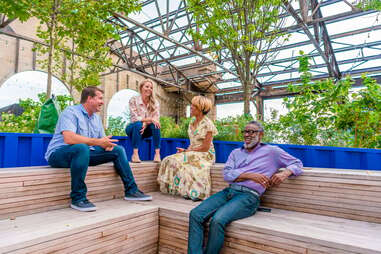 You might not think of it as a waterfront oasis, but Philadelphia's Delaware River real estate is pretty inviting. Scope out Cherry Street Pier, and you'll be surprised and delighted by a mixed-use public space with a marketplace featuring the work of local merchants and artisans, an open-air garden under the pier's original steel trusses, concessions served up from historic trolley cars, and an art gallery. If you're all about holiday shopping during your travels, trust us when we say the holiday-time market is perfect for checking everyone off your list. Cherry Street Pier also regularly hosts live music and performances, so be sure to check its events schedule here before you go.
They piqued our interest with mini golf, and hooked us with tasty food stands. This outdoor park is located in Philly's Historic District. When you're done swinging your mini golf clubs (or embracing your inner kid and riding the carousel), you're definitely going to want to eat at SquareBurger where, yes, the burgers and jumbo pretzels are stellar, but "The Original Cake Shake" milk shake made with TastyKake Butterscotch Krimpets, caramel sauce, and vanilla ice cream is the winner. Craving something off the burgers-and-fries beaten path? Keep your eyes peeled for food trucks parked near Franklin Square for tacos, handhelds, and more. If you visit Franklin Square between April and October, the park's pièce de résistance, the Rendell Family Fountain, the country's oldest restored and functioning public water fountain, puts on a colorful show synced up to lively music. Trivia geeks: The park was named after Benjamin Franklin, who is alleged to have conducted his kite-and-key experiment on-site.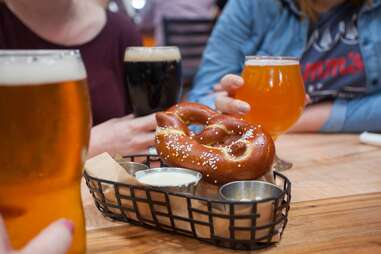 Throw back some brews
Philly is a beer hot spot. You can't go wrong with Yards Brewing Co., Iron Hill Brewery & Restaurant Philadelphia, and Love City Brewing. Or, take a journey with City Brew Tours (Yards and Love City are often pit stops), where a tour guide and your team will bop around town for three-and-a-half hours of sudsy fun. Visit Philadelphia, the city's official tourism agency, also has a helpful guide to beer attractions here, running the gamut from learning about African American history in Old City followed by brewery hopping in Callowhill to checking out a historic penitentiary and the buzzy Bar Hygge in Fairmount.
If you've been to the metropolis before, we're going to assume you've spent time at the amazing and wide-ranging Philadelphia Art Museum, and perhaps the Barnes Foundation of impressionist, post-impressionist, and modern art, too. Now it's time to visit Eflreth's Alley. This Old City drag mostly consists of privately owned residences, but #124 and #126 are the Elfreth's Alley Museum where you can browse images and artifacts of this historic working class community from the 18th and 19th century. The alley itself is a public thoroughfare that you can amble along whenever you please; the museum is open April through November on Fridays, Saturdays, and Sundays, so save your outing to this unique Philly nook for 2024.
Get lost in botanical paradise
For a fun outing to Philly's outskirts, head to Longwood Gardens in Kennett Square, PA, about an hour's drive from the city. Encompassing some 1,000 acres of gardens and horticulture displays, the holiday lights show is particularly impressive, as is the fact that the premises have more than 9,000 species and varieties of plants. This season, A Longwood Christmas runs from November 17, 2023, through January 7, 2023. If you're looking to make your vacation a town-and-country combo, rather than heading back to Philly that evening, post up at the Brandywine River Hotel in nearby Chadds Ford, which has fireside suites with jacuzzis and fireplaces.
With
Zelle®
, money goes directly into your bank account. It's taken care of, so you can feel, enjoy, and savor every moment. It's delightfully seamless.