The Aloha State's largest and youngest island -- nicknamed the Big Island, but officially known simply as Hawaii -- boasts some mind-blowing, radically varied landscapes, climate zones, and ecosystems that can make it feel worlds away from the rest of the chain. Home to active volcanoes (one of which erupted and caused serious damage just last year); snow-capped mountains,  tropical forests, and desert-like areas, along with some lovely little seaside towns filled with rich history, there's a lot to take in when you make the trip to one of the country's most unique places.
 
But, of course, the island also offers plenty of one of the things Hawaii is most famous for: its beautiful beaches. From powder-white sandy spots with crystal-clear water and tropical fish to rocky, remote spots covered in black (or green!) sand, to family-friendly beach parks with shallow tide pools, beachgoers have more options here than they'll likely have time for. Check out our top 10 picks for your next visit to a Big Island beach.
Recommended Video
Please Don't Hang Up: The Best Things to See, Eat, and Do in Seattle, WA
Kau
Hike to a green-sand beach surrounded by the cinder cone of a volcano 
Yes, there is actual, out-of-this-world green sand here on the Big Island's southernmost point but seeing it isn't that easy. That said, if you do make the trip here, you'll be rewarded with one of the most unique beaches in all of Hawaii: a half-circle bay surrounded by Pu'u Mahana, the cinder cone of a volcano that erupted 49,000 years ago. It's the volcano's olivine crystals that are responsible for providing the sand with its olive-ish hue (which you can see better if you pick up a handful). The water can be rough with a serious undercurrent, so swimming is only recommended for strong swimmers or when the tide is low and you'll be staying close to shore. 
Know before you go: This is not the beach to choose if you're tight on time as getting here is definitely part of the fun -- or not, depending on your interest in exercise. From the dirt parking lot at the end of South Point Rd via Highway 11, you'll hike for about an hour through an old lava field to get to the beach overlook. Then you'll need to make it down the side of the cinder cone that surrounds the beach, along an eroded trail. Though 4x4 "shuttles" are available to take you down for a fee, the ride is pretty rough.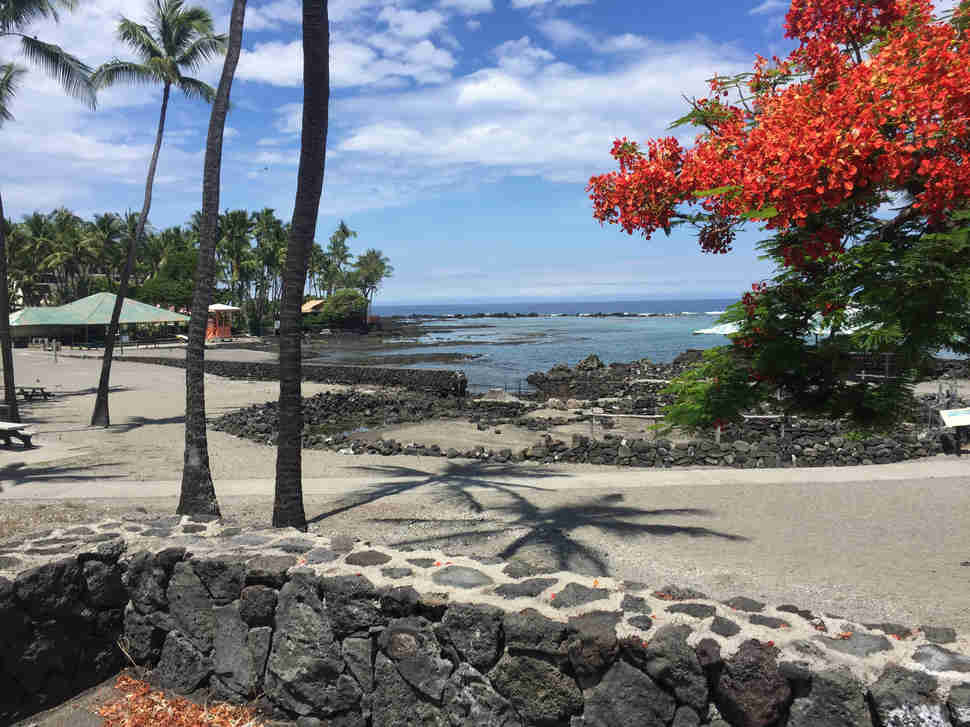 North Kona
Excellent snorkeling beach with lots of friendly fish 
The Kailua-Kona area is best known for its active seaside town, storied history, and busy harbor, but it's home to some worthy beaches as well. While it may not be a quintessential palm-lined, white-sandy beach, this waterfront park a few miles south of Kona is an excellent venue to do some stellar swimming and snorkeling with calm conditions most of the time, an offshore reef, and shallow water that's often crowded with schools of tame, colorful fish who are unfazed by human visitors. Look for sea turtles hanging out, too. (They're not to be touched under any circumstances, but you knew that.)
Know before you go: The beach offers picnic tables, bathrooms, adjacent parking, and the Kahaluu Bay Education Center will rent you snorkel and beach gear along with lockers right there on premises. 
Puna
Black sand beach with thermal ponds created from recent Kilauea eruption
The Kilauea volcano eruption on the southeast region of the island in 2018 resulted in lava blanketing more than 13 square miles, destroying 700 homes, and displacing 2,000 people (though, thankfully, no human lives were lost). A year later, the devastation is still apparent in Lower Puna and residents are working to rebuild their lives and communities. One silver lining for some is the new black sand beach created by the eruption. While Isaac Hale Beach Park and its boat ramp came close to being destroyed, the lava flow stopped just a few-hundred feet away heading instead for the ocean and producing the black sand. The sand is rather coarse since it hasn't had the chance to be ground fine by wave action, but this brand-new beach created by a force of nature is currently a can't-miss. 
Know before you go: While there are portable toilets, there isn't much else, including shade or drinkable water sources. The eruption also created four gorgeous natural ocean thermal ponds. Since they're not disinfected, officials warn that there's a risk of bacterial infections and to enter at your own risk.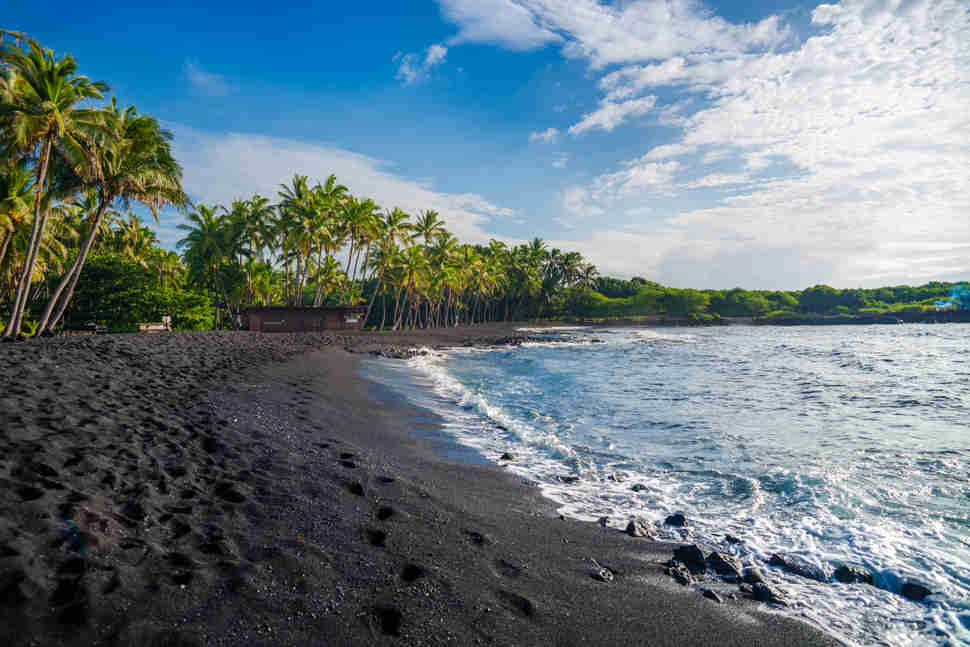 Pahala 
Sea turtles, coconut palms, and a freshwater wading pool 
This black sand beach, along the southeast shore, is probably the island's most famous. Maybe it's those postcard-esque coconut palms that line the dark lava-fragmented sand or its lovely resident green sea turtles -- better known by their Hawaiian name, honu -- who might be swimming in the sea or basking along the rocky shore when you arrive. Or maybe it's the fact that the beach is a lava rock's throw from the road, making it easily accessible and worthy of a stop even if you only have time for a quick visit.
Know before you go: There are lifeguards on duty, but swimming can be dicey depending on the conditions. There's also freshwater flowing in from underground springs, which forms a wading pool here if you want to dip your feet in some (pretty chilly) water.
Kalaoa
Compact beach with crystal clear water, white sand, and lovely lookouts 
Once upon a time, this gorgeous stretch of sand was difficult to access and the rocky, pothole-laden road used to get there would do a number on your shocks and leave you weary by the end of it. These days, there's a real, paved road that enables visitors to more easily enjoy the sheer beauty of this intimate Big Island beach. Expect powder-white sand, crystal blue waters, lava rocks, lots of lookout points, and excellent summer snorkeling. Winter can bring rougher waves good for gazing at from the safety of your seat on the beach. 
Know before you go: The beach can get jammed, especially on weekends. The parking lot isn't all that big, so you'll want to arrive early for a spot. There are restrooms, picnic tables, and showers, but no lifeguards, so not necessarily the best choice for families with small children.
Hilo Coast
Calm tide pools, picnic areas, and lots of shade make for a family-friendly venue
If you're going to spend the afternoon swimming along the Hilo coast, make it this beach that's, well, not technically a beach, but a rather grassy stretch along the coast with endless water views and plenty of natural shade. It's perfect for kids (and thus, popular with local families) since the little ones can splash safely in the calm sandy-bottom tide pools separated from the rougher ocean by a breakwater seawall made of lava rocks. Bonus: There's a concrete walkway and set of steps to the water for easy access. 
Know before you go: The beach park can get busy on weekends, but since it's so big, it never feels uncomfortably crowded. The venue comes complete with plenty of parking, lifeguard stations, restrooms, and picnic pavilions. Pick up a sampler of the excellent poke options from Suisan Fish Market or a kimchi-bacon burger(!) from Ma'ona Lunch Counter in Hilo.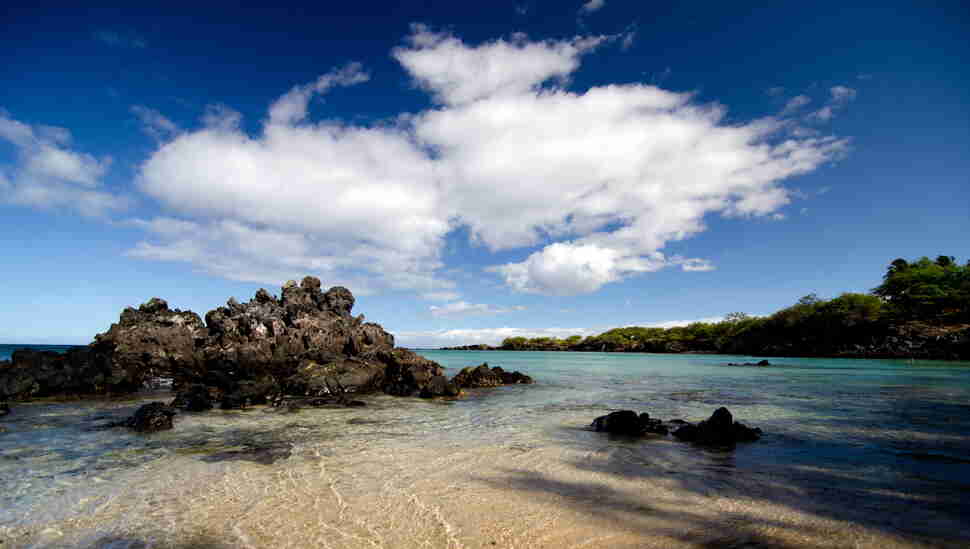 Waimea
Less crowded than Hapuna, with reef-heavy waters and solid snorkeling
This is an easy little white sand beach to hit and a wonderful one for snorkeling or scuba-diving, thanks to lots of coral and a wide variety of sea creatures (the area is a designated Marine Life Conservation District). The best reefs for exploring are in the middle of the bay where the ocean floor's gradual drop-off eventually levels out at around 30 feet deep. Keep an eye out for a rock cropping jutting out of the water that's surrounded by plenty of cool coral. While water activities are a great option in the summer, the surf can be strong come winter, when you might get to watch some (uber-experienced) surfers and body-boarders take on the serious waves at the north end of the bay's break when the surf's up. 
Know before you go: The beach is named for the "number 69" utility pole that marks its parking area and, despite the fact it's super accessible, it isn't nearly as popular as nearby Hapuna and lacks lifeguard services, resulting in less visitors and a more secluded feel.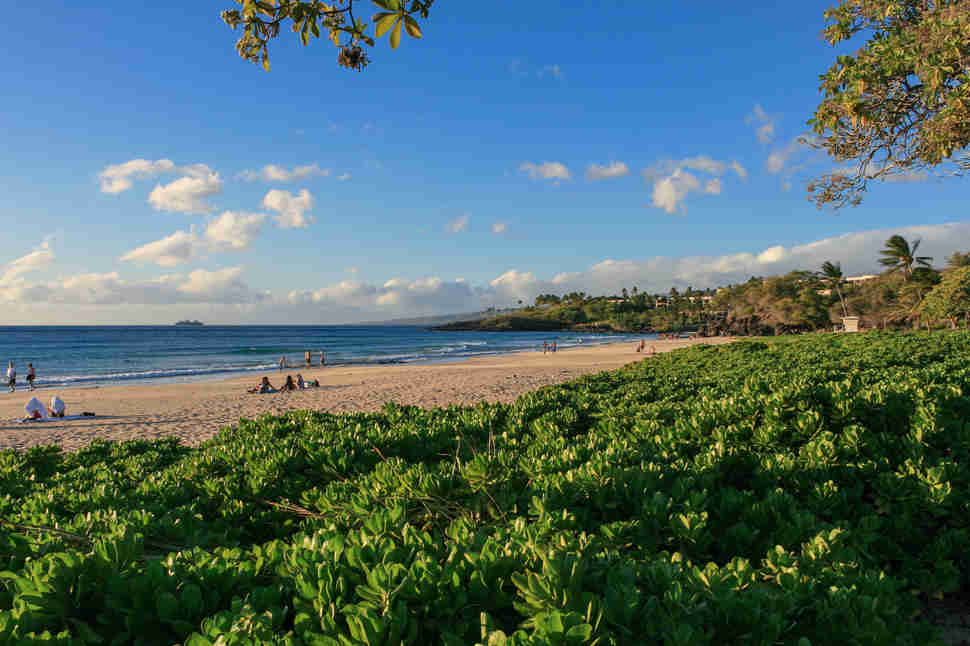 Kohala Coast
One of the island's most beloved beaches, excellent for sandy strolling
The granddaddy of Big Island beaches, Hapuna Beach is frequently voted the island's -- and one of the whole state's -- top spots to visit. Why is it such a beloved beach? It's the largest white sandy beach on the island, features the Kohala Coast's signature perennially sunny-and-dry weather, and offers consistently calm conditions on the water, making it an excellent place for snorkeling and bodyboarding. Plus, you might very well eye some breaching whales in the distance during winter months. 
Know before you go: Amenities abound with lifeguard stations, restrooms, showers, concessions, picnic areas, and $5 parking. For a killer Kohala coastline walk, begin here and make your way along the sand to Puakō Bay and back again, about three miles roundtrip.
Waipi'o Valley
Black sand and lush greenery await those who make the trek to the valley floor 
A visit to the Waipi'o Valley lookout -- situated on the Hamakua Coast on the island's north side -- is definitely worth a stop even if you aren't planning on slogging down to the beach. From here, you'll spot the towering emerald cliffs and curvy coastline surrounded by lush fields of green. Being down on the valley floor (about a mile below), however, is an even more breathtaking experience. Since it's not so easy to reach, the beach isn't usually all that crowded and it's not a good venue for swimming due to rough waters, but you can explore the marshlands and streams that surround the black sand (which got its darker shade from basaltic lava) or set out to hike a section of the Muliwai Trail. 
Know before you go: The road down is steep. You'll need a four-wheel-drive vehicle, and rental car agreements often prohibit driving it. If you're up for it, our favorite way down is on foot, though be warned that the walk back up is a calf- and quad-killer. Otherwise, many tour operators offer guided tours to the valley floor you can arrange for ahead of time. Note there are no lifeguards, bathrooms, or other amenities at the beach, adding to that in-the-wild feel.
Kohala Coast
Soft sand and calm waters backing up to a luxe resort
This crescent-shaped Kohala Coast beach along this pristine Kauna'oa Bay is more than just a pretty face (though it's certainly that), with its supple sand, calm waters, and twin reefs flanked by lava rocks, palm trees, and lush green ground cover. Plus, this beach features the midcentury Mauna Kea Beach Hotel, a high-end-yet-groovy property originally built by the Rockefellers in the early '60s as the island's first resort. Sure, this spot is fun for swimming, snorkeling, and luxuriating, but it's especially wonderful for its breathtaking views.
Know before you go: All beaches in the state of Hawaii are public and, while this one is nicknamed "Mauna Kea Beach," it doesn't belong to the resort. That said, nearby public parking areas that don't require a monster of a walk are scarce and you may want to just suck it up and valet at the hotel. It'll cost you, but you'll make up for it with extra beach time and can pop in to the Hau Tree beachfront bar for an afternoon cocktail on your way out.
Sign up here for our daily Honolulu email and be the first to get all the food/drink/fun in town.