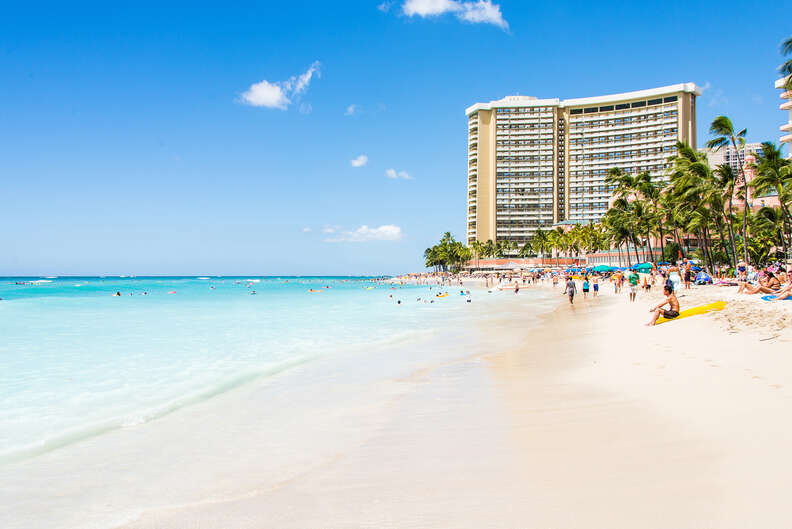 Waikiki Beach

| Ingus Kruklitis/Shutterstock
Waikiki Beach

| Ingus Kruklitis/Shutterstock
Most visitors land on Oahu with one activity at the top of their list: hitting the beach. Locals, however, know there's enough things to do here to fill an entire trip without ever donning a swimsuit. Think museums, art galleries, architecture tours, serious shopping, cultural festivals, live music, an ever-expanding culinary scene, and of course, a nearly endless array of impressive hikes.
OK, so while you could skip the beach, that doesn't mean you should -- Oahu is home to more than 125 beaches, many of them some of the most magnificent in the world. Whether you're a wide-eyed vacationer or a local looking to shake up your Saturday, here are eight amazing options for getting out on the water, taking a stroll in the sand, or just lying back and soaking in the stunning scenery that only an island 2,500 miles from the mainland can offer.
Bustling beach attracting millions of visitors every year
It's probably the most famous beach on Oahu -- if not the entire state of Hawaii. Even if you've never set foot here before, you've surely seen those panoramic postcard photos of this beach flanked by high-rise hotels and dramatic Diamond Head. The nearly 2-mile stretch of shoreline (which is actually comprised of several beaches) provides something for everyone -- with the exception of quiet seclusion. Attracting more than 4 million visitors a year, Waikiki Beach is a people-watching paradise, and thanks to calm waters, the perfect spot surfing, stand-up paddle boarding, kayaking, or canoeing.
Know before you go: If you're looking to lounge in shady comfort, expect to pay around $50 at one of the rental outfits that dot the beach for an umbrella-chair combo that lasts the entire day, less if you just want to relax for a few hours. Even if you're staying at a hotel that's right on the beach, most don't offer complimentary chair service, so you'll need to shell out to sit down.
Where to eat and drink: Yes, you could argue that the food gets better (and often cheaper) as you get a bit further from tourist-laden Waikiki, but there's still plenty of decent dining by the beach and you can't beat the variety. Mexican and margaritas? Sushi and sake? Burgers and beer? Thanks to the hundreds of bars and restaurants that sit within yards of the beach, you'll find it. For a one-stop shop, check out The Street Food Hall by Michael Mina at the revamped International Marketplace offering everything from ramen to tacos to fresh-pressed juice. If it's easy grab-and-go grub you're after, make your way upstairs to Mitsuwa Marketplace for sushi, musubi, bubble tea, and more. And beachfront cocktails abound at the always-hopping Duke's Barefoot Bar, which offers live music on weekends and is especially known for its Sunday shows.
Turtle-watching spot on the North Shore
This North Shore beach is also known as Turtle Beach in honor of the adorable reptiles you may spot swimming or sunbathing on the sand. During turtle-heavy times (usually in the early afternoon), volunteers known as Honu Guardians may be on site with a focus on protecting these hard-shelled guys, tracking their super-slow movements, and sometimes roping off areas to keep beachgoers from getting too close. Bonus: They're all turtle experts and happy to answer questions, so feel free to chat them up. The swimming isn't too stellar here thanks to rocks and seaweed near the shore, but it's a perfect place to park yourself for a few hours even if the turtles don't show.
Know before you go: There has been lots of community discussion around parking troubles and congestion in the area in recent years. The only parking option is along the side of the road, so be careful crossing the street if you park on the opposite side. To avoid contributing to the increased weekend traffic, head up on a weekday when everything is less crowded anyway.
Where to eat and drink: The nearby surf town of Haleiwa has plenty of options, but getting in and out and dealing with parking, especially on a weekend, can take more energy than you want to expend on a laid-back beach day. Instead, grab lunch at one of the nearby food trucks outside of town. The sky blue, surfboard-adorned Pupukea Grill truck won't leave you bloated in a bathing suit with its coconut curry-quinoa bowls, acai fruit cups, and tuna hand rolls. And, if you're cool with yet another organic Japanese-Peruvian food truck, hit up Aji Limo with a menu heavy on salads, fusion poke bowls, and fish tacos.
Wild waves and home of the World Cup of Surfing
Another North Shore must-stop, Sunset Beach is a true surfer's paradise come winter when the swells can reach a mind-blowing 30-feet tall. This is why the beach is home to The World Cup of Surfing, one of three events that make up Vans Triple Crown, which takes place on the North Shore annually in November and December. Come summer, the wide beach, flanked by pretty palms, becomes a great place for swimming and snorkeling thanks to flat waters.
Know before you go: As the name suggests, the beach is an excellent place to watch the sun set, so considering visiting later in the day. You can check the daily sunset times here and plan accordingly.
Where to eat and drink: For morning coffees, papaya bowls, and avocado toast, check out the Sunrise Shack. The no-frills Ted's Bakery also offers breakfast on its massive menu in addition to burgers, sandwiches, and plate lunches. Of course, the daily offering of baked goods -- from cornbread and croissants to donuts and danishes -- are a must.
Body surfing haven on the southeastern shore
The surf breaks close to the shore at Sandy Beach and its pounding waves make it popular with body surfers and boogie boarders alike. That said, it can also be downright dangerous during high surf for average swimmers, thanks to that undertow. (It's been dubbed "breakneck beach," so not really a good one for the kids.) Still, just watching those thunderous waves from the sand makes this beautiful each park on the southeastern tip of the island worth visiting. It's also a go-to weekend beach for those from the nearby community of Hawaii Kai.
Know before you go: There's plenty of free parking in the beach park's lot, but it can fill up early. Sandy Beach also comes equipped with picnic tables, bathrooms and showers, (and, of course much-needed lifeguard stations), so you really can make a day of it.
Where to eat and drink: The shrimp trucks up north may get all the hype, but Dokkaebi, usually parked at the main entrance of Sandy Beach, along with a handful of other lunch wagons, gives them a run for their garlicky grinds. Order the shrimp platter -- a plate of prawns plus corn niblets, rice, and slaw. 808 Shrimp and Steak does garlic, lemon-butter, and spicy shrimp plates, too, in addition to Kalua pork, rib eyes, and combos.
Pristine, secluded beach with mountain views
The less developed leeward side of the island only has a handful of hotels, attracts less visitors, and, thus, results in fewer crowds overall. That means you'll likely find a decent amount of elbow room on most of the beaches out this way. But for one of the most spectacular, you'll need to head to where the road ends -- specifically where Highway 93 meets Keawa'ula Beach (better known as Yokohama Bay, named for Japanese fishermen who would cast off here more than a century ago). A solid 45-mile drive from Waikiki, it's quiet and pristine with (usually) crystal clear water and the Waianae Mountain range serving as a dramatic backdrop. In other words, it's kind of perfect.
Know before you go: This beach offers no shade. Not even a little bit. Umbrellas -- and a vat of sunscreen -- are highly recommended.
Where to eat and drink: Make a poke pit stop on the way in downtown Waianae, about 20 minutes south of Yokohama Bay. At counter-service Aloha Poke you can grab some excellent ahi or salmon poke in a variety of styles (try Dave's special for some heat) in addition to other local-style fare like plate lunches of pork lau lau and ahi katsu.
Breathtaking beach with fewer crowds than Lanikai
With its calm turquoise water and soft white sand, Kailua is the quintessential Hawaiian beach. Made up of 3 miles of crescent-shape coastline with shady ironwood trees and multiple offshore islands in the distance, Kailua Beach has been on plenty of best-of lists, but still manages to stay less crowded than the nearby Lanikai Beach that's on just about every visitor's radar. Thanks to steady trade winds and warm water temps, the ocean here is dotted with tons of windsurfers and kayakers making the two-plus mile trek out to the twin Mokulua Islands (often referred to as "The Mokes"), home to deserted beaches and protected bird sanctuaries.
Know before you go: Unlike Lanikai, Kailua Beach Park has ample parking with three separate (free!) lots, in addition to bathroom and showers.
Where to eat and drink: A short walk from the beach, the long-running Kalapawai Market (which dates back to the 1930s and now has outposts in Kailua town and Kapolei) does solid deli sandwiches, wraps, and pizzas to go. For a post-beach brew, hit up Grace in Growlers, a stylish, self-serve tap room where you can try beers from around the world.
Easily accessible beach with 3 miles of shoreline and remarkable views
There are multiple selling points that put Waimanalo on the list. First, it's looooong. At around 3 miles, it's actually the longest uninterrupted stretch of sand on Oahu, making it the beach to hit for a solid walk along the shore. Second, it's got fantastic scenery in every direction, with uninhabited offshore islands and the soaring Ko'olau Mountains in view. At just under 40 minutes outside of Waikiki, it's an easy and scenic drive, yet feels world's away from the hustle of Honolulu.
Know before you go: Waimanalo Bay Recreation Area offers two parking lots and, since the weekdays are gloriously uncrowded, it should be rather painless to find a spot. It's also been dubbed Sherwood's Beach after the Sherwood Forest of sweeping ironwood trees you'll need to pass through to get to the sand.
Where to eat and drink: Ono Shrimp and Steak Shack in the town of Waimanalo is exactly what it says it is: a no-frills eatery serving up reasonably priced plate lunches -- heavy on both surf and turf options. In addition to steak, garlic shrimp, and ridiculous Korean short ribs, fresh fish options -- like ahi and ono -- are a big draw. Yes, it's a lunchtime splurge, but the place also offers a feel-better-about-yourself, eight-ounce plate in lieu of the one double its size. Your call.
Lava rock-surrounded cove from a famous film
Remember that iconic scene from the movie From Here to Eternity? OK, the '50s flick may have been a little before your time, but Google it and you'll see actors Burt Lancaster and Deborah Kerr smooching on the sand while the surf crashes over them. Getting pummeled with waves while trying to make out doesn't look like all that fun to us, but it's what put this speck of a South Shore beach on visitors' radars. Not usually crowded, the beach is surrounded by dramatic lava rock formations and boasts panoramic views of outer islands. If the seas are calm, the swimming is lovely. But if they're not, watch out. While you're up this way, you'll want to take in the view from the Halona Blowhole Lookout just up the road.
Know before you go: Part of the reason Halona Cove isn't packed is because getting there takes a little effort. You'll have to park at the lookout lot or elsewhere along Highway 73 and then trek down a semi-steep rocky trail to get to the sand. Best to travel light.
Where to eat and drink: You're less than a half-mile south of Sandy Beach here, so it's probably easiest to hit up one of the food trucks that sit near the entrance. For something a bit more substantial, head to Hawaii Kai's Koko Marina with options like the state's longest running craft brewery, Kona Brewing Co, right on the docks (the 3-6pm weekday happy hour offers especially good deals on both drinks and pupus). Try Portuguese fried doughnuts, or malasadas, at the truck offshoot of legendary Leonard's Bakery, brilliantly dubbed the Malasadamobile.
Sign up here for our daily Honolulu email and be the first to get all the food/drink/fun in town.
Lizbeth Scordo is a food, travel, and lifestyle writer who continues to fight a losing battle against her snorkel mask fogging up. Follow her haziness on Instagram @modlizbeth and Twitter @LALizbeth.