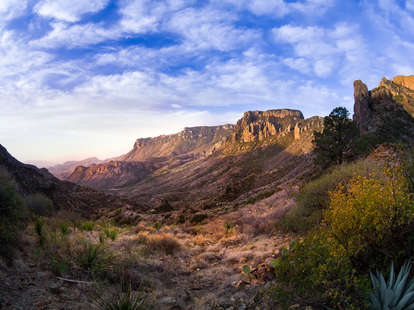 Flush with natural wonders and manmade relics achieving state-wide fame, the southern half of Texas (from roughly south of San Marcos, and bordered by the Gulf of Mexico and Rio Grande) is no-joke gorgeous. There's the 367 miles of coastline, for starters; then there's things like hidden prehistoric limestone caverns and eye-catching colonial missions dating back to the 1700s, all of which are totally worth exploring, at the very least by feasting your eyes on all the south side has to offer below.
Rockport
Third Coast beaches don't get nearly enough cred. Case in point: this mile-long dime piece, with calm, crystal-clear surf and a crescent of near-virgin sands. Set in Aransas Bay, Rockport Beach just so happens to be the state's first Blue Wave beach, a Clean Beaches Coalition certification that ensures the shores are robust and healthy as hell. At sunset, a breezy stroll down the 1,500ft lighted pier that jets out into the water is basically the definition of romance.
New Braunfels
You may not fully appreciate it as you're tubing down the river slapping a bag of Franzia, but the Guadalupe River is pretty damn gorgeous. Edged with bald cypress, sycamore, and pecan trees and rugged limestone bluffs, and coursing over four natural rapids, the winding stretch of water is the star of the show at this state park. Kayak, raft, tube, or just plop yourself in to get a slice of the laid-back Hill Country life.
San Antonio
It's not all natural beauty in the Lone Star. There's a reason San Antonio's Spanish colonial missions are tourist attractions, and that's because they are straight-up gorgeous (the storied history doesn't hurt, of course). You'll find four breathtaking beauts -- Concepción, San José, San Juan, and Espada -- sittin' pretty at the San Antonio Missions National Historical Park, and a fifth, the Alamo, a little upstream. With towering walls and arches dating back to the early 1700s, there's no better place in Texas to play out your GoT fantasies.
South Padre
With white sands and the clearest emerald waters in the state, South Padre Island is the crown jewel of Texas beachfronts. On the southernmost tip of the only island in Texas is another rarity, a mile-long, unspoiled beach at Isla Blanca Park. The underdeveloped preserve is perhaps the best spot to pitch a tent and reflect on all of the damage you did at Clayton's the night before. When you've had enough "me" time, there's also Schlitterbahn, which isn't so much pretty as it is fun.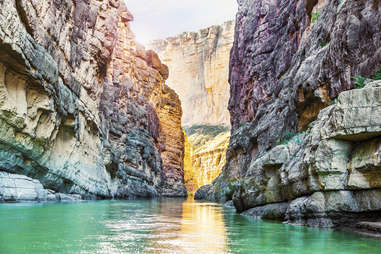 Big Bend
Big Bend isn't messing around when it calls itself big (because the park named itself, obviously). At over 800,000 acres, it's one of the largest national parks in the entire country. Lucky for you, it's also one of the most desolate, with only 300,000-350,000 visitors annually. It doesn't get more scenic, or more serene, than the Santa Elena Canyon, the enormous winding valley that separates the US and Mexico. Flowing with the waters of the Rio Grande River and faced with 1,000ft cliffs, you'll want to break out the selfie stick for this one.
Galveston
Most people don't think of Galveston as a place of beauty, though its historic district would prove most people dead wrong. At the heart of the district, you'll find an ornate, 19,000sqft Victorian-style house dressed with stained-glass windows and super-cool bronze dragons. It's also known as Gresham's Castle, and it's the kind of castle that is built to survive. The giant stone mansion, built between 1886 and 1892, was one of the few structures to survive the great hurricane of 1900. We think we can speak for all Texans when we say we're pretty glad it did.
Concan
Almost three miles of the Frio River cascades straight through this 1,774-acre state park. ICYMI, the spring-fed Frio River is named for its cold temps, making it a prime spot to escape the blistering Texas heat. The lush landscape surrounding the limestone cliffs, deep canyons, and clear streams grows undisturbed, providing a natural beauty that is also a prime spot to escape today's overly manicured world.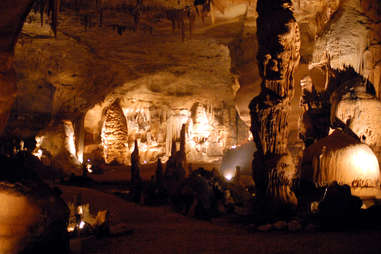 Boerne
Fifty miles outside San Antonio, the Cave Without a Name literally has no name. A statewide contest was held to name it in 1940, and after one kid suggested that the limestone cave "was too beautiful to have a name," its lack of a moniker was born. The cave was first discovered in the early 20th century, when a small farm animal got trapped in a sinkhole. Years later during Prohibition, a moonshine distillery set up shop (can we start a petition to bring that back?). In 1975, cavers mapped out over 2.7 miles of caverns, just over a quarter of a mile of which are open for tours today, with six immense rooms bursting with stalactites, stalagmites, and helictites for your viewing pleasure.
Located in the remote southwestern slice of the state, the 94-mile Devils River flows southwest through the desert before emptying into Lake Amistad. It's remote location makes it one of the most pristine rivers in Texas, and its lack of access points makes it one of the hardest to visit. If you do find your way there, you'll be treated to steep limestone ridges dotted with juniper and mesquite trees, flowing freshwater rapids, and Dolan Falls, a 15ft waterfall that is not open to the public, so you really shouldn't be there.
Brownsville
While we've established that South Padre is quite purty, it's also known for a bit of an insanely rowdy, Spring Break-ish crowd. Just detached from the island, though, there is a glimmer of isolation: this eight-mile, untouched strip of sand that is protected as part of the Lower Rio Grande Valley National Wildlife Refuge. The desolate beach in the deep Texas south feels a million miles away from it all, making it exactly where you want to camp, fish, snorkel, and straight-up chill without the noise of the modern world.
San Antonio
Texas' caverns aren't only breathtaking, they're also cool as hell. This 180ft-below-ground wonder is no exception. Four college kids discovered the two-mile-long cavern under a limestone bridge in 1960, and today, you can pay your respects to the natural relic through guided hikes. Formed by an underground river that dissolved the limestone, the truly dope caves are chock-full of geological allure, from a large stalagmite known as The King's Throne to a funky-looking "chandelier" in the Castle of the White Giants.
Sign up here for our daily Houston email and be the first to get all the food/drink/fun in town.