When embarking on a self-guided history tour of Houston, you're bound to stumble across multiple sites celebrating, showcasing, and documenting the Black and African American community. From Juneteenth's powerful presence ringing throughout Galveston Island to wards teeming with Black-owned museums, cultural institutions, and standout selection of OG and contemporary restaurants, the city is richly layered with Black history.
While Black History Month is a great yearly reminder of just how deeply woven Black history is in our city's fabric, observing and appreciating the contributions of generations of Black Houstononians shouldn't be limited to February. Keep the spirit alive all year round by getting to know historic neighborhoods brimming with stories of perseverance, outcries for justice, and the dogged fight for equity, inclusion, and a better world for all. Here are 10 fascinating cultural sites to physically (or virtually) visit along a Black history tour of the Bayou City.
Third Ward
Nestled in the heart of Third Ward, a neighborhood that's become a vessel for thriving Black-owned and -operated businesses, Emancipation Park isn't just an ordinary lot of playgrounds and greenery. For nearly 150 years, this lush expanse has been representing African American culture, resilience and freedom—not to mention becoming a hotbed for social gatherings and art installations galore.
In 1872, Rev. Jack Yates and a group of formerly enslaved people raised $1,000 to purchase these 10-acres of land as a place where they could safely honor Juneteenth, the holiday marking the moment when emancipation came to Texas, two years after President Abraham Lincoln's proclamation in 1863. Celebrating their newfound freedom translated to revitalizing these acres with TLC and stunning architecture, and by 1918, the land was officially adopted by the City of Houston. The city's commitment to sprucing up this landmark has only increased since then, introducing a $33 million renovation that ushered in two new centers, an outdoor arena for entertainment and food truck festivals, and other community-oriented attractions.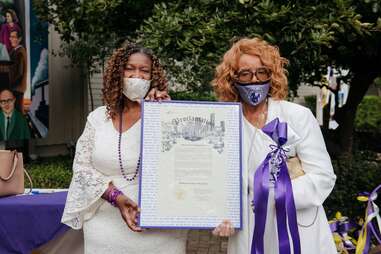 Sam Houston Park
When it comes to preserving structures vital to Houston's history, The Heritage Society excels. Tucked away in Sam Houston Park, this cozy museum offers everything from guided tours, educational programs, opportunities to chat with historians, and more. Earlier this month, they kicked off their Black History Historic Houses Tour, leading guests through the Kellum-Noble House, Jack Yates House, and Fourth Ward Cottage. According to Heritage Society Executive Director Alison Bell, each of the stops explore stories "of emancipation, reconstruction, heritage, society's norms, storms, and upward mobility," illustrating just how stark the lives of Black Houstonians were before and after the Civil War. For more information and booking information, visit their website.
Third Ward
Another historic Third Ward gem, this fascinating duplex has been drawing artsy locals and other curious residents since the mid '90s. Founder and artist Rick Lowe truly believed in the revitalizing power of art and its riveting influence and applied the concept to several droves of Third Ward that were plagued with systemic factors like widespread unemployment, disenfranchisement, and environmental issues. After acquiring a block of neglected homes in the area, he converted the spaces into a network of art studios, parks, and homes for single mothers as they worked to graduate from school.
Fourth Ward
Situated in the thick of Fourth Ward, The African American Library at Gregory School is the city's first library catered to documenting Black history. The building, dating to 1870, originally served as an academic bedrock for freed slaves in the area, but after several disasters withered its walls, students were relocated to what is now Booker T. Washington High School. The building underwent construction to bounce back as a school, but it wasn't long before other components forced HISD to close its doors. The barren building stayed unoccupied for nearly two decades before the City of Houston purchased it with plans to turn the once thriving institution into a culture and research center. Today, the space has amassed a bevy of impressive collections throughout their many galleries and reading rooms.
Midtown
There's nothing more whimsical (quite literally) than swaying to a performance stocked with powerful verses, graceful acting, and intriguing storytelling. Seriously, did we mention the acting? Since 1976, The Ensemble Theatre has been checking off that box with their eclectic shows, and they're still stocking star-studded rosters that liven up Houston's already booming theater scene. Sparked by the flourishing African American Theatre Movement, George Hawkins opened the entertainment space to bring diverse roles to life through classic and contemporary works. The company has also stretched their artistic mission in other ways, with workshops, interactive events, and intensive trainings also on the docket.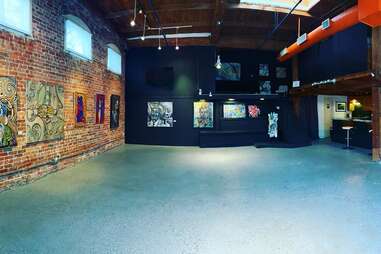 Warehouse District
For all things Black culture, whether that be technicolored shrines of artwork or panel discussions covering the city's ties to fine art, Bisong Art Gallery understands the assignment. Founded by Carla Bisong, her decision to elevate her already art-enthused dreams to become a gallery owner have done wonders for Downtown's creative crowd. Every stretch of this brick-laden studio showcases material from Black artists while also integrating activities like painting classes and interactive workshops into the mix.

Museum District
Founded in 2000, the Houston Museum of African American Culture has an interesting connection to the aforementioned African American Library at Gregory School. When the City of Houston initially acquired the vacant Gregory School, a special committee gathered to assist former Mayor Lee P. Brown in establishing an African American Museum. After some time, the board decided to create dual institutions to further support the initiative, and HMAAC was born. Since its unveiling, the broad creative space has been promoting everything from art installations and film screenings to live demonstrations, workshops, and tours featuring both African and African American Houstonians.
Galveston
A charming rendezvous just outside the Bayou City, Galveston Island totes a rich roster when it comes to Black history. On June 1, 1863, President Abraham Lincoln enacted the Emancipation Proclamation, announcing that "all persons held as slaves within any State or designated part of the State" are "forever free." However, Lincoln's declaration didn't cross the Texas border until June of 1865, when a team of soldiers swarmed through Galveston Island reading the proclamation aloud at several businesses. It wasn't long until the news reached nearby Houston that the foundation for Juneteenth was laid. The island's breezy streets are also home to two of Texas' first expressly African American institutions—the late Central High School and the Rosenberg Library, both of which served Black residents during segregation—among other deep dives into local Black history.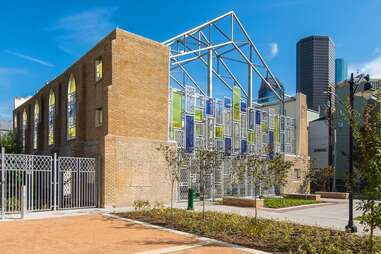 Fourth Ward
Positioned a stone's throw away from the city's Fourth Ward, this neighborhood's foundation is dedicated to preserving and showcasing Houston in the era immediately after emancipation when a wave of Black folks migrated here and built a hub of public institutions, churches, and businesses. Highlights include Bethel Park, a quaint piece of greenery inside the former Bethel Missionary Baptist Church, the still-standing Rutherford B.H. Yates Museum, and religious havens like Antioch Missionary Baptist Church.
Midtown
When it comes to chronicling the Black military experience, major museums often turn up short. However, military historian and veteran Paul J. Matthews understood how vital and powerful these experiences were, especially being a veteran himself. He worked to spotlight these fascinating stories and contributions in several forms, and by 2001, officially unveiled the Buffalo Soldiers National Museum. Here, visitors can fawn over art exhibitions and historic installations overflowing with interesting original artifacts while also engaging in educational programming and events. That's a definite win-win.
Adrianne Reece is a Houston-based writer with a soft spot for all things culture, entertainment, and lifestyle. When not writing about the city, she's probably in a three-hour scrolling binge on Twitter obsessing over streetwear and neutral mood boards. Oh, and anime… maybe a little too much. Follow her @anicaurora.