Eastern Texas Towns You Need to Spend More Time In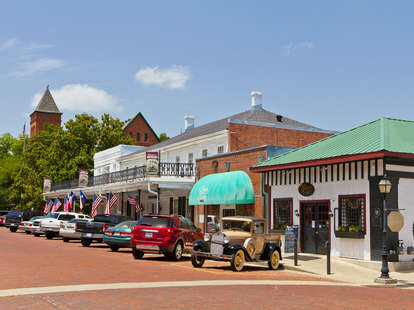 We're sure you've spent your fair share of time hanging in the big cities around Texas, and rightfully so. They've got music festivals, food trucks, and donut ice cream sandwiches. But that's not to say that the areas outside the Texas Triangle are all podunk -- far from it, in fact. Take a moment to consider branching out to the smaller towns and cities that are too often forgotten about, like these 10 under-hyped dwellings, which charm the eastern half of the state with alluring history, smoked meat, and booze, like any good Texas town should.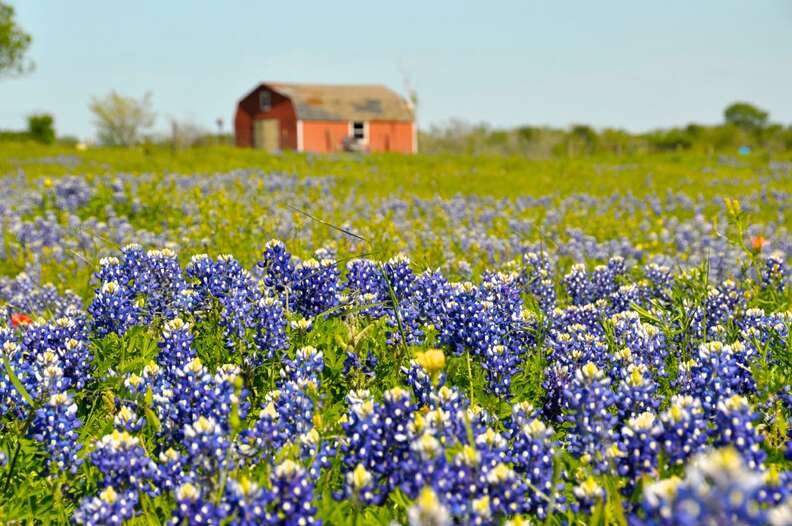 Brenham
Why it's so great: There's even more than Blue Bell ice cream in this Brazos Valley stunner. For starters, you'll also find plenty of natural splendor in the form of Texas bluebonnets, and more importantly, plenty of wine in the form of your pleasantly stained teeth. Brenham has four beauts on its wine trail, two of which are within city limits. After you've achieved a respectable wine stain on your mouth and teeth, get a feel for Brenham's history and charm in the Downtown's Main Street district, lined with boutiques, antique shops, and restaurants & bars. Beneath the streets, there's a huge system of late-1800s cisterns, one of which is on display at Downtown's Toubin Park. You can also sip suds at Brazos Valley Brewery, cut your own fresh lavender and spend entirely too much money on essential oils at Chappell Hill Lavender Farm, and take a 15-mile drive to visit an ENTIRE FARM OF ALPACAS. While you can obviously stay in town, you may want to head over to Washington to The Inn at Dos Brisas, a super-luxurious five-star ranch that seriously can't get more gorgeous.
Must-eat foods: Old-fashioned sandwiches and pies at Must Be Heaven, tapas and wine at 96 West, peppery pork ribs and fatty brisket at Truth BBQ, and ice cream at Blue Bell.
Nacogdoches
Why it's so great: At around 300 years old and steeped in history, Nacogdoches is the oldest town in the entire Lone Star state. In some ways, it feels that way, too, with the 19th-century Durst-Taylor House & Gardens and Millard's Crossing Historic Village bringing you way back, and the Ghosts of Nacogdoches Historical Trail bringing you way, way back. But with Stephen F. Austin University bringing in a sundry of cultures, and a burgeoning music scene (Willie Nelson even named an album after it), the oldest town in Texas has entered into a new age. Don't miss the the Nacogdoches Music Festival, a four-day country, soul, and rock rager held in the first week of March; hit up The Liberty Bell and Banita Creek Hall to get your year-round musical kicks, and shop for sick, old-timey string instruments at Downtown's General Mercantile and Oldtime String Shop.
Must-eat foods: Rib-eye steak sandwiches at Butcher Boy's, old-fashioned burgers and handcut fries at NacBurger, and greasy-spoon eats like CFS at Dolli's Diner.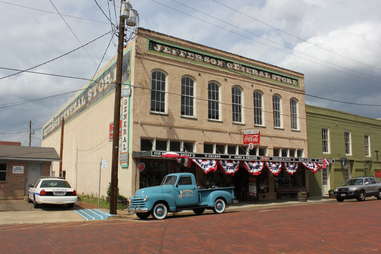 Jefferson
Why it's so great: Just a stone's throw from Louisiana, this historic riverport has been called the "Bed and Breakfast Capital of Texas." We're not sure how much competition it actually has, but it has us impressed nonetheless... and you probably will be, too, if you ever take a trip to the sleepy, throwback town. Escape the hustle and bustle of city life by trading it in for stuff like steamboat rides, horse-drawn carriages, and old-fashioned root beer floats at an 1870s general store. Peruse antique shops and grandiose Greek revival homes, and partake in the ultimate foreplay: a ghost walk.
Must-eat foods: Cornbread sandwiches and vintage pies at Kitt's Kornbread Sandwich & Pie Bar, surprisingly good fine-dining fare at McGarity's Saloon, top-notch East Texas-style barbecue at Joseph's Riverport Bar-B-Que, and good ol' Southern American classics at Auntie Skinner's Riverboat Club Restaurant & Bar.
Denton
Why it's so great: Denton is the Dallas/Fort Worth area's unsung little bro. But it's way cooler than its big bro, because its big bro is kind of a d-bag, plus it's got awesome stuff like one of the country's most underrated music scenes and the North Texas State Fair & Rodeo. Covering 911 square miles, the indie town is also home to two universities, Texas Woman's University and the University of North Texas, where the impressive College of Music only adds to the pulse of the city. Music fans should check out The Abbey Underground and Dan's Silverleaf, and look out for festivals like the Denton Arts & Jazz Festival. Not surprisingly, the combination of college kids and live music makes for a lively nightlife that is missing in many other East Texas 'hoods. On top of all that, the Downtown is downright beautiful.
Must-eat foods: Actor Jason Lee is a partner in the ever-hip Barley & Board, where you'll find cherry-picked charcuterie and cheese boards, a sloppy house burger, and standout brunch. For donuts, chicken biscuits, and donut-chicken-biscuits, look no further than Hypnotic Donuts.
Salado
Why it's so great: Salado has been called the "Best Art Town in Texas," and even if that's a self-proclaimed title, it's still pretty cool. The town has become known as a mecca for artists, its Main Street lined with countless art galleries, antique shops, gourmet food stores, jewelry stores, and furniture & home decor boutiques. Once you get your shopping fix, unwind at the Salado Lone Star Winery or Chupacabra Craft Beer before settling in at a cozy bed & breakfast. Soon enough, you'll be able to enjoy a stay at the Stagecoach Inn, which was once the oldest continually operating hotel in Texas, though since it stopped operating for renovations in 2015, we don't think that counts anymore. It's also one of the best places to visit during the holidays, when its yearly Christmas Stroll beats overcrowded picks like San Antonio's River Walk.
Must-eat foods: While the Stagecoach is closed, head to The Range at the Barton House for an elegant, chef-driven meal of smoked rib-eye and grilled spiced quail, and don't miss specialty shops like Sir Wigglesworth's Homemade Fudge and The Strawberry Patch.
Round Rock
Why it's so great: This highly underrated city is often overshadowed by its hipster-heavy brother, Austin, but it's totally worth the 30-minute drive from Downtown (or however long the drive is from wherever you're coming from). Most importantly, the food scene is booming, as creative-minded chefs are flocking to the area and bringing the heat with them. Case in point: The Scarlet Rabbit, an Alice in Wonderland-inspired eatery set in a 1940s bungalow that offers diners the chance to take "an immersive trip down a culinary rabbit hole" through mod takes on Southern classics. If you have some time, shoot over to the neighboring Georgetown, where you'll find a totally dope underground cave that was hidden for nearly 10,000 years, and a modern Mexican restaurant with a terrace overlooking the city's iconic Blue Hole on the San Gabriel River.
Must-eat foods: Get incredible donuts the size of Texas at Round Rock Donuts; artisanal pizza pies and stuffed beignets at Fire & Ice Pizza Bar; house-smoked duck and brisket confit sandwiches made from scratch at The Blind Squirrel; and whimsical Southern fare at The Scarlet Rabbit.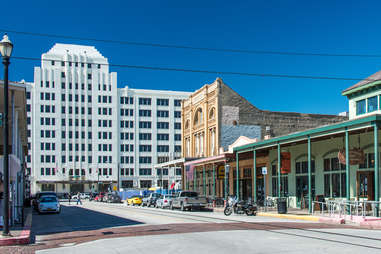 Galveston
Why it's so great: The Third Coast's eastern side often gets a bum rap, but we're here to tell you why that reputation is extremely undeserving. For starters, Galveston has a no-joke food scene, covering everything from steam-kettle gumbo and dreamy étouffée at Little Daddy's Gumbo Bar to Latin American fine dining at Rudy & Paco, and its drinking scene isn't too shabby either (craft beer nerds will be happy to know the island has its own brewery). Then there's the historic Strand District, a 70-block jewel where you'll find gorgeous Victorian buildings housing museums, boutiques, theaters, and fun stuff like an old-fashioned ice cream shop and annual Chili Quest & Beer Fest. Oh, and these 70+ other reasons.
Must-eat foods: Those aforementioned eats, plus hand-dipped chocolates, saltwater taffy, and small-batch ice cream at La King's Confectionary, a beachside brunch at Porch Cafe, and shrimp & stuff at Shrimp 'N Stuff. Look out for the king of all burgers, Hubcap Grill, opening in the old Harborside Mercantile spot.
Bastrop
Why it's so great: Not only does Bastrop have a quaint historic Downtown and rad things like live bluegrass, First Friday Art Walks, and a crazy haunted Halloween Park, it also is just around the corner from the coolest place to get lost in East Texas, and that's the Lost Pines in the 660-acre Bastrop State Park. The LP covers 13 miles of forest, with 18,000-year-old loblolly pine and hardwoods that are separated by over 100 miles from the famous Piney Woods that cover East Texas, southern Arkansas, western Louisiana, and southeastern Oklahoma. Head out for a hike and stop for a moment to take it all in at lookout points like Fehr's Overlook.
Must-eat foods: The jalapeño cream cheese Burger at Roadhouse, and big-ass country breakfast, chicken-fried steaks, and standout pies at Maxine's Cafe.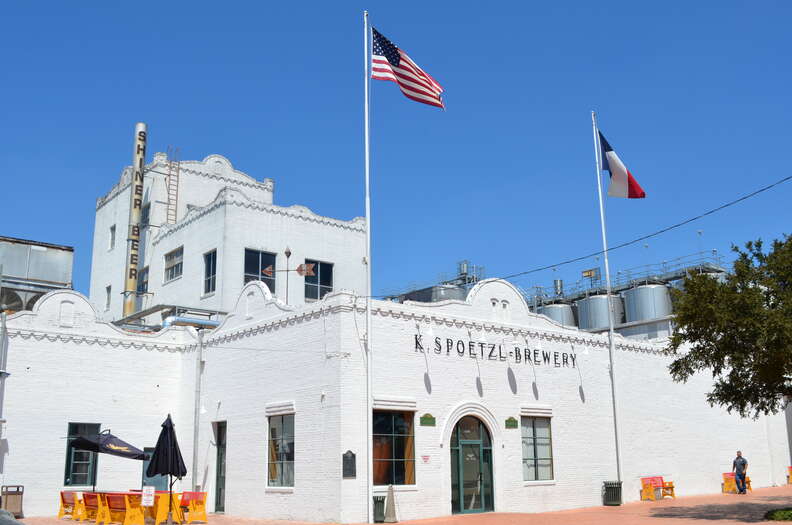 Shiner
Why it's so great: Because the beer! This old Czech and German town is home to a little place by the name of Spoetzl Brewery, aka Shiner Brewery, not sure if you've ever heard of it. It's still alive and kicking after being in operation since 1909, with over 6 million cases of beer shipped out across the country. The brewery offers tours and tastings multiple times a day every weekday, and there's a gift shop with merch ranging from Shiner coasters and tees to toys for Fido. After you quench your thirst at the oldest brewery in the state, shop for antiques, art, and beer, hit an old-school drive-in movie theater, and get live music and brews at Howard's, a gas station with a hidden beer garden that basically defines Texas.
Must-eat foods: Head 10 minutes north to Kloesel's Steakhouse in Moulton, or stop in for fried chicken at Fridays Fried Chicken.
Uncertain
Why it's so great: Deep in East Texas, this overlooked jewel plays home to one of the most beautiful spots in the Lone Star State, and that's Caddo Lake. With Spanish moss casing thick cypress trees and a sprawling labyrinth of lush bayous and wetlands, Caddo was created by a gigantic log jam dubbed "The Great Raft" -- which began backlogging the Red and Atchafalaya Rivers as far back as 1100-1200 AD. It's one of the only naturally formed lakes in Texas, and it's just begging to be kayaked. It's no wonder a tiny town with a population of 196 has become a destination for hunters and fishers.
Must-eat foods: Fresh seafood and all-you-can-eat catfish at the nearby RiverBend Restaurant.
Sign up here for our daily Houston email and be the first to get all the food/drink/fun in town.
Brooke Viggiano is a Houston writer who thinks beer is a great reason to hang out somewhere, sleepy town or not. Cheers for beers with her @BrookeViggiano.