In this big beautiful nook of the country, road tripping is not only a really fun thing to do, it's kind of necessary, mainly because Texas is gigantic. We're sure you've taken rides to Houston's little brothers -- Austin, Dallas, and San Antonio, if anything, to give you fodder with which to make fun of them in the future. But there are a bunch of smaller, oft-overlooked towns both in and out of state lines that you'll definitely want to take a closer look at. Whether you're a music buff, bed & breakfast snob, or smoked meat aficionado, these small towns are worth jumping in the car for.
To keep things simple, we limited our lineup of accessible destinations to those reachable in eight hours or less (or two Whataburger stops), and with populations less than 125,000.
Distance from Houston: 180 miles northwest, 2 hours 50 min
Sittin' pretty about halfway between San Antonio and Austin, this quiet refuge is where you want to unwind. If unwinding means diving head first into Jacob's Well, a natural artesian spring with a 140ft deep, mile-long limestone cave below it (it's said to be the longest underwater cave in Texas). Only experienced cave divers are permitted to go all the way down because it's pretty hazardous, but us regular folk still cliff jump into 12ft swimming hole and hang by the water. Afterward, you can really unwind at one of Wimberley's many legendary locales, including an outdoor movie theater under the stars and some of the oldest honky-tonks in the state.
Distance from Houston: 235 miles northeast; 3 hours 40 min
Fancy yourself some bed and breakfast? This historic town on the border of Louisiana has been dubbed the "Bed and Breakfast capital of East Texas." We're not sure who it was competing with, but it's impressive nonetheless. The riverport was once one of the six largest in Texas, and though that fact has changed along with the times, the vintage feel of the town has managed to stay intact. Bring your SO to get romantic on a horse-drawn carriage or steamboat ride, share a root beer float at an 1870s general store, peruse antique shops and grandiose Greek-revival homes, and partake in the ultimate foreplay: a ghost tour!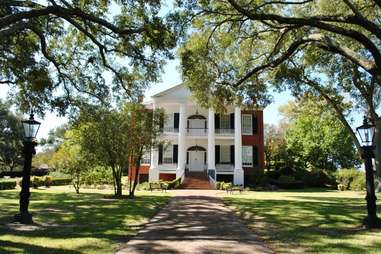 Distance from Houston: 315 miles northeast; 5 hours
Thanks to a rich history of blending cultures -- it was first a French fort site in the early 1700s before being established as a town by the Spanish in the 1790s and serving as the state capital for a hot minute in 1817, Natchez is a choice spot to get a taste of the South. No seriously, eat everywhere, but especially at The Castle Restaurant, with elegant Southern fare served to you in an original carriage home setting, and Biscuits & Blues, where you can get your grillades & grits with a side of grooves. On top of all that, its moss-covered, oak-lined streets, gorgeous antebellum houses and cool heritage sites, casino action old-school bars that call back to the rowdy 19th-century port days, and easy on-the-Mississippi livin' make the border town charming as all hell.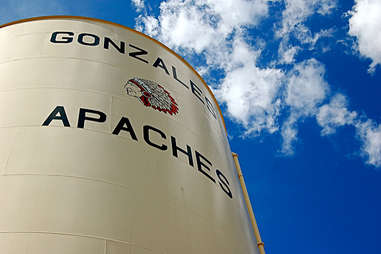 Distance from Houston: 135 miles southwest, 2 hours
Remember the Alamo? Well maybe you should also remember Gonzales -- because not only is it home to the "immortal 32" who made it to the Alamo in time to fight and die alongside their fellow heroes, it is also where the first shots were fired for Texas' independence. The streets are practically choking with old-town charm, with quaint inns, an old-timey jail-turned-museum, and some excellent and cheap barbecue, to boot. While Gonzales Food Market may look like a grocery store (because it is), you'll want make your way to the back, where you'll find the third generation of the Lopez family serving up lamb ribs, oak-smoked brisket, and fat sausages handmade from an old family recipe.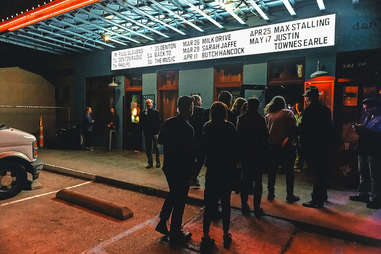 Distance from Houston: 280 miles northwest; 4 hours
Skip Dallas in favor of this indie college town on the northern ridge of Dallas-Fort Worth. The overshadowed sibling city forms the third part of what is known as the "Golden Triangle of North Texas," but it often doesn't get the respect it deserves. They are quickly becoming a music mecca, so "for now" under-the-radar live music scene is reason numero uno to make a visit. Smashing deep-fried Twinkies wrapped in chocolate-covered bacon at the North Texas State Fair (August) is reason numero dos. Music fans should check out The Abbey Underground and Dan's Silverleaf (and mourn the recent closure of Rubber Gloves Rehearsal Studios).
Distance from Houston: 600 miles northwest; 8 hours
We don't know what's weirder: a minimalistic art installation in the middle of the desert, or the mystery lights that have gone unexplained for over half a century. They are probably about equal. This offbeat town is truly fascinating, drawing in cool kids and celebs with hyperreal touches, including the aforementioned Prada art installation, galleries and boutique shops, and a cosmopolitan dining scene that rivals those not in the middle of nowhere (don't miss the retro museum that doubles as a late-night grilled cheese parlor). Of note: road trip a little further west and you'll find yourself at Big Bend.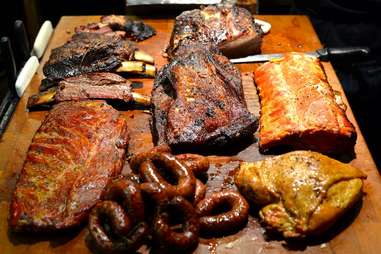 Distance from Houston: 156 miles northwest, 2 hours 15 min
Fact: it's a tragedy if you haven't made the quick trip to this smoke town. If you're really motivated, you can even make it day trip, just be sure to factor in some time for sleeping off your meat sweats. Lockhart is not only considered the BBQ Capital of Texas, it's also one of the most legendary barbecue destinations in the world. As such, you'll want to try all the hotspots, including but not limited to the Big Three -- Black's Barbecue, Kreuz Market, and Smitty's Market. While you're at it, throw in Chisholm Trail Barbecue, too.
Distance from Houston: 230 miles northeast; 3 hours 40 min
You can't live this close to Louisiana without trying one of the official state foods of Louisiana, and that's the Natchitoches meat pie. We'll give you one guess where the deep-fried savory pork and beef pie originated. Pack in a few of those at Lasyone's Meat Pie Restaurant (get some crawfish pies, too), then set off to explore the oldest settlement in the Louisiana Purchase, which also plays host to the oldest general store in Louisiana and a sweet gator park. Though the town is quite old, it's not tired, especially during their annual Jazz/R&B Festival, Christmas Festival and Festival of Lights, and Meat Pie Festival.
Distance from Houston: 230 miles northwest, 3 hours 45 min
We know it's not Napa Valley, but this Hill Country wine hub will do in a pinch. Plus it's, like, a million times cheaper. Founded in 1846 and named after Prince Frederick of Prussia, Fredericksburg (aka Fritztown) is known for it strong German influences. The charming, storied town is perfect when you need a little R&R, which you can get at adorable B&Bs, but more importantly, with C&Cs -- cabernet and cheese. Hit the wine road, and when you've had enough of the grapes, keep the party going with biers and brats at Fredericksburg Brewing Company. If you feel like road tripping a little further, taking in the views from the haunted Enchanted Rock is only a 20 minute drive away.
Distance from Houston: 175 miles west, 2 hours 30 min
If you haven't gone tubing on the Comal or Guadalupe Rivers, you've been doing Texas wrong. But that's not the only reason visit this absolutely beautiful neck of the woods. There's the famous Gruene Hall, a 19th-century, tin-roofed dance hall (the oldest in Texas) where you can two-step and whiskey shoot the night away to live music, for starters. Then there's the annual 10-day salute to sausage that is Wurstfest, more weenies and other smoked meats at The New Braunfels Smokehouse, an antique/pickle shop hybrid, the first bar in Texas to serve women, another chance to go to a Schlitterbahn waterpark, and opportunities to fly-fish, wine taste, and get a post-river spa massage.
Sign up here for our daily Houston email and be the first to get all the food/drink/fun in town.