Houston is a crazy, sprawling metropolis that could swallow up months of your life navigating. But when you're only visiting for a limited time, we have a few tricks up our sleeve to help you hack the city. We're talking underrated observations, time-crunching BBQ tactics, and hidden secrets most locals haven't even explored. If you only have 60 minutes to kill in Houston, we know exactly how you should kill them.
Get Killen's barbecue sans the wait time
So you've heard about Houston's best barbecue spot, and you've added its colossal, drool-inducing beef rib to your virtual bucket list; but then you heard that you have to drive to this place called Pearland and it likely has a line right now (or any time ever) and you have no time to make it there and now you're out of luck. But hold up, not so fast! Killen's Barbecue may not be in the cards, but sibling eatery Killen's STQ, which lies within the city limits and offers the same smoked beef rib, jazzed up with an espresso-habanero glaze, is totally doable. Better yet? STQ accepts orders for take-away (though you may want to ask for some extra napkins for the plane).
Time spent: 30 minutes or less.
Take in views of the skyline
The Sky Lobby at the JP Morgan Chase Tower was once the city's unofficial observation deck, but it nixed its free, open-to-the-public viewing sessions last year. You can still try to fake it 'til you make it up to the top if you're a rule breaker, but we have some pretty cool alternative options for those of you who prefer to color within the lines (read: not get thrown out of a building by security). Try hitting a rooftop bar like B&B Butchers, Lawless Kitchen & Spirits, Raven Tower, or 3rd Floor, instead. You may not get that exact same bird's eye view, but it's pretty close -- plus you can take it all in with a drink. We'd call that a win.
Time spent: 20 minutes and up (depending on how hungry or thirsty you are).
Taste Mutt City crawfish without making the trek to Chinatown
Houston's Chinatown is pretty darn cool. With roughly a million restaurants stacked along strip center after strip center, it may not be the prettiest neighborhood in town, but it is the tastiest. Not only does it offer up awesomeness like dim sum and oodles of noodles, it also plays home to Houston's crown jewel: the Asian-Cajun mudbug. Sadly, you'll waste most of your free time dodging highway truck debris whilst trying to get to one of the many Chinatown crawfish joints. But you won't waste anytime if you hit the in-the-loop LA Crawfish off Richmond, which offers the critters soaked in Viet-Cajun butter and spices, and crawfish pho, all year long.
Time spent: 1 hour (but only because we're guessing you're new to peeling crawfish)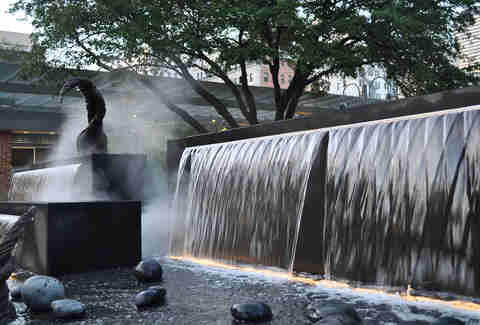 See what's up Downtown
Discovery Green and Market Square Park are two of Houston's coolest urban parks, and they are less than a mile from each other in the heart of Downtown. Swing by and you may get lucky enough to catch pop-up markets, live music, or a group yoga sesh. At the very least, there is ample opportunity for outdoor gyros, fusion tacos, and drinks that you can enjoy in the comforts of the city's oldest commercial property still in use (813 Congress once hosted a bakery, pony express station, and trading post).
Time spent: 20 minutes to walk between both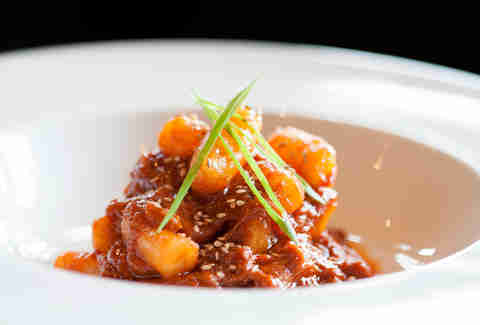 No time for dinner? Get Underbelly's most iconic dish at lunch or happy hour
If any restaurant screams "H-town pride!" it's chef Chris Shepherd's Underbelly; and his unforgettable Korean Braised Goat & Dumplings is the dish that best shows off that pride. Most think of the homestyle, gochujang-laced goat and dumpling plate as a dinnertime affair; though the staple is available during lunch and at the wine bar during happy hour and late night, too. The more casual times offer speedier service and don't require reservations. Just walk in and chow down.
Time spent: 1 hour or less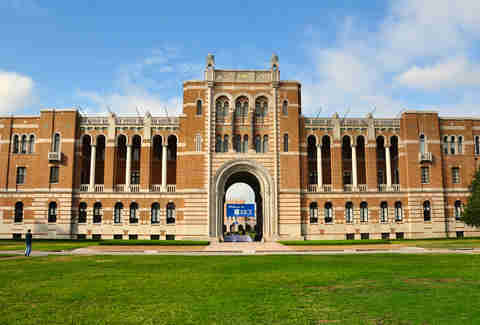 Find hidden treasures on Rice Campus
With neo-Byzantine architecture surrounded by a kingdom of twisting, towering oak trees and springtime azaleas, plus a super cool acoustically engineered art installation, walking around this 100+ year-old campus is entertaining in its own right. Things get even cooler, however, when you discover its secrets, including an underground bar and a treasure trove of hidden symbols. That's right, the majestic campus has secret symbolism hidden in plain sight, some set right into the university's architecture.
Time spent: You'll want at least 30 minutes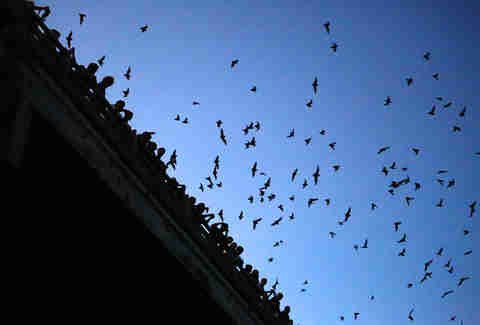 Chill with the bats
If your bonus hour happens to be around sunset, check out the most happening thing in Houston -- the "bat bridge" on Waugh at Buffalo Bayou Park. There, you'll find a creepy-cool show featuring 250,000 Mexican free-tailed bats, spiraling out from the crevices underneath the bridge in a whirling synchronized dance. The natural phenomenon takes place nearly every night around dusk, so long as it's not below 50 and raining (the bats have to contend with Houston's dicey weather, too).
Time spent: 15-20 minutes
Go underground and take in the Buffalo Bayou Park Cistern
You'll want to see this 87,500 sqft, 25ft-tall underground cistern, a hidden gem we're guessing most locals haven't even checked out yet. For $10 or less, you can sign up for 30-minute docent-led walking tours of the incredible industrial relic, once a drinking reservoir for the city of Houston. Making things even doper, the cistern now hosts a lineup of rotating art installations, the current of which is a trippy light and sound installment dubbed, "Rain: Magdalena Fernández at the Houston Cistern."
Time spent: 30 minutes
You know what's not fun? Paying a museum entrance fee when you have limited time to explore. But you know what is fun? The fact that many of our cultural jewels are 100% gratis and many that aren't offer free museum days. Get enlightened at spots like the Menil Collection and Rothko Chapel (always free), the wacky Art Car Museum (also always free), the Houston Museum of Natural Science (free Thursdays from 3 to 6pm), and the Houston Zoo (free the first Tuesday of the month after noon from May-Sept only).
Time spent: May as well kill the whole hour, it's free
Live like a real Houstonian
If you want to see how Houstonians really live (and not just how we pretend to live on Instagram), spend an hour of your time at the the admittedly sheisty-looking, but totally awesome West Alabama Ice House. It may not look like much -- but with cheap, ice cold brews to beat the heat, and a taco truck across the way that slings easily some of the best (and again, cheapest) tacos in the city -- it is much.
Time spent: You won't want to leave!