The Coolest Things to Do in Houston After Dark
From exclusive sushi to escaping to summer camp, here are the best things to do in H-Town after the sun goes down.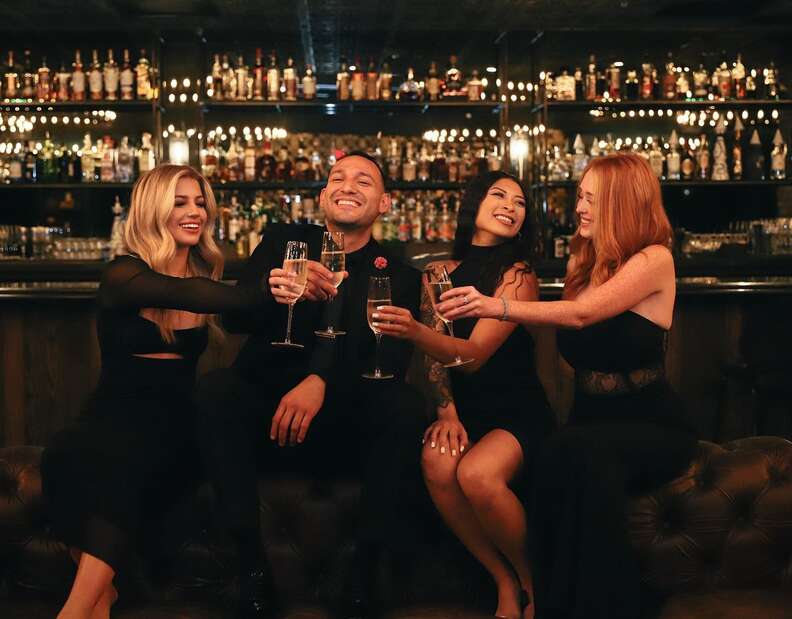 Sugar Room

| Sugar Room
Sugar Room

| Sugar Room
Houston may have inconsistent weather and mosquito clouds (yes, we said clouds). But the 2023 World's Best Cities list ranked Houston as one of the best cities on Earth. And there are always new reasons why. Exciting restaurants or bars pop up all the time, so you can discover your next favorite meal (or drinks). That is, until a new crop of hotspots opens up. While Houston is definitely known as one of the top culinary cities in the entire US, we've got plenty of options for people who want to do things other than eat and drink—or would like something to do before or after a meal. From karaoke and arcades to a sugary speakeasy, turn up and explore what H-Town has to offer after the sun sets.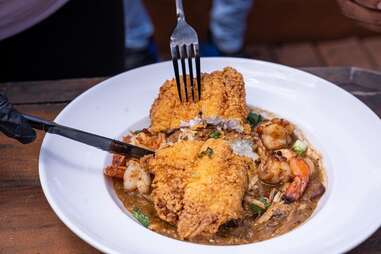 Relive your summer memories at Kamp
Galleria Area
Ever want to feel those summer camp vibes again without having to sneak in your own booze? Kamp Houston is the place for you. The drink menu is literally massive with shareable options like the Giant Mosa, which is filled with five bottles of Champagne for you and your friends. And it also serves signature Cajun dishes including crab legs, mac 'n cheese, and boudin. The campground has an indoor area for those trying to avoid the Houston heat or you can grab a section near the outdoor fire pit. Just be sure to book with one of the Kamp counselors early. This spot is known to be packed all weekend.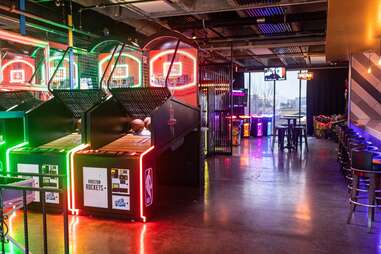 Find a secret arcade bar
Midtown
Trying to find FAO is a mission in itself. Located in a regular old office building from the 1960s, you need a passcode to ride this ride. After taking the elevator to the top floor, snap a pic in front of one of the best views of Houston and go to town on arcade games (Mortal Kombat, anyone?). If you really want to get more into the gaming spirit, you'll need some fuel to keep the energy going, so try a Beach Bum cocktail and grab some pizza. Then don't forget to try your luck at one of the NSFW claw machines on the way out.
Sing and eat your heart out at karaoke
Spring Branch
Nothing makes for a wild night out like belting Whitney Houston with your friends. But adding soju bombs and delicious Korean dishes like corn cheese to the mix? Now that's a party. DM One Shot Pocha on Instagram or call in to reserve a private room.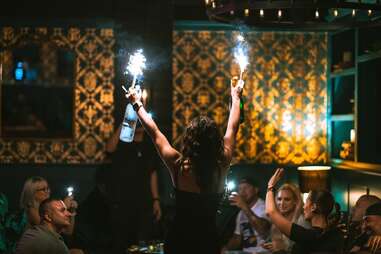 Discover a speakeasy with sweet surprises
Washington Avenue
After a long day, no one is going to blame you if you've got a craving for a sweet treat. But what if there was more to explore behind the bakery than just cakes and pastries? Say hello to The Sugar Room. Once you grab your macaroons, cookies, or other desserts, head to the back for its full indoor bar and patio. And if you're looking to book a section for a special event, this is the place. It has plenty of glam, sparklers, and bottles to make anyone feel like a superstar.
Uncover the darts experts in your friend group
Downtown
Drive through Downtown traffic to the Flight Club and try a new type of game night. Step inside this British-style pub and play dart games for $12 per person. You can also choose from numerous food and drink options. Because nothing calls for a cookie tower and shots like sharp objects flying through the air.
Try your luck at winning a new designer bag
The Heights
If you're competitive and always love a new bag, this is the event for you. Drift Bar is hosting Purse Bingo every third Thursday of the month. Tickets are $25 to get five cards for five games. And even if you don't win a Bottega, you could go home with Amazon gift cards or Astros swag. Stay ready, so you don't have to get ready.
See if slow and steady really wins the race
Midtown
Come down to the Midtown location of Little Woodrow's to watch its one and only turtle races. Cheer on your favorite turtle as it scurries across the race mat. If you're lucky, you might get chosen to lift the turtle bucket to start the race. With the chance to win prizes (and eternal glory), be sure to claim your spot early. Also, you'll want to pregame before the start time anyway.
Drink rum for a good cause
The Heights
Every weekend, Clutch Distilling offers high-quality rum with a chance to give back. Owned by Eric Worrell Jr., the tasting room donates part of their proceeds to the Lupus Foundation. It also collects donations year round and has Lupus Awareness merch available online. Drinking rum with Barbados roots and supporting those in need? That's a win-win.
Bowl like a celebrity
Upper Kirby
You no longer have to worry about the smelly shoes, over-processed pizza, and chicken tenders while to knock a strike. Luxury bowling alley Pinstripes has you covered. Fill up on house-made pasta, wood-fired pizza, and gelatos. Then make your way to its fancy lanes with a group of friends. If you are looking for something new, it also offers bocce, which is essentially bowling with an Italian twist. Come in for specials like Whiskey Wendsdays or Boozy Brunch Weekends to get some bang for your buck.
Sign up here for our daily Houston email and be the first to get all the food/drink/fun in town.
Madelyn Gee is a contributor for Thrillist.