When the sun sets on Houston, it's only natural to want to grab a drink while happy hour is still in effect. Still, if all you're doing after work is watching your bank account dwindle at one of our many excellent bars, you're missing out. Shake up your after-dark agenda with something a bit more unexpected, like stargazing in the park, catching a jazzy burlesque show, watching a midnight movie, or anteing up at a poker club. While the rest of the city heads home, here's how to make the most out of your post-sunset time in Houston:
EaDo
Because burlesque would feel kinda weird in the daytime, the night is the perfect time to catch a show by sultry burlesque troupe The Moonlight Dolls, who are now performing at Chapman & Kirby while Prohibition Theatre revamps (and eventually takes over) the space. Shows range from glamorous takes on The Jazz Age to a champagne- and booze-filled Almost Midnight show on Friday and Saturday nights.
Go stargazing in the park
Brazos Bend State Park
Escape the city lights and go stargazing with George Observatory's telescopes in Brazos Bend State Park. Depending on the season and time of the month, you can experience incredible phenomena from bright meteors and eclipses to Saturn's rings and Jupiter's cloud belts. While the George Observatory main campus is closed until further notice for renovations, it will still be setting up shop at the Nature Center every Saturday from sunset to 10pm (weather permitting).
Watch a midnight movie indoors...
River Oaks
Houston institution Landmark's River Oaks Theatre presents a Midnight Madness movie every Friday and Saturday, with cult sensations like Tommy Wiseau's The Room and The Rocky Horror Picture Show (featuring a live shadow cast). There are also fun throwbacks like Teenage Mutant Ninja Turtles and Beetlejuice.
...or have a starlit movie experience on a rooftop
Galleria/Uptown
Settle in for an outdoor movie experience at the Rooftop Cinema Club, which rocks skyline views and a curated selection of cult films, classics, and new releases. The spring lineup includes flicks like Selena, Poetic Justice, Pretty Woman, and a "You Choose" Tarantino feature voted on by the audience. Snag some tickets in advance (the shows are known to sell out), hit the bar, dig into endless popcorn, and show up early to play some corn hole or giant Connect Four.
Have a sensible chuckle at a comedy show
Various locations
While the Houston Improv -- known for booking national acts -- is a good choice here, there are some other, more underground comedic options to explore in this city. Hit The Secret Group, half bar, half entertainment venue with stand-up comedy shows and open-mic nights; go the way of improv (and try a class yourself) at Station Theater; and check out the famous Open Mic Mondays at Rudyard's (or the Live Punk Rock Karaoke on the second and fourth Tuesdays, which could also end up being pretty funny).
Bust out your running man at an '80s dance party
Downtown
Weekends are throwback nights at Etro Lounge, with "I Love the '80s" video dance parties every Friday and Saturday, and '80s Hip Hop on Sundays. This is your chance to dust off your funkiest dance moves and the neon-coated everything you've been stashing since your last college mixer. Doors open at 9pm, and the tubular times go till 2am.
Get PacMan Fever at the arcade
Downtown
During its PacMan Fever events on the first and last Friday of each month, Joystix Classic Games and Pinballs opens up its arcade showroom for unlimited gameplay from 9pm to 2am (for $15 per person at the door). You'll find both new and vintage games, including classics like NBA Jam, Mortal Kombat 2, The Simpsons, Guitar Hero, and Mario Kart DX, and you can always pop over to the adjoining Eighteen Twenty Lounge for drinks.
Burn the midnight oil (or drink wine) at a late-night cafe
Various locations
Some of Houston's coolest coffee shops keep late-night hours for those last minute study sessions and chill after hours hangs. Head to Penny Quarter on lower Westheimer and you can pair wines with grilled cheese and fries, sip beers and spend the night playing board games at EaDo's Coral Sword, or cozy up for Greek wines and good conversation at the quaint Agora cafe in Montrose.
Ante up at the poker table
Galleria
You'll find members-only poker clubs all over Houston, including two popular ones in the Galleria area. Lions Poker Palace hosts tournaments and cash games, with professional dealers at each table and hours till 3am Sun-Thurs (5am Fri-Sat). Prime Social Poker Club is open 24/7, offering tournament poker, live poker, backgammon, chess, cribbage, dominoes, and pool throughout its facilities, as well as a full bar, upscale lounge, and food delivered straight to your table.
Montrose
Dinner, dancing, and drag shows are on the menu at this Montrose hangout. Hit the gayborhood to enjoy a lineup of flamboyant dining experiences, from "Dining with the Divas" drag shows and "Cyn-Ful" Fridays to "MaryOke-Karaoke" and trivia nights.
Slurp some late-night pho
Various locations
We've got some of the country's best Vietnamese restaurants in our backyard, and bellying up for some pho before you go belly down for the night is a quintessential Houston experience. Just hit your nearest after-hours Vietnamese joint, including favorites like Mai's, Pho Binh by Night, and Pho A Hung By Night; or switch gears and get your noodle fix at Ninja Ramen.
Knock down pins (or swing some clubs) while you drink
Houston
Bowling is making a big nightlife comeback thanks to the a score of "fancy" bowling alleys, including CityCentre's Bowl & Barrel, Memorial's Bowlmor, Downtown's Lucky Strike, and Pinstripes over in River Oaks (which offers bocce, too). Each rocks craft brews, cocktails, and tasty pub grub to keep the night interesting even when you're living that #GutterballLife. If golf is more your thing, then the totally fun interactive golf game, TopGolf, is your new thing.
Hike by moonlight at the Arboretum
Memorial Park
The Arboretum at Night series invites y'all to experience the Houston Arboretum & Nature Center after dark, offering night hikes and up-close encounters with live nocturnal animals (plus adult beverages for those 21+). There are a few select dates throughout the year, so be on the lookout for the next available opportunity to enjoy a safe/boozy hike at night.
Relax in a Topaz Cave or Igloo Ice Room
Northwest Houston
Before hitting the hay, hit the GangNam Spa: a 24-hour luxury wellness experience rooted in Korean culture, with over 30,000 square feet of specialty baths, saunas, treatment rooms, lounging space, and dining areas. That includes things like the Topaz Cave, a private relaxing space made of Topaz stones to improve memory and mental concentration and relieve stress; a Himalayan Salt Room made of 350 million-year-old natural salt base rocks for healing; and an Igloo Ice Room to close the pores, smooth skin, and enhance skin elasticity. Access the facilities for $39 on weekdays and $49 on weekends (but note that spa services will cost extra).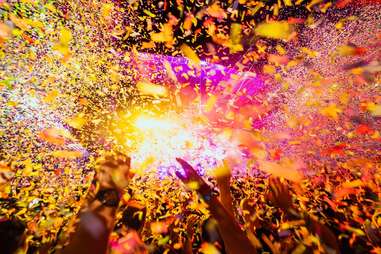 Catch some live music around town
Various locations
No matter what scene you're after, Houston's got a live music venue for you. Check out the lineup at the indoor/outdoor White Oak Music Hall, located right in the Heights with patio bar The Raven Tower right nextdoor. Over on the Eastside, The Continental Club and Warehouse Live (EaDo) and Satellite Bar (East End) are usually hosting a rock show of some kind; Downtown plays home to Revention Music Center and House of Blues; and you'll often find big name acts at spots like the Toyota Center, NRG Stadium, and the Cynthia Woods Mitchell Pavilion in the Woodlands. Country fans will also want to check out The Rustic (Downtown), honky-tonk Goodnight Charlie's (Montrose), and McGonigel's Mucky Duck (Upper Kirby).
Get kinky on a Tuesday
Montrose
Numbers Nightclub hosts a wide variety of events (like Doomsday Wrestling, for instance), but Kinky Tuesdays are one of its most popular. You'll get a kinky-yet-classy and respectful glimpse into the BDSM lifestyle, with local vendors and performers, rope classes, and an open stage for aerial performers. There's even dungeon equipment available -- and if you have to ask what that means, you're probably not ready for it. Doors open at 8:30pm, and the cover is $7 for singles and $10 for couples (21+).
Northwest
Betting on horses isn't the only attraction at this race track; you can also sip 50-cent beers during the live thoroughbred racing events every Friday from 6-9pm. You'll also want to swing by for the live Yorkie, Corgi, Pug, and Wiener races, too -- it's quite possibly the cutest way to spend an evening in Houston. The race track is also open for Simulcast Wagering till 2am, 363 days a year.
Take a twilight tour of the Bayou
Buffalo Bayou
In the summertime, the Buffalo Bayou Partnership offers 30-minute twilight boat rides along the Buffalo Bayou ($7 for adults, the last tour departs at 8pm). You'll start at Allen's Landing, then escape the city and glide along Buffalo Bayou's waters, looking out for graceful herons, jumping fish, and if you're lucky (or maybe not), alligators chillin' on the banks.
Take in some live theatre
Various locations
While you can always check out the current season of productions in the Theater District, with venues including The Hobby Center (favorite plays and Broadway productions), Alley Theatre (Tony Award winner of Outstanding Regional Theatre), Wortham Theater Center and Jones Hall (homes to the Houston Ballet and Houston Symphony, respectively), there are a number of smaller production companies that are worth a visit, too.
Over in EaDo, the funky Rec Room tells innovative stories through theatre, music, dance, and comedy; Midtown's MATCH Houston takes any pretension out of the theatre experience, with affordable options in music, theatre, dance, visual art, and film; and 4th Wall Theatre Company offers cutting-edge live theatre and a Pay What You Can performance of every production (on Mondays in the last week of the run) over in Arts District Houston.
Sign up here for our daily Houston email and be the first to get all the food/drink/fun in town.