Every April 22, people across the world come together to celebrate Earth Day. And in the holiday's 51st year, it has never been more apparent that we need to take serious action to help protect Mother Earth. Though the task sure seems daunting, you can make an impact by starting right where you are—in Houston. Here are a few ways you can go about restoring our beautiful planet, from local volunteering opportunities and community cleanups to conservation efforts and even donating your old running shoes.
Party for a cause at Houston's Earth Day celebration
Houston's big Earth Day celebration is going down Sunday, April 18 from noon to 5 pm at Discovery Green, the 12-acre urban oasis sitting pretty downtown. Folks who'd like to volunteer for the day can snag a position as a runner (word is you should be "ready for anything" if you do so), but you can also do your community a service by attending the bash and learning about all different the ways you can green up your act now and in the future.
Donate to a local park or nature center
Little known fact: Discovery Green Conservancy operates outside the City of Houston's budget, meaning your donations are vital to keeping the park and its programs alive and well. Even better, donations made now through the end of April will be matched by a grant to help regrow the gardens damaged by this winter's devastating freeze. Right outside of downtown and running all along the bayou, Buffalo Bayou Park is another picturesque green space that appreciates donations, as does the 1,500-acre Memorial Park; and over in the Clear Lake/Bay Area, you'll find one of the largest urban wilderness preserves in the U.S., Armand Bayou Nature Center. All donations are welcome to help preserve and restore its over 2,500 acres of rapidly vanishing Gulf Coast habitats.
Plant and protect trees to promote clean air
Local nonprofit Trees for Houston has planted over 600,000 trees in the Houston community. That valiant effort not only makes H-town a little easier on the eyes, it also helps to clean our air, mitigate runoff, and cool our environment. Consider donating directly to the organization or rolling up your sleeves and volunteering to help plant some trees yourself.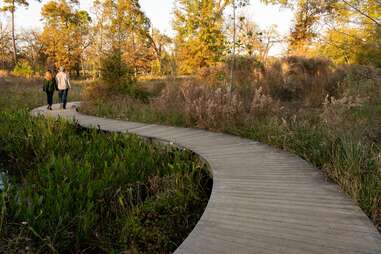 Help restore, enhance and protect the Arboretum
Consider joining Evergreen, the Houston Arboretum's young professional group, where those aged 21 to 40 act as ambassadors for this gorgeous slice of native habitat while pledging to support the Arboretum's mission to provide nature education to all. The group also does cool stuff like host volunteers for special projects, coordinate happy hour hikes, and throw dog-friendly outdoor mixers.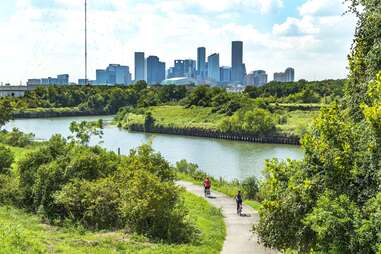 Work to keep Houston clean and green
Show your city some love by participating in cleanup programs, recycling education projects, and beautification efforts with local community organization Keep Houston Beautiful or by volunteering directly with one of the city's finest parks. There are programs at the Buffalo Bayou Partnership (which hosts monthly volunteer workdays on the third Saturday of each month) as well as at Hermann Park Conservancy, which identified an annual 20,000-hour gap in what the city's Parks and Rec department is able to provide versus what the actual park needs to be properly preserved. Elsewhere, MacGregor Park is hosting their own event as part of April 24's Great Global Cleanup (all you need to do is register).
Use your voice to implement transformational change
The Air Houston Alliance is on a mission to ensure everyone can breathe clean air—now's a great time to sign up to join the cause or lend your voice by contacting local officials. Grassroots nonprofit Citizens' Climate Lobby takes a nonpartisan approach to climate change advocacy and education, and there are several chapters within the Third Coast region you can team up with to help spread the world. You can also stay up to date with Green Houston's Climate Action Plan, take action with the Texans for Clean Water Initiative, or advocate for green and natural-based projects and protection against future flooding with Bayou City Waterkeeper.
Help save the animals
Rescued Pets Movement saves local stray dogs and cats from euthanasia by giving them a second chance through rehabilitation and home placement. Volunteering opportunities with the organization range from fostering and fundraising to chauffeuring lucky pets to their fur-ever homes. The Houston Humane Society is always looking for folks to help better the lives of animals in need, as is animal rescue and protection organization Houston SPCA, which rocks a Wildlife Center Volunteer Program to help injured, sick, or orphaned native wildlife survive and thrive. Friends For Life Animal Shelter & Sanctuary is also open to volunteers who'd like to walk and feed doggies, care for kitties, assist with playdates, and more. On a bigger scale, consider donating to the Houston Zoo to aid in its mission to save wildlife (you can even adopt your very own animal to sponsor).
Support sustainable agriculture
Not only will you find the most deliciously fresh, surprisingly affordable goods at your local farmers markets, but purchasing your produce and meats from area producers—many of whom are certified organic and use other low-impact practices like composting and limited-resource farming—can minimize waste and pollution and help mitigate climate change. Shop East End urban farm Finca Tres Robles, Houston's oldest organic co-op and marketplace, try out Central City Co-Op, or hit up the popular Urban Harvest's farmers market, which will be hosting a series of Earth Day events that range from a plant swap to a composting Zoom class.
Reduce waste and create a carbon offset by donating your old running shoes
Katy shoe shop Good Times Running Co. is hosting a sneaker dropoff on April 22 with the goal of collecting hundreds of gently-used running shoes to benefit the MORE Foundation Group and its One Million Tree project in Ghana. The foundation establishes nurseries that create a carbon offset and spawn hundreds of thousands of additional tree seeds. Bonus for helping a good cause: You'll get a $10 gift card in return for your sneakers (one gift card per family).
Help curb food waste
Local food rescue organization Second Servings has put together a super easy (not to mention fun) way for you to assist the fight against food waste this month with their inaugural "Fight Hunger. End Waste." food and beverage series. Now through the end of April, 15 of Houston's finest local restaurants and bars will feature a zero-waste dish or cocktail to help fight hunger and end waste in the community. Enticing menu items include 93' Til's Fermented Tomato Water Bloody Mary, El Topo's Funky Brussels, and Guard and Grace's Squid Ink Ebi Yakisoba. For every dollar spent, $50 worth of food is delivered to a local charity through Second Servings' food rescue efforts. You can also support the organization by donating directly.
Reduce PPE litter in our streets
These days, a simple stroll around the block will likely result in running into a discarded face mask or two. Our new normal (AKA disposable gloves and wipes, masks, bottles of hand san) has inadvertently spurned a major littering problem in our neighborhoods, so PPE supplier iPromo has created a coast-to-coast initiative to reduce the litter. Here's how it works: For each piece of PPE picked up and disposed of properly, iPromo will donate a face mask to a charity in need. All you have to do is snap a quick photo of your efforts and shoot it on over.
Take the bus, take the train, or try a bike sharing program
We get it—Houston's a big city and it's a lot more difficult to get around with a car. But if you're heading somewhere nearby, consider taking advantage of the Houston Metro System's citywide bus and metrorail routes. Getting in on the bike-sharing program Houston BCycle is also great option for traversing the city sans gas, with 120+ docking stations and 800+ bikes throughout Houston. Besides, hopping on a quick train or peddling your way over to NRG Park or the Museum District sure beats sitting in smoggy traffic.