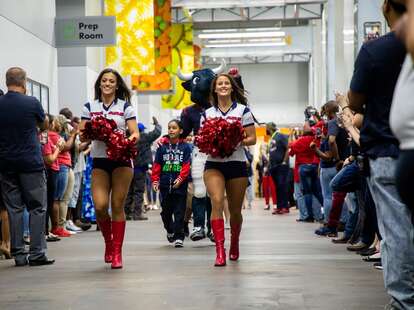 Houston Food Bank

| Houston Food Bank
Houston Food Bank

| Houston Food Bank
'Tis the season for spreading the holiday cheer, and one of the best ways to brighten the holidays is through volunteering. If you'd like to help lift spirits and make the season a little easier for Houston's most vulnerable, you can do some by spending your time with some of the city's impactful organizations. Check out volunteer resources and matching programs like VolunteerHouston and national database VolunteerMatch, and check out these other amazing ways to volunteer this holiday season in Houston.
Stock Santa's workshop and give holiday cheer to seriously ill pediatric patients
Houston's Ronald McDonald House works to provide a meaningful home away from home to families of seriously ill children being treated in Texas Medical Center, and they could use a special hand during the holiday season. Help create magical moments by stocking Santa's workshop, signing up to help deck the halls, sponsoring a holiday activity, or applying to become a volunteer. Volunteers over at the Texas Children's Hospital support pediatric patients by playing games, interacting with families, and assisting with administrative duties; and Candlelighters Houston offers a Young Professionals Group that strives to make life a little bit easier for children who have cancer and those that love them.
Provide hope and help transform the lives of Houston's unhoused
Volunteerism is critical to Houston's unhoused and disadvantaged communities all year long. Local nonprofit SEARCH helps move people from the streets and keep them stably housed, fed, and healthy. Join its Young Professionals program; work as a kitchen/lunch cart volunteer or art studio assistant at childhood education brand House of Tiny Treasures (help fulfill its Amazon wishlist); or lend a hand with pantry stocking, hurricane kit assembling, and more. Faith-based Star of Hope is another worthy local organization.
Help end hunger in Houston
This season, help provide much needed hunger relief by donating your time to The Houston Food Bank, which serves the over 1.1 million people in 18 southeast Texas counties that are considered food insecure and happens to be America's largest food bank in distribution. Second Servings of Houston takes volunteers for food rescue events, pop-up food distributions, deliveries, and more. And Kids' Meals, which makes and delivers healthy meals directly to the homes of hungry children, could use kitchen help, delivery drivers, and riders to help its cause.
Provide much-needed support to victims of abuse
Ending domestic and sexual violence for all is the goal of the Houston Area Women's Center, located over in Montrose. Get involved in the volunteer-founded organization by joining the volunteer team, which can include anything from answering calls on the Crisis Hotline to child care activities. Star of Hope's Women and Family Development Center provides safe housing and emotional healing. AVDA (Aid to Victims of Domestic Abuse) is a big part of the anti-violence movement in Texas, providing invaluable resources for men and women that are victims of domestic abuse. Apply for volunteer work in outreach, administrative assistance, special events, translation, court accompaniment, and more.
Support the local LGBTQIA+ community
The Montrose Center is the cultural hub of Houston's LGBTQIA+ community, providing mental health counseling, group therapy, sexual health therapy, violence survivor services, drug abuse recovery coaching, programs for youth, veterans, women, transgender people, and more. Volunteerism is the absolute backbone of its efforts. Montrose Grace Place seeks to provide a safe space for youth of all sexualities and gender identities. Direct volunteers interact as adult mentors, sitting down for family-style meals with youth, providing support during group discussions, and more; while indirect volunteers keep the place's mission going. Sign up to help empower the unhoused LGBTQIA+ youth of Houston at local drop-in center Tony's Place; or join the Human Rights Campaign Houston, and check out its Community Hub to find ways to get involved.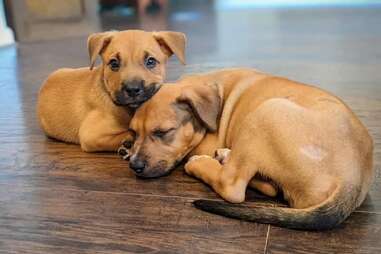 Help save the animals
Our furry friends could use some holiday love, too. Rescued Pets Movement gives local dogs and cats (who would otherwise be euthanized) a second chance through rehabilitation and placement. Volunteering opportunities with the organization range from fostering and fundraising to driving the pets to their forever homes. The Houston Humane Society is also always looking for people to help better the lives of the homeless animals, as is animal rescue and protection organization Houston SPCA, which rocks a Wildlife Center Volunteer Program to help injured, sick, or orphaned native wildlife survive and thrive. Friends For Life Animal Shelter & Sanctuary is open to volunteers who'd like to walk and feed doggies, care for kitties, assist with playdates, and more. On a bigger scale, consider donating to the Houston Zoo and its mission to save wildlife (you can even adopt an animal).
Lend a helping hand to refugees, immigrants, and others during the holidays
Everyone can help refugees, immigrants, and anyone who faces financial, educational, health, language, or cultural barriers in realizing their dreams through The Alliance. The organization creates opportunities for the disadvantaged, and volunteering opportunities range from foreign language interpretation and clerical assistance to special events like toy and coat drives.
Assist people struggling with mental illness or contemplating self-harm or suicide
With the social isolation of the last few years, depression is as serious an issue as ever right now. Local nonprofit Crisis Intervention of Houston operates free, confidential crisis and suicide prevention counseling, 24 hours a day, seven days a week. Sign up online to get involved and take the upcoming training courses this season; or contact the Texas Suicide Prevention Council to learn about volunteer opportunities locally. There's also re:MIND, which offers free and confidential support groups for individuals living with depression and bipolar disorders, as well as family and friends affected by it. Through grassroots efforts, NAMI Greater Houston gives families and persons affected by mental illness a powerful voice in the mental health community (volunteers can sign up online).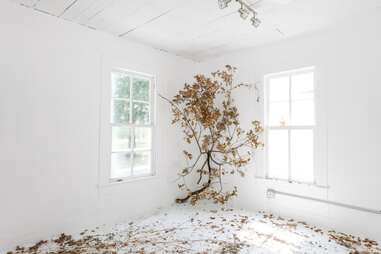 Transform lives through the arts
Super cool community art platform the Project Row Houses—which sits in one the oldest African-American neighborhoods in Houston, the historic Third Ward—needs volunteers to work a wide variety of events and activities year-round. Nonprofit group Multicultural Education and Counseling Through the Arts, a.k.a. MECA Houston, is committed to community building of underserved youth and adults through arts and cultural programming. Donate your time as a tutor, mentor, or board member; special events assistance; or in marketing or fundraising activities. Musical theater nonprofit TUTS is always looking for volunteers to join its mission, for its work in its theater operations and classrooms to special events.
Build homes and community with Habitat for Humanity
You can physically help create affordable places for Houstonians to call home via Houston Habitat for Humanity, from open build construction to community projects and work at its ReStore home improvement store and donation centers.
Have a drink in support of local nonprofits
Downtown watering hole Angel Share is part bar, part charitable experience, sharing a portion of its profits with a different Houston-based charity each month. Four local organizations are nominated every month, and each drink you purchase earns you a vote for one of those charities. The votes are tallied, and at the end of the month, the nonprofit with the most votes wins 100 percent of proceeds from Angel Share's special charity menu. Come thirsty and ready toast to charity.