With the holidays officially knocking on our doors, we've been busy decking the halls with festive decor. But the best part about Christmastime is seeing Texans come together in the spirit of giving, whether that be donating to the area's many hardworking charitable organizations or volunteering to put a rosy smile on someone's face. Here are 11 ways you can spread cheer and give back to the community here in Houston this holiday season.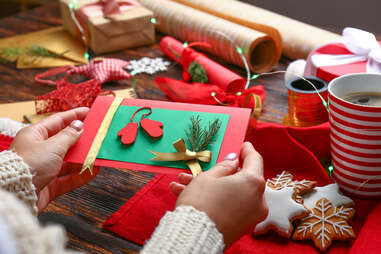 Though we're still heavily immersed in the pandemic, it hasn't stopped us from navigating through the world in a remote way. For The Holiday Project, this new normal became the foundation for much of their in-person volunteer work, and their determination to spread comfort is still as heartwarming as before. Every winter, the nonprofit recruits volunteers to create touching greeting cards and physically pass them out to residents in nearby nursing homes. This year, Houstonians can either mail in or drop their cards off—along with other sweet gifts like fleece blankets and shawls—at the facilities while maintaining a safe social distance.
Austin Bat Cave is a wholesome creative space for kids to tap into their inner Maya Angelou. They also host interactive workshops geared toward helping students sharpen their comprehension and self-expression skills. There are so many rewarding benefits in volunteering with ABC, but the major perk is that you don't have to live in Austin to support the company's mission. They offer multiple virtual programs plus opportunities for volunteers to write content for the nonprofit's weekly newsletter, so Houstonians can assist these young scholars in reaching their full potential from the comfort of their own homes. Learn more and fill out an application here.
Newly formed grassroots syndicate Hoochies of Houston—also known as Social Justice Solutions—have been making incredible strides in creating nurturing spaces for Black women while spotlighting unique causes around the city. For the holidays, they're preparing winter care packages, complete with hygiene supplies and cozy apparel like beanies, gloves, socks, and hand warmers, for less fortunate families. Show your support by throwing them some cash, no matter how small, with donations open through January 13. For more information, contact the organization via Twitter and Instagram.
Tackle Houston's environmental health issues
The Air Houston Alliance is always on a mission to ensure everyone can breathe clean air, and now's a great time to sign up to join the cause or speak your piece by contacting local officials. Grassroots nonprofit Citizens' Climate Lobby takes a nonpartisan approach to climate change advocacy and education, and there are several chapters within the Third Coast region you can team up with to help spread the word this winter. Elsewhere, stay up to date with Green Houston's Climate Action Plan, take action with the Texans for Clean Water Initiative, or advocate for green projects and protection against future flooding with Bayou City Waterkeeper.
Offer a hand in preserving Houston's finest parks
Show your city some love by participating in cleanup programs, recycling education projects, and beautification efforts with local community organization Keep Houston Beautiful. There are also programs at the Buffalo Bayou Partnership (which hosts monthly volunteer workdays on the third Saturday of each month) as well as at Hermann Park Conservancy, which identified an annual 20,000-hour gap in what the city's Parks and Rec department is able to provide versus what the actual park needs to be properly preserved.
Care for the city's sprawling neighborhoods by reducing PPE litter
These days, a simple stroll around the block will likely result in running into a discarded face mask or two. Our new normal (AKA disposable gloves and wipes, masks, bottles of hand san) has inadvertently spurned a major littering problem in our neighborhoods, so PPE supplier iPromo has created a coast-to-coast initiative to reduce the litter. Here's how it works: For each piece of PPE picked up and disposed of properly, iPromo will donate a face mask to a charity in need. They're looking to donate an impressive minimum of 250,000 masks before the year ends, so be sure to snap a quick photo of your efforts and send it over.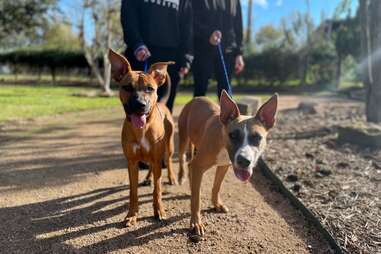 Give our furry friends the utmost love and care
Rescued Pets Movement saves local stray dogs and cats from euthanasia by giving them a second chance through rehabilitation and home placement. Volunteering opportunities with the organization range from fostering and fundraising to chauffeuring lucky pets to their fur-ever homes. The Houston Humane Society is always looking for folks to help better the lives of animals in need, as is animal rescue and protection organization Houston SPCA, which rocks a Wildlife Center Volunteer Program to help injured, sick, or orphaned native wildlife survive and thrive. Friends For Life Animal Shelter & Sanctuary is also open to volunteers who'd like to walk and feed doggies, care for kitties, assist with playdates, and more. On a bigger scale, consider donating to the Houston Zoo to aid in its mission to save wildlife (you can even adopt your very own animal to sponsor).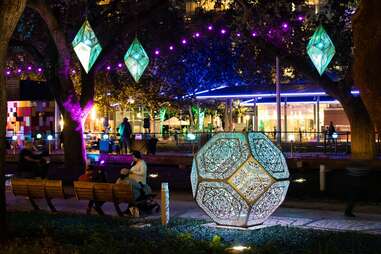 Open up your purse to support our growing green spaces
Little known fact: Discovery Green Conservancy operates outside the city of Houston's budget, meaning your donations are vital to keeping the lush park and its vibrant programming alive and well. Right outside of downtown and running along the bayou, Buffalo Bayou Park is another picturesque green jewel that appreciates donations, as does the 1,500-acre Memorial Park. And over in the Clear Lake/Bay Area, you'll find one of the largest urban wilderness preserves in the U.S., Armand Bayou Nature Center. All donations are welcome to help preserve and restore its over 2,500 acres of rapidly vanishing Gulf Coast habitats.
Local nonprofit Trees for Houston has planted over 600,000 trees throughout the local community. That valiant effort not only makes H-town a little easier on the eyes, it also helps to clean our air, mitigate runoff, and cool our environment. Consider donating directly to the organization or rolling up your sleeves and volunteering to help plant some trees yourself.
Get more acquainted with our city's flourishing farmers markets
Not only will you find the most deliciously fresh, surprisingly affordable foods at your local farmers markets, but purchasing your produce and meats from area providers—many of whom are certified organic and use other low-impact practices like composting and limited-resource farming—can minimize waste and pollution and help battle climate change. Standout outposts include East End urban farm Finca Tres Robles, Central City Co-Op (AKA Houston's oldest organic co-op and marketplace), and the ever-popular Urban Harvest's farmers market.
Help restore, enhance and protect the Arboretum
Consider joining Evergreen, the Houston Arboretum's young professional group, where those aged 21 to 40 act as ambassadors for this gorgeous slice of native habitat while pledging to support the Arboretum's mission to provide nature education to all. The group also does cool stuff like host volunteers for special projects, coordinate happy hour hikes, and throw dog-friendly outdoor mixers.