The Best Neighborhoods in Houston to Spend a Weekend
H-town has lots to see and do, but whether you're visiting for the weekend or you're simply in search of new grounds to stomp, our city's urban sprawl can make exploration kinda tough. Yes, you can spend years in traffic trying to experience each and every corner of this colossal city, but why not just pick ONE neighborhood to really sink your teeth into? Dig deep into one of these five unique areas, and over the course of a weekend you'll find history, parks, museums, and, since this is Houston, unbeatable food and drink.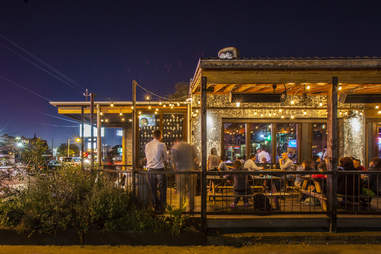 The Hay Merchant

| Julie Soefer Photography
Montrose
Sitting just west of Downtown, Houston's most eccentric neighborhood has housed a Bohemian mosh pit of hipsters and food lovers, artists and musicians, alternatives and local creatives, from the '60s through today. Though some longtime residents declare "Montrose is dead" thanks to its tear-down culture and a rise in townhomes, you can still stroll the streets and find century-old bungalows sitting among ramshackle thrift shops, neon-lit tattoo parlors, and some of the city's finest bars and restaurants.
Where to stay: To really immerse yourself in Montrose, your best bet is an Airbnb (though anyone looking for a hotel can check into Hotel ZaZa, a jazzed up haunt that sits just over the border in the Museum District). Traveling with friends? This fully renovated, spacious, 104-year-old home is within walking distance to lower Westheimer restaurants and bars. Other options include an airy Bohemian space with outdoor swings, an urban cowboy-inspired apartment, and a peaceful studio with views of Downtown.
Best restaurants: Start your day with coffee at Blacksmith (paired with Vietnamese steak & eggs or the world's best sausage breakfast biscuit), Siphon Coffee, or Common Bond -- or, linger over coffee and wine at Penny Quarter. Two of Houston's finest brunch options also lie in Montrose: the epic Mexican brunch buffet at Hugo's, and the dim sum style Sunday brunch at UB Preserv. Tacos your thing? Create your own mini taco crawl at spots like La Guadalupana Bakery & Cafe, Tacos Tierra Caliente, Cielito Cafe, and La Mexicana.
You're spoiled for dinner options in Montrose as well. Among the greatest are Georgia James and One Fifth, a steakhouse concept and alternating project (it's currently exploring the Gulf Coast through July 2020) from James Beard Award-winning chef Chris Shepherd; Spanish fine dining spot BCN Taste + Tradition; and Uchi, your go-to spot for sushi and Japanese small plates.
Things to do: Montrose has a lot to experience in its own right, but it also has the added bonus of being a short hop over to the world-class Houston Museum District (where you'll find cool spots like the Museum of Fine Arts Houston, Houston Museum of Natural Science, and the zoo!).
Within Montrose itself, Menil Campus is a choice spot to spend the day, housing the 10,000-plus piece Menil Collection, super trippy Dan Flavin Installation, spiritual Rothko Chapel (closed until June 2020 for renovations), and a tree-shaded lawn for picnicking, playing, and vegging. You can rent a B-Cycle to hop around and see it all, and when you've experienced enough art and culture for the day, unwind with a few blissful hours downing Lone Star and tacos al pastor at West Alabama Ice House.
Bars & nightlife: Pair a beer with some crispy pig ears at cult favorite The Hay Merchant; work your way through an endless list of classic and inventive cocktails at Anvil Bar & Refuge; linger for wine and cheese at Camerata; and fill your night with whiskeys and two steppin' at super fun honky-tonk Goodnight Charlie's, or whiskeys and pinball at Poison Girl. Check out the Palm Springs vibe at Present Company, live music and open mic comedy at Rudyard's, and dreamy tiki drinks under the palapa at The Toasted Coconut (where you can also grab dinner). Just before you're ready to hit the hay, pop into night owl favorite BB's Cafe for late-night po'boys and Tex-Cajun fries piled with queso, gravy, and roast beef.
EaDo
Formerly home to the Old Chinatown (before it moved to bigger digs out west), this once warehouse-heavy district is becoming one of the hottest pockets of Houston thanks to its
soccer stadium
and concert venues, healthy roster of food and drink options, and easy access to Downtown and the historic East End.
Where to stay: Airbnb all the way: Spend the weekend in a gorgeous two-story loft, complete with a balcony overlooking Downtown and a prime location right next to BBVA Compass Stadium, or rent out a modern four-story townhome with a rooftop deck with skyline views.
Best restaurants: Jump in line at Brothers Taco House and you'll eventually be greeted by homemade corn and flour tortillas made right before your eyes, stuffed with things like bacon, potatoes, carnitas, lengua, chicharrones, and deshebrada (shredded brisket). Continue your taco journey by wandering into the East End, hitting spots like Dona Maria and Villa Arcos on Navigation, or seek out a juicy burger among the grand lineup at Rodeo Goat.
Your brunch move should be Tout Suite, where you'll find a series of pastries, waffles, biscuits, and scrambles; or modern American restaurant Indianola, which is also a go-to for dinner. Speaking of dinner, you can still find remnants of EaDo's Chinatown (or Asiatown, rather) past spotting the area, like hole-in-the-wall haunts Cafe TH and Huynh. If it's global comfort food you're after, Nancy's Hustle is the spot; think lamb dumplings, pillowy pancakes with whipped butter & smoked trout roe, and an english muffin burger that draw crowds into the wee hours of the night.
Things to do: Hang out at an outdoor bar/beer garden by day. There are the top-notch craft breweries 8th Wonder, True Anomaly, and Sigma Brewing Company; adult playgrounds Truck Yard and Pitch 25 Beer Park; and sports bars like Lucky's Pub, Little Woodrow's, and King's Court (all of which make for excellent pregame spots for a Dynamo game). Of course, you can also rent a bike or scooter trike to venture into the East End to check out gems like craft beer bar Moon Tower Inn, daiquiri dive Voodoo Queen, and the Original Ninfa's on Navigation; or take the short walk straight into Downtown.
Bars & nightlife: Play video games for rounds at Neil's Bahr; grab sours, swizzles, and high balls at Miss Carousel; sip eclectic wines at How to Survive on Land and Sea; hang at under-the-radar drinkery East End Hardware; or head back to Truck Yard for live music and trash can punch. You can also catch live music, comedy, poetry, and underground art at Warehouse Live, Super Happy Fun Land, and The Secret Group. Finish your night with a fat slice at Vinny's Pizza.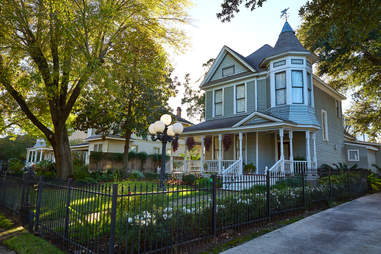 Victorian home in the Heights

| lunamarina/Shutterstock
The Heights
This northwest-central slice of the loop is one of Houston's most historic neighborhoods. Here, you'll find beautiful, centuries-old Victorian homes housing both young families and local businesses. Don't be fooled by its idyllic, Stepford Wives vibe; The Heights also has a burgeoning cool kids' scene highlighted by local art, graffiti walls, antique shops, and some of the city's buzziest restaurants and bars.
Where to stay: While we're waiting for the boutique Maison Robert to open, y'all can Airbnb a picturesque home of your own. Stay in a restored Victorian bungalow located a short hop to the historic 19th Street; cozy up in a charming guesthouse with a full kitchen, laundry room, and canopy-lit outdoor space; or snag this airy, three-bedroom home with some friends. Failing that, go the traditional bed & breakfast route at Sara's Inn.
Best restaurants: Your morning can start with coffee and a bagel at Golden Bagel, smoked pork burritos and breakfast biscuits at Revival Market, and Parisienne street style crepes from Melange Crêperie. You can also go on a legit coffee crawl, with stops at EQ Heights, Boomtown Coffee, Morningstar Coffee & Donuts, Antidote, and Thoroughgood Coffee. Your go-to brunch and lunch spots should be Down House (get the egg-topped kimchi burger), land-and-sea kitchen Field & Tides, Tex-Mex haven Superica, Common Bond Cafe & Bakery, and sandwich and salad all-star Local Foods.
Grab dinner at Squable, where you'll share plates of roasted beets, chilled Gulf shrimp, housemade pastas and breads, and a French cheeseburger oozing with raclette cheese. You'll also want to dig into fried chicken & oysters at La Lucha, snag one of the 22 seats at sushi hand roll bar Hando, get Greek eats and wines at Helen in the Heights, and partake in an exceptional uni carbonara at Blackbird Izakaya.
Things to do: Break a sweat by hitting the Heights hike & bike trail that runs through the neighborhood, or by spending a bit too much of your paycheck at the thrift stores, antique shops, art galleries, and cool boutiques along the historic 19th Street. Afterward, midday happy hour is always a winning move, especially when it can include tacos and margs at modern icehouse Eight Row Flint; rooftop drinks at Harold's, and cheap cocktails and beers at patio bar Heights Bier Garten. Later, catch a show at White Oak Music Hall or The Heights Theater.
Bars & nightlife: Down for a bar hop? Head to White Oak: there's chill icehouse Bobcat Teddy's, sports bars Christian's Tailgate and Little Woodrow's, moody cocktailery the Ready Room, and late-night po' boy and beer spot BB's Cafe. You can also spend a particularly tasty night off White Oak, with a picture perfect Old Fashioned at Johnny's Gold Brick, expertly crafted mixed drinks at retro cocktail bar Better Luck Tomorrow, and a cheeky tiki drinks at Lei Low.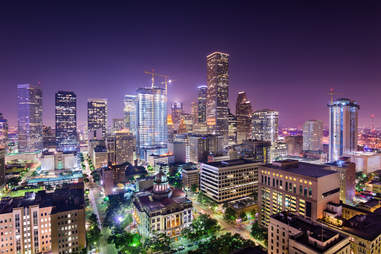 Downtown Houston

| Sean Pavone/Shutterstock
Downtown
After decades of feeling like a total ghost town on weekends, people are finally starting to live Downtown (including some Rockets players, we hear) thanks to a flood of seriously nice luxury apartment buildings. Today, the heart of Houston is a 1.84-square-mile metropolis and adult playground rocking big and small businesses, food halls, a bustling theater district, parks and greenspace, and our basketball stadium and ballpark.
Where to stay: Ever see the video of that giant lazy river in the shape of Texas? That's on the Marriott Marquis rooftop in Downtown Houston. The classy hotel has the added bonus of also sitting outside the beautiful Discovery Green park… and rocking an exquisite restaurant from a James Beard Award-winning chef… and a sports bar with 30-foot screens and leather recliners. Start there, then look into other luxury hotels like Hotel Alessandria, the C. Baldwin, The Lancaster Hotel, and the Four Seasons.
Best restaurants: You've got a cornucopia of food halls to explore here. Get an early start to your day with rum-syruped Jamaican pancakes and rolled Japanese omelets at the all-day Atlas Diner over in Bravery Chef Hall, or visit for lunch to indulge in Roman-style pizza from BOH, Kokoro's crudo and sashimi, Cherry Block's steakhouse burgers and fries, and Vietnamese curries and pho from The Blind Goat. Over on Main St., Finn Hall offers a mashup of eateries from falafel-centric Mediterranean at Oddball Eats to Korean barbecue bowls at Yong; and underground food hall The Understory sports an eight-count of tastemakers, including Boomtown Coffee, Filipino burger joint Flip 'n Patties, and Mama Ninfa's Tacos y Tortas.
Snag yourself a reservation at Oaxacan mole paradise Xochi for dinner, or hit up Chris Cosentino's Rosalie Italian Soul over in the C. Baldwin Hotel, where you can belly up for classic red-sauce dishes from eggplant parm to from-scratch wild boar rigatoni. For a powerhouse meal of massive seafood towers, prime ax-handle tomahawks, and a dish dubbed "millionaire fajitas," there's also Guard and Grace, set in downtown's landmark Allen Center.
Things to do: Walk off brunch by picking up the path that leads to Buffalo Bayou Park, a picturesque greenspace that runs along the Buffalo Bayou and offers skyline views, a secret underground cistern, art installations, skate and dog parks, and an in-park restaurant where you can cool off with a glass of rosé (and maybe a charcuterie board). In the heart of Downtown, Discovery Green park hosts a lineup of special events, from pop-up markets and concerts to festivals and seasonal kayaking and ice skating. It also sits right near the George R. Brown Convention Center and the Toyota Center (home to the Houston Rockets), and isn't far from the Astros' Minute Maid Park.
Market Square Park is where you'll find outdoor movie screenings, pop-up concerts and markets, blanket Bingo, and gyros. Music, art, and theater enthusiasts will also want to check out the current season of productions in the Theater District, with venues including The Hobby Center (classic plays and Broadway productions), Wortham Theater Center and Jones Hall (homes to the Houston Ballet and Houston Symphony, respectively), and Revention Music Center and the House of Blues (music concerts and more).
Bars & nightlife: Hopefully you got a nice base in your stomach from dinner, because it's incredibly easy to embark on a bar crawl through Downtown. Your stops will include striking glass greenhouse The Secret Garden, local sweetheart and nonprofit watering hole OKRA Charity Saloon, fun-loving tiki spot Kanaloa, mezcal joint The Pastry War, wine and whiskey enthusiast Public Services, and cocktail bar Tongue-Cut Sparrow. Want to end on a weird note? Head to cult favorite dive notsuoH.
Waterwall Park

| KENNY TONG/Shutterstock
Galleria/Uptown
Houston's consumer mecca sits just outside the 610 Loop, offering high-end experiences, shops, restaurants, and endless ways for you to spend your money. Traffic is notoriously nightmarish around here, but you'll need a break between shopping sprees, anyway.
Where to stay: The no-brainer here is The Houstonian: a hotel, club, and spa sitting on 27 wooded acres and offering opulent accommodations, a resort pool area, four onsite restaurants, designer shops, a private fitness club, and a lavish spa with treatment rooms, salons, and a float pool. Plus, its grounds provide easy access to the crown jewel of Houston greenspaces, Memorial Park. Another great option is The Post Oak Hotel, with 38 soaring stories and swanky touches like a grand Swarovski-laced chandelier at the entrance and steakhouse that serves its epic seafood towers covered in smoking dry ice.
Best restaurants: Kenny & Ziggy's is where you want to go for colossal breakfast plates (start with some cheese blintzes) and even bigger triple decker sandwiches (go for the house-cured corned beef). You're also about 10-20 minutes away from some truly unique Houston dining experiences, like Bourdain-approved Indo-Pak kitchen Himalaya (home to masala-spiced fried chicken); and a stack of Vietnamese crawfish spots over in Asiatown (try Cajun Kitchen, Crawfish & Noodles, and 88 Boiling Crawfish and Seafood, for starters).
Things to do: Let's not beat around the bush: you're here to spend money. You have the mammoth Galleria mall, stacked with just about every high-end store you can imagine; the upscale (and less crowded) Uptown Park shopping center; and the nearby, over-the-top ritzy River Oaks District, housing a rockstar lineup of luxury shops and boutiques that includes everything from Hermès to Cartier. When you're done, reflect on the draining effects of consumerism with a contemplative stroll through Memorial Park, or around the 64-foot Waterwall over in Uptown Park. At least those are free.
Bars & nightlife: Dining is the nightlife in this big money mecca. Try refined coastal Mexican kitchen Caracol (go for the wood-roasted oysters dripping in chipotle butter), South African fine dining spot Peli Peli, reimagined classic The Annie, and elegant French bistro La Table. You've also got nearby hotspots like the Madrid-inspired MAD (at the very least, go there for drinks) and Killen's STQ.
Oh, and remember that steakhouse with the literally ice-cold seafood towers that we mentioned before? That would be Mastro's, where you'll also be dining on luscious roasted bone marrow, Alaskan King Crab truffle butter gnocchi, and true A5 Kobe Beef. Afterward, head over to the River Oaks District's Loch Bar for live music and whiskey; or if you're looking to turn things up, join the EDM crowd at Stereo Live.
Sign up here for our daily Houston email and be the first to get all the food/drink/fun in town.
Brooke Viggiano is a Houston-based writer that doesn't know if she can pick a favorite from these five neighborhoods. See if she secretly has one by following her @brookiefafa on Insta or @brookeviggiano on Twitter.