Palo Duro Canyon

| Barna Tanko/Shutterstock
Palo Duro Canyon

| Barna Tanko/Shutterstock
Route 66, which stretches more than 2,400 miles from Chicago to Santa Monica, has been calling to American travelers ever since it opened in 1926. In its early years, it connected middle America to the West Coast and expedited Westward Expansion. Today, it serves as hallowed ground for road warriors from all over the world looking to experience our big country's small town culture alongside an endless stream of quirky attractions. And while following the 95-year-old road might not be the most efficient method of modern transport, the iconic trail undoubtedly offers so much more than simply delivering folks from point A to point B.
The Texas portion of Route 66 slices straight through the Panhandle, spanning a little less than 200 miles between Oklahoma and New Mexico. Much of the old route has been replaced by Interstate 40, but adventurous travelers can easily find remnants of the original here and there along the way. To make the most of your next trip across Texas' northernmost tip, pocket your keys and get your kicks at these six stops featuring everything from offbeat art and scenic hiking trails to a hunk of beef massive enough to keep you fed and happy all the way to Vegas.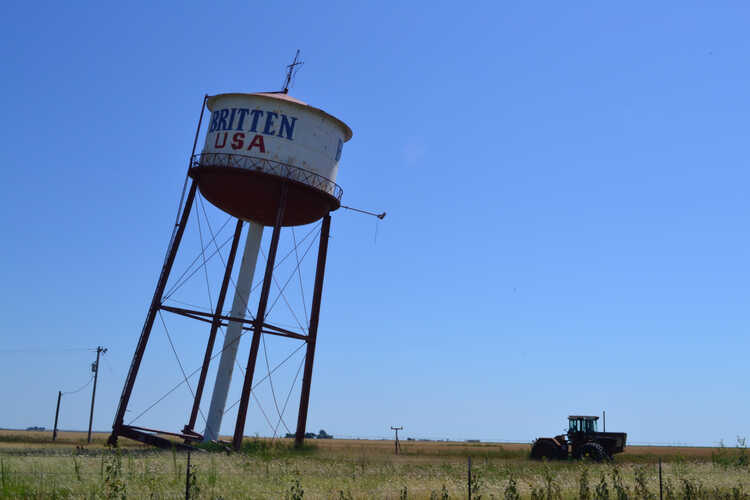 The Leaning Tower of Texas

| Miles Cox/Shutterstock
The first stop on your swing through the Panhandle is Groom, a small town with two claims to fame—or roughly one per 300 people. The Leaning Tower of Texas is an old water tower tilted at a striking 10-degree angle, and while it may appear ready to crash toward the earth, it's been standing strong for decades. It's the brainchild of Ralph Britten, who used the eye-catching structure as a marketing ploy to draw passersby to his truck stop and restaurant. The truck stop and restaurant burned down years ago, but the tower lives on.
Just a few minutes west lies a bonus curiosity: A 190-foot-tall white cross visible for hundreds of miles across the flat landscape.
Gas station snacks will only get you so far. When you're ready for some real sustenance, turn into the Big Texan. This Amarillo institution serves a hearty menu of sandwiches, ribs, chicken fried chicken, and steaks and even houses an on-site brewery. But you're here for the 72-Ounce Steak Challenge. Participants face off against a full table of food, including shrimp cocktail, salad, bread and a baked potato in addition to that gargantua gut-buster. If you polish your plate within an hour, the whole thing is on the house. And if you don't, it'll cost you $72—plus a lack of bragging rights—but that's still a pretty good deal, pound for pound.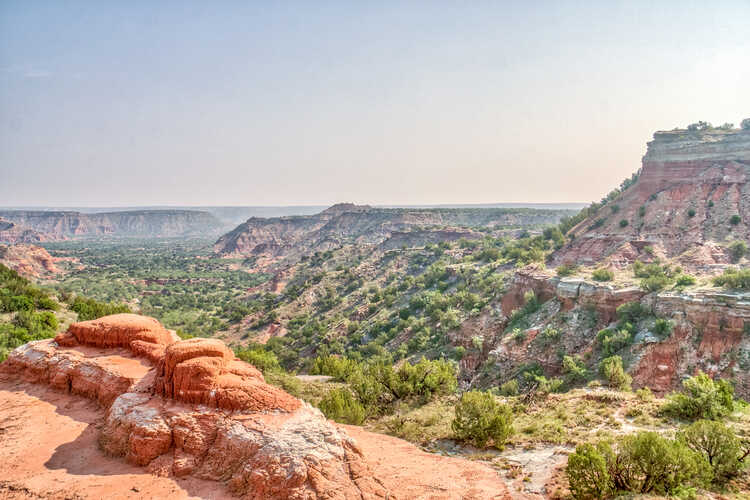 Palo Duro Canyon

| Adventures On Wheels/Shutterstock
Home to the second largest canyon in the country, Palo Duro Canyon State Park is well worth a 30-minute southbound detour. Cruise into the park for a quick look at what's considered the Grand Canyon of Texas, and if you have the time, lace up your boots and spend a few hours exploring the rugged terrain. Breathe in the fresh air as you traverse trails on foot, bike, or horseback, or pack it in for night under the stars at one of the area's many campsites (or glampsites).
Cadillac Ranch

| YuniqueB/Shutterstock
Back on Route 66, you have one more stop before officially exiting Amarillo's sprawl. Cadillac Ranch is a public art installation featuring 10 heavily-graffitied vintage cars buried nose-down in a roadside pasture and positioned at the same angle as the Great Pyramid of Giza. Created in 1974 by a San Francisco art collective and funded by a local millionaire, the exhibit encourages visitors to leave their own marks on the brightly colored cars, so don't forget to pick up a few cans of spray paint before you arrive.
The town of Adrian sits at the halfway mark between Chicago and Santa Monica—thus the aptly-named Midpoint Cafe. Opened in 1928, the outpost once operated as a 24-hour fuel-up spot for hungry travelers. Over the decades, the property has expanded and even starred in the Pixar movie Cars as Flo's V8 Cafe. It remains a popular destination for breakfast, lunch, and, most famously, freshly-baked sweet treats. Order one of their beloved "ugly crust pies," available in flavors like lemon meringue, chocolate, and coconut cream, for a little extra umph as you continue your journey.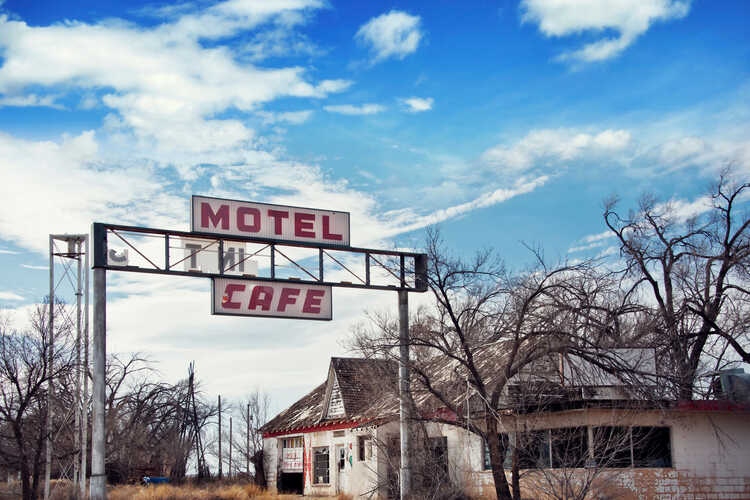 Glenrio Ghost Town

| Svetlana Foote/Shutterstock
Before passing into New Mexico, make a pitstop in Glenrio, an eerie attraction straddling the two states. When the railroad depot closed in 1955, the once-bustling town was hit hard. But things grew even worse for local motels, gas stations, and diners in the '70s, when I-40 plowed through the area in an effort to rush people past rather than through Glenrio. As business dried up, the residents left, and today the town is an uninhabited relic lined with dusty, derelict structures that harken back to its former heydey. Stroll through the Glenrio Historic District along the old Route 66 to glimpse icons of yore, including the Little Juarez Diner and the Streamline Moderne Texaco station, both of which served generations of road trippers nearly a century ago.
Kevin Gray is a contributor for Thrillist.