Presented By

What To Know Before Going on a Cruise Again, According to Experts
It won't be like pre-Covid life on the high seas, but through numerous precautions and extensive sanitation, the experience might not be far off.
Presented By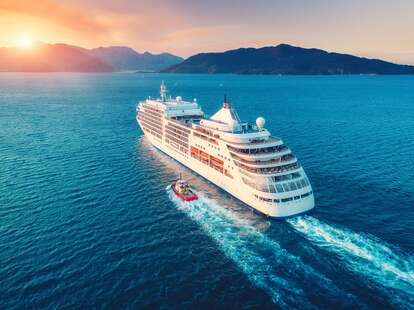 Denis Belitsky / Shutterstock
Small, contained floating cities in the middle of an ocean and contagious diseases are generally not friends. That's why even though airlines, hotels, and pretty much every other sector of the travel industry has been back up and running for quite some time, cruise ships are just now creeping back out onto the water. Cruise lines have spent months figuring out how to get people back on board safely, and though for the most part the experience will be the same, like everything in a post-pandemic world, you'll see some changes.
So what, exactly, will cruising look like? And what should passengers expect when they embark on the waters? We tapped industry experts to bring you the scoop on what cruisers will encounter when they set sail. Here's what to keep in mind before you board.
The industry has put together an intense list of safety protocols
Nearly every cruise line in the world has adopted a so-called Sail Safe program — a series of precautions and procedures set to ensure the cleanest environment possible.
"The largest lines hired the world's experts in infectious diseases, virology, public safety, hygiene," says Benjamin Pascal, chief business officer for Invisible Sentinel, a molecular diagnostic company that works with local governments and others to ensure cleanliness on a microscopic level. "It's impressive what they're doing."
Cruise lines' policies will vary, but nearly all include testing of passengers before they get on the ship, intensive cleaning processes, mask requirements in indoor areas, and quarantine procedures. You can also expect fever checks when you disembark and re-embark in ports, reduced capacity, and in the case of Norwegian Cruise Lines, vaccination requirements for all passengers.
"The cleaning that went on during a normal cruise was already over the top," says MSC Cruises USA Chief Operating Officer Ken Muskat. "A cruise ship is constantly doing things – disinfecting, wiping down lounge chairs, going into elevators. Now it's tenfold."
You should research your cruise line's protocols
Because each cruise line is different, they've all made it pretty easy for passengers to find out what their specific requirements are, with designated sections on their websites that go into extensive detail.
"My number one advice would be go to the website, and look at the health and safety section, and become very familiar with it," Muskat says. "There are a lot of new requirements."
In the case of MSC, that means testing at embarkation, insurance requirements for non-vaccinated passengers, and general documentation. In the case of Norwegian Cruise Lines, it means bringing proof of vaccination. The point is, it's going to vary cruise by cruise, so always do your homework ahead of time.
You'll need to be tested before you board, and check in might take a little longer
All cruise lines will require a negative Covid-19 test at the port of embarkation before getting on the ship. But this doesn't mean the already-interminable check-in queues will be even more tedious.
"They'll have to wait about another 10 minutes to get onboard," Norwegian Cruise Lines President and CEO Harry Sommer says. "But we automated the rest of the process, and on average, from the time when they get to port to the time they step off the gangway is about 25 minutes. We streamlined other steps to make up for it."
Still, it's probably not a bad idea to leave a little extra time for testing. Muskat suggests doing all your cruise check-in before you get to the port, so you have your insurance, specialty dining, and shore excursion reservations ready. Sommer adds that passengers might consider taking an at-home Covid test before leaving, so they don't get any departure day surprises.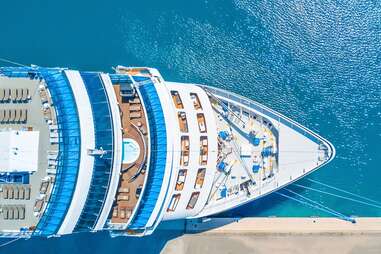 Ships are going to be emptier
In the interest of social distancing, cruise lines will be operating at severely reduced capacity, at least for the time being.
Norwegian is operating their ships at 60% capacity right now and intends to stay at that rate for a while. MSC Cruises will be running at about 50% capacity. Royal Caribbean is running its first few cruises at about 30%. (Those numbers may fluctuate a bit depending on the ship and port of departure.)
Happily for cruise-goers, that doesn't mean the ships will be running 50% of their amenities and entertainment. Quite the contrary, ships will be operating like they're full, which means fewer crowds, easier reservations, and shorter lines.
Of course, you have to take into account your own risk threshold, but there are certainly some advantages for vaccinated folks with no underlying health conditions at sea right now. "This is probably the best time ever to cruise," Sommer says. "For the next few months, with reduced occupancy, everything is open from the lounge to the racetrack to laser tag, but with less guests onboard."
The onboard experience will be very different for vaccinated and unvaccinated travelers
Rules on vaccination can be a little confusing. For instance, because Florida bars private businesses from refusing to serve non-vaccinated people, cruise lines sailing from that state must allow both vaccinated and non-vaccinated passengers. Norwegian, however, recently received a federal judge's blessing for its policy of only sailing with 100% vaccinated passengers, and began cruises from Miami August 15. Royal Caribbean has recently followed, also sailing with only vaccinated passengers.
Cruise lines sailing from Florida have developed a bracelet system, where vaccinated passengers wear one color, and non-vaccinated passengers wear another. Ships will have areas designated for vaccinated passengers only, where they'll be free to walk around maskless indoors, and mingle like it was 2019. (Editor's note: In light of the spread of the Delta variant, such policies may change.)
Policies for non-vaccinated passengers vary by cruise line, but for the most part non-vaccinated passengers will be relegated to the ship's common areas, and will generally need to wear masks when indoors, aside from in their staterooms or while eating or drinking. They'll also have designated areas of the main dining room, and won't be able to make reservations in specialty dining restaurants. Non-vaccinated passengers will also have certain hours they can use the gym.
Non-vaccinated passengers found in vax-only areas will be politely asked to leave by the crew, who, Muskat told us, have been specially trained in how to handle the situation delicately.
"I don't think there's going to be much of a scarlet letter effect," Muskat says. "Everyone is getting tested prior to embarkation, whether you're vaccinated or not."
You'll still likely be wearing a mask inside
Even vaccinated passengers, however, will still be wearing masks inside on ships who carry non-vaccinated passengers. But, as Muskat pointed out, that's really not all that different from our daily lives in 2021.
"Inside, you'll be wearing a mask, unless you're eating or drinking or in a venue designated as vaccinated only," he says. "It's what we've become accustomed to on land, and in certain public settings it's safer to social distance and wear a mask."
Shore excursions and port calls will have different rules, too
Shore excursions add yet another layer of complications, as different countries all have different rules for who can come ashore and who cannot.
"In a lot of the Caribbean, they're testing people who come ashore as well. Some countries will have mask mandates, and some nations have curfews," says Pascal, whose company worked with a number of Caribbean nations on their safety testing procedures. "The cruise lines are aware of that, but passengers might find the experience different."
Muskat went into a little more detail, explaining that all their approved shore excursions have guides who are vaccinated and trained in health and safety standards. Guests will need to stay with their shore excursion groups and not wander off on their own. If they do, they won't be able to get back on the ship. "We had those situations in Europe," he says, "and some guests didn't make it back."
This also means if a ship stops in a country that doesn't allow non-vaccinated people to enter — like Canada — non-vaccinated passengers will have to stay onboard. And those who do leave the ship will still be required to take another Covid test — and test negative — before getting back onboard.
Plans are in place in case things go wrong
Having learned from last year's Covid-outbreak nightmares, cruise lines have put protocols in place should anyone onboard test positive.
"If someone were to get sick or test positive during the cruise, we have protocols in place to isolate the people they had contact with," Muskat says. "We have contact bracelets onboard so we can communicate with and isolate those people. And if we have to get people off at the next port, we will." Even Norwegian, who is carrying only vaccinated passengers, knows nothing is guaranteed. But the cruise line is hopeful its policy will ensure there aren't many issues.
Extensive cleaning means other illnesses may be less common
Even before Covid, cruise ships had a debatably-accurate reputation as "floating petri dishes," where outbreaks of foodborne illness and flus were far more frequent than they were on land. But with enhanced cleaning procedures, masks, and social distancing onboard, other illnesses may be far less commonplace than they were before.
"We had a smaller flu season during the Covid outbreak," Pascal says. "It's similar on cruise ships; you've got people disinfecting surfaces, we'll see a reduction in these types of illnesses because there's such awareness of public safety."
On that note, we'll see you for a mai tai on starboard deck 3.
Clorox wants to help give you confidence to get back out there. That's why they've partnered with the Cleveland Clinic and CDC Foundation to form the
Clorox Safer Today Alliance™
, helping brands like United Airlines, Enterprise, and AMC Theaters create healthier public spaces for us all.
Clorox® Disinfecting Wipes
also come in convenient on-the-go sizes, so you're covered wherever you go.