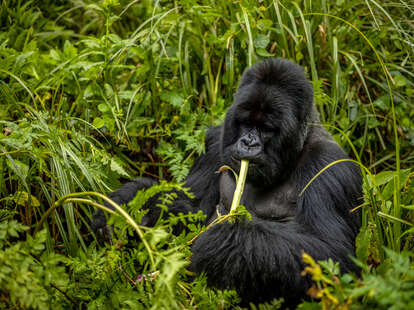 The hungry, introspective life of silverback.

| Ibrahim Suha Derbent/Photodisc/Getty Images
The hungry, introspective life of silverback.

| Ibrahim Suha Derbent/Photodisc/Getty Images
Goof Around with Gorillas on a Once-in-a-Lifetime Rwandan Adventure
Trek back in time with gorillas in your midst.
Welcome to Thrillist 50, your guide to fun and adventure in 2023. Think of it as your comprehensive roadmap for checking out exciting events and new attractions coming over the next 12 months, going on bucket-list trips, reconnecting with yourself and your community, expanding your mind, and of course, experiencing the flavors we're most excited about this year. There are so many reasons to live like there's no tomorrow. Start here.
Here's a lesson on tracking mountain gorillas in the Virunga Mountains of East Africa (provided you're already experienced): First, scramble up volcanic rocks and bushwhack through bamboo thickets to where you last saw the rare apes. If you are a professional tracker and data researcher like the Dian Fossey Gorilla Fund's Pelagie Mutuyimana, you'll find the coordinates stored in your GPS.
If you spot nests—concave bowls of vegetation resting on the ground or within the trees, woven in five minutes or so by skilled primate hands—inspect them for blood and other ephemera to analyze. Then use those as a starting point. "Following all of the signs will lead you to the mountain gorilla family," promises the 27 year-old Mutuyimana.
New nests are made nightly by each adult in the troop—count the bowls and you can also tell if they've lost or picked up any members—but they usually pop up no further than a mile from the last ones. Look for directional movement: note smashed vegetation and hand-like gorilla footprints along the trail, differentiating the tracks from those of water buffalo. And pay special attention to where you step, not only to avoid the fat logs of brownish-yellow poop, colored by a diet of bamboo and foliage, but to follow the droppings to your destination: poop as breadcrumbs.
You'll know you're close when the smashed plants appear fresh. Take in a big whiff, smelling the plants, maybe the poop, and possibly the most telling sign. According to Mutuyimana, you'll be awash in a distinctive gorilla odor.
It's all uphill from here
Maybe it's because my senses were overwhelmed by the verdant new location, maybe it's my mask (with similar DNA, gorillas are susceptible to many of the same infectious diseases as we are), or maybe it's just that I'm just bad at smelling, but on a temperate day last November on the first of two gorilla treks with Volcanoes Safaris Eco-lodges—first in the Virunga Mountains of Volcanoes National Park in Rwanda, then the Bwindi Impenetrable Forest of Uganda—I noticed no primate scent, especially nothing described as "musky" and "pungent."
While trackers went out earlier to pinpoint the mountain gorillas' location for our benefit, our jobs as tourists were minimal: don't dress like a dummy (wear protective clothing, hiking boots, and gaiters to keep away snakes and insects), stay hydrated and for god's sake, follow directions.
And most importantly, give, to receive. The Rwandan fee of $1500 per trek ($700 in Uganda) is steep, but it does some heavy lifting. Gorilla trekking in Rwanda is a prime example of what the nonprofit World Travel and Tourism Council encourages as "nature positive travel," or tourism that benefits and preserves the outdoors. 75 % of the trekking fee is allotted for conservation of the endangered species threatened not only by poachers, disease, and traps, but also by habitat loss to humans. 10 % goes to the surrounding communities. The efforts seem to be working: According to the World Wildlife Fund, the population of mountain gorillas has increased from 620 in 1989 to around 1,063 today.
As per government regulation, each troop of gorillas is visited for one hour daily and we're told our friends for the day would be the Muhoza family, named for the massive silverback patriarch. But first, a briefing on the rules. In case it wasn't obvious, don't touch the gorillas; in fact you know what, stay several body lengths away from them. Avoid eating in their vicinity, take care to minimize noise, and turn off your flash. And never imitate their behavior. Really, if you have the urge to beat your chest, don't. If anything happens, that's on you.
That said, if a gorilla threatens you, get low to the ground. Avoid eye contact and keep your gaze down. Then emit a low, guttural growl.
Wielding borrowed walking sticks topped with on-theme carved apes, we wound through the working tea plantations that butt right up against the mountain gorillas' dense jungle habitat. The air was wet; the higher altitude made breathing slightly a chore. Rwanda's nickname is the "Land of a Thousand Hills," but the Virunga range is international: spanning Rwanda, Uganda, and the Democratic Republic of the Congo, each with their own respective national park. On any given day, the gorillas could be in any country—as our guide Mr. D says, unlike us, for them there's no passport required to cross these borders.
After about an hour and a half in, we're abruptly stopped. The gorillas were near. It's surprising—sometimes these treks take hours, as certain gorilla families are more comfortable higher up in the mountains. Not Muhoza's troop, it seems, at least not that day. We dropped our extraneous baggage and grabbed our cameras and masks. And for the next hour, we stepped back in time.
An accidental history (i.e. they would've been fine without us)
When you grow up in Rwanda like Mutuyimana did, you hear stories of the animals that roam the jungle. Especially the plight of the elusive gorilla beringei beringei. "People in the village were saying that gorillas resemble humans," she says. "But I was also aware that gorillas were endangered and facing numerous threats." The lore prompted Mutuyimana to pursue wildlife management, curious about conservation. But the initial exposure of the mountain-dwelling gorillas to the outside world happened quite by accident.
The year was 1902, and German East Africa army officer Captain Friedrich Robert von Beringe set out for Rwanda to check in on German outposts, and pay a visit to the Sultan Msinga. With a physician, a corporal, and about 20 local soldiers in tow, he next wanted to conquer the area's famed "row of volcanoes." His group scaled the dormant Mount Sabinyo, the oldest of the eight volcanoes in the Virunga range. It was a great feat for them—at the time, the landscape was familiar only to the Indigenous people living there.
Captain von Beringe and company followed in the tracks of elephants, scaling steep rocks and chopping foliage. And on the second night of their excursion, camped on a ridge over 10,000 feet high, they recorded the first European sighting of mountain gorillas. Von Beringe called them "a herd of big black monkeys."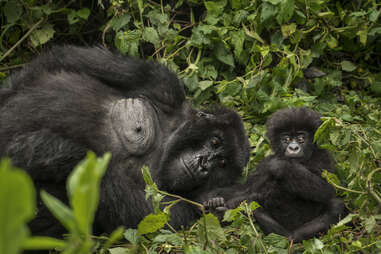 Then, of course, came the artillery. "We succeeded in killing two of these animals, and with a rumbling noise they tumbled into a ravine, which had its opening in a north-easterly direction," he wrote in his report, adapted in the 1910 book In the Heart of Africa. It took five hours to drag the bodies out of the mountains, and, realizing their scientific value, von Beringe sent them to the Natural History Museum in Berlin for study. As such, the sub-species was dubbed gorilla beringei beringei after their German assasinator. Now, for all eternity, these animals carry the name of the guy whose first impulse was to kill them.
The encounter would soon prompt an influx of interest by scientists and museums, who bombarded the Belgian Ministry of Colonies with requests for hunting licenses in the hopes of bringing specimens back for research and display. Eventually, the naturalist and taxidermist Carl Akeley convinced the Belgian government that rather than killing and stuffing animals for science, conservation was the better option.
On an expedition to capture and bring back a group of gorillas for New York's American Museum of Natural History, Akeley noted the dwindling numbers of the great apes in the wild. As told in the 2010 book Kingdom Under Glass: A Tale of Obsession, Adventure, and One Man's Quest to Preserve the World's Greatest Animals, Akeley subsequently began to question his actions, feeling "like a murderer." He changed course and, thanks to his efforts, 1925 saw the first national park established in Africa to protect the flora and fauna of the Virunga Massif.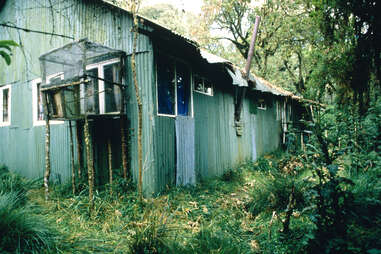 The German-born American wildlife biologist George Schaller was the first to live with and study the wild gorillas, and by 1967 his acolyte Dian Fossey, perhaps the most famous gorilla researcher of all, had found her way to the mountains of East Africa. That year she established the Karisoke Research Center in the Virunga Mountains, and thanks to her the plight of the mountain gorilla became a household cause (she would have hated that they're now a tourist attraction, but would have to admit that the overarching goals align).
For Fossey, the work became personal. After her favorite gorilla Digit was beheaded by poachers, she set up the Digit Fund for the protection of gorillas. After her death in 1985, presumably also by poachers, it was renamed the Dian Fossey Gorilla Fund. Last February, the long-running research center opened a new state-of-the-art 12-acre campus near the headquarters of Volcanoes National Park, partially funded by donations from famous names like Sigourney Weaver (who played Fossey in the movie version of her book, Gorillas in the Mist), Leonardo DiCaprio, and most significantly by Ellen DeGeneres and Portia de Rossi. (It's full name? The Ellen DeGeneres Campus of the Dian Fossey Gorilla Fund.)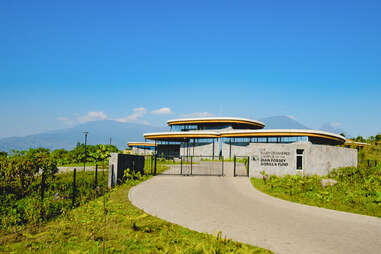 Fossey's legacy also lifts up the local community. For researchers like Mutuyimana, working with them has opened doors in a field women are typically discouraged to enter. "My dream came true when I was hired as a mountain gorilla tracker," she says. "I was overjoyed at the opportunity to help with gorilla research and protection." After becoming a head tracker, she was later promoted to research assistant, focusing on gathering behavioral data. A couple years ago, she even got to name a baby gorilla.
Admission to the Ellen DeGeneres Campus is free with a $20 suggested donation. Stationed near the entrance to Volcanoes National Park, it's a worthy add-on to a gorilla trek, with self-guided and private tours taking you through contextual displays and research labs. Today, you can also hike up to Fossey's resting place, buried amongst the graves of some of her favorite gorillas. On her headstone it reads, "No one loved gorillas more," along with her Rwandan nickname "Nyiramacibiri," which roughly translates to "the old lady who lives in the forest without a man."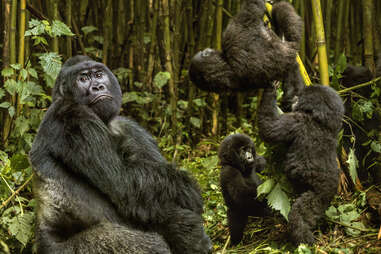 Fake bamboo(ze), real monkeying around
Back in Volcanoes National Park, we emerged upon a scene of controlled chaos: Our Muhoza family enjoying a rambunctious playtime. It's been bandied around that increased activity among gorillas is thanks to them being tipsy from bamboo fermenting in their digestive systems. But while there's a correlation between playfulness and the percentage of bamboo eaten, they're almost stone cold sober. The actual presence of alcohol is negligible—it's most likely the sugar.
Regardless of the reason, the theater playing out before us would have been the same if we stumbled upon it last week, a hundred, or a million years ago: A youngster dizzying himself, twirling in circles, furry arms flopping wildly. An impish toddler annoying his brother, grasping his neck and tugging his arm for attention. A teenager thumping the air sacs on his chest while another swings, a one-armed gymnast.
As we watched, the gorillas seemed to multiply as they roughhoused: chasing, wrestling, and tumbling head over heels. In quieter moments, babies clung to their mothers, fur rough, thick, and matted, with flecks of dried leaves woven throughout. Their amber eyes are deep pools.
Slumped in the middle of it all, bamboo stalks bent over his head, was the broad-shouldered, 400-pound Muhoza (translation: "consolation"). Though he claimed this group by dominating the last silverback leader, he appeared more resigned than intimidating, as Mr. D. confirmed: "He is tired, but not old." No wonder—it was tiring just watching this cabal of his 14 mates and progeny.
It's also fascinating. Muhoza is a good dad. He let the youngsters use his back as a gray hairy slide, time and time again. He remained calm as they jumped on him, rolled off, and repeated the exercise. Watching this troop was a meditation on both the endless and the fleeting nature of time.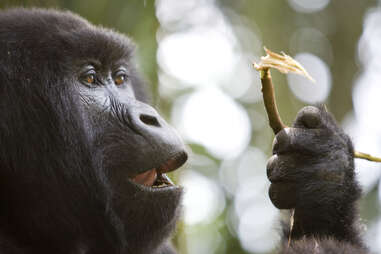 After a while I find a kindred spirit sitting over in a small grove of bamboo, away from all the action. Her focus was on eating—gorillas, they're just like us—methodically ripping apart stalks of bamboo, bending them in half, and chomping out bites from the middle. Rip, chomp, repeat.
And as if on cue, we were reminded of our place. There's a scene in Gorillas in the Mist when Sigourney Weaver's Fossey gets violently charged by a silverback during her initial attempts at forging a connection. Though Muhoza's family had fully habituated to humans gawking at them for an hour each day, we did manage a close encounter of our own, when a protective mother strolled past us on all fours, a small child latched to her back.
Ambling past our group, she decided one of us was in her way. Casually—and without breaking her stride—she reached out and gently shoved the offender on their back, removing them from her path. It happened before there was any time to react, but my guttural growl would have done nothing. It wasn't malicious, or scary. Just startling. And most of all it was a reminder: These are powerful beings, and we were in their habitat. And for this short period of time, they were merely allowing us a glimpse into their lives.
Vanita Salisbury is Thrillist's Senior Travel Writer. Since people have asked: she was not the one that was shoved.