Presented By

How To Feel Like You're on a European Vacation in the Bay Area
Ride in an Italian gondola in Napa, visit lavender fields that will remind you of Provence, and more.
Presented By

Andy Katz / Jordan Estate
Your grand European vacation plans may, understandably, be in limbo, especially with the EU recently removing the US from its "safe travel" list. Even for European countries that remain open to Americans, there are varying entry requirements and ever-changing Covid-19 restrictions as the Delta variant poses new risks. So, yes, traveling abroad is convoluted right now; a mismatch for the laidback, spritz-in-hand French Riviera vibe you probably had in mind.
Thankfully, Northern California has some splendid European stand-ins to hold you over until your next passport stamp. There are Lavender fields that are reminiscent of France, gondolas that replicate the Venetian experience, and wineries that effortlessly nail a Mediterranean feel. Here, 12 experiences in and around the Bay Area that will whisk you away to Europe (at least in your mind).
Take a French-inspired wine country getaway in Healdsburg
For a Parisian-themed wine vacation (but with little pretense), journey some 90 minutes north of San Fran to Healdsburg. The tucked away, vine-draped chateau at Jordan Vineyard and Winery exudes Old-World French elegance. Book the "Paris on the Terrace'' food and wine experience and sit at a bistro table under the shade of oak trees, enjoying charcuterie boards loaded with meats and cheeses as well as veggies from the winery's garden alongside wine pairings like the Jordan Cuvée by Champagne AR Lenoble. The 1,200-acre estate hosts guided hikes through its rolling vineyards and recently created a pollinator sanctuary for monarch butterflies and endangered bees.
To keep the French theme going throughout your wine country stay, book at least an evening at Hotel Les Mars, an opulent, 16-room maison, ahem, guesthouse, decorated with 17th and 18th century antiques. Rooms, each of their own realm, are outfitted with four-post canopy beds, marble bathrooms, and other furnishings fit for royalty. A trip to this area isn't complete without at least one stop at Costeaux French Bakery for sumptuous pain perdu (French toast), flaky and buttery croissants, or veggie quiches.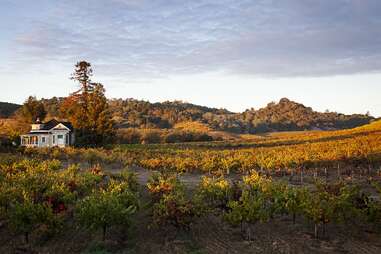 Sip Italian wines in Healdsburg, too
Italian immigrant Edoardo Seghesio planted his first Zinfandel vineyard in Alexander Valley in 1895. Five generations later, Seghesio is one of the oldest and most well-known winemaking names in the Sonoma Valley. Seghesio Family Vineyards has a tasting room in downtown Healdsburg on Grove Street, where you can sip Italian white varietals (wine tastings are by appointment only), play bocce ball, and enjoy a relaxing picnic in the shaded garden. One of the most popular bottles to try is the 2019 Vermentino, which has notes of Bartlett pear, citrus, and orange blossom, perhaps teleporting you right back to your last foray in the Bel Paese.
Spend time OOO in the Bay Area's version of the French countryside in Carmel Valley
If the 300 days of sunshine, rolling hills, vineyards, olive groves, and lavender fields (more on that below) coupled with European cuisine and wine tasting rooms in Carmel Valley, doesn't remind you of some of your best pastoral France memories, we don't know what will. After working up a sweat hiking in picture-perfect parks to scope out the valley below, swing by Earthbound Farm for a look and taste of organically grown produce, or treat yourself to some vino at any one of more than 20 wine tasting rooms all within walking distance of one another interspersed between art galleries and eateries.
For your accommodations, we'll let the secret out and point you towards Bernardus Lodge & Spa, an upscale ranch resort with a fabulous restaurant, Lucia, or the more wallet-friendly Carmel Valley Lodge, where every unit has a fireplace and either a wooden deck, balcony, or a flagstone patio. To channel your French shuffle into the evening, make a reservation at Roux in Carmel Valley Village (helmed by Chef Fabrice Roux, a native of Laon, France) or venture to Café Rustica for Alsacian dishes, escargots, and plenty of Italian influence, too, thanks to its stone pizza oven and pasta lineup.
Frolic Provence-style in a lavender farm
Provence or California? It's hard to discern at some Northern California lavender farms. Araceli Farms is a six-acre lavender farm in Dixon (about 65 miles from San Francisco) that you can visit in spring and summer months when the fragrant purple plants are in bloom. (You need an admission ticket to this private farm; they range from $2 to $5 depending on time of year.) The farm also holds events like movie nights and workshops. Be sure to bring home a souvenir, like lavender smudge sticks, body oils, lotions, face mists, wreaths, and more.
Another fragrant bet is Lavender Bee Farm in Petaluma, less than an hour from San Fran, which has 5,000 lavender plants and multiple hives. Then there's Pageo Lavender Farm, which is two hours from SF in Turlock, and grows two types of lavender, grosso and loddon. Pageo has a gift shop where it sells handmade products from soaps to lotions to linen sprays and also has a seasonal lunch menu. Or, embrace your desire to roam free in the French countryside in Carmel Valley's fragrant lavender fields, 125 miles away from San Francisco. Lion Springs Lavender Farm makes lavender caramels with lavender honey from bees at its certified organic family farm.
Visit Italian wineries with Kenwood Inn & Spa as your basecamp
Kenwood Inn & Spa in Sonoma Valley was designed to resemble an authentic villa in Tuscany, with thoughtful details that include Italian plaster work, imported fine linens, and Old-World brass room keys. Courtyards, fountains, and fruit trees conjure up the Tuscan countryside at this 29-room inn, where you can also sip Italian sodas and savor wood-fired pizzas. Italian roots run deep in Sonoma Valley, and Sebastiani, Jacuzzi, and VJB Vineyards and Cellars are a few nearby wineries worth visiting. Since VJB wines aren't sold in stores, fans visit in person to snap up the latest releases. Maybe be nice and pick up a few bottles for your friends at home. Or extra wine for yourself. Decisions...
Pamper yourself with a European countryside-esque vacay along the Point Reyes National Seashore
A rural utopia awaits at the Mr & Mrs Smith Olema House just north of San Francisco on the Pacific Coast Highway in Olema. There, the protected seascape is yours for the taking (well, leave only your footprints), where you can bike, hike, or simply sit on an Adirondack chair on the lawn and call it a day. You may be on the NorCal coast, but the elegantly manicured gardens and wide open vistas will make you feel like you're cozying up in far-away town in Croatia or rustically charming Girona.
Speaking of which, the double-height roams have inviting fireplaces for an early evening tipple or reading session, and fun, artsy decor reminiscent of many European cottage rentals. If you're traveling with little ones, reserve the more isolated Creekside Cottage with a private garden patio. Otherwise, our vote is the Drake Suite (pictured) in the main building with a mezzanine bedroom and a delightful bay window seat. Giving yourself a break from it all is the name of the game here, but do try to carve out time on your sojourn for Point Reyes Safari to see animals like coyotes, grey foxes, owls, whales, and more of the region's wildlife.
Travel around Europe on a weekend trip to Sonoma Valley
Slip away to Sonoma Valley where there's so much European influence, you'll feel as though you need to pull out your passport. Michelin-starred Italian chef Andrea Marino picked Sonoma for his salumeria, Ovello, which sells homemade salami, imported and local cheeses, and get-it-before-it-sells-out artisan cheese breads studded with Brie and figs.
History and architecture buffs can explore the Spanish and Mexican missions, and oenophiles can sip sparkling wines at Gloria Ferrer. The girl & the fig, on the Sonoma Plaza, boasts a Rhône-Alone wine list showcasing California wines with several featured Rhône varietals. For another stellar spot, laze away the afternoon at Viansa Sonoma Winery & Tasting Room
(pictured above). Then, to satiate your sweet tooth, pick up French cookies or macarons at the classic French pâtisserie, Les Pascals.
A couple of standout restaurants include La Salette and Tasca Tasca, which are run by Chef Manuel Azevedo, celebrating the flavors of his native Portuguese homeland and incorporating California produce. Much like on the Iberian Peninsula, there's ample al fresco dining throughout Sonoma. Spend the night at The Lodge at Sonoma Resort, which is within walking distance of the Sonoma Plaza.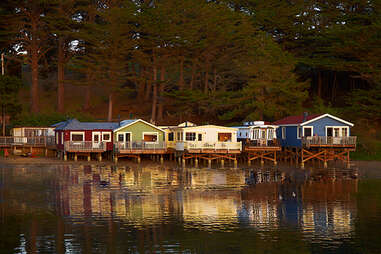 Channel Ireland on a road trip to Tomales and Marshall
To hold you over until you can get to the Emerald Isle, venture to West Marin County. Tomales and Marshall are cute-as-can-be towns that could practically be stunt doubles for the Irish or Scottish countryside, thanks to the rolling hills, shaggy cows, twisting roads dotted with seafood stands, and artisan cheesemakers. While only 60 miles north of San Francisco, this coastal trip is a slow two-hour drive along two-lane roads. Stop along the banks of Tomales Bay at Nick's Cove and Cottages for killer fish & chips and stay the night in one of their cozy bayside cottages, outfitted with wood-fire stoves, Pendleton blankets, heated floors, soaking tubs, and an honor bar. Did we mention they deliver oysters to your cottage upon check-in?
Take a gondola ride in Downtown Napa
Glide down the Napa River in a gondola as the gondolier serenades you with Italian songs, teleporting you smack into a Venetian experience. These Napa Valley Gondola outings can accommodate up to six people, and you can bring your own wine (perhaps make it a bottle of prosecco from Be Bubbly, one of the first and only tasting rooms in the valley dedicated to sparkling wines). Continue the Italian holiday with an olive oil tasting at Gabrielle Collection taste+ and enjoy regularly rotating pizzas and gelato at Oenotri.
Downtown Napa is about an hour from San Francisco. But after you imbibe with all that good vino, turn your trip into an overnight and retreat to Andaz Napa, a hip hotel in the heart of downtown.
Scope out sand dunes in Marina like you're in Dune du Pilat in France
Situated 15 minutes north of Monterey, Marina provides over two miles of eye-catching sand dunes, hearkening back to those you may have seen at the tourist mecca that is Dune du Pilat. In your California rendition of this French getaway, we highly recommend sitting by the beach at sunset each evening to recover from all that daytime adventure. Think: Hiking scenic beach trails, hang gliding, paragliding, skydiving, and wildlife scouting (dolphins and whales, if you're lucky). If you're in need of a tipple, venture to English Ales Brewery, which serves up fish & chips and banger sandwiches, or Salt Wood Kitchen & Oysterette to get your chilled or grilled oysters fix.
Salt Wood is located at Sanctuary Beach Resort, which makes for an excellent, secluded place to tuck in between the dunes and Monterey Bay. If luxury bungalows are out of reach for this vacation, try Springhill Suites by Marriott, conveniently located near ocean walking, the Monterey Bay Aquarium, and other attractions. A word for the wise: Bring plenty of good reading material as the amuse-bouche to all those al fresco naps you'll be taking while you're relaxing by the sea.
Visit France and England during a San Fran staycation
"Monet by the Water," a multi-sensory immersive art experience, is beginning its North American tour this December, launching in San Francisco. The 40,000-square-foot exhibit will feature an audiovisual experience that incorporates more than 300 pieces of Claude Monet's iconic art. Fans of the French painter can imagine themselves traipsing through Giverny's gardens and traveling along the coastline of Normandy and the banks of the Seine. (Sign up for the waitlist here.)
Then, slink into an Anglophile-themed staycation at the Ritz-Carlton, San Francisco in the city's Nob Hill neighborhood. The hotel's elegant façade is a case study in neoclassical architecture, adorned with giant columns and a triangular pediment with a dramatic tableau above the entrance (think: Buckingham Place). Step inside and be wowed by the large ornamental garden courtyard that's inspired by lush gardens from the English countryside.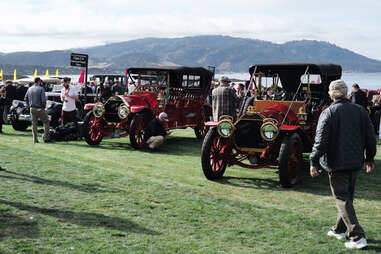 Make like you're in Monaco in Monterey
If you're an auto enthusiast, set your sights on next summer's Monterey Car Week. From San Francisco, take the famed Pacific Coast Highway about three hours south to Monterey for the billionaires' spectacle that is MCW. From August 12-21, you can go to vintage car auctions; drool over European, race, and luxury cars; and check out new releases from key players like Michelin Tires, Mercedes, and McLaren.
While in town, chase Mediterranean-worthy views on the winding drive to Big Sur with craggy coastal vistas unlike any we've ever seen, marvel at sea creatures at the Monterey Bay Aquarium, and take your car for a spin on the 17-Mile Drive in Pebble Beach that is studded with natural wonders that will leave your mouth agape. When you've worked up a sufficient appetite, swap those Michelin tires for a Michelin-starred dining experience like Aubergine in the idyllic nearby town of Carmel-by-the-Sea. Already lamenting summer '21 coming to an end? Plot your adventure now — hotels for MCW book up months in advance.
Clorox wants to help give you confidence to get back out there. That's why they've partnered with the Cleveland Clinic and CDC Foundation to form the
Clorox Safer Today Alliance™
, helping brands like United Airlines, Enterprise, and AMC Theaters create healthier public spaces for us all.
Clorox® Disinfecting Wipes
also come in convenient on-the-go sizes, so you're covered wherever you go.