Paid Content For
How to Spend a Day Aboard Virgin Voyages' First Cruise Ship
Paid Content For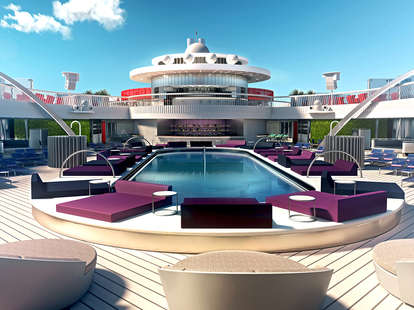 Courtesy of Virgin Voyages
If you're thinking about booking a cruise, but wondering what a day aboard would actually look like, consider this your primer. Let's say you have the good fortune of spending an entire day aboard Virgin Voyages, a cruise line which begins sailing from Miami to the Caribbean in April 2020. Even though it'll be tempting to spend 80% of your time in your cabin's private hammock, there's a giant ship's worth of exciting amenities vying for your attention.
From working up a sweat in a boxing class to deep-sea diving in the Bahamas, we're here to break down the can't-miss opportunities at sea. Now that you've set your "out of office" on your work email and your "do not disturb" on anything stress-inducing, here's a one day, start-to-finish itinerary to help you live your best life aboard what is essentially a floating city.
GET YOUR SWEAT ON
There's nothing like a mid-vacation sweat to make days of relaxation feel even more deserved. And thanks to Virgin Voyages' robust Vitamin Sea program, there are plenty of options ranging from sunrise yoga on the secluded sundeck (which begins as early as 6am) to boxing classes or even a quick round of shooting hoops -- because yes, there's a regulation basketball court on board. Want to stick to your at-home routine? There's a full gym too, assuming you don't mind the stunning ocean views while you lift.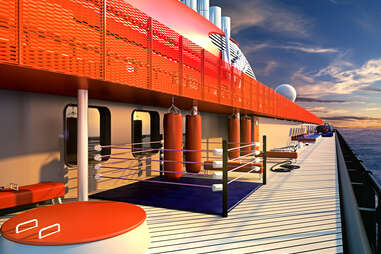 FUEL UP
Gone are the days of long buffet lines. On Virgin Voyages it's all about curated dining options. Restaurants like Ping Agave's upscale Mexican and the veggie-forward options at Razzle Dazzle are definitely worth checking out, but we recommend beginning your food journey at the Galley, the ship's floating market of food-truck-inspired, international vendors. If you want to enjoy your food in one of the ship's cabanas or in your private cabana -- and we certainly don't blame you for that -- you can get your food packaged up (sustainably, of course) and take it to go. Or, if you're feeling winded from your workout, there's always room service.
VENTURE OUT
Now that you've gotten in your high-octane activity in for the day, it's time to step out portside onto The Beach Club at Bimini in the Bahamas, where you have the option to kick back with a book or your fave podcast alongside the lagoon-style pool. We realize you just ate, but once that appetite returns, make sure to order the complimentary banana-leaf-wrapped queen snapper. While snorkeling and kayaking are also options, we recommend diving down to the SS Sapona shipwreck just a few miles out from the island (a waterproof camera is highly recommended for this one).
ENJOY A PRIVATE SCREENING
All that time in the sun might leave you wanting a reprieve before nightfall, and so it's time to head back to your room for a little R&R. Thankfully, that's not a stuffy, cramped cabin; Virgin Voyages' swanky abode is able to transform from bedroom to hangout zone with just the click of a few buttons. Transform your bed into an L-shaped couch, then grab your cabin tablet and click on "cinema mode" to automatically close the curtains and dim the lights. Need some popcorn? It's just a click away. Want a full-blown meal while you watch a movie? That's also, of course, an option. Pro tip: Don't forget to click the button to turn your sofa back to bed mode when you're done to save yourself a step later when you're ready to crash for the night.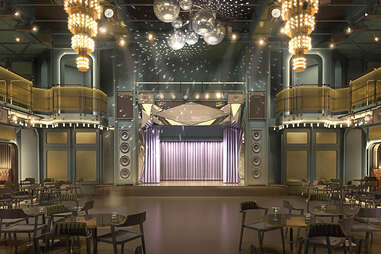 TAKE IT TO THE CLUB
Now that you've had your feet up for a few hours, it's time to hit the dance floor. But we're not talking just any dance floor: This is a two-story club in the middle of the ocean featuring not one, not two, but three bars. (Y'know, in case the lines at the first two are too long.) The Manor, named after Richard Branson's first recording studio, is the perfect venue to end your night right. Be sure to check out Scarlet Night, one of the ship's signature onboard parties. Designed and produced by the award-winning producer behind Sleep No More, this party features art installations and immersive live performances, with you at the center of it all.
And now, after having done everything from yoga to scuba diving to partying the night away, it's time you blessed yourself with some ZZZs.