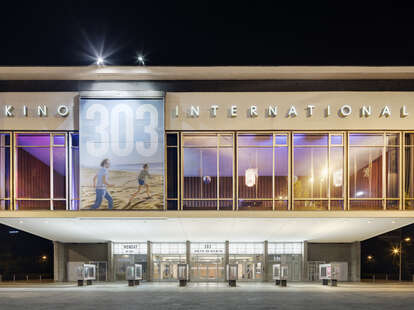 Photo by Yorck Kinogruppe/Daniel Horn
Photo by Yorck Kinogruppe/Daniel Horn
Blindingly white in the daytime sun and glowing from within at night, Kino International is functionally impossible to miss. Then again, that's the point. If you're going to build the crown jewel of East Berlin cinema culture, and moor it to the boulevard where parades celebrating the socialist ideals and military might of the German Democratic Republic are held, and also it's the middle of the Cold War, you're probably not going to opt for architectural squeamishness. (You will, however, build a bomb shelter in the basement.) As the sculptor Dietrich Worbs' succinctly put it in his 2015 history of the building, "Fast jeder Berliner kennt das Kino International an der Karl-Marx-Allee." Almost every Berliner knows Kino International on Karl-Marx-Allee. No wonder, either.
The unmistakable building built in the early '60s consists of two distinct parts: a gray ashlar-clad base, and an enormous cantilevered second floor of light sandstone. Its glazed facade hangs six meters unsupported over the sidewalk. Lodged within the overhang is the wood-paneled Panorama Bar, with an interior view that gives the impression of hovering over the boulevard below. Double doors opposite the windows lead into a single unconventionally square screening room, where the floor slopes at a steep enough angle that it would never pass inspection today. Drop a bottle during a quiet scene at your own peril.
Within the former East Berlin, Kino International is something of a living relic. Built as part of an architectural quarter intended to support the various elements of socialist life, its surrounding ensemble of buildings have fared unanimously worse. The Hotel Berolina, directly behind and frequented by East German high society, was demolished in 1996. Cafe Moskau, just opposite, shut decades ago; while its life-size replica of Sputnik survived multiple renovations, its interior did not. In its heyday it was a popular spot for Russian cuisine, dancing, and high-level dealmaking. It's now available for event rentals. The hair salon and flower shop to either side of Cafe Moskau are now a bar and an outdoor gear retailer, respectively. Once a bustling cafe (and the subject of a bouncy pop song by Thomas Natschinski & Gruppe, East Berlin's late '60s answer to the early '60s Beatles), the Mokka-Milch-Eisbar closed shortly after the fall of the Wall. It was gutted by a fire in 1996. Now it's empty.
By this metric, it's no small miracle that the International has survived the last three-odd decades relatively intact. And it's even more remarkable that Kino International has survived as a cinema. Western capital transformed (or steamrolled, depending on who you ask) the architectural and cultural fabric of the former East Berlin as soon as it became the former East Berlin, and many GDR cinemas didn't survive reunification – a result of an overeager multiplex building boom. But the International had friends in high places: The day before German reunification was legally enshrined on October 3, 1990, authorities moved to protect it under the GDR Monument Preservation Act of 1975. The Berlinale contracted it to host screenings for the 1990 festival (and every year since). The building was bought by the owners of the Hotel Berolina, who planned to turn it into an event location, but agreed to lease it to local cinema chain Yorck Kinogruppe, which had run several theaters in the former West since the late 1970s. After the Hotel Berolina closed in 1995, Yorck bought the building. It still operates as a premiere cinema and, on occasion, as a filming location. It masqueraded as a Moscow cafe for 2020's The Queen's Gambit. On an episode of Netflix's 2022 post-reunification tragicomedy KLEO, the titular ex-Stasi protagonist is nearly sniped through its massive windows.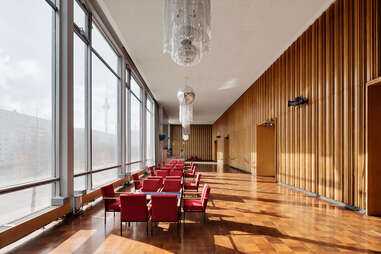 The cinema dates to a peculiar moment in Berlin history, and originates in a peculiar figure. It was designed in the late 1950s by Josef Kaiser with his colleague Heinz Aust and their collective. Kaiser was an architect and classically trained opera tenor born in Slovenia when it was still the Habsburg-ruled Duchy of Styria. During the Second World War, he built auxiliary buildings at Blechhammer and was eventually drafted into military service as a naval artilleryman, briefly taken prisoner then released by the British in 1945. Although instrumental in shaping the architectural language of East Berlin, he was no GDR loyalist. He declined to join the ruling Socialist Unity Party (SED) and designed multiple buildings in West Germany prior to the closing of the border. He died shortly after reunification, in October 1991. The International and its surrounding architectural quarter is arguably the cornerstone of his legacy.
Construction on the cinema began in 1960 amidst a moment of profound political and architectural transition. Stalin was seven years dead and buried, and with him, what Kruschev termed the "pomp of Stalinism." Public opinion toward Stalin's political and aesthetic legacies, namely the Soviet Classicist style, had begun to sour in and out of East Berlin. The new GDR, it was decided, would no longer be architecturally referential to the 19th century or ideologically beholden to the late Premier. It would instead embrace an internationalist style that projected transparency, modernity, and often came cheaper.
This was no minor shift. Stalinallee, where Kino International was to be built, was the GDR's grand socialist boulevard and the via triumphalis of the Soviet sector. For its initial development phase, architect Hermann Henselmann built high-minded Soviet Classicist towers and apartments from detailed planning sketches that featured workers' demonstrations and waving flags—a people-minded alternative to the capitalist city next door. By the time East Berlin authorities requested designs for a grand new cinema and opened the second phase of the boulevard's development, Henselmann's buildings were decidedly out of fashion. He lost the cinema gig to Kaiser. And East Berlin authorities subsequently changed the name of Stalinallee to Karl-Marx-Allee in 1963, the same year the cinema opened to the public.
Kino International was emblematic of this internationalist shift. It was designed, built, and deliberately named to project East Berlin as an international city and a beacon of a new, modern, and international socialism. The trouble was that East Berlin was not an international city by the time Kino International opened, having slammed the proverbial door shut by building a very literal wall in August 1961—right in the middle of construction.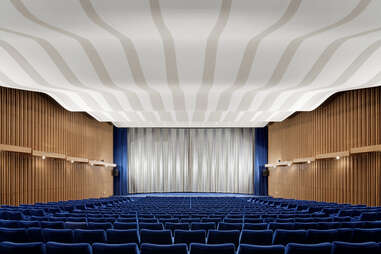 The Berlin Wall wasn't visible from the International, but it wasn't far. Its western boundary was just shy of two miles away as the crow flies; its southern boundary not even a full mile. The fiscal reality of staffing and maintaining the cinema, however, made the windfall certain American and British films could provide a begrudging necessity. East Berliners came to watch Cabaret and Amadeus. The line for tickets to Dirty Dancing stretched to the nearby subway entrance. Staff screened it six times a day just to meet demand—meaning, perhaps, that the jeans that supposedly brought down the Wall were Jennifer Grey's high-waisted jorts all along.
Prior to that, however, the upper echelons of GDR power were regulars. The International's inaugural audience on November 15, 1963 was attended by the mayor, the Soviet ambassador, and Walter Ulbricht, the head of SED and, by extension, East Germany. They'd come to see Optimistic Tragedy, Samson Samsonov's Russian Revolution-set epic about a woman Commissar tasked with organizing a group of anarchists who commandeer a naval vessel. What followed has since passed into Kino International lore. The 70mm print of the German-dubbed film arrived at the last minute, still wet from the lab. Under the eye of several Stasi guards, two projectionists tried in vain to keep it on track. Several malfunctions later, an unamused Ulbricht allegedly huffed, "Und das soll nun die neue Technik sein, ja?" And this is supposed to be the newest technology?
Nevertheless, most people are fans. Ulbricht's successor, Erich Honecker, visibly enjoyed himself at a 1981 SED-only screening of Waffenbrüderschaft, a documentary film of military exercises among Warsaw Pact countries. The windowless lounge sometimes used as a green room still bears his name, and the sizable seal bearing the GDR national emblem—a compass and hammer encircled by a wreath of rye—hangs behind the lounge bar. It has since been flipped upside down. Nearby rooms once used as a meeting place for state-sponsored youth organizations are now used for storage, as is the basement bomb shelter. But anniversary screenings for Coming Out—the film that screened the 1989 night Berliners headed en masse to the checkpoints to demand freedom of movement—continue, as do literary talks, a weekly LGBTQ screening series called Mongay, and TV and film premieres. Last year, when asked by Time Out which cinema he thought was the coolest in the world, Spencer director Pablo Larraín picked the International. Fast jeder Berliner kennt das Kino International an der Karl-Marx-Allee. For a cinema as tangled up in the specific history of its city as this one, it's no small thing that quite a few non-Berliners do too.
Want more Thrillist? Follow us on Instagram, Twitter, Pinterest, YouTube, TikTok, and Snapchat.
Elle Carroll is a contributor to Thrillist.