Travel
Sponsored By
Virgin Voyages' Cruise Ship Is Designed Like a Boutique Hotel
Sponsored By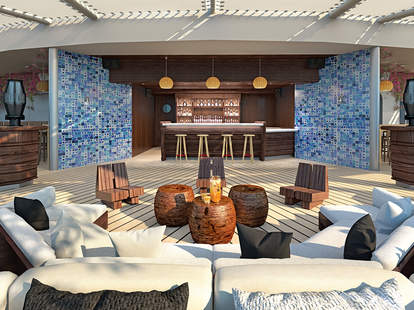 Courtesy of Virgin Voyages
If the thing holding you back from going on a cruise is that it sounds like a matinee special at sea, now might be the time to reconsider. Virgin Voyages is upending the traditional cruise ship -- and giving it the boutique-hotel treatment from bow to stern.
Virgin, which brought moody lighting and sultry lounge music to the air travel experience, is now taking its trademark aesthetic to the high seas. With its first ship set to start sailing to destinations in the Caribbean and Mexico in April 2020, its redesign updates everything on board -- from the furniture to the barware, even down to the crockery. 
While you can't step aboard Virgin Voyages for yourself until next year, here's a look at what to expect from cruising ala Richard Branson.
REVAMPED CABINS
Traditionally, one of the main issues with cruise ship cabins is space -- or rather, the lack thereof. So when it came to redesigning Virgin's rooms, the goal was to create something more like a retreat that sailors could hang out in, rather than just sleep.
The design team at Virgin Voyages created a unique seabed that transforms the cabin from day to night. The bed features a lever that allows the mattress to rotate 90 degrees from upright to fully flat, transitioning the area from seating mode to sleeping mode.
And speaking of drinks, the mini bar was revamped to create a "bespoke" experience, which means pro-level cocktail-making equipment so you can mix and shake your own cocktails -- or even better, get a friend to do it for you.
Courtesy of Virgin Voyages
TECHNOLOGY TO THE RESCUE

Just like smart phones make your life easier, Virgin wanted technology in the rooms to act like a passenger's very own personal assistant. So, upon entering the cabin, sensors will detect the presence of people, as well as what time of day it is, and as a result, they'll open the curtains for you and set the lights at the ideal wattage depending on the time of day.
Since Virgin is famed for their mood lighting (which you'll recognize if you've taken one of their flights), the cabin lights also have the ability to adjust to match the sunset of whatever area you're cruising through. Think of it this way: If you're sailing to Costa Mujeres or The Beach Club at Bimini, your lighting reacts to where you are in the world and knows the colors of the sunset, so it can mimic and complement those colors throughout the cabin.
Courtesy of Virgin Voyages
BOUTIQUE-STYLE DINING
Anyone who knows someone who's been on a cruise has no doubt been regaled with tales of the endless food and drinks. But a common concern from many prospective cruise ship passengers is thinking they'll be eating the same thing at every meal. To remedy this, Virgin split the dining experience into smaller, specialty boutique-style restaurants.
As for any concern about this meaning fewer bars; not to worry, there will, in fact, be more bars. Phew.
So whether it's enjoying popcorn and a movie in your cabin or swinging in one of the hammocks (there's one on every Sea Terrace, a first for the cruise industry), allow Virgin Voyages to put the kibosh on any preconceived notions you have about setting sail and fall in love with the beauty of the sea (on a beautifully designed ship, no less).