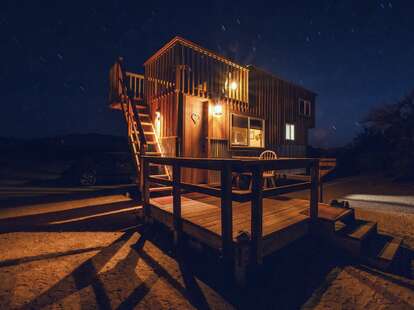 Photo courtesy of Airbnb
Photo courtesy of Airbnb
Spring is here and it's time to take full advantage of the warm weather. Some of us are happy to sip on spritz cocktails by the water at one of the top pool parties in Las Vegas, but not everyone is ready to brave the crowds just yet. Fortunately, Sin City is just a quick road trip away from some of the most compelling Airbnb rentals in the Southwest, allowing you and your crew to maximize social distancing while customizing a perfect seasonal getaway. Where to go? What to do? Here are a few top choices for Airbnb rentals just outside Las Vegas this spring.
Sandy Valley, California
2-3 guests, $115 per night
Distance from Vegas: 1 hour by car
Sandy Valley Ranch straddles the state line between Nevada and California with six different tiny-house options to rent (including a covered wagon and teepee). But your best bet is this hand-crafted tiny house, which (as this video shows) mixes antique decor with contemporary touches—not to mention important stuff like a shower, toilet, and mini-kitchen. The bedroom is basically an upstairs loft and the downstairs couch opens up for another sleeping option. But you're really here for horseback-riding and enjoying the desert views from the patio and rooftop deck. Spring is a perfect time to visit before the desert heat kicks in during summer.
Things to do nearby: Sandy Valley Ranch has horseback riding trails that cover desert terrain, sand dunes, and a dry lake bed. For something more relaxing, try a surrey ride or a campfire cookout. There's also a full sit-down restaurant for burgers and BBQ. The ranch is about a 20-minute drive from the Pioneer Saloon, the oldest bar in Southern Nevada—and a great spot for steaks, whiskey, and Old West authenticity.
Prescott, Arizona
2-4 guests, $189 per night
Distance from Vegas: 4 hours by car
Imagine a custom home and cliff dwelling combined into one. That's the idea behind this "Cave Castle" inside the remote Heaven On Earth sanctuary at Granite Dells, a stunning formation of exposed bedrock and large granite boulders. The flagstone structure was built into granite cliffs while making it a point to disturb trees and other natural surroundings as little as possible. It's a trippy experience. Cave-like stone makes up nearly half the walls in the home, which are watered with a unique drainage system, creating the scent of rain in the air. Balconies look down on the main gathering area with a rooftop deck, providing serene 360-degree views of the surrounding trees and rock formations.
Things to do nearby: With boulders, cliffs, and other unique rock formations, the Granite Dells are a quiet, but scenic environment for hiking, biking, and climbing. Bring a mat and lead your own outdoor yoga session. Watson Lake and WIllow Lake are great for photos, but not for swimming. Downtown Prescott is six miles away. It has an easy, mountain community vibe that includes Victorian homes, restaurants, Sharlot Hall Museum (dedicated to the area's Gold Rush history), and a drinking scene at Whiskey Row.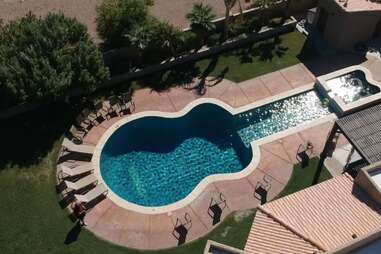 Bullhead City, Arizona
3-12 guests, $437 per night
Distance from Vegas: 1 hour, 45 minutes by car
The biggest selling point of this three-bedroom estate is the resort-style backyard and large guitar-shaped swimming pool (which has a hot tub at the end to represent the "neck"). The grass, hedges, and trees provide the perfect background for catching rays, whether floating on the water or snoozing in a lounge chair. The home is in a quiet area at the end of a long driveway, so you'll feel like you've got the whole town all to yourself. Just try not to make too much noise. All three bedrooms have extra rollaway beds and at least one has glass doors that open directly to the pool deck. The garage is large and deep with plenty of room to store a jet ski or possibly even a boat.
Things to do nearby: The home is close to the Colorado River, where boat and jet ski rentals are widely available. Ride the water taxis that hop between casinos on the Laughlin side of the river and try your luck at the slot machines. A dinner cruise on board The Celebration often comes with live entertainment. Book an off-road tour with OUI Experience and visit Oatman, a historic ghost town where wild donkeys famously roam the streets.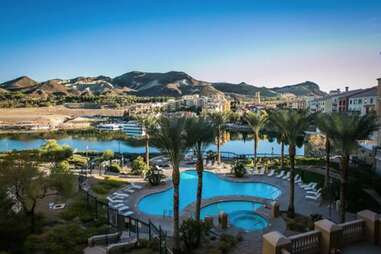 Lake Las Vegas, Nevada
2-3 guests, $117 per night
Distance from Vegas: 30-45 minutes by car
If you need a quick escape from the chaos of Sin City, it's hard to beat Lake Las Vegas, a small community on the eastern edge of Henderson. Couples or those in need of a solo escape will love this intimate one-bedroom penthouse at Luna di Lusso, with up-close views of the water and greens of the Reflection Bay golf course. The unit has its own balcony, a fully-stocked kitchenette, and engaging contemporary decor. The condo complex also has its own pool and fitness center.
Things to do nearby: The location couldn't be more perfect. A pedestrian bridge leads to The Village at Lake Las Vegas, a collection of shops and restaurants, including Sonrisa Grill, where the margaritas flow freely. Rent a kayak or paddleboard from Lake Las Vegas Water Sports, which also operates the always-cool Aqua Park inflatable playground. Take a sunset cruise on La Contessa, a two-level yacht with bartenders on standby.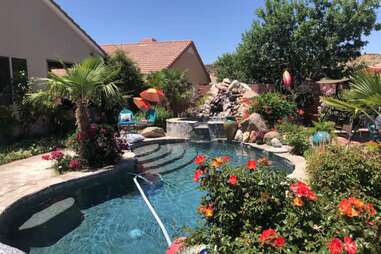 Washington, Utah
2-5 guests, $213 per night
Distance from Vegas: 2 hours by car
This spacious, comfortable three-bedroom home has new appliances and stylish furnishings, but what really puts it over the top is the lush backyard oasis—even more impressive against the colorful mountain backdrop of Southern Utah. The pool is surrounded by palm trees, rock features, and a well-maintained flower garden. The tranquil environment is especially impressive when illuminated at night. Try not to spill your wine in the hot tub.
Things to do nearby: Go hiking at Zion National Park or spend the day exploring the shops and restaurants in nearby St. George. Washington itself is residential and quiet with the expected chains and fast food, but there's local charm to spare at Riggatti's Wood-Fired Pizza.
Newberry Springs, California
2-3 guests, $107 per night
Distance from Vegas: 2 hours, 30 minutes by car
Let's get weird. Sarkisian Ranch sits on a small, winding lake that's surrounded by trees and feels very much like a tropical lagoon. Stay in an old Santa Fe train caboose that's been converted into a surprisingly comfortable Airbnb. Well, comfortable by tiny home standards. There's a refrigerator, microwave, coffee maker, and charcoal grill. If needed, an inflatable mattress can be set up next to the bed. No wifi in the caboose, but you can pick up something to read from the on-site book shop.
Things to do nearby: Sarkisian Ranch, about 30 minutes outside Barstow, isn't close to much of anything. It's an animal rescue and tortoise preserve, where you'll make friends with a few dogs, peacocks, and at least one emu before your stay is over. Guests can explore the ranch on a golf cart, paddleboat in the lake, or just stretch out on a yoga mat and meditate while stepping between the rocks of a labyrinth stone formation. Calico Ghost Town and Peggy Sue's 50s Diner—two destinations worth exploring between Las Vegas and LA—are a short drive away.
Lake Havasu City, Arizona
4-8 guests, $650 per night
Distance from Vegas: 2 hours, 30 minutes by car
Stretch out your legs and stay awhile. This spacious vacation home has a newly renovated kitchen, covered patio, and the perfect hillside vantage point for soaking in Lake Havasu's famous sunsets. The landscaping in the backyard is relatively bare, but you'll love the swimming pool and lakeside views. The driveway is large enough to accommodate RV and boat parking.
Things to do nearby: There's lots to do in Lake Havasu. Check out the scenery of London Bridge, drink beer at College Street Brewhouse, and take a Red Star off-road jeep tour that may or may not include a trip to Bunker Bar, a gathering spot for booze and music in the middle of the desert. Much of the culture is based around boating and water sports. If you don't own a yacht or speedboat, book a sunset cruise and let someone else do all the work.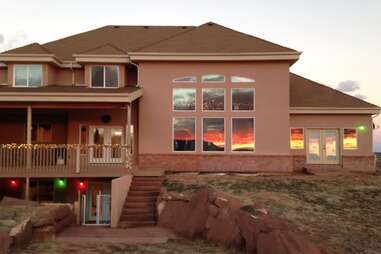 Kanab, Utah
6-10 guests, $485 per night
Distance from Vegas: 3 hours, 30 minutes by car
The stone exterior of this "mini-mansion" makes an immediate impression against its remote desert backdrop. The owners are on property in their own downstairs quarters, but guests have the top two levels to themselves, including a large kitchen and farm-style dining table. Tall two-level windows in the great room reveal sweeping views. Each bedroom has its own look and theme to keep things interesting. Have fun at the pool table or get behind the joystick of a vintage-style arcade game. A covered patio is perfect for enjoying a drink and soaking in the fresh, desert air. Make sure to say hello to the burros!
Things to do nearby: Kanab is surrounded by the bright red sandstone formations and hiking trails of Southern Utah. It's also a great base for road trips to Bryce Canyon National Park, Zion National Park, and the scenic Horseshoe Bend at Lake Powell. The town center of Kanab is just five minutes away, making it easy to pick up groceries and other supplies. Little Hollywood Land is a quirky free museum with old Western movie sets and the Chuckwagon Cookout restaurant. Foodies will be more interested in the modern American cuisine of Sego and the farm-to-table comfort food at Wild Thyme Cafe.
Meadview, Arizona
3-5 guests, $287 per night
Distance from Vegas: 2 hours by car
This ranch house sits on ten acres outside of Grand Canyon National Park with sweeping desert views facing the Western Rim. The proximity to America's largest hole in the ground is a big perk, but so is the isolation. Explore trails and small canyons by day and enjoy uninterrupted stargazing at night. The rugged Old West feel of the property is balanced out by modern decor and appliances throughout the home. Make sure to snap a few photos in front of the antique tractor.
Things to do nearby: Take advantage of everything the Western Rim of the Grand Canyon has to offer, including a stroll across the glass floor of the Skywalk. If you're driving in your own car, know part of the journey is on a dirt road. Hang around the house and you may catch a glimpse of wild horses, free-roaming cattle, or a coyote. Meadview itself is pretty quiet, but the Boathouse Cafe & Grille is good for an inexpensive meal with an outdoor patio and string lights.
Bullhead City, Arizona
4-10 guests, $425 per night
Distance from Vegas: 1 hour, 45 minutes by car
This four-bedroom home sits on the Colorado River with panoramic views through large windows. The floor plan is unique, but spacious—perfect for a large group or family to share.The casino lights of Laughlin (most notably, Harrah's directly on the other side of the river) reflect off the water for a colorful effect at night. The home isn't ultra-luxe, but it has plenty of space with a long grassy lawn and covered outdoor patio. The property has its own private dock in a no-wake zone with the nearest launch less than a mile away.
Things to do nearby: If you don't have your own boat, explore the river with a jet ski rental from Waterworld or Five Star. Feeling lucky? Laughlin has a handful of casinos and attractions, which makes it feel like a mini-Vegas by the river. Make sure to try the pizza at River Rock inside Aquarius and a good beer at Brew Brothers Taphouse inside the Tropicana.
Rob Kachelriess has been writing about Las Vegas in Thrillist for more than seven years. His work has also appeared in
Travel + Leisure
,
Trivago Magazine
,
Sophisticated Living
,
Modern Luxury
,
Leafly,
Las Vegas Magazine
, and other publications. He's still browsing Airbnb rentals as you're reading this. Follow him on Twitter @rkachelriess.