Paid Content For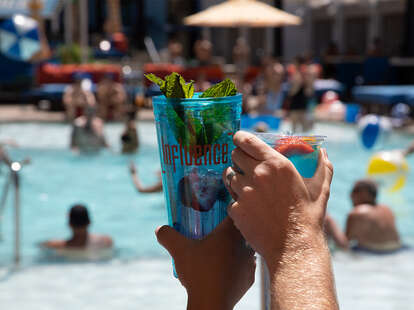 You can't toss a poker chip in Las Vegas without hitting a new hotel or entertainment venue… but it's never had anything like The LINQ Hotel + Experience before. This open-air entertainment district has everything from gaming to dining options by celebrity chefs to a... zip line? (Yep. It's the first of its kind on the Vegas Strip.) In order to make sure that you get in on as much of the action as possible, we did a little research: where to eat, where to chill, and where to find the best views in Vegas (hint: It's definitely not at the top of a skyscraper). You're welcome.
Chill out (or rock out) at Influence, The Pool at The LINQ
Conveniently located right in the heart of the Vegas Strip, the 21-and-up party pool at The LINQ, Influence, has everything needed to celebrate summer right. Daybeds are available for rent, but reserving a poolside cabana room will get you a sweet hotel room (more on that later) AND your very own private outdoor patio. Once you're settled into your lounge chair, order up a signature cocktail from the waitress, then catch live music, jam to a DJ set, or play some beer pong poolside. When you need to get out of the sun, check out the air-conditioned, fully-equipped REQ room, which has games like shuffleboard, pool, and foosball. There are also several flat-screen TVs around, so you can come in and enjoy the game before going back out for a dip.
Fly like a superhero over the Vegas Strip
FLY LINQ is the only zip line on the Vegas Strip, but it isn't your typical zipline -- you've got a few choices to really customize your high wire experience. Take your pick: fly over The LINQ Promenade during the day or night, then pick your riding position -- the standard seated option or the superhero, which will have you flying on your belly, arms and legs outstretched. For the particularly daring, you can also opt for flying backwards… but that's not for the faint of heart or weak of stomach.
Bowl a strike, catch a show, and more at Brooklyn Bowl
The original Brooklyn Bowl in New York City was groundbreaking in almost every way, and the Vegas iteration follows suit. The 32-lane bowling alley doubles as a music venue, so your bowling shoes can become dancing shoes at any moment. When it's time to find some grub, Blue Ribbon serves up fried chicken, wings, pizza, BBQ, and more American comfort food classics inside the joint. (There are even plenty of vegetarian options, too.) To bring the experience up to a full 10, spring for VIP seating and bottle service. Then, head up to the outdoor deck on the second floor to get some fresh air and people watch over The LINQ Promenade.
Take in the views while sipping a cocktail 550 feet above the Strip
Speaking of views, nothing in Vegas will compare to what you can see atop the High Roller -- also known as the world's tallest observation wheel -- at 550 feet above the Strip. With a name like High Roller, you can bet that taking in skyline views isn't the only thing on the menu. Inside the 28 spacious cabins, there are different experiences throughout the day, like a one-hour yoga class, where your zen will be at peak levels as you do a few poses amidst the sweeping, 360-degree views of Vegas. Or, opt for the Happy Half Hour, an open bar in the sky where you and your crew can enjoy endless drinks, a gorgeous backdrop of the Vegas Strip, and your own bartender to make sure that dirty Martini is done right.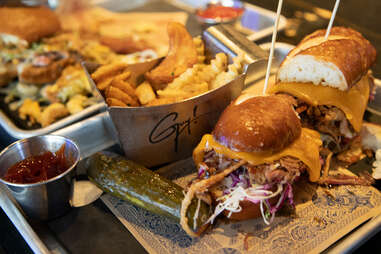 Chow down on some gourmet food by celebrity chefs
Attention, all foodies: The LINQ's got you covered there, too. At Gordon Ramsay Fish & Chips, you can feast on classic elevated British fare, particularly their signature fish and chips, made up of perfectly battered and fried white fish and crunchy fries. (We suggest following that with the Sticky Toffee Pudding Pops for dessert.) Over at Guy Fieri's Vegas Kitchen & Bar, unique twists on signature American dishes rule the menu with options like a bacon mac and cheese burger, Sriracha wings, lobster tacos, and more. But don't forget the drinks -- they've got 16 craft beers, a Sonoma wine selection, and even a frozen tap system shot bar that serves 8 different shots straight from an iced dispenser. It's all perfect for sampling on the outdoor patio, right on the Strip.
Catch some laughs and wild magic performances
Jimmy Kimmel's Comedy Club at The LINQ Promenade is the perfect solution for some good, hearty belly laughs. The theater seats 300 guests and features comedians Thursday through Sunday at 8pm, with additional performances at 10pm Fridays and Saturdays. Watch some late-night shows and see surprise guests in addition to well-known and up-and-coming talent, all curated by Jimmy Kimmel himself. If you're looking to have your mind blown, America's Got Talent winner Mat Franco will take your breath away with what was voted the "Best Magic Show In Vegas" two years running. Take part in this interactive live performance showcasing his best illusions, and go for the Meet & Greet package to get acquainted with the master of brain bending himself after the show.
Party in your (seriously awesome) room
The party at The LINQ doesn't stop when you head up to your room. You can reserve an entire penthouse all to yourself and your crew, where you can crank up some tunes on Bose speakers, serve up something fancy in the kitchenette, and freshen up in a spacious walk-in rain shower. Even the smaller spaces are luxury-packed: A standard Deluxe or a Bunk Bed Deluxe room (the latter of which includes two queen pillow-top beds and a twin bunk) both have 47-inch flatscreen TVs and mini fridges. Decor in all rooms is modern with a pop of fun, energetic color, so whether you decide to pregame before hitting the town or just hang out on a king-size bed and order some room service, the vibe will nicely suit both moods.
Find your OM in a Himalayan salt therapy cave
Serious, grade-A R&R isn't always easy to come by, but The LINQ's very own spa covers all the bases (and so much more). In the lounge, you'll find whirlpools, eucalyptus steam rooms, and even zero-gravity chairs to get you into full vacation mode. While seasonal specials are a year-round occurrence, during the summer months you can indulge in services like a Pineapple Coconut Body Massage, a Guac 'N' Glow Facial, or a Rosé Pedicure. But the crown jewel is the spa's Himalayan Salt Therapy Cave, where you'll relax in a room with the soft coral glow of a Himalayan salt wall, perfect for alleviating all sorts of respiratory issues. Of course, the best #selfcare is a good sweat, and the Fitness Center has everything needed for a workout. For those who prefer to exercise privately (oh hey, gym anxiety), fitness carts are available to be brought up to your room, too.
Lose yourself in the ultimate gaming zone
On The LINQ's enhanced casino floor floor lays a veritable gaming paradise. With eSports, holograms, and virtual reality all available, gaming and sports geeks alike will have a hard time leaving. Social and augmented reality games fill the space -- along with live leaderboards, so you can get a look at your competition. Serious sports fans should head to The Book, where you'll find one of the most innovative sports books on the Strip. Here, you can customize not only your viewing experience in their Fan Caves, but also place bets on your own tablet and order some serious game bites. When you've had your fill of games, choose from over 18 craft beers or frozen cocktails at ReMatch Bar, and pair your drink with speciality mango chipotle wings and fried Oreos from a menu curated by Sticky Chicken.
Get in on some world-class shopping
It's no secret that Vegas is home to some of the best shopping in the US -- and that's true for out-of-the-box retailers as well as some huge luxury brands. Take Goorin Brothers on The LINQ Promenade, which conjures up images of fancy old-school hat shops with its dark mahogany accents. Inside, you'll find everything from berets to newsboy hats, with fedoras and caps thrown in for good measure. Over at Nectar Bath Treats, you can purchase everything you could ever want for your dream bath. Their artisanal soaps look good enough to eat, as most are crafted to look like sweet treats (put the vanilla cupcake down -- remember, it's not the real deal). Best of all, their offerings are sustainable, vegan-friendly, and suitable for all skin types. Plus, there are even more shopping options within the hotel itself. With this much going on at The LINQ Hotel + Experience, the hardest decision you'll have to make is which experience to hit before your dinner reservation.