After Tragedy, Las Vegas Finds Unity in an Unexpected Place
If any city needed a team to rally behind this year, Las Vegas was it. And with a season they kicked off by trouncing the Arizona Coyotes in a dramatic 5-2 win in their first official home game and continued with this week's victory against the Chicago Blackhawks, the Golden Knights are stepping up to be that team. Not only are they the latest franchise in the National Hockey League, they're the first-ever major league sports team of any kind in Vegas.
"The Golden Knights give Las Vegas a banner to unite under," local Trish Harrison told me at a pregame party on October 10, just before that first big win. "The community was always there. It just didn't have a team."
Trish and her husband Russ were both Penguins fans when they moved to Las Vegas from Pittsburgh 12 years ago, but these days, Golden Knights jerseys are their fashion of choice. They're far from the only ones. Season tickets sold out long ago, and on the heels of an incredible record, the success of the team has proven to be a source of inspiration and an emotional outlet for a city that absolutely needs both right now.
In addition to being the home opener of the season, the October 10 victory was also the first home game for the Golden Knights since October 1, when a gunman named Stephen Paddock opened fire from a Mandalay Bay hotel room, killing 58 people and injuring hundreds more on the Strip, in one of the deadliest mass shootings in American history. The victims were among a crowd of about 22,000 people outdoors for the Route 91 Harvest country music festival.
As national media reported the story with its usual flow of think pieces and political posturing, the citizens of Vegas oversupplied the blood banks with donations. The city raised millions for the victims, brought food to first responders, and volunteered through social media. Though most of the outside world treats Las Vegas exclusively as a party town, in this case, a terrible moment exposed a core truth: our city also has a soul, even if most people don't come here looking for it.
Our city has a soul, even if most people don't come here looking for it.
The shooting made our connection to the Knights immediate
At that first home game, the only way to address the shooting was by standing together. A pregame show that was months in the planning was scrapped, and instead, for about two minutes before the action got underway, the T-Mobile Arena stopped being a hockey venue and became a church. As a small group of workers from the Route 91 Harvest festival led the national anthem, more than 18,000 people rose and sang in unison -- joining in early and continuing to the very end. Solemn but loud. Proud and strong. Some cried. Some saluted.
In addition to the national anthem, the pregame ceremony included 58 seconds of silence to remember the 58 victims who lost their lives nine days earlier -- without a single cough heard or cellphone in sight. During player introductions, each Golden Knight was accompanied by a police officer, doctor, nurse, or other first responders, who were greeted by the chorus of fans with rousing gratitude and appreciation.
When the teams hit the ice, the Golden Knights harnessed that energy by scoring four goals in the first 15 minutes of play. The crowd roared with each one. "It's an unbelievable feeling," Reid Duke, the Golden Knights' 21-year-old prospect from Calgary, told me from the sidelines. "It's amazing to see the passion that a city can have that's never experienced anything like this before."
"It was pretty emotional going out there with the first responders and seeing them after all they've been through," defenseman Deryk Engelland told NHL.com after the game. "But the response from the crowd was phenomenal. There were 20 guys here channeling that energy and using it to our advantage."
Vegas doesn't like to leave anyone alone with their thoughts.
We've been long overdue for a sports team we can call our own
That wave of local pride, in a city with a famously transient population, may surprise outsiders. For people like the Harrisons, it's obvious, personal, and only starker in the wake of a tragedy. "I'm proud of the sense of community," Russ Harrison told me at the Naked City Pizza party before that home game. "Las Vegas is a city, not just a tourist destination."
The Harrisons are part of the surge of people who have relocated to Las Vegas in recent years. The US Census Bureau estimates that roughly 2.14 million currently live in Clark County, which is basically the greater Las Vegas area. That's almost triple the amount of people who lived here in 1990, and, for comparison's sake, it's 20 times the population of Green Bay, Wisconsin, home to the NFL's Packers. Putting a major league sports team in Vegas has made sense for a long time -- so much sense that plans for the Oakland Raiders' relocation to the city has drawn national attention and been a key plot point in HBO's Ballers.
But hockey and the Knights got here first. And when the new NHL team was finally confirmed, the Harrisons were among the fans impressed by the initial level of support around the city. "It was surprising how quickly we began to see Knights shirts and jerseys," said Trish. "I thought it would take some time to catch on."
The team's season-ticket drive first launched in 2015, selling out before the team's name was even announced in late 2016, and proving Vegas could fill up the new T-Mobile Arena. Nestled in the heart of the Strip between the New York-New York and Monte Carlo resorts, the $375 million arena still feels brand new, and with a walk along the concourse, it's clear the venue is custom-designed for Vegas. You've got lounges, brew pubs, raw bars, and even a nightclub on the top level. A pair of outdoor terraces provide beautiful neon-soaked outdoor views and fresh air that's quickly diluted by the smoke of cigarettes. The night of that first home game, it emblazoned the slogan #VegasStrong on its marquee, looking more and more like a part of the Strip.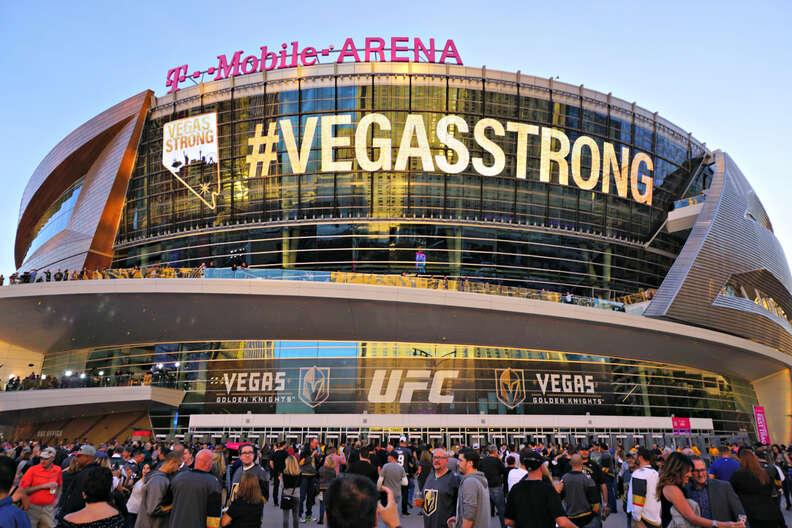 The wounds haven't healed, but the Knights are here to help
The Mandalay Bay is just a five-minute drive from T-Mobile Arena. One of the striking things about the resort -- even nine days after a mass shooting that thrust the hotel into the national spotlight -- is that it wasn't quiet. Vegas doesn't like to leave anyone alone with their thoughts. Pop music plays everywhere on the Strip, including the Mandalay Bay garage.
Inside, in the early afternoon before that first October 10 game, the hotel's sportsbook was littered with out-of-towners with trade show passes dangling from their necks and the small pieces of luggage at their feet. Most are there to grab a drink, waste time, and catch some baseball on the big screens. No one verbally acknowledged it, but they were all sitting 32 stories underneath a hotel suite that a madman had filled with a small arsenal of semi-automatic rifles and used to declare war on Las Vegas.
The tourists placing bets told me that, ahead of the game, the Golden Knights were a slight favorite over the Arizona Coyotes -- and "slight favorites" weren't really exciting bets to make. Still, a wager on the Vegas team seemed the right thing to do, even if you're from out of town. Two such visitors were Matt and his friend Larry. Matt was visiting for work and "in tune with Vegas Strong," even though he's from Denver, "so Avalanche first." He made a $120 parlay bet on the Golden Knights. His buddy Larry, who was tagging along for the trip, put $50 down on the Golden Knights to win by two.
Do they see Las Vegans rallying behind the Golden Knights? Yes, of course, but Matt also saw it the other way around. As he put it: "The team is rallying around the locals."
Matt might be onto something, especially if you were to ask Duke of the Golden Knights. He may be from Canada originally, but now he can pinpoint the moment he truly considered himself a Las Vegan, he said. "It's unfortunate to say, but it was after that Sunday evening," Duke said, and you know he's talking about the shooting. "To just be able to heal with everyone and recover with everyone, it brings you together and makes everything feel like home."
Like Las Vegas, the Golden Knights will continue to move forward. They will win, as they did against the Coyotes. They will also lose, sometimes, as they learned three days later in their game against the Detroit Red Wings. Either way, they'll do it hand in hand with the community they've injected with some hope. If you have doubts, come to church at the T-Mobile Arena. There's plenty of faith to go around.
Rob Kachelriess has been writing about Las Vegas for Thrillist for more than four years. His work has also recently appeared in
Travel + Leisure
,
Vegas Seven
,
David Magazine
,
Vegas Magazine
, and Luxury Estates International's seasonal publication. He really wants you to click this link. Follow him on Twitter @rkachelriess.