The Little-Known Black History of West Las Vegas and the "Black Strip"
New investment brings exciting changes to the historic neighborhood.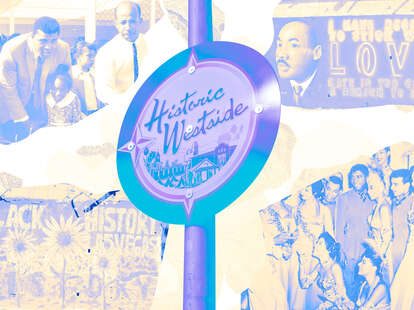 Photos courtesy of Special Collections & Archives, University of Nevada Las Vegas Libraries; Design by Grace Han for Thrillist
Photos courtesy of Special Collections & Archives, University of Nevada Las Vegas Libraries; Design by Grace Han for Thrillist
Though Las Vegas has long been known as a hub for world-class entertainment, decadent dining, and glamorous gambling, these pleasures haven't always been afforded to all, and for many years the Black community was excluded from participating in these past times. Determined to circumvent these race-based limitations, they transformed Jackson Avenue on the Westside of Las Vegas into what became known as the "Black Strip."
From the 1940s to the 1960s, the core of Las Vegas' Black community lived and worked in West Las Vegas, or the Westside, a 3.5-square mile neighborhood located northwest of the Las Vegas Strip and the "Spaghetti Bowl" interchange of I-15 and US-95, separated by Martin Luther King Jr. Boulevard to the west and Lake Mead Boulevard to the north. This was the result of a 1943 move by former Mayor Ernie Cragin, who codified de facto segregation into law by refusing to renew business licenses to Black-owned establishments unless they relocated west of the railroad tracks to the other side of Downtown.
While Cragin's intention was to regulate Black residents out of sight, instead, locals leveraged it to build a prosperous and close-knit community. They opened up stores, shops, and restaurants along Jackson Avenue, attracting other Black professionals who bought and built their homes in the area.
The Glory Days of the Glamorous "Black Strip"
Jackson Avenue soon flourished and represented the center of commerce and entertainment for Black Las Vegans. Teens relaxed in Johnson's Malt Shop and Sammy Lee's Pool Hall. Residents would crowd the Cotton Bowl club at the corner of Jackson Ave and E Street to watch performers like comedian Rudy Ray Moore. Entertainers and celebrities like Cab Calloway, Nat King Cole, Chubby Checker, and Sammy Liston would perform in casinos but head to the Black Strip to stay at the Jackson Hotel or the Moulin Rouge.
Though the Moulin Rouge was only open for six months, it is forever cemented in Westside lore as the city's first fully integrated casino where Ella Fitzgerald performed and where Tallulah Bankhead, Frank Sinatra, and Dean Martin could relax alongside Sammy Davis Jr. after playing to "whites-only" crowds on the Strip. It's also the setting for Martin Scorsese's mobster movie, Casino.
But this star-studded version of the Westside is a far cry from what exists today. Integration in the 1960s gave African Americans a choice as to where they lived and shopped, with many residents opting to move to parts of the valley studded with brand-new housing developments and schools. A boom-and-bust economy led to disinvestment from the neighborhood, resulting in infrastructure decline. Owens Avenue replaced Jackson Avenue as the economic heart of the Westside, where national retailers and county offices occupy sites of former businesses and homes.
Although the casino and clubs are gone, long-time community activists and city leaders are ensuring that the Westside remains a relevant part of the city, with new development that recognizes and celebrates the community for its uniqueness. The long-term plan is to revitalize the neighborhood without losing the essence of the community. Steps are being taken to use a positive development model that builds on the cultural capital of the community, especially as a way to bring Black tourists who are interested in seeing themselves in the wider context of Las Vegas.
Currently, construction is planned on a series of monuments and signs meant to identify important markers in the community, just a short drive from Las Vegas Boulevard, Springs Preserve, and the Smith Center, a hotspot for jazz performances and travelling Broadway musicals.
Recently, a "Welcome to the Historic Westside" sign was unveiled, lighting up at night to welcome travelers off the U.S. Highway 95 and Martin Luther King Jr. Boulevard exit. Other markers are planned, including one at Berkley Square — a National Historic site and the first Nevada subdivision designed by Paul Revere Williams, a renowned Black architect. Williams had created over 2,500 buildings when he passed away in 1980, most of them in Los Angeles.
And to recognize the ongoing struggle for racial equality and justice, a series of Black Lives Matter murals were painted on the walls of the Moulin Rouge on Bonanza Road. Community activist and artist Brent Holmes coordinated the project with area muralists and painters during the summer of 2020 as a way to highlight the movement and the historic space. Across the street sits the Tenaya Creek Brewery, known for locally crafted brews of pale ales and stouts.
"At any time of the night, you will see cars and young people who frequent that establishment after they get off from work. That's such a pleasant thing to see," says longtime resident Jackie Brantley, whose family arrived in 1939 and who made Las Vegas history as the first Black woman to manage the public relations department of a Strip casino.
Historian Claytee White has also witnessed a positive shift in the neighborhood. As the Director for the Oral History Research Center for the University of Nevada, Las Vegas Libraries, she documents the lives of African Americans throughout the city.
"Once you start going over to the Westside and going to a restaurant or event, you begin to see that this community has possibilities," White says.
Must-Visit Places in West Las Vegas
White is quick to point out that there is lots to do on the Westside if you know where to go. The West Las Vegas Arts Center has a rich history of art exhibitions, dance, and spoken word performances. The Center is housed in the same complex as the West Las Vegas Library that often sees a revolving door of Black artists and writers introducing their work. Those looking for down-home Southern cooking enjoy Annie's Kitchen, owned by pitmaster Bill Thompson, on D street for plump BBQ ribs that fall off the bone—head there early before dessert sells out. Or, visit Soul Foo Young, a Chinese-soul food fusion eatery on Owens Avenue that's home to the famous Bruce Leroy, a combo platter of three whole-fried chicken wings with veggie fried rice that pays tongue-in-cheek homage to the movie, The Last Dragon.
But even as residents welcome the drive for reinvestment in the area, some are worried that redevelopment might lead to cultural displacement.
Brantley's cousin, Chase McCurdy, a multimedia artist, says Westside residents want the same development opportunities that venture capitalist and entrepreneur Tony Hsieh was able to bring to Downtown Las Vegas — just not at the expense of the longtime residents who are the heartbeat of the close-knit community.
That's why McCurdy came back to the city after sojourns to Arizona for school, and then Los Angeles and Paris where he worked as a music and fashion photographer. One look at the Mojave Desert hues that dominate much of his work—iron-rusted red, cobalt blue, and sun-baked yellow—lets you know that the desert and Las Vegas are constant muses. This invocation of the city throughout his work, and his roots as one of the first Black families that came to Las Vegas, are likely why he was chosen to create a visual history of the Westside in the forthcoming Legacy Park that's set to open in December 2021.
When it opens to the public, the $3.2 million, two-acre park on Mount Mariah Drive near Martin L. King Boulevard will feature exhibits and sculptures to highlight the neighborhood's history, and the African-American leaders who shaped it. Legacy Park will herald the other developments slated to begin nearby, including the building of another campus of the College of Southern Nevada and an apartment building.
McCurdy sees the Westside being reinvented as a cultural destination to moor Las Vegas. Brantley sees it as a place that will epitomize all that the Black community is capable of creating when given the resources to do so. Above all, they want the world to know that the community is living and breathing and planning for tomorrow.
Sign up here for our daily Vegas email and be the first to get all the food/drink/fun in town.
Soni Brown (
@neonscrawl
) is a freelance writer and editor. Her educational background in art, gastronomy, and journalism has given her a broad base from which to approach many topics.