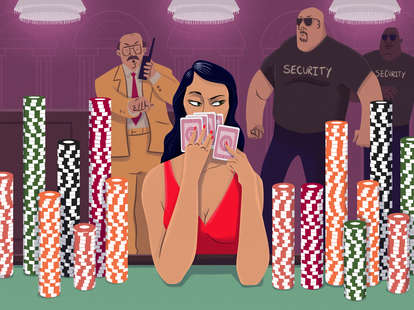 How I Won Millions in Casinos, Then Lost It All, and Wound Up in Handcuffs
If you own a casino, a woman known as Miss Brown ranks among your worst nightmares. And you treat her that way. Over the last 10 years, she's been tossed from gambling joints, tackled by security guards, charged with trespassing, handcuffed in back rooms, relentlessly interrogated, arrested, and relieved of her hard-won earnings. She doesn't cheat, but she does play in a manner that casinos despise: using more advanced, so-called advantage-playing techniques that have won her some $3 million since 2006.
Largely raised in Nevada by a casino dealer mom and a dad who, lore has it, dabbled in some bookmaking, Brown, now 38, first played slot machines and video poker with her aunt at 15. After a short run at UNLV, extra work in movies like Fear and Loathing in Las Vegas, a stint playing guitar in casino-lounge funk bands, and too many lost nights on ecstasy, she decided to follow in her mother's footsteps and become a dealer.
When mom suggested that her daughter might do better as a card counter, Miss Brown ignored the suggestion. It wasn't until a few years later, in 2003, after a fellow dealer announced that he was quitting to card-count blackjack and take a shot at poker, that Miss Brown remembered the motherly advice. She figured that if he could do it, she could as well. She stocked up on instructional books, taught herself to beat casinos, and got to work. It went well -- at least before it went off the rails. Here she is, in her own words:
It feels amazing to beat casino games. Beyond the money you make, there's an emotional reward and a physical rush that comes from it. Nobody else at the table knows what you're doing. They're all playing on the square. They're not keeping count of the big cards and little cards being dealt, they're not tracking aces or sneaking peaks at the dealer's hole card. They're suckers, and you're out-housing the house.
When I first started beating the house, I was manic, and that fed into it just perfectly. Between my mental state and being among the only girls who beat the games, I was one of the happiest people you'd ever meet. That all changed over time, but back then, when I was 30, in 2008, killing games on the regular, living and playing and traveling with people who were just like me, life seemed pretty ideal.
Early on, I made good money working in a casino in Southern California, but beating casinos was a lot more fun. Initially, I dealt all week and spent weekends card counting in Las Vegas. Using my manic energy, I'd hit the tables for 32 hours over the course of two days and then drive back to California for work on Monday. I averaged $800 to $1,000 per weekend. On one of those Vegas trips, a professional gambler I met online showed me my first hole-card game.
Card counting allows you to play with a 2% edge, which has room for a lot of unexpected losses but is still pretty good. If, say, your average bet is $500 and you play 100 hands per hour, you can make $1,000. It's sweet, but hole carding can give you a return of 12% with less volatility. You achieve it by finding sloppy dealers who inadvertently show you all or part of their cards. It's not always perfect, and you need quick eyes.
My first time was at a casino called Binion's Horseshoe in Downtown Vegas. The dealer's name was Jaio. From the middle seat, scooched down low, I saw that she had a black nine in the hole. It was a complete revelation. Think about how Tiger Woods felt when he hit his first really good drive. That was how I felt. It changed my life. The reality is that you needed to look at maybe 200 dealers to find one giving it up, but once you found that dealer, it was Christmas every day. You went and played until the casino threw you out, or fixed the dealer, or fired her.
Not long after I spotted Jaio's hole card, I had my first serious run-in with casino security. A partner and I were playing at a low-stakes dump called Ellis Island. We were card counting and looking for hole-card games. We had already gone up and down the Vegas Strip, playing different casinos together, sitting at the table and pretending to be cousins or boyfriend and girlfriend. At Ellis Island, we felt heat -- that is, a casino manager seemed to be watching us really closely -- so we left. A couple of casino security guys followed us out. One slammed me down onto the parking lot. The other grabbed my partner.
The guy had one of my arms, but with my free hand I managed to grab my phone and call 911. "Help," I said. "I'm being kidnapped by Ellis Island casino security."
They handcuffed us, took us into a back room, held us there, and wouldn't let us use the bathroom. The ridiculous thing is that we were only card counting, betting like $30 per hand, and we had lost $200. But apparently somebody had a big problem with us. Cops finally came and sided with the casino. One of them told us that we wouldn't do well in jail -- even though we had done nothing illegal.
Finally, hours later, we were released by the casino. The next morning we called Bob Nersesian, the go-to lawyer for players who've been abused by casinos. We told him what happened and he was floored. He loved it. He said we should sue. But we were scared of making a big deal over this and wound up settling for just $40,000. Bob took his third and my partner and I split the rest. It was dumb to settle, but we were afraid. Looking back, we might've been able to take Ellis Island down altogether. What they did was totally uncalled for -- complete bullshit. It was such a good case. Bob still teases me about it.
That experience, as it went down, made me feel like a complete criminal. It was awful. But not awful enough to make me quit playing.
By 2004, I was 26 years old and had a bankroll of $60,000. I had become part of a loosely knit group called the Las Vegas Hole-Card Mafia. We shared information about good games with weak dealers. There were so many opportunities out there that I quit my job dealing in California. They were really nice and told me I could come back to work there anytime.
To celebrate quitting, I spent the night hole-carding a game in a nearby casino and got caught. My ex-employer found out and sent me a letter telling me that I was not welcome in his casino anymore. I felt bad -- they really had been good to me -- but not that bad. I was already living in Las Vegas, splitting time between my mom's house and a comped room in the Flamingo. But there were issues. My father had just died and, on his deathbed, he told me to be careful around mom. He said she was a degenerate gambler. He was right. I had to sleep with my bankroll. Otherwise she'd grab $100 bills and blow them on slot machines.
Now that I was playing full time, my money slowly grew. But when smart gamblers win, it doesn't result in you living a better lifestyle -- with fancy cars and such. It allows you to play bigger games that lead to heftier profits.
That was my case. This guy Joe and I started dating and playing together. We found a great game up in Reno, at a casino called the Horizon, ironically, a place where my mother used to work. We hole-carded there and made $50,000 over six months, betting $200 per hand. At a place called Cache Creek, this guy named Mark and I discovered a "full-information" game -- that is: the dealer was showing the entire card. It's pretty incredible when you can play blackjack and know exactly what the dealer has.
Our first night there, we got incredibly unlucky and dropped $30,000. We were seeing the cards but we just ran so badly. It represented a decent chunk of our bankroll, and we needed more money. So Mark called a buddy of his in the next town and drove there to borrow chips. We played and played and wound up winning $90,000. It was my biggest single session win up until that point. We netted a total of $60k: $30,000 each. We could have kept at it, but I didn't want to draw heat and mess things up there.
I played all the time, making good money, learning new moves. But I had no social life outside of casinos. My boyfriends were all blackjack players or poker players. They were brilliant and savvy and adventurous. One taught me how to play Texas hold'em -- while gambling away $25,000 that I had loaned him. A really sharp mentor and friend helped me to learn a move called "playing the turn." It involves surreptitiously spinning around cards to denote the 10s, pictures, and aces. It was a lot of work, but everything outside of gambling seemed so boring. And the money could be sensational. One year I made $600,000.
For a lot of that income, I can thank an Atlantic City dealer named Craig. My boyfriend at the time, Tyler, who went on to become a top poker player, found him. We netted $100,000 in one session against Craig. He dealt blackjack at Caesars and gave up the entire shoe. He divvied out the cards really quickly, never said anything about the weird plays I made -- for example, if you have 13 when the dealer shows a 10 on top and you know he has a 6 underneath, you would stand, even though it looks ridiculous to stick with 13 vs. a dealer's 10 -- and didn't hustle for tips. It was the best situation you could hope for. Within a few months, though, Craig was no longer our secret. After getting fired and moving to the Showboat, he wound up back at Caesars. Everyone knew it. One night, prior to Craig starting his shift, the casino was crawling with teams of advantage-playing hole carders. But not only were the players there, we all had civilians with us as well. They were on board to reserve critical seats at different tables since nobody knew where Craig would be dealing from. There was a meta-game going on, a seat war, that only the advantage players knew about. We had six people locking up seats for us, and we paid them $1,500 each, just to occupy spots in the hope that Craig would come to one of our tables. But we lost the seat war that night. Another team got Craig's table. I was tired and went to bed; they won over $100k. But there was so much activity and so much scuffling around at Craig's table that the casino knew something was wrong. It was the last night we ever saw him dealing. We inadvertently got him fired.
Other times, though, things went a lot smoother. At MGM there was a superstar dealer named Jin. The team I played on had multiple scores of $100,000 off of her. It was another of those situations where everybody knew about her and they all wanted to play on her shift. But we had an advantage. A friend of mine worked as a butler for high rollers at MGM. Each morning, she saw a sheet showing which table every dealer was assigned to. I got the schedule from her, we would occupy the table, and Jin came to us. The other teams couldn't figure out how we knew where to be. But she worked often and we couldn't play her continually. It would have looked silly. Other teams would play her and they would play too aggressively -- maybe hitting 18 when they knew she had a 19. We didn't want MGM to figure out what was going on and to mark us as hole carders.
The game was getting too much action. So it was agreed that we would do something unprecedented: we killed our own game. We hired a Chinese woman to talk to Jin and tell her that she was exposing cards. Jin went to her bosses and claimed to be getting a repetitive stress injury from blackjack. So they put her on a game where she would deal from a different position. That decision generated heat from other teams, but it was the right thing to do. It earned us longevity at MGM.
Through all of this, I became extremely hot and easily recognized by casino security and surveillance workers. If I insisted on playing without showing ID or a player's card -- which is what most people want to use so their gambling can be monitored and they can get comps -- it served as a red flag. Almost everybody likes being rated. So I started doing something a little desperate: using fake IDs made by a very good guy in Las Vegas. It's frowned upon to be traveling with fake IDs but they bought me time in casinos.
They also almost got me in a lot of trouble. Tyler and I had gone from Atlantic City to Puerto Rico and got stopped by security on our way back into the United States. We had won some six-figure sum on the trip. They found $35,000 of our money on me and thought I was a drug dealer or something. They let us get on the plane but we worried that we would have trouble in Las Vegas. So I called Bob Nersesian and he agreed to meet us at the gate in Vegas. Then we had a damned layover in Atlanta. A player-friend of ours met us there and took our fake IDs, but, minutes later, a DEA agent started calling my name, ran over, and pulled us aside. He found $100,000 on me and confiscated the cash. The good news is that I didn't have the IDs. Getting caught with those, post-9/11, in an airport? It would have been a complete nightmare. We litigated for eight months and finally got the money back.
It was a big fight, though. I couldn't have known that it pretty much marked the beginning of a stretch where everything would be a big fight for me.
I began playing poker in a serious way and that actually went pretty well, too. During the World Series of Poker, there are always a lot of bad players in town. They populate cash games where I have large edges. I managed to win $100,000 in just a couple months. I did so well at poker that I felt ready to take things to the next level. I sat down in one of Vegas' biggest games. It takes place inside a private room at the ARIA casino. It's called the Ivey Room, named for the great poker player Phil Ivey. The stakes, $200/$400, no limit, were huge; players would win or lose six figures in a night. I found people to take half of my action and went on a terrible losing streak. Over the course of a year I dropped $500,000. Half of that was my own money and the other half belonged to people who were backing me. I played well but I ran bad. Financially, I was in way over my head. I was not properly rolled for a game so big.
I was completely depressed again. I wasn't thinking clearly and came up with a crazy scheme: I would go to Berlin. There was a poker tournament there and the idea was that I'd play cash games. I was in no state to gamble, but I did it anyway. I played twice and lost $13,000. The trip wound up costing me 20 grand.
I flew home, got new medication, dropped another $50,000 backing a two-person blackjack team that I ran and played on. I bought in for more poker and lost. Somehow, I managed to have a boyfriend through all of this. He was a very disciplined grinder at poker. He played at exactly the cash level he should have been playing. He put in a ton of hours and stood no chance of going broke.
While he lived this very careful, rational life, I bled money. I lost $70,000 on a poker app I wanted to develop. Then I got busted on a casino play at Planet Hollywood and they found my pocketbook full of fake IDs. I knew better than to bring multiple IDs into a casino. But I guess I didn't care. That led to me getting back-roomed, handcuffed, and arrested. I spent about 10 hours in jail and there was not a damned thing I could do about it. It was 2014 going into '15, I was completely busted. I had no team, no people to play with. My boyfriend and I kept fighting about money. Every casino in Vegas knew what I looked like. My brain was fried.
***
Then the unexpected happened: I became pregnant.
This turned out to be the best possible thing. It was a wakeup call for my boyfriend and I. He liked the idea of becoming a dad and wanted to pay the bills. I took a break from playing and stopped spending. Gambling as a pregnant woman looks ridiculous. Plus I didn't want to expose the baby to casinos and smoke.
We have a son now, and I waited until three months after his birth to start playing again. But I don't play the way I used to. I want to be home for him. So I take one trip per month -- since I can't play anywhere in Las Vegas -- and I've gotten rid of all the fake IDs. I don't make the kind of money I used to, but I'm not spending like crazy either. Between blackjack, poker, and sports betting -- I've got a resource for good information on games -- I'll make over $100,000 a year. Combined with what my boyfriend earns, and considering that we live in Las Vegas, which is pretty cheap, it's enough for a nice life. More importantly, though, it's enough for a good, fulfilled life. I feel like it's what I'm living for the first time in so many years.
I don't regret most of the decisions I made. I regret being manic and losing tons of money. But do I regret gambling? Not at all. It's what I've always loved -- even during the worst times -- and I still do.
Sign up here for our daily Thrillist email, and get your fix of the best in food/drink/fun.
Michael Kaplan, a journalist based in Brooklyn, NY,
is a senior features writer at the
New York Post
. His work has also appeared in
Details
,
Wired
,
Playboy
, and
The New York Times Magazine.
He covers gambling for
Cigar Aficionado
, and is the author of four books.
NY. Follow him
@kaplanwords
.